30 Trending Quartz Countertops Color of the Decade
Are you looking for something unique to bring into your kitchen? We're sure you're an expert at exploring different cuisines to cook. How about bringing vibrant hues with quartz countertops color to help you jazz up the vibe as you flaunt your culinary skills?
Quartz is a smart choice when it comes to countertops and a plethora of options in quartz color make this even more desired. Let's look at the lovely essence brought to a kitchen by quartz countertop colors.
Why is Quartz Trending in The Style Charts in 2022?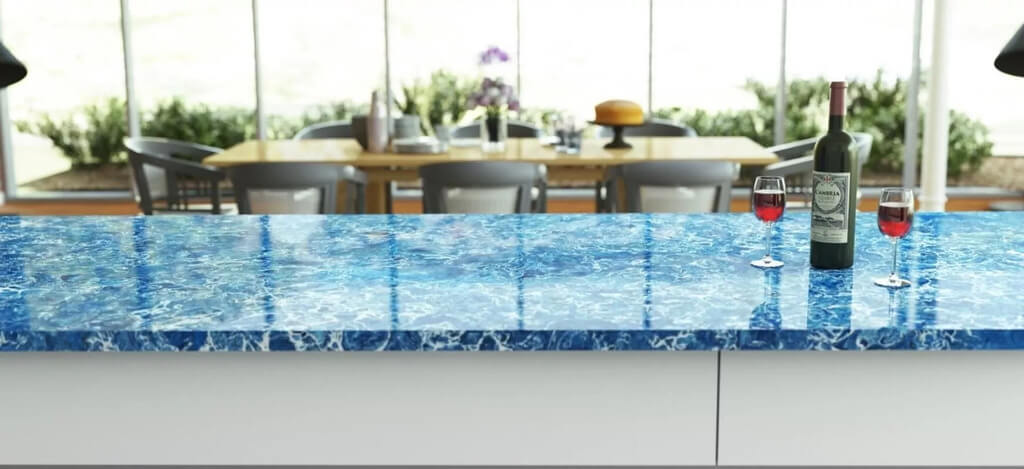 Source: nitrocdn.com
Before we get started on what makes quartz a popular pick, let's be clear on one thing– it's not a countertop composed of solid quartz. Rather these countertops are formed of engineered stone with plastic resins.
Being a modern material, there are various properties that make quartz countertops top the list of the trending style charts of 2022. Let's look into these pros:
Being an engineered product, there's a uniformity in the visual appeal of quartz countertops color.

Innovative material can be kept free from burn marks as these come down with light scrubbing.

You can get the desired design with customizable edging.

No matter how intense the chopping and cooking get, these countertops are stain-free and promise longevity with their strength. 
Top 30 list of Quartz Countertop Colors
Whether it's your fashion closet or home decor, nobody likes to stay outdated when it comes to trends. One of the vogue kitchen decors currently is being attained by quartz countertop colors. Let us be your helping hand in picking the best-suited match by offering you a color palette of the top 30 shades in quartz.
1. The Pebbly Oceana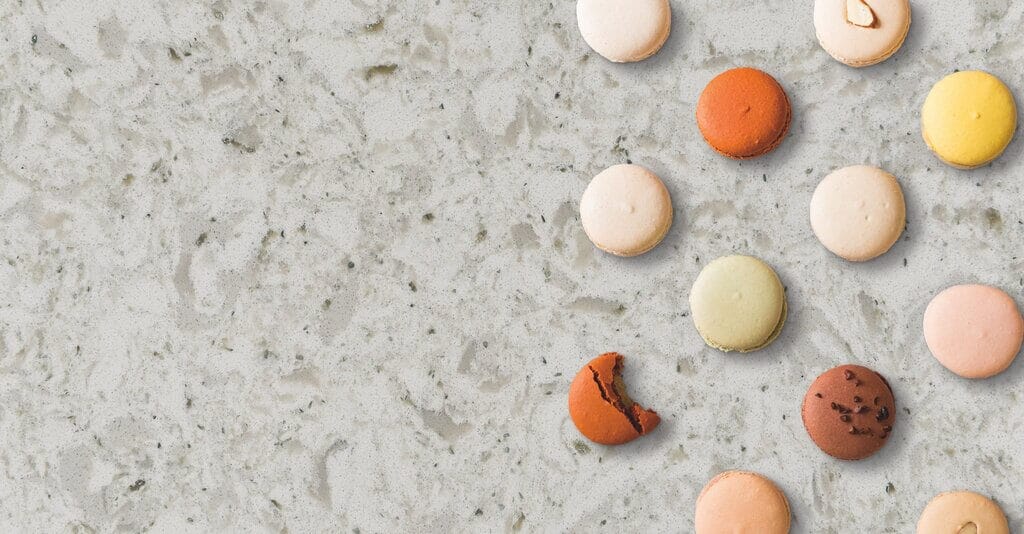 Source: nitrocdn.com
The serenity brought by every wave in the ocean is unmatched. Bring the same soothing essence into your kitchens with Oceana white quartz countertop color filled with soft shades like creams and pearls.  
2. Mildly Patterned Grey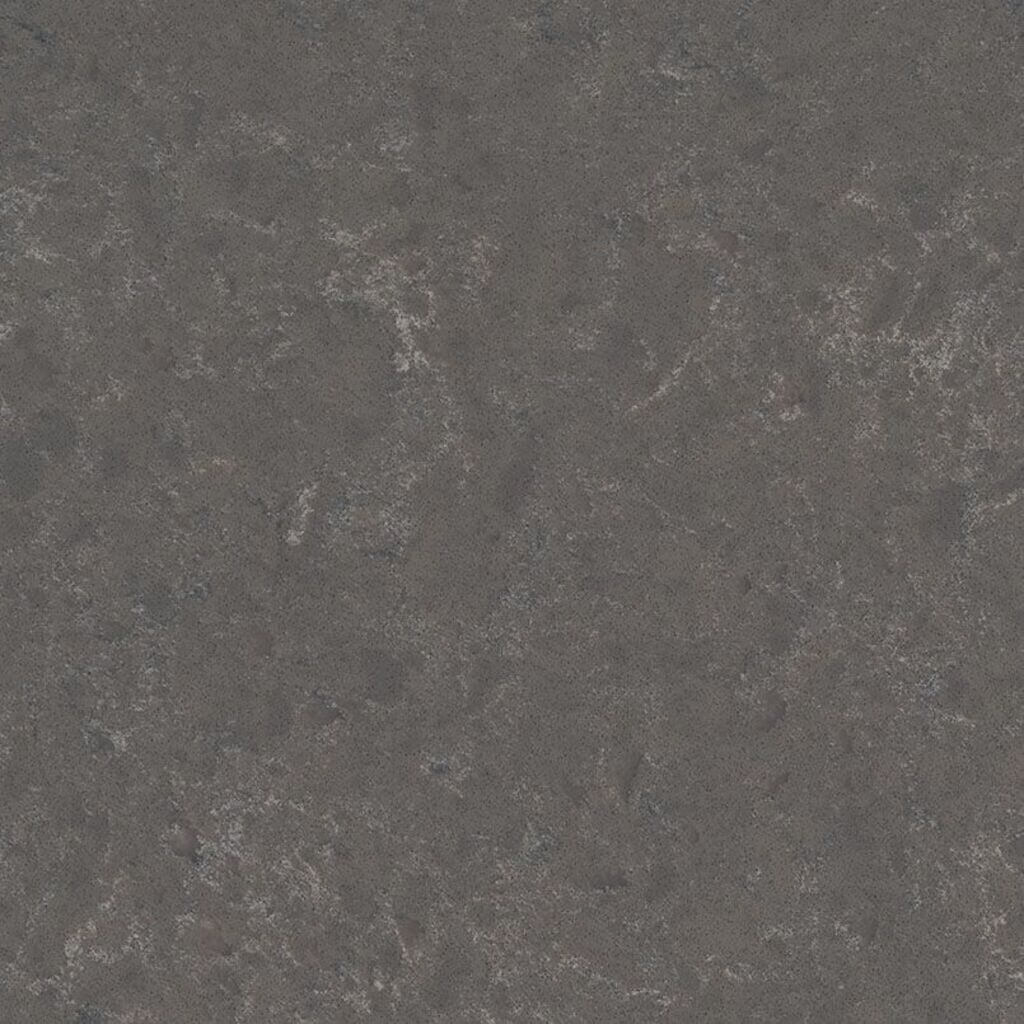 Source: hyundailncusa.com
Transform a bland kitchen into cool decor with subtly-patterned grey quartz countertops. Match deep grey with lighter tints in cabinets for a well-blended kitchen design that's interesting and at the same time has a certain depth to it. 
3. Calcutta Quartz Countertops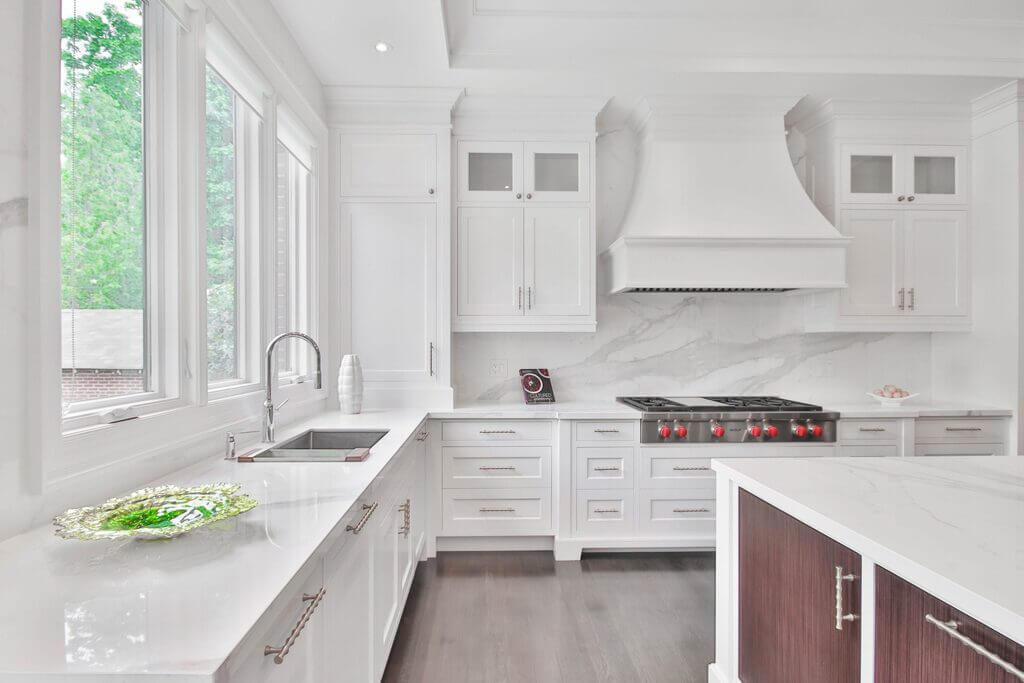 Source: imperialvanities.com
Don't we all love the timelessness of marble? But these might prove to be slightly hefty in our pockets. Opt for an exact replica with white quartz countertop colors featuring soft grey veining patterns that complete the look with light or dark-toned kitchen setup.
4. The White and Bright Kritchen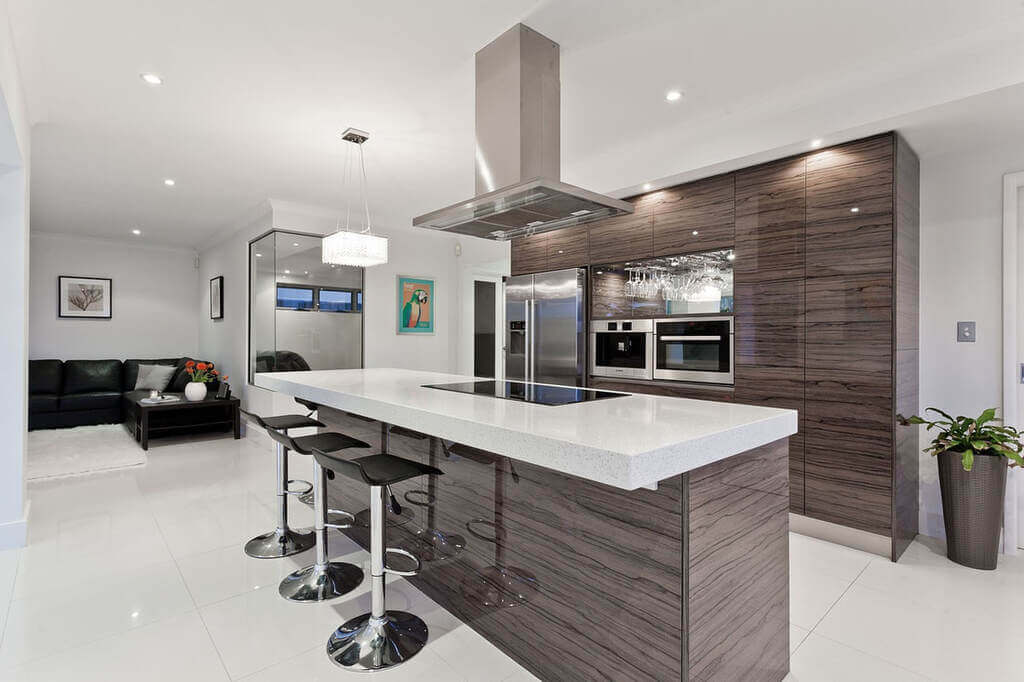 Source: kitchenremodelvancouver.com
Pick bold patterns embedded within subtle white tones. Make your kitchen shine bright with light cabinets that add to the visual interest of the entire space.
5. The Lacey White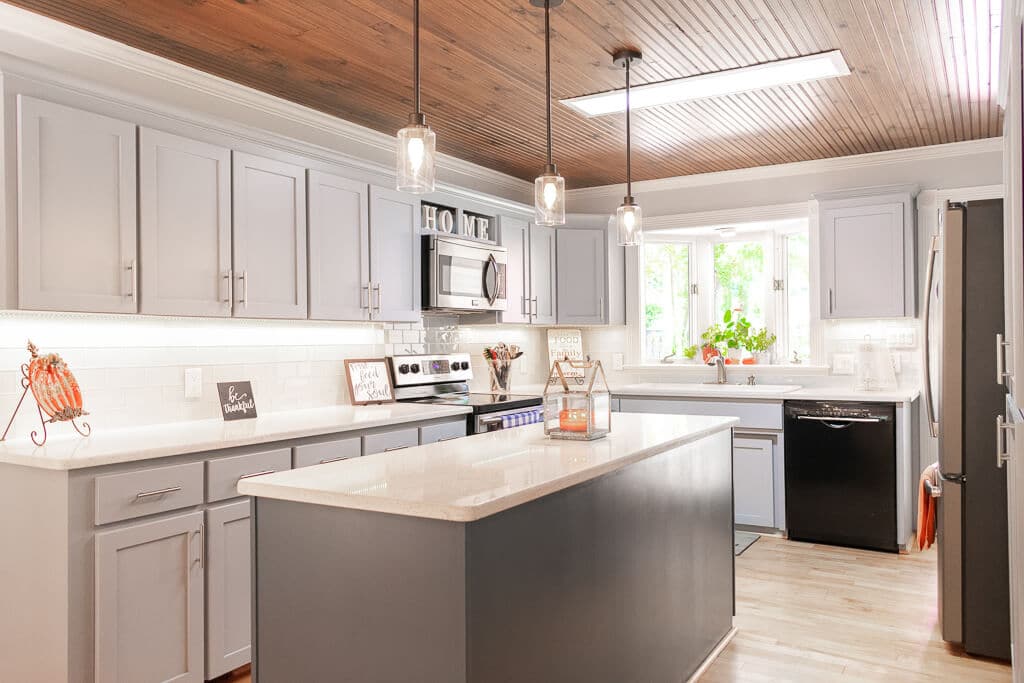 Source: coast2coast-granite.com
Do you want to drift towards a modern kitchen but keep it a bit classic? Lacey white quartz countertop with soft charcoal veining patterns is all you need for this blend.
6. White Caesarstone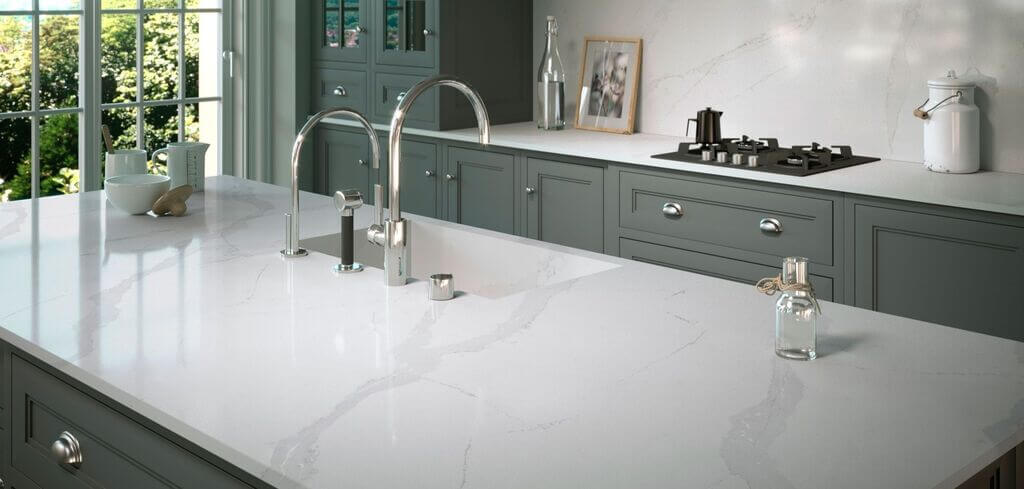 Source: pinimg.com
Nothing is as regal as white quartz countertops color. Let the clean white surface lighten up the entire space with sleek 3-inch soapstone countertops.
7. Bold and Black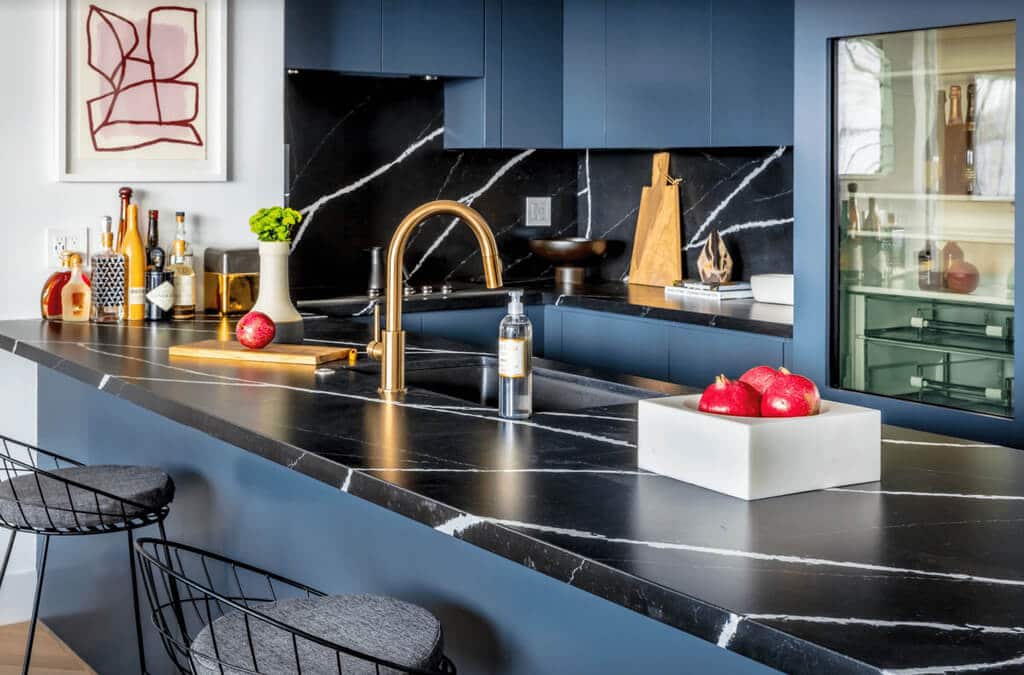 Source: mydomaine.com
Welcome drama into your kitchen space with black quartz countertops in color. Opt for subtle white veining and jazz up the whole decor by bringing hues of the navy into the kitchen decor.
8. A Concrete Look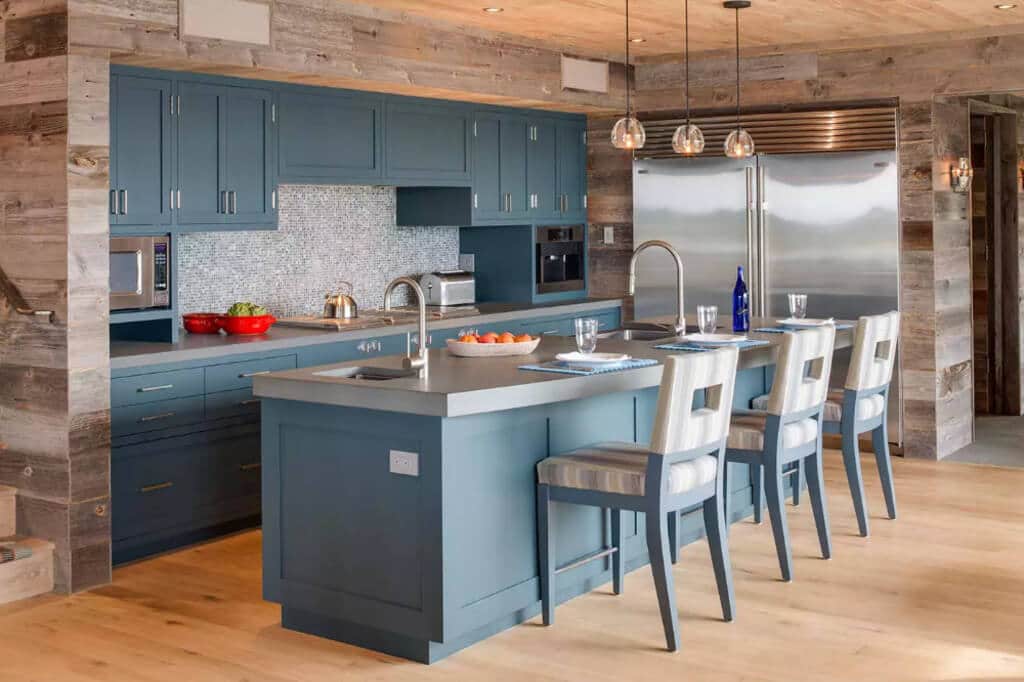 Source: pinimg.com
Do you love the raw concrete finish but looking at something more solid? Opt for quartz countertops with the rustic finish of concrete that promises durability and a stain-free life. 
9. Traditional Taupe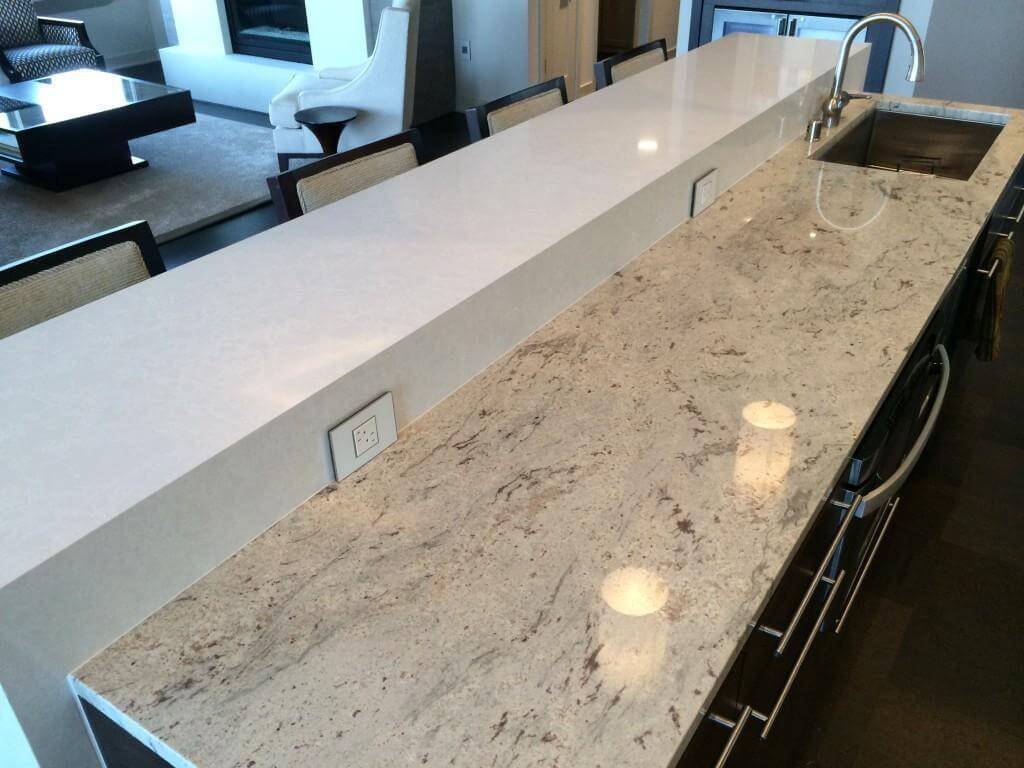 Source: 0zz0.com
There's nothing wrong with sticking to the traditional roots while adorning the kitchen. Top up the kitchen worktops with conventional quartz countertop color and bring a little boldness with white and black tints. Let the warmth of taupe shine against the contrasting dark decor.
10. The Swirly Quartz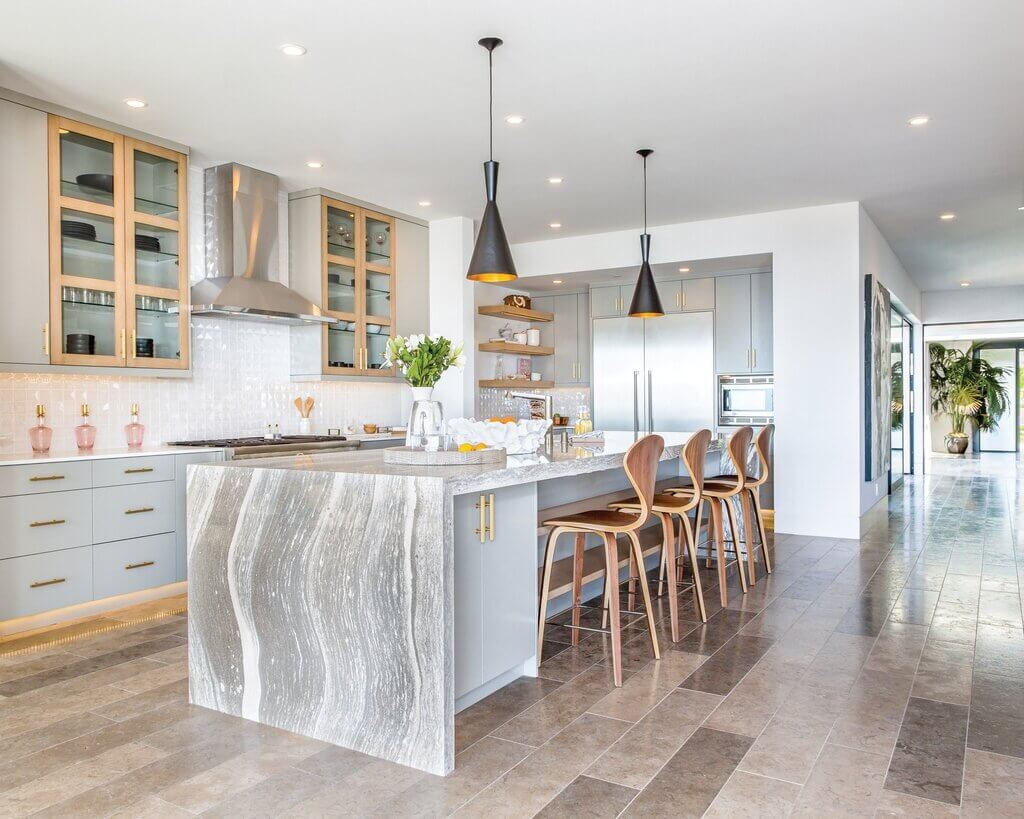 Source: pinimg.com
Why keep it basic when you can bring dramatic effects like swirls to your kitchen countertops? Play around with different design genres and let the neutral tones do their magic.
11. Crisp Cherry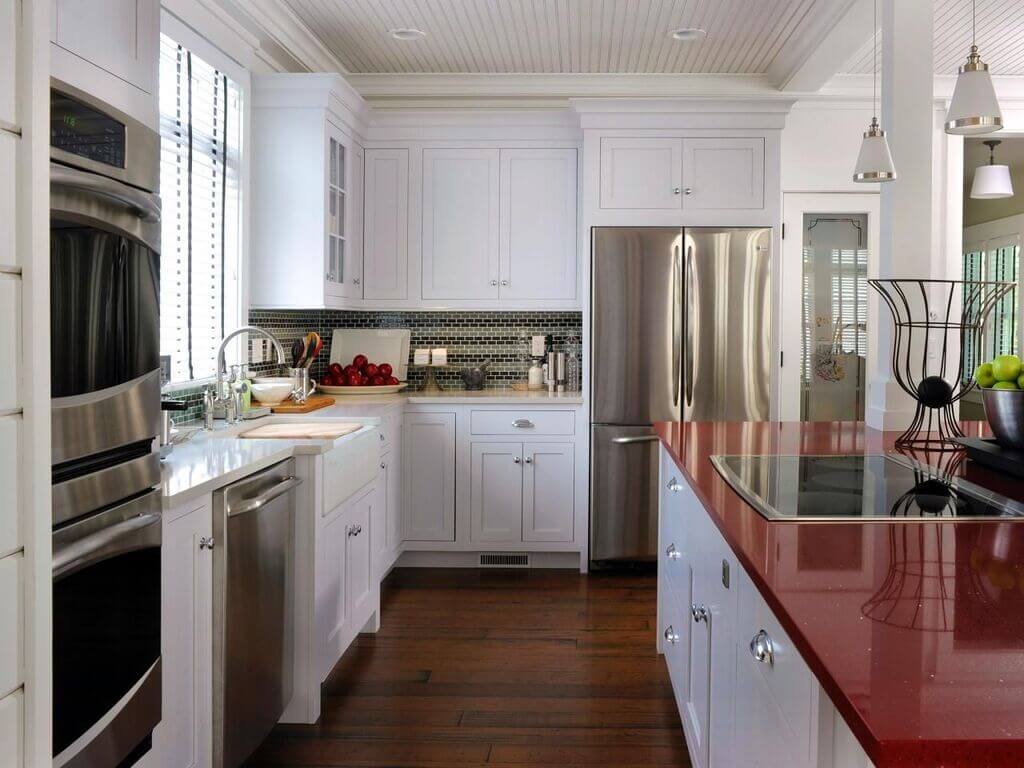 Source: 0zz0.com
A cherry quartz countertops color? Yes, that's right. The lovely tint looks flawless when added to kitchen decor and dresses up the entire kitchen in an eclectic essence. Cover your kitchen in funky vibes hinting at the retro decor. 
12. Classic Duo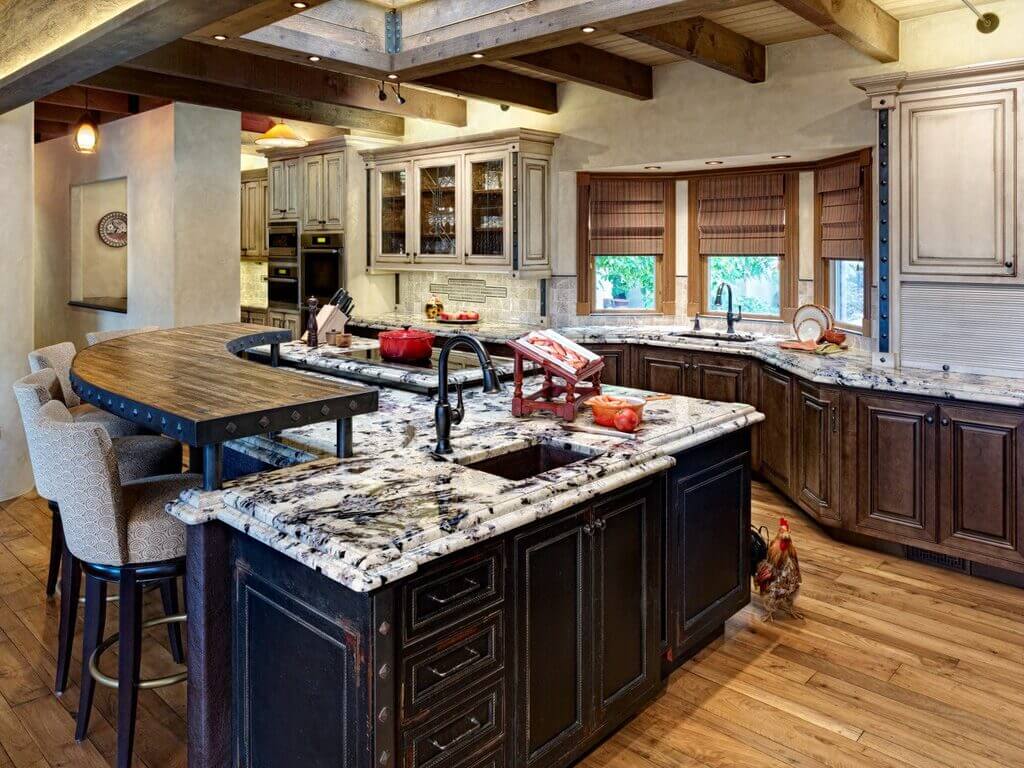 Source: twimg.com
When in doubt, opt for the classic choice with black and white speckles. Pair these countertops with neutral accents in cabinets for a stunning visual appeal. 
13. The Splashy Orange Quartz Countertops Color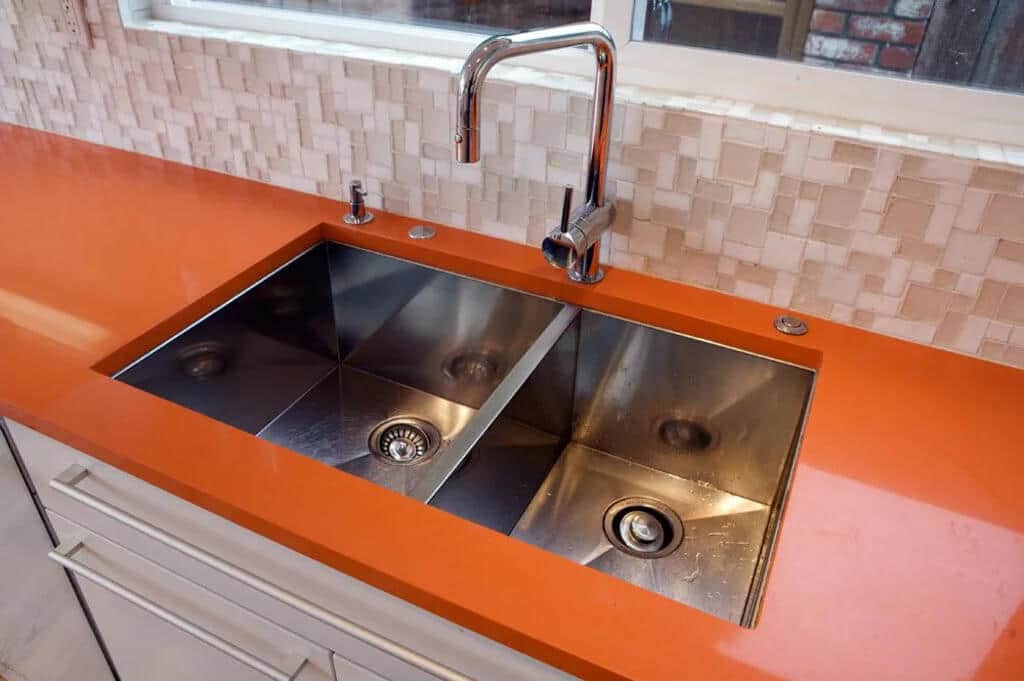 Source: pinimg.com
Why stick to typicals when you can play around with funky tones? Welcome the vibrancy of orange in your kitchen and pair these countertops with cream or beige cabinets to balance the tones.
14. Contrasting White Countertops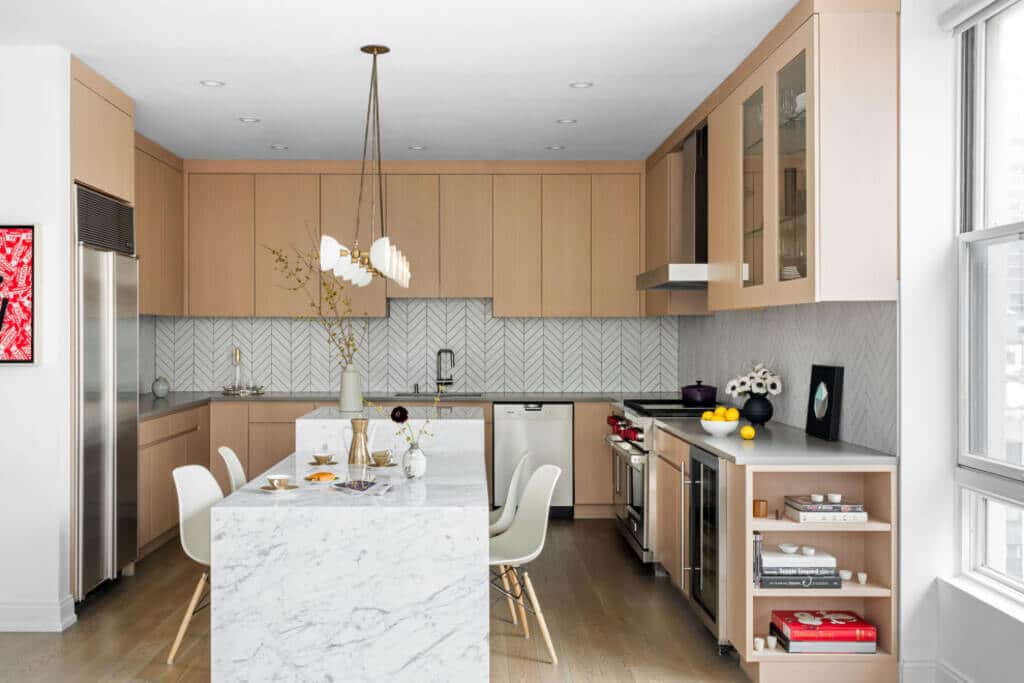 Source: pinimg.com
If you've fixed the kitchen cabinetry in dark tones, it's time to bring contrast for an interesting design. Opt for white against dark cabinets for a soft and enticing look.
15. The Jazzy Purple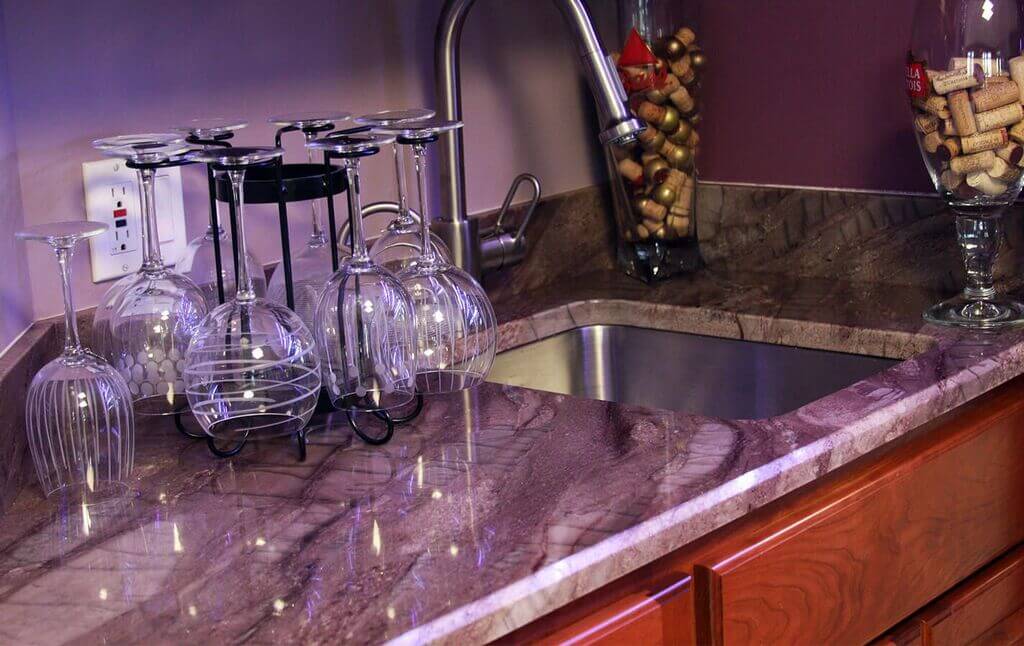 Source: pacocabello.es
Accentuate the aesthetic appeal of your kitchen with wild color choices like purple. The elegance of these quartz countertops will inject a sense of mystery with their stunning visual appeal.
16. The Chic Whites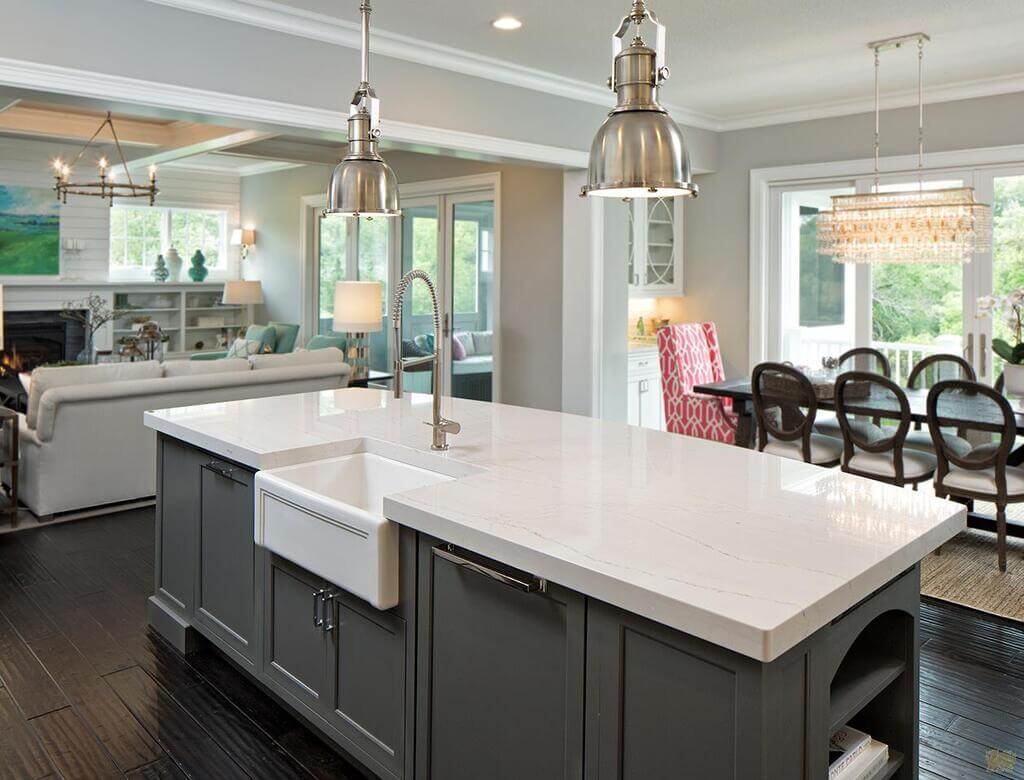 Source: wp.com
If your design sense favors a neat slate, white quartz countertops are the ones for you. An extremely versatile and refined design goes well with modern or farmhouse-style kitchen decor. Welcome a sense of luxury by pairing up white marbled quartz with soothing grey. 
17. A Hazy Grey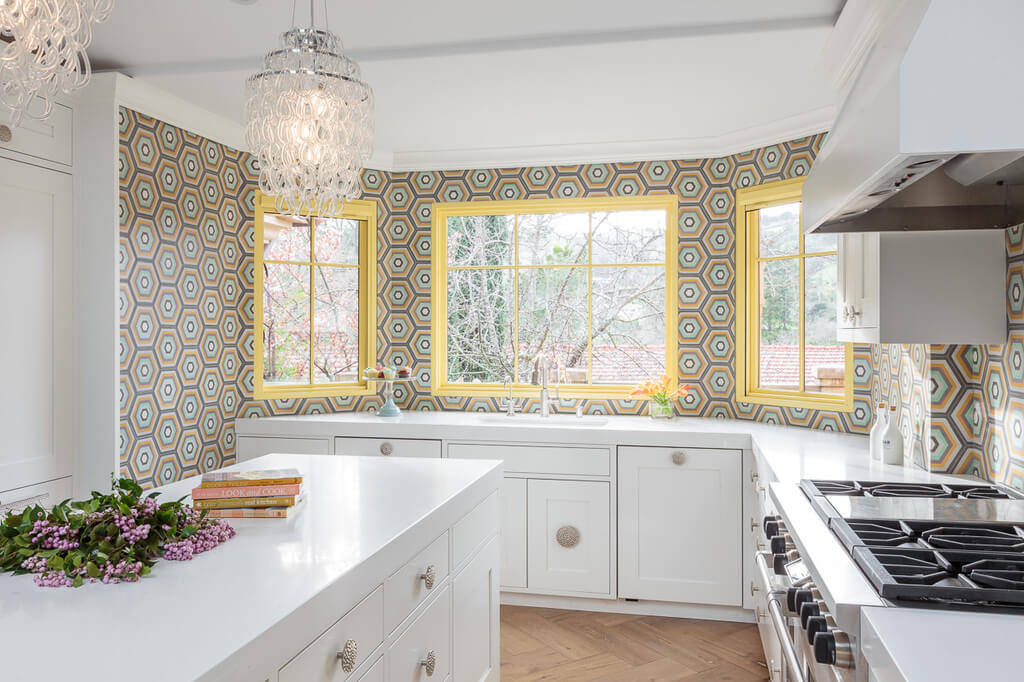 Source: hyundailncusa.com
Grey is a choice worth considering while curating the mood board for the kitchen. The perfect mix of contemporary essence and versatility in its design makes it one of the top-picked tones amongst quartz countertop colors.
18. The Pure White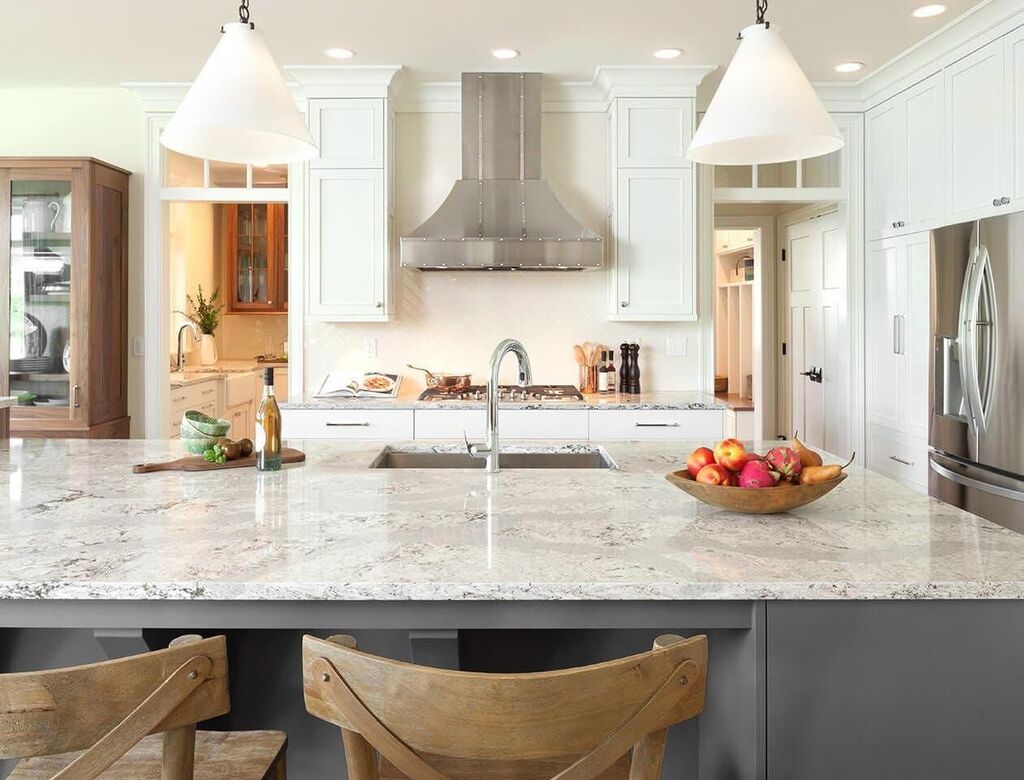 Source: wp.com
Do you like to keep things minimally elegant? Pick Arctic white quartz countertops colors to fill your kitchen with clean aesthetics. Bring a little hint of drama with black cabinets or keep the decor earthy by pairing up white with wooden cabinetry.
19. A Smooth Shine with Black Quartz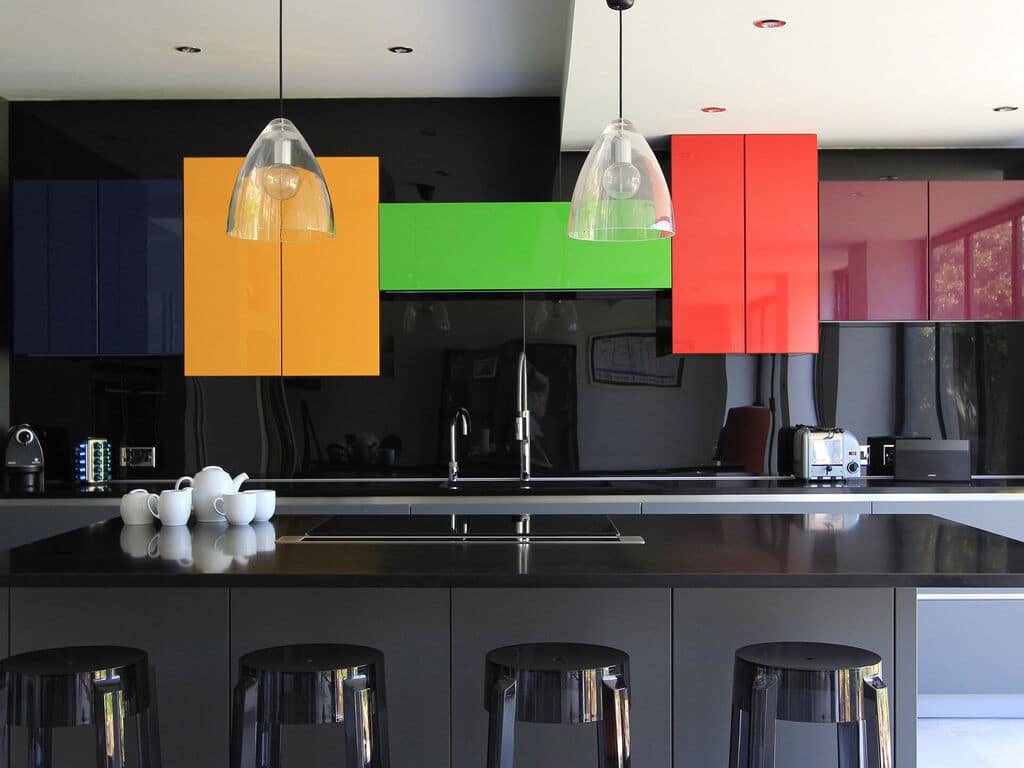 Source: pinimg.com
Let the hype of matte finishes be brought down and make a statement with smoothly-polished black quartz worktops. Go for an all-black look with the counter and island. Curate tiny surfaces filled with surprises by adding bright colors to the cabinet shutters.
20. The 'Wow' Quartz Countertops Color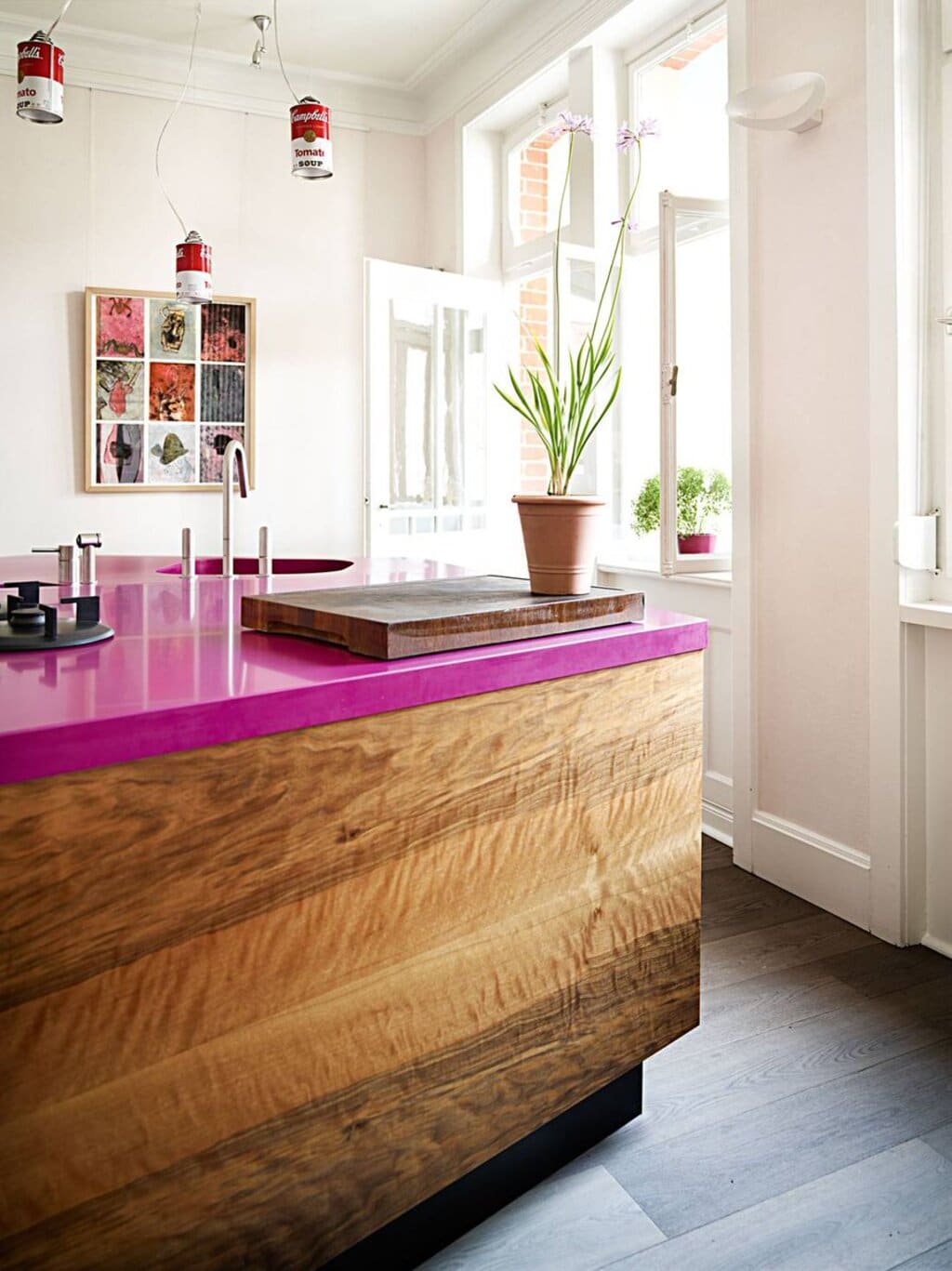 Source: pinimg.com
Has the thought of having hot pink countertops in your kitchen ever crossed your mind? Well, as astounding as it sounds– it's actually a trend to step into. Let the amazing countertop color and wooden cabinets speak for each other with a well-blended personality imparted to the kitchen design.
21. Smokey Grey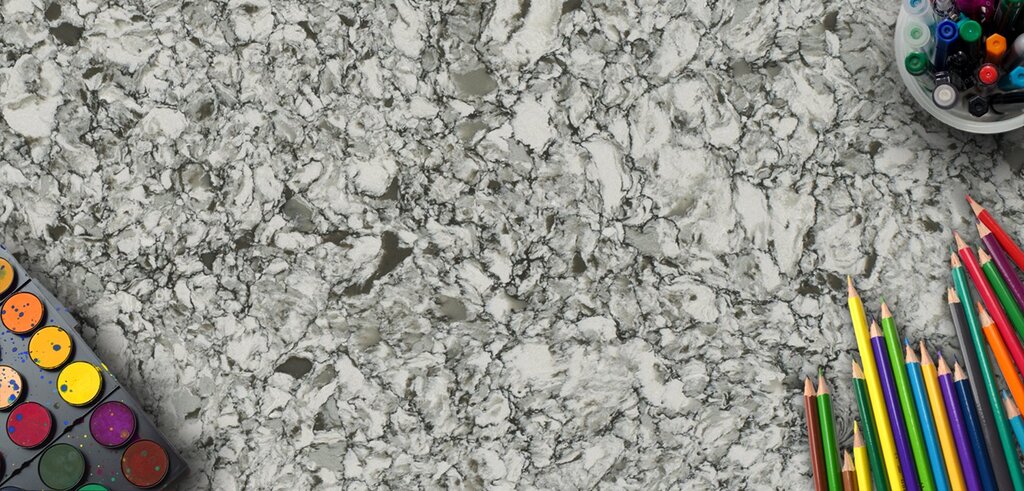 Source: ablestone.com
The smoky flavors surely rule our taste buds but what about statement-making smokey grey quartz countertops? An enticing veining pattern with a heavy look of white and grey will impart a one-of-its-kind look to your kitchen design when paired up with complementing cabinet accents. Let the entire color palette revolve around different tints of grey for an interesting design.
22. Refreshen it Up with Mint!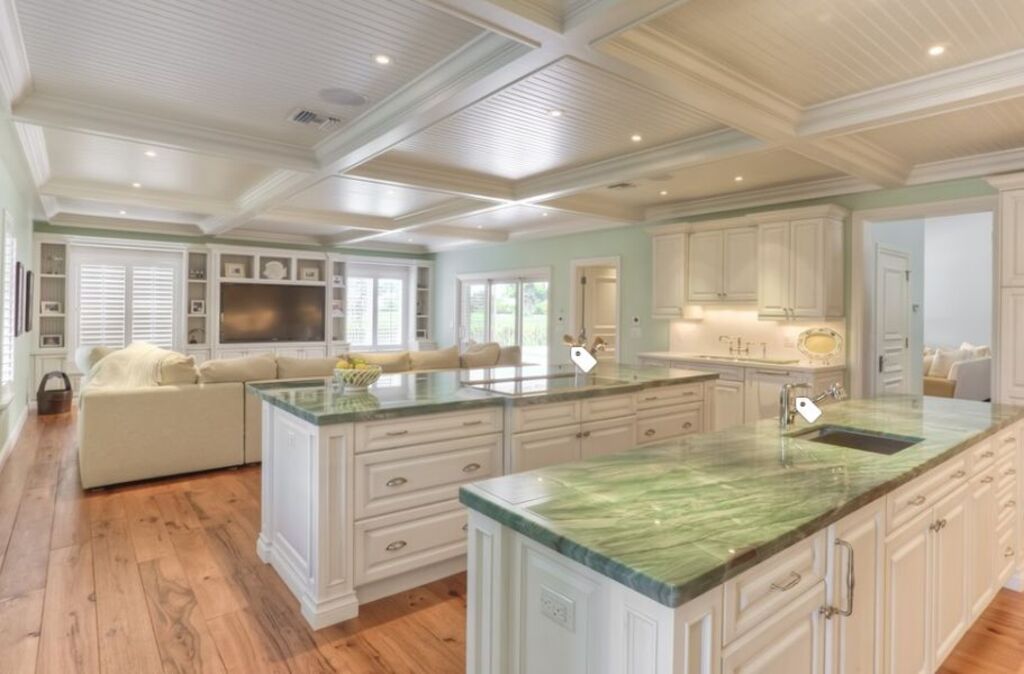 Source: cdn.com
Don't be afraid to go over the top when it comes to choosing hues. Go for an extraordinary two-tone kitchen cabinets design with mint green quartz countertop color which will instantly make you fall in love once paired up with white cabinetry.
23.  A Spicy Twist!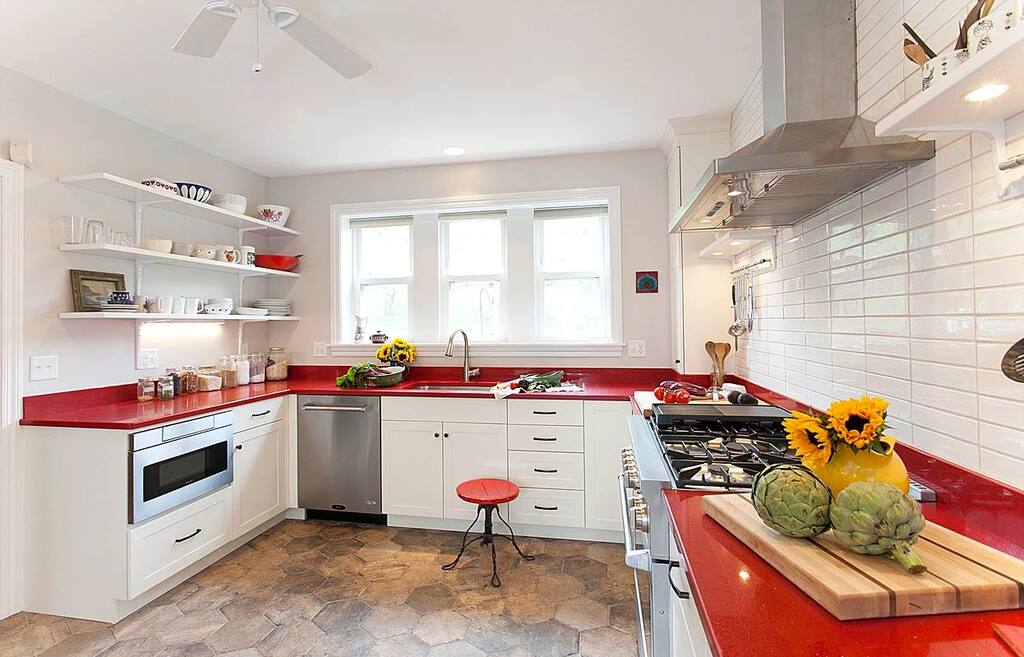 Source: parkerbathrooms.co
Bid adieu to the conventional white kitchen and let red add a little spice to the kitchen design. Don't be afraid to go wild with quartz color for countertops. Balance the brightness of red with soothing white decor and brown-beige flooring and prevent the decor from becoming too overwhelming for your eyes.
24. Brown and Black Pacific Salt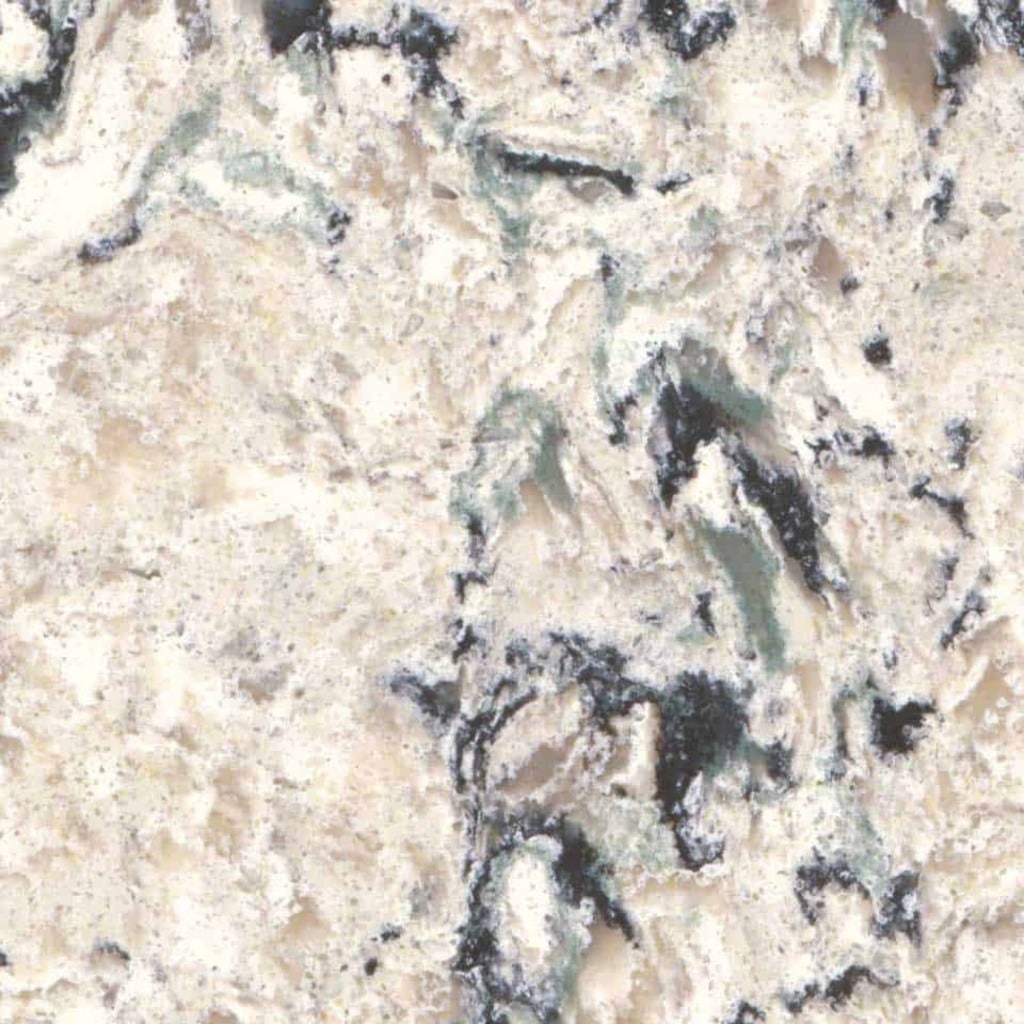 Source: pinimg.com
Match the dark cabinets with pacific salt quartz color that features heavy veining of dark brown and black on a sublime background. Complementing the solid cabinets look is the organic pattern formed in the stone.
25. Crispy Royale Blanc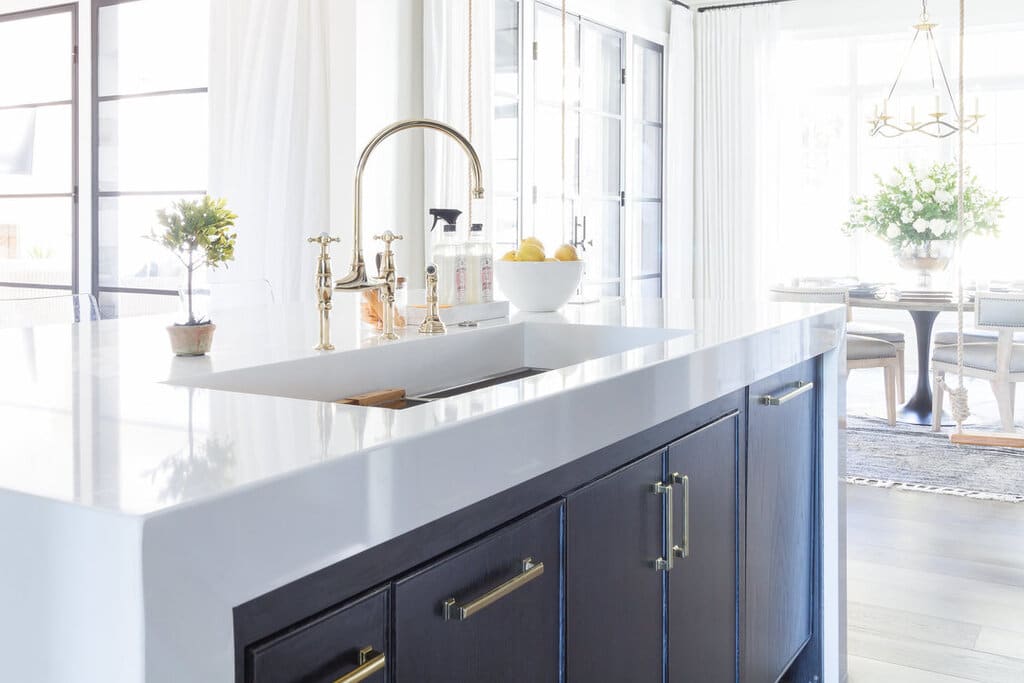 Source: hyundailncusa.com
If you love everything neat and organized, opt for the Royale Blanc quartz countertops color that offers a timeless appeal to your kitchen and is modernly clean. The sleek lines in the kitchen with an ultimate countertop choice can lead to a statement-making kitchen design.
26. Coral Black
Source: affordablecabinetsandgranite.com
No matter which color palette you play around with, there's nothing more bold and beautiful than coral black quartz countertops. The deep hue cooled with grey speckles looks sparkling when added to the dark mood board of a kitchen design.
27. Seleno
Source: cdn.com
Don't we all admire the playful visuals of terrazzo? Go for a traditional look with Seleno quartz countertops and curate the design with light walls and wooden accents for a conventional kitchen look that speaks a modern language.
28. Beautiful Aramis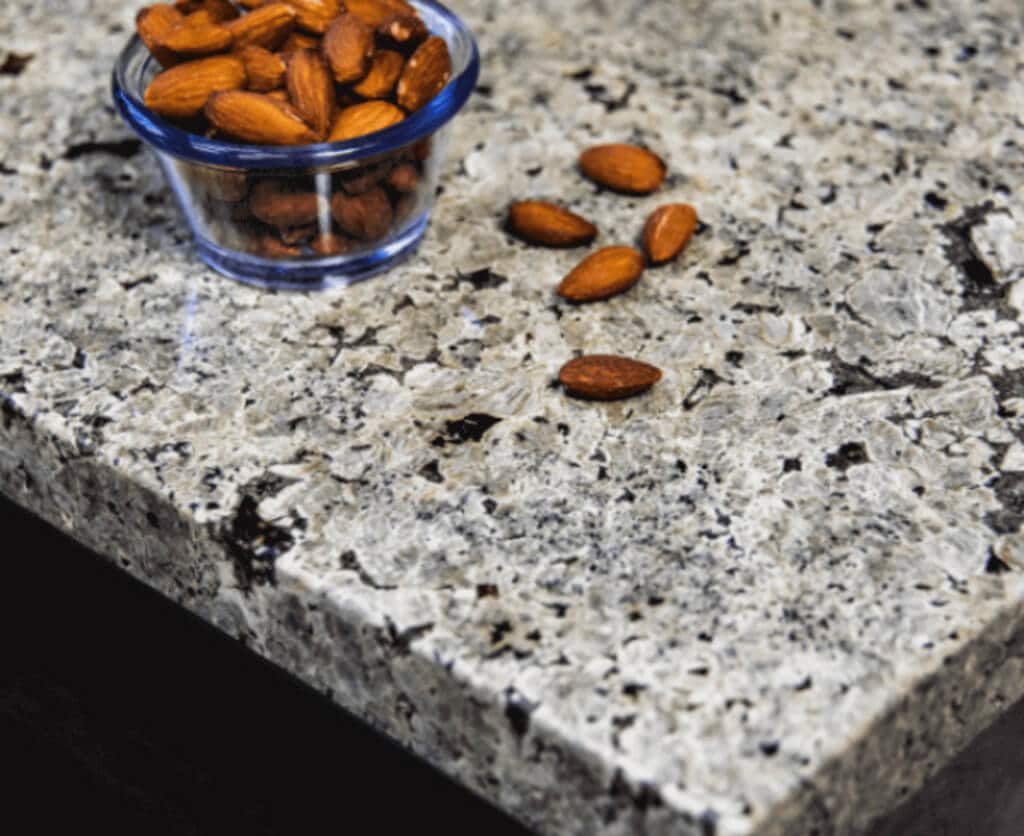 Source: parkerbathrooms.co
Want to make your kitchen speak of warmth and welcoming essence? Take a contemporary path and opt for the soothing grey undertones in Aramis quartz color. The calming grey is sure to add more depth to the kitchen design and induce a sense of relaxation in the kitchen.
29. Warming White
Source: pinimg.com
At the end of the day, we all want our kitchens to be inviting and warm. With mercer white countertops, consider this goal to be achieved as when paired against an earthy palette, the overall appeal of the kitchen will end up being extremely elegant and comforting.
30. The Cool Aura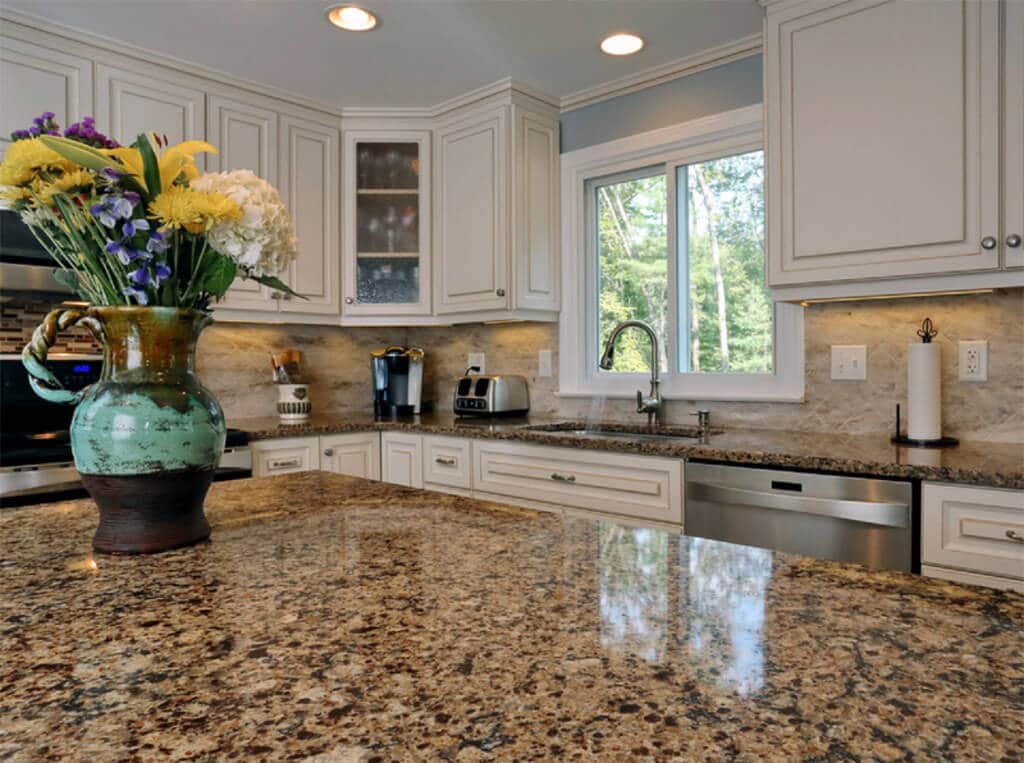 Source: pinimg.com
These quartz countertop colors with balanced and harmonized coolness of white and warmth of grey are a perfect addition to your kitchens. Pair them up with cool accents and witness how calming the entire kitchen setup becomes.
5 Reasons Why Quartz is the Right Choice for You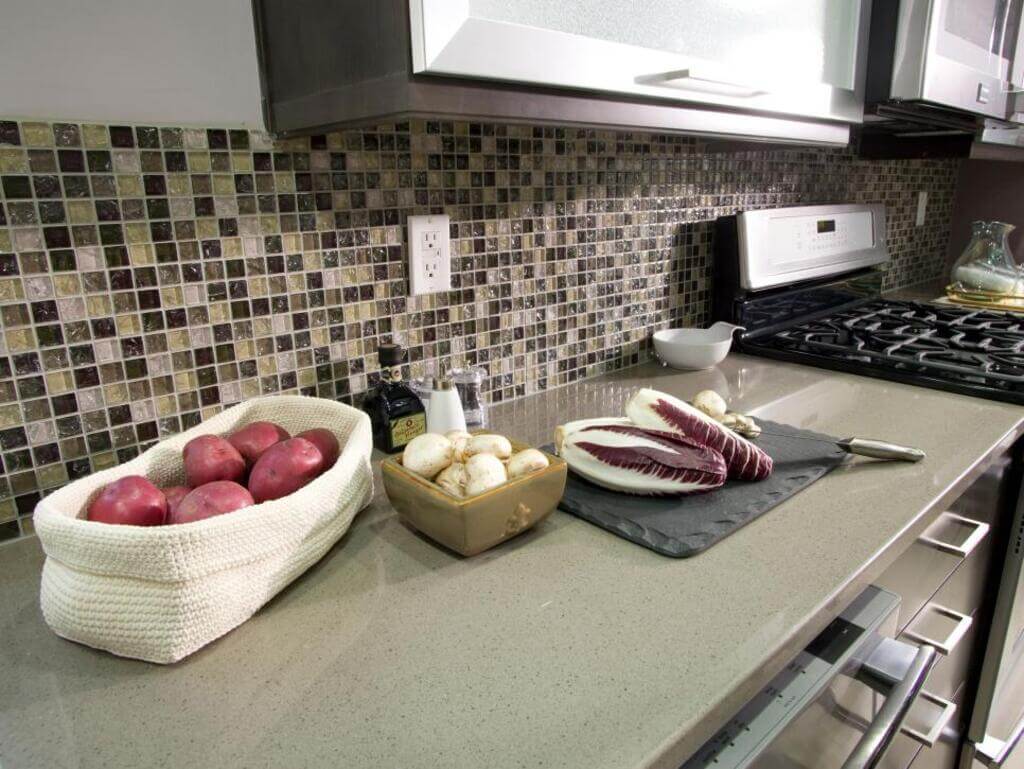 Source: pinimg.com
With a sea of options in the quartz countertops color, we're sure you must've made up your mind to invest in these funky and efficient worktops. Investment in kitchen countertops needs thoughtful consideration of the color and material. While the color palette is enticing enough, here are 5 more reasons to make you trust your instinct and invest in quartz countertops.
The high strength of this engineered product will make it last for coming years and the versatility and diversity promise that quartz countertops color are there to stay trendy for a long time.

These kitchen countertops are resistant to stains and corrosion offering you a clean kitchen at all times.

The heat-resistant surface of quartz countertops lets you work with ease.

Quartz is an eco-friendly material that introduces your home design to the concept of sustainability.

These countertops prove their worth with their non-porous quality which makes quartz a hygienic material for the countertops as you won't have to worry about microorganisms sticking to its surface.
Also Read: 20 Stunning White Cabinet Kitchen Backsplash Ideas
It Is an Ideal Investment …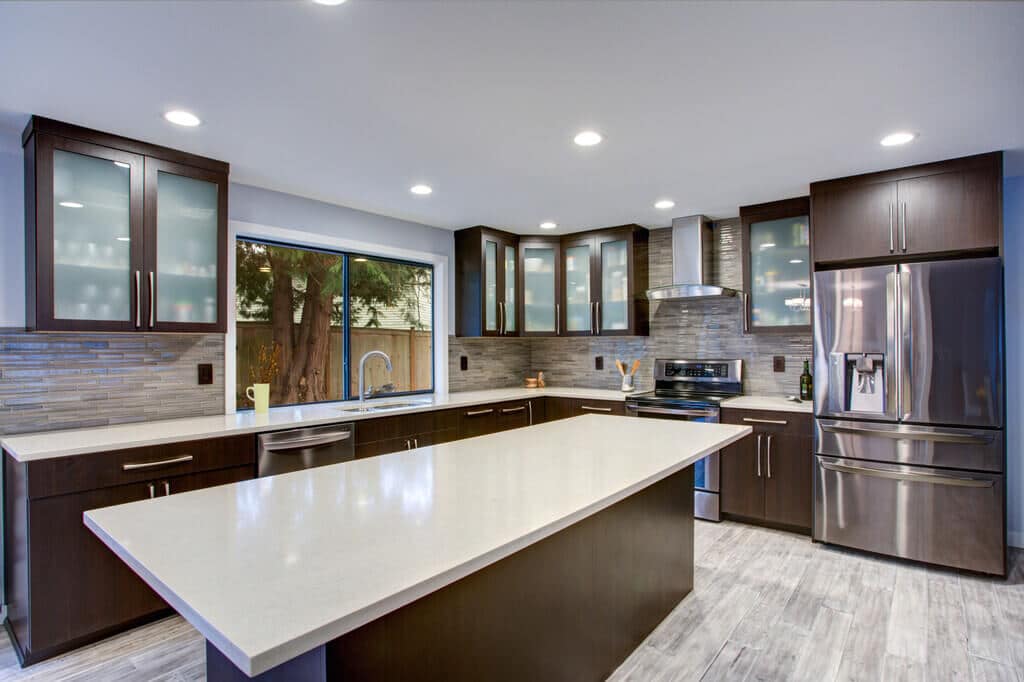 Source: pinimg.com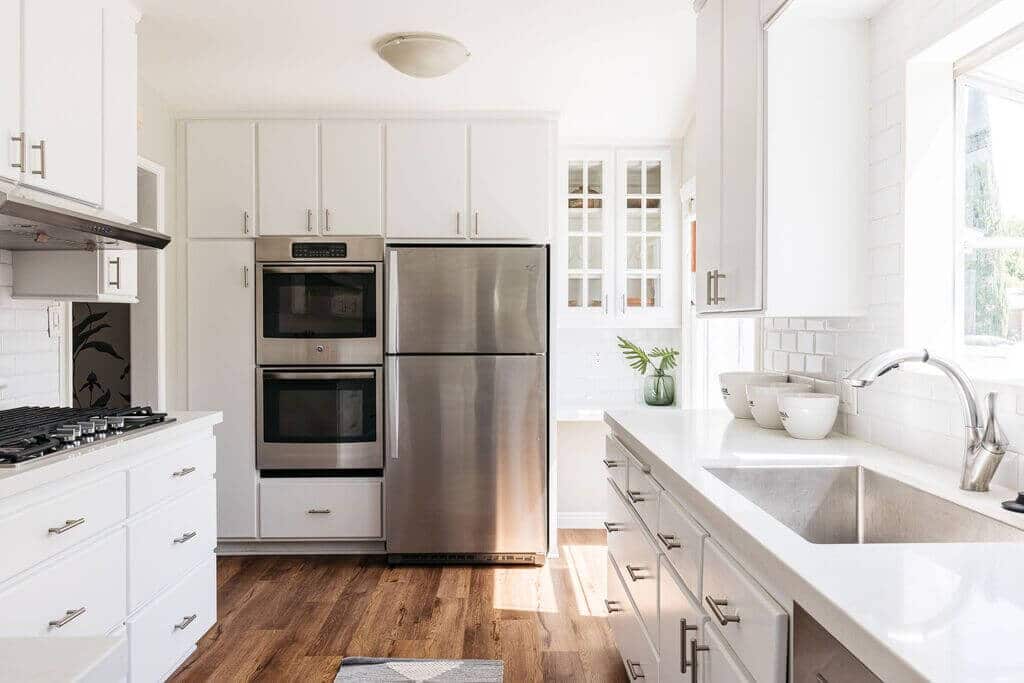 Source: homedit.com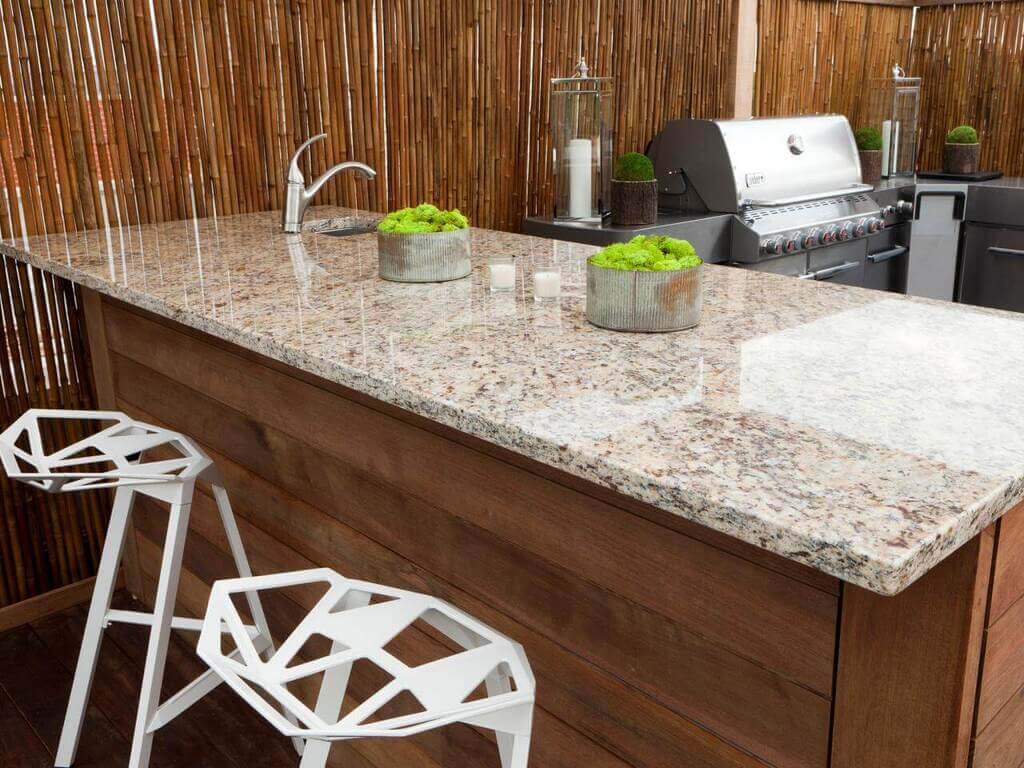 Source: pinimg.com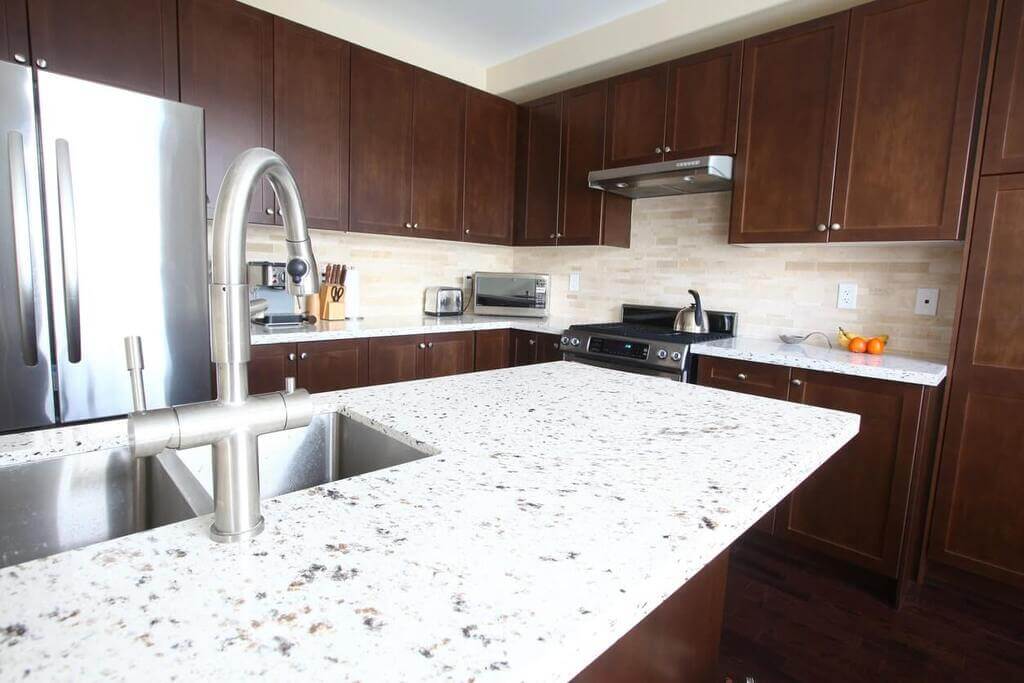 Source: mydomaine.com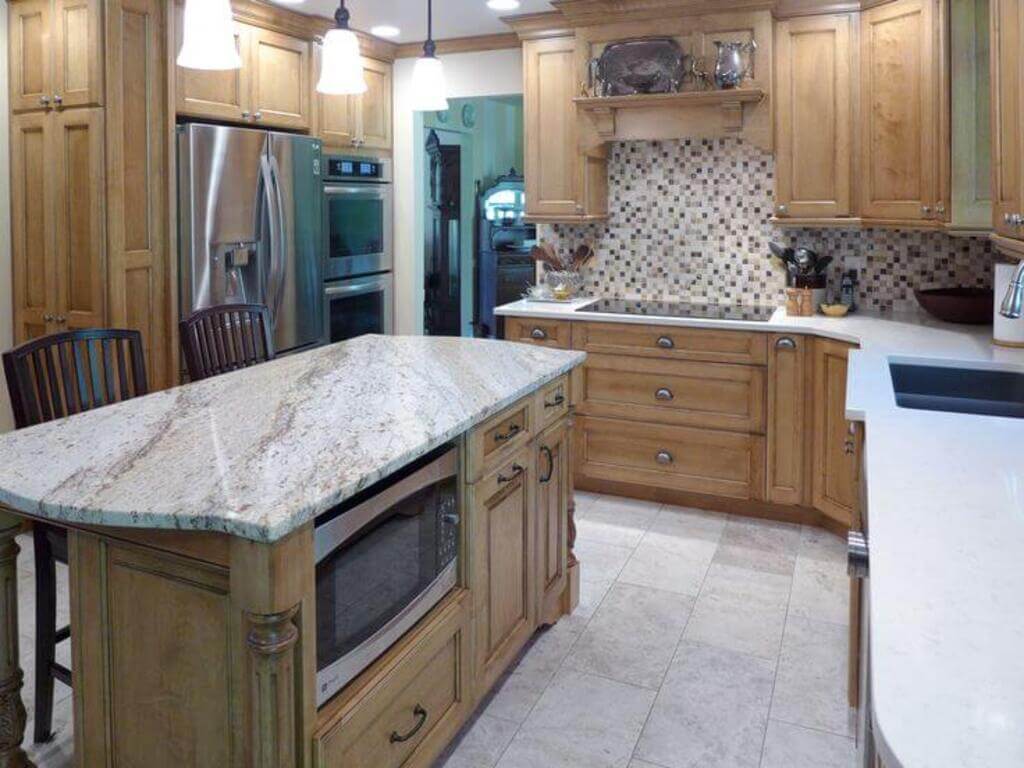 Source: 0zz0.com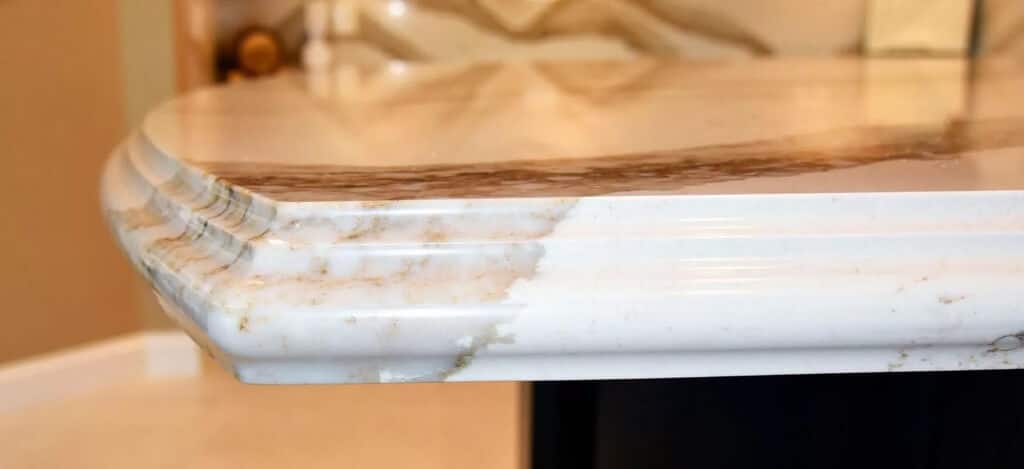 Source: twimg.com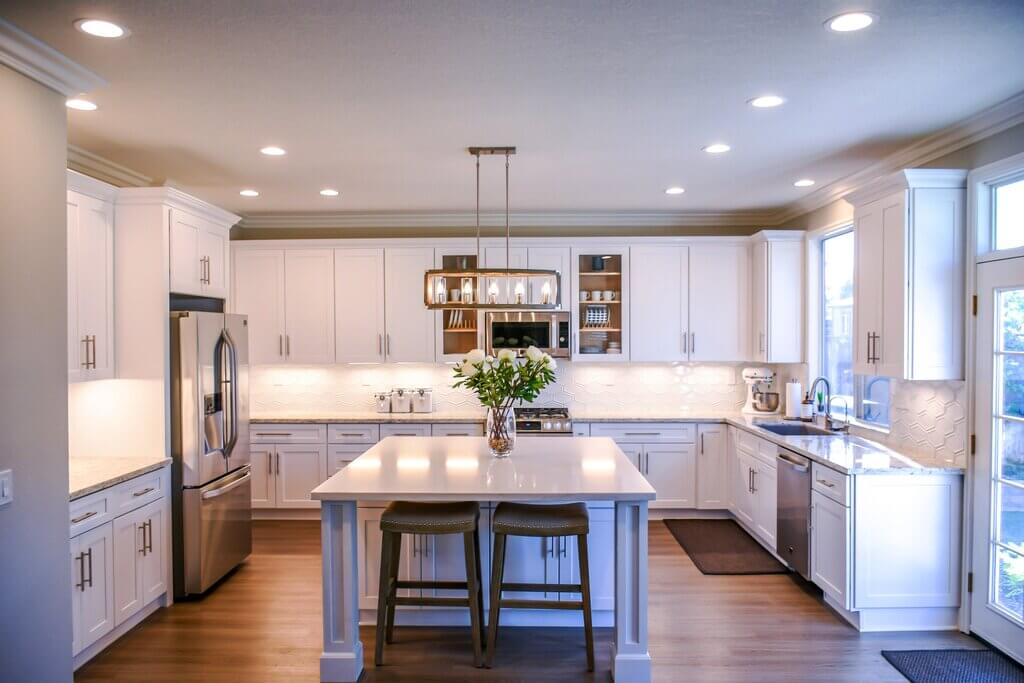 Source: twimg.com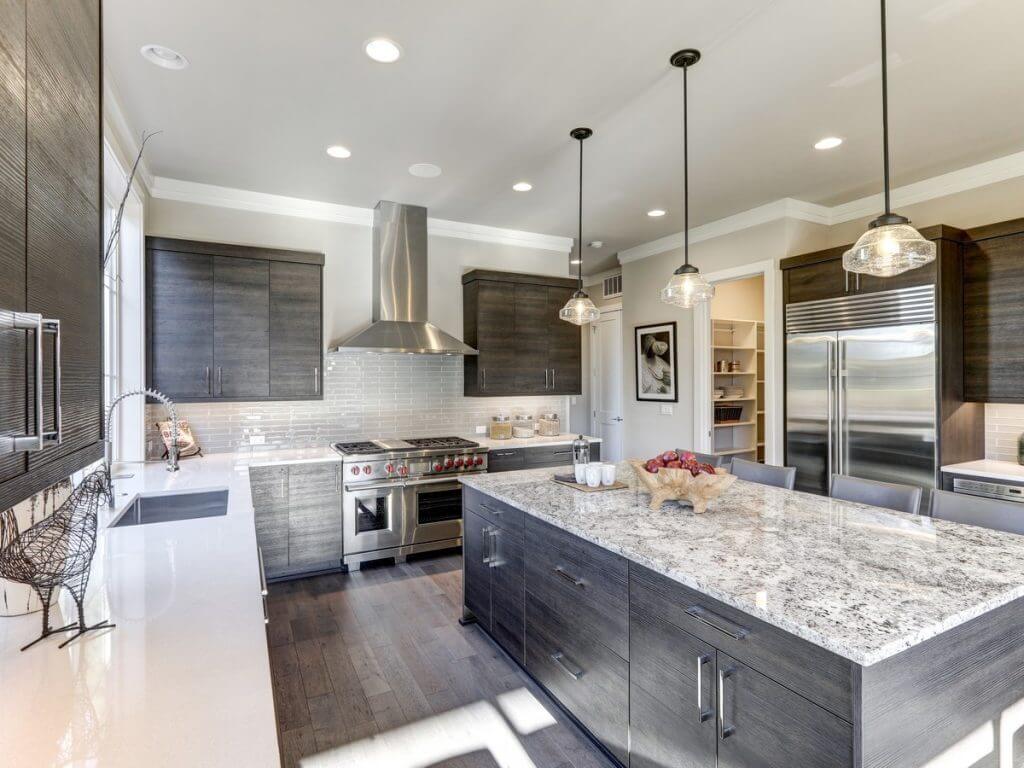 Source: factoryplaza.com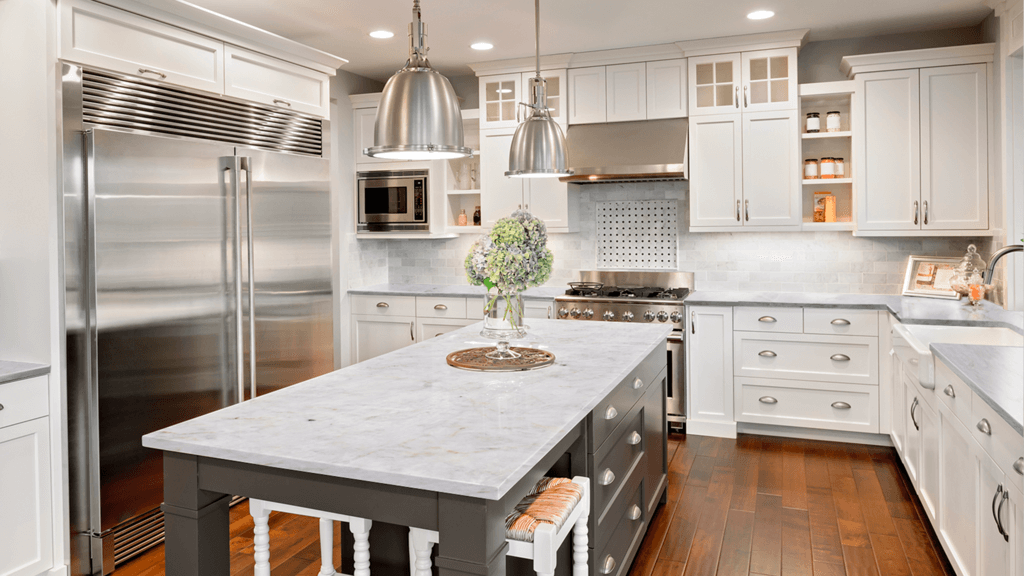 Source: thorgranitos.com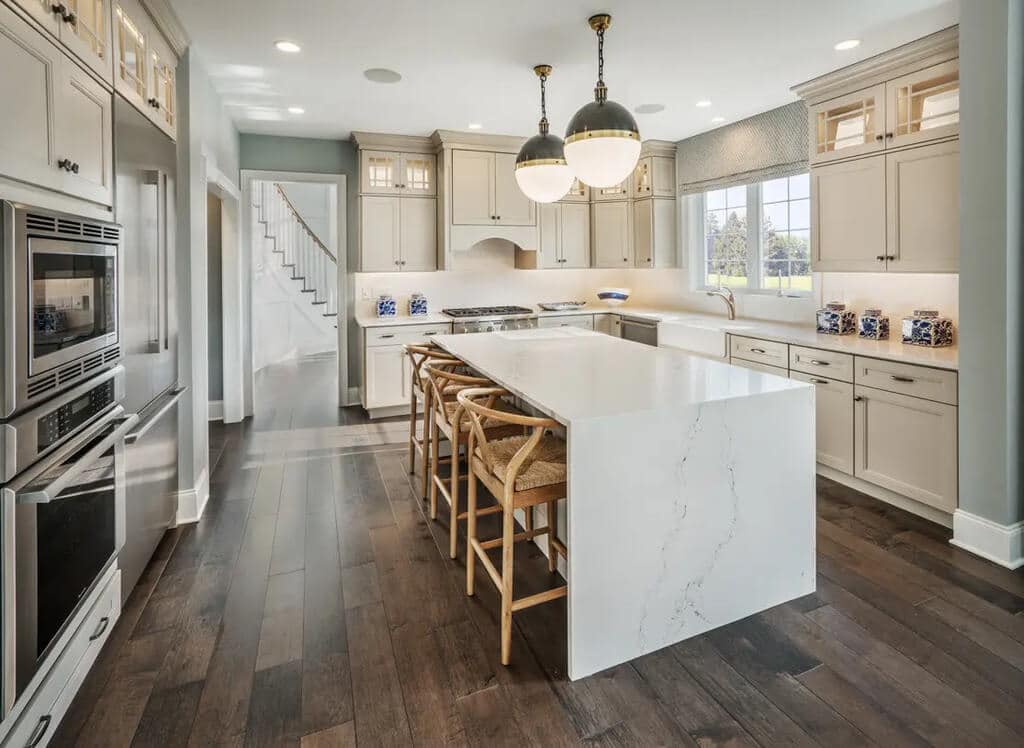 Source: unitedgranitepa.com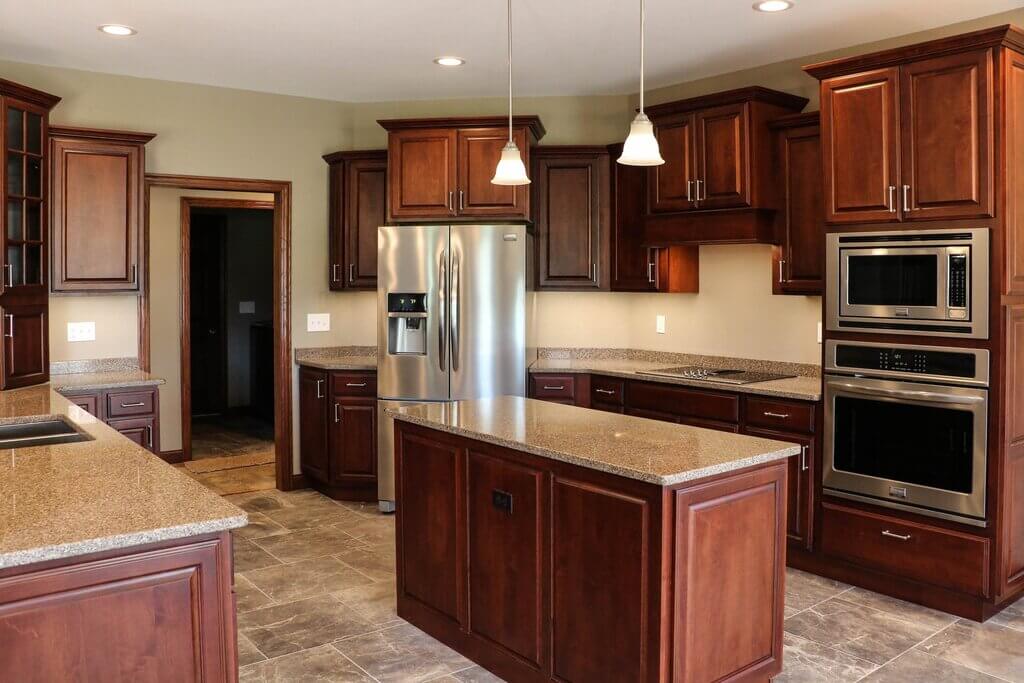 Source: hyundailncusa.com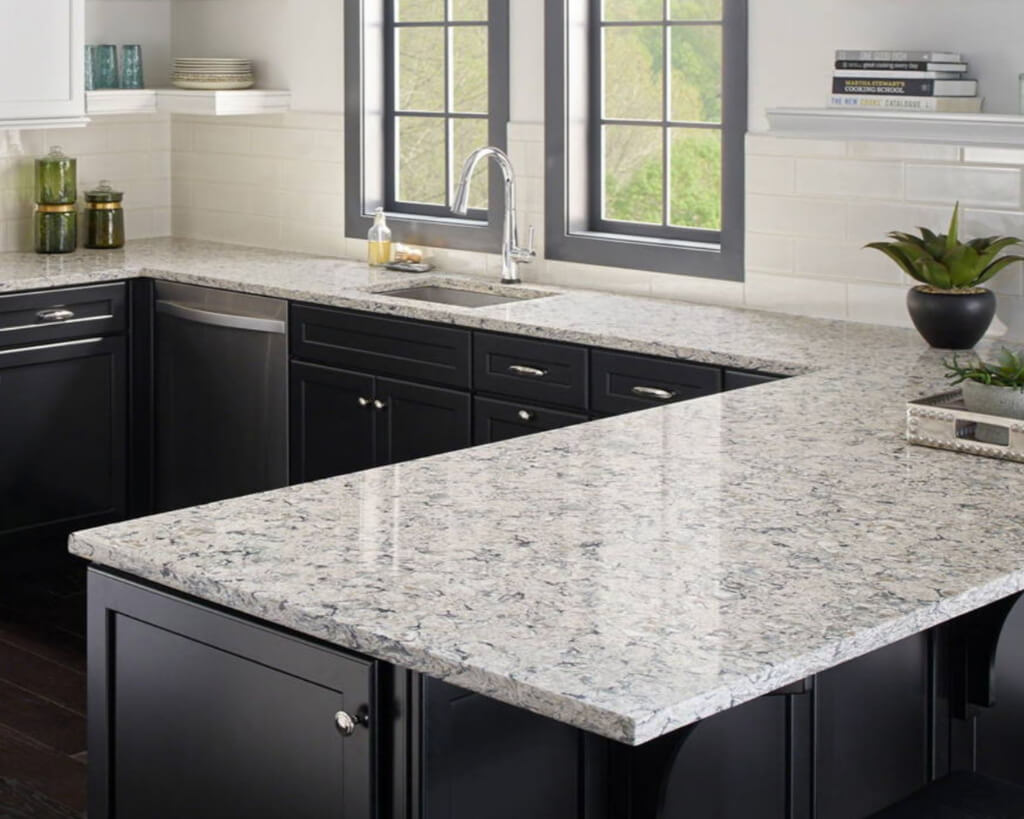 Source: twimg.com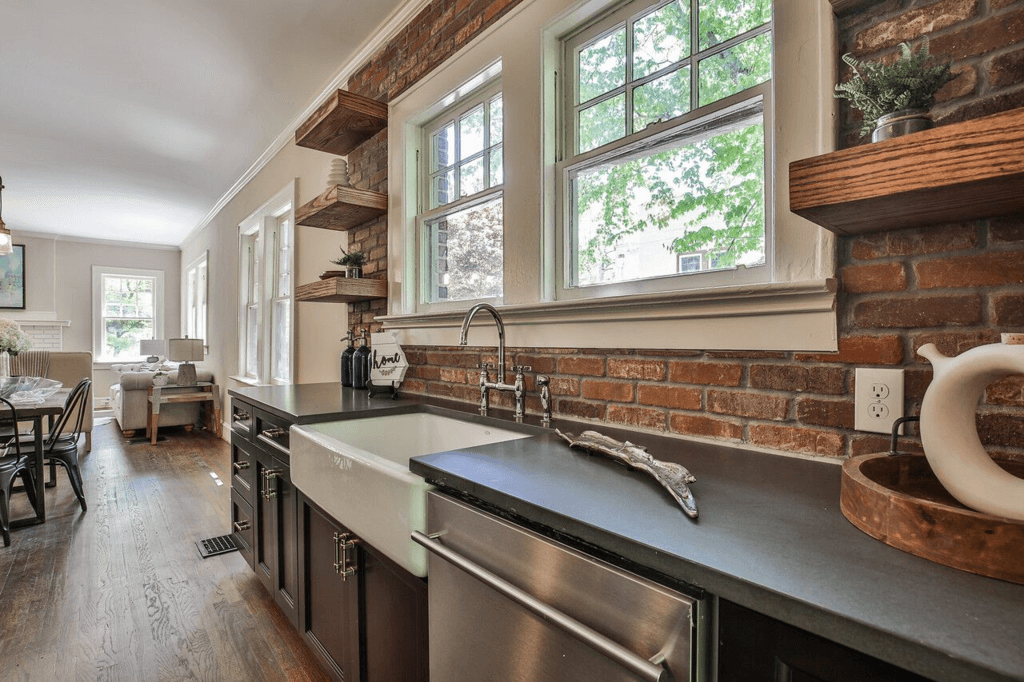 Source: hyundailncusa.com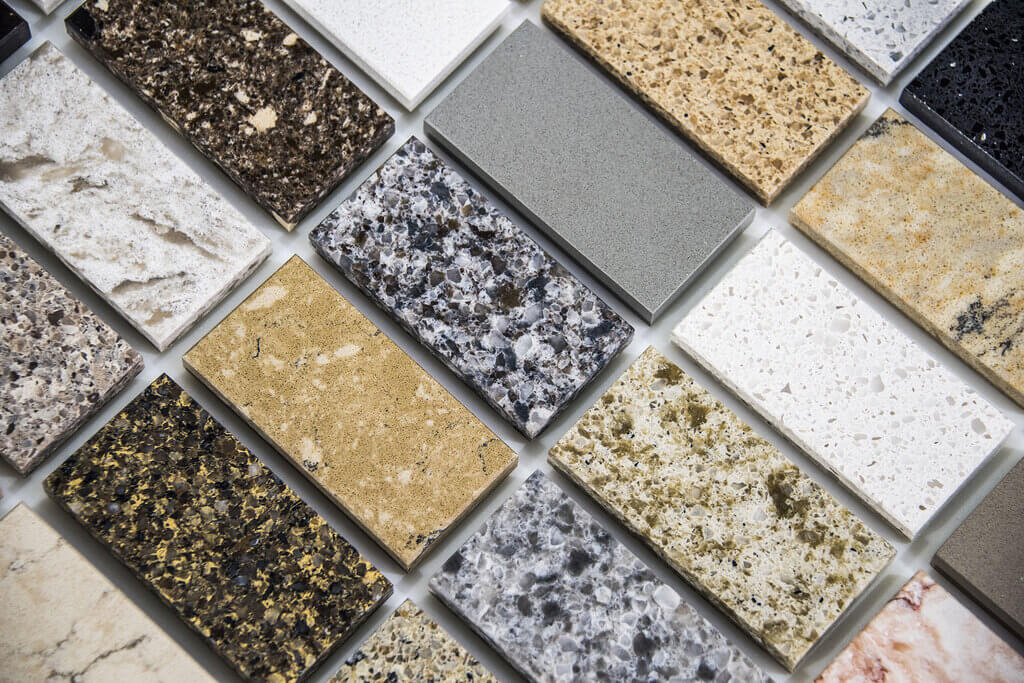 Source: precisionstonedesigns.com
A blend of beauty with a high quotient of functionality, quartz countertops color are choices worth considering while remodeling or constructing a new kitchen. A long life span, and friendliness to the environment and your pockets make it an ideal choice to be considered for kitchen design. 
FAQs
1. Which Quartz Countertops Color Blend with Cream Decor?
Add visual interest with light quartz countertops color adorned in dark and bold veining patterns. 
2. Can I Match Quartz with Cherry Cabinetry?
Add hints of brown to the color palette and form an intense look in the kitchen design.
3. Can Stains Be Removed from White Quartz Countertops?
Wipe or scrub the stain from the white countertops. As quartz is non-porous, it's extremely easy to get rid of stains.
4. Do I Need to Seal My Quartz Countertop?
Quartz in itself is non-porous that saves you from the hassle of sealing it.
5. How to Pair Up White Cabinets with Colorful Quartz?
White is a classic choice in kitchen design and the versatility of color makes it go well with any color countertop. For a bright look, opt for earthy-tone quartz countertops color or make a striking choice with contrasting shades.
To know more about Home improvement ideas, Cleaning and decoration tips visit ArchitecturesIdeas.
For daily updates, follow us on our Instagram page @architectures_idea.