This is a comprehensive guide to roofing materials that cover shingles, rubber, and metal roofs. The overview includes how the different roofing materials are used in roof construction, the maintenance, and repair practices that are involved, durability, and their advantages and disadvantages. The cost of the materials and their installation are also discussed. This article was written by the professional roofing contractors at Fortress Roofing.
Understanding the Material Difference
The most notable difference between shingle roofs, rubber roofs, and metal roofs is their material qualities, obviously.
Traditional metal roofs are constructed from Zinc. Zinc is a durable material, making metal roofs a long-lasting option. In modern-day construction, various metals have been embraced for the construction of metal roofs. This is mostly done to reduce costs. A good example is the use of galvanized steel, which is incredibly strong. Other metal roofing options include ironwood metal roofing and metal shake roofing.
Most metal roofs are made from recycled materials. The metal roofing panels are 100% recyclable after their lifespan.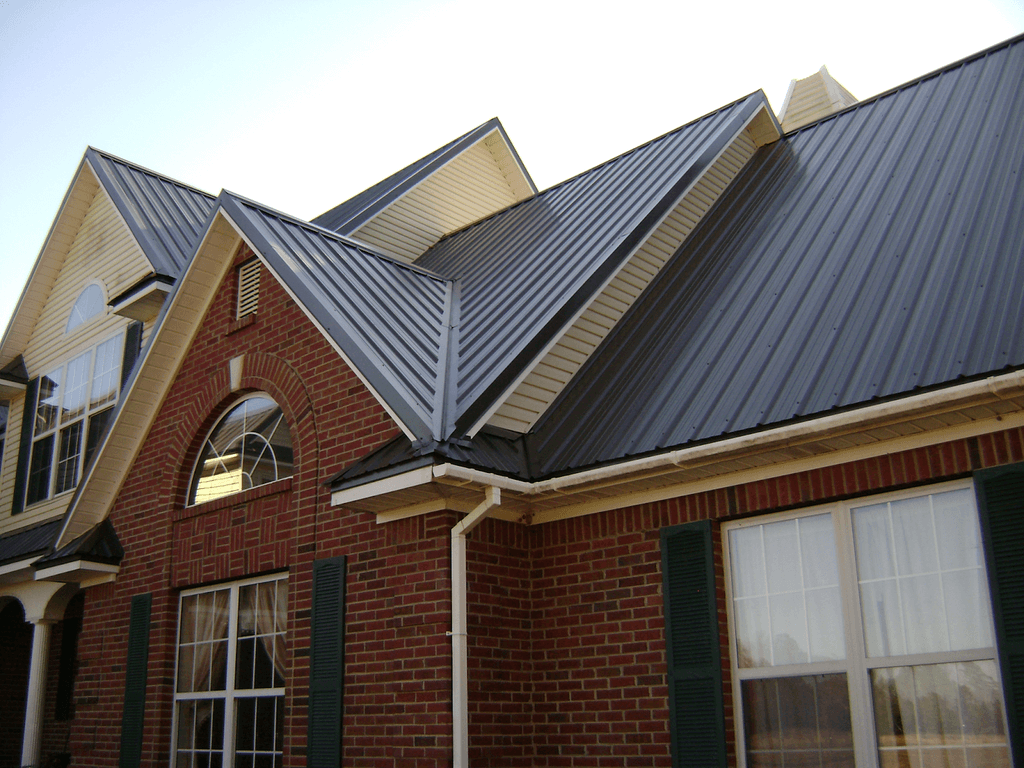 Source: flickr.com
Rubber roofs are the new kids on the block; they are fairly new in the construction industry. They were introduced to control the number of used waste tires that end up littering the environment. Rubber roofs are made up of about 95% recycled rubber.
The most dominant shingles used as roofing materials are asphalt shingles. The manufacturing process for asphalt shingles uses a continuous sheet which provides the base on which asphalt and other materials are applied. A thin fiberglass mat is applied to reinforce the asphalt roofing shingles. The fiberglass mat is manufactured to a certain length and diameter and is held together by resins and binders.
Asphalt material is water-resistant. It is processed to a high degree of toughness in order for it to perform its roofing functions.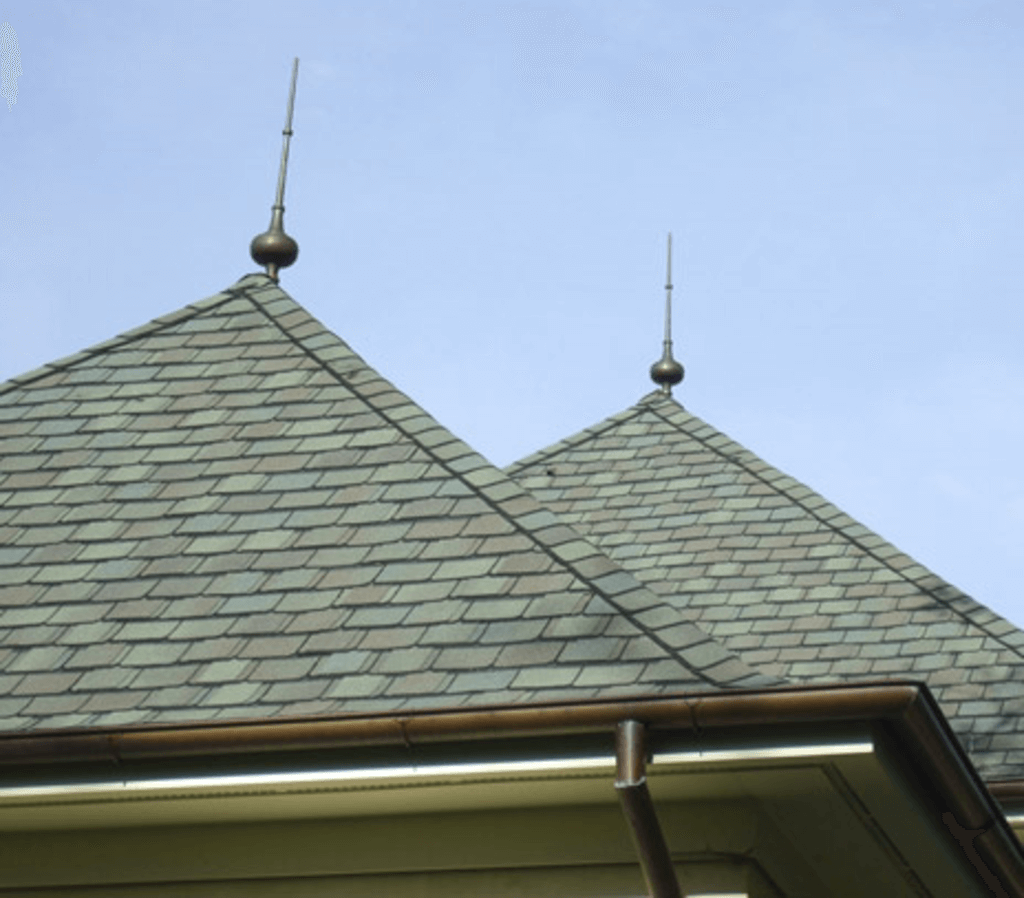 Source: flickr.com
Durability
Durability is a vital aspect of roofing materials because, in a house, the roof is the first line of defense against the weather.
Rubber roofs are very durable and one notable advantage is their tight nature that prevents rainwater from getting into your house. The rubber tiles are made in an interlocking tongue-and-groove style.
Another quality that makes rubber roofs durable is their inability to split or crack. They are also resistant to surface wear, and they are not susceptible to moss and algae.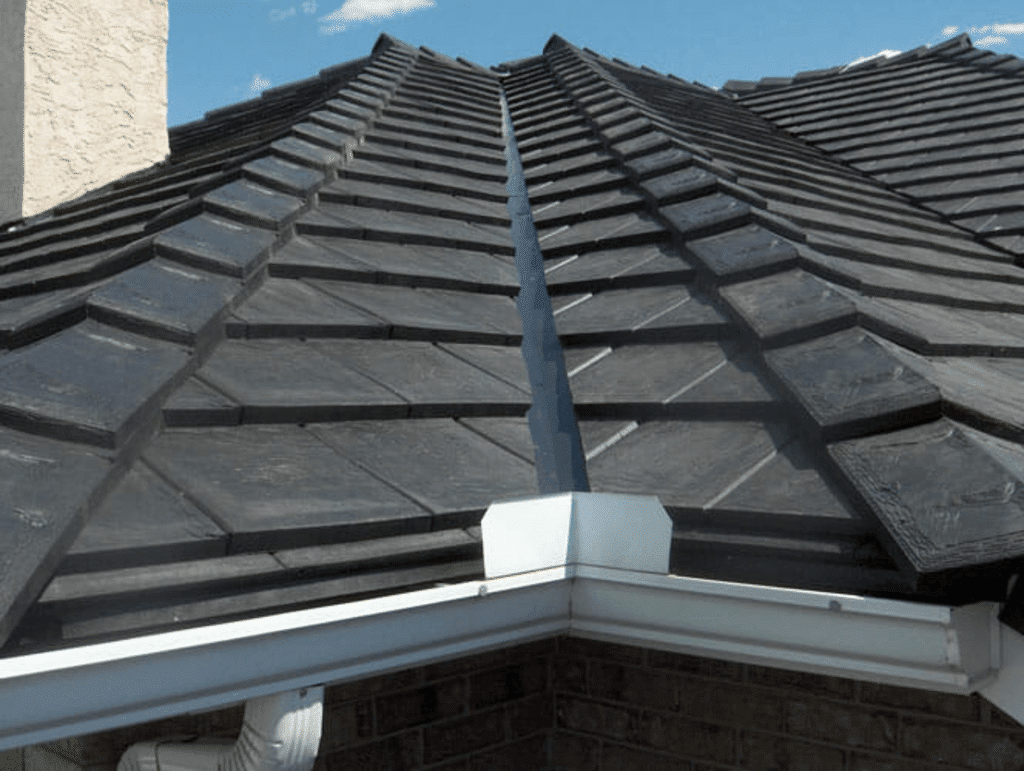 Source: flickr.com
Asphalt shingles, though relatively cheaper, last about 25 years. They are also prone to mold and algae since they are porous and often get damp.
Metal roofing can last at least 50 years before they start degrading. In some instances, zinc and copper roofing materials last over a century. Of the three materials, metal roofing is the best material for your roof if you are looking for the most durable.
Cost
Asphalt shingles are relatively cheaper than metal and rubber roofs. They can cost anywhere between $1.50 and $5.50 per sq. foot when installed on a standard-sized home. The price can vary depending on the roof pitch, the size of the roof, and the quality of the asphalt shingles you decide to use. Contact your local contractor to find out the exact prices within your area.
Metal roofs are relatively cheaper if you consider them for long-term use. The initial costs are relatively higher compared to shingles and rubber materials. They are cheaper in the long-term because their lifespan is relatively longer. The average cost of a metal roof is about $5.50 to $15.50 per sq. foot.
Besides the initial cost of materials, the installation costs of labor and equipment are relatively higher for metal roofing.
Rubber roofing systems are costlier than asphalt shingles but less costly than metal roofing systems. Compared to asphalt shingles, rubber roofs can be less costly in the long-term since they last much longer and are more energy-efficient. Expect to pay between $4.25 and $8.25 per sq. foot.
The installation of rubber roofs is not as labor-intensive as other materials, so the installation costs are much lower.
Also Read: Factors To Consider When Choosing Roofing Material
Maintenance and Repair
One of the most desirable qualities of metal roofs is they practically require no maintenance. This is a great relief to homeowners because once you have installed your roof, you do not need to take care of it like it's some pet. You may just need to make slight adjustments by tightening screws on your corrugated metal roof every decade.
In cases where metal roofing experiences damages, repairing them can be a very costly affair. The repairs are more difficult since they are usually installed in sheets. Therefore, their replacement must also be done in sheets.
Damages to asphalt shingles are easier and less expensive to make. Their replacement is easier since they are installed in smaller sections. Since their lifespan is relatively shorter, the maintenance of asphalt roofs can be expensive because you are likely to have frequent maintenance sessions depending on the weather and climate of your region.
Rubber roofs require repairing every few years. Since they are mostly used for flat roof construction, they are prone to leaking. They will need patching every once in a while. The cost of repair may range between $200 and $700 depending on the size of your roof.
Conclusion
Shingle, rubber, and metal roofs all have their pros and cons. For instance, the initial cost of metal roofs is high while the maintenance costs of asphalt shingles are relatively higher, even though their initial cost is lower. Asphalt shingles are easier to install compared to rubber roofs and metal roofs. Metal roofs are costlier to install but last longer than the other two types of materials.
As you choose what material you would use for roofing your building, be informed of their various qualities and advantages and disadvantages. Pick that which best fits your property and is within your budget.