One of the popular architecture that people are crazy about is the Scandinavian Style. Its simplicity, function, and connection to the natural world, the unique style of interior & exterior designs are some of the reasons why many architects and homeowners are going for this architectural style. Let's see Scandinavian exterior designs.
Whether it is oceans, mountains, urban cities, or any part around the world, you can easily find houses with Scandinavian Exterior Designs. There are three key elements in this style: Modernism, Minimalism, and Functionality!
The Scandinavian homes are usually modish and chic in terms of design with excellent functionality. Today, in this blog, we'll talk about famous Scandinavian architecture, including its history and exterior design elements. We've also compiled some of the best Scandinavian exterior designs ideas.
What is Scandinavian Architecture?
Scandinavian Architecture is dated back to the early- to mid-20th-century and has its roots in the northern countries of Denmark, Sweden, and Norway. This style includes some unique design elements such as incorporating the structure with the surrounding environment, Simplicity in design, creative use of wood and natural materials, and many more.
The houses with Scandinavian architectural style have ample natural light, furnishings with clean lines, neutral colors, great functionality, and a welcoming coziness.
In short, the overall theme of Scandinavian architecture is a minimalistic and simplistic design.
Nowadays, Scandinavian Architecture and designs have had a substantial impact and influence on modern architecture all around the globe. Unlike the other architectural styles, Scandinavian style house exteriors and interiors tend to include a more eclectic mix of vintage and contemporary pieces and a more playful attitude.
One of the best things about Scandinavian architecture is that it promotes Simplicity and living with nature! It is a clear summary of clean lines, basic shapes, and solid, natural colors; you'll find not a single thing superfluous.
Here are some of the trendy and modern Scandinavian house exterior design ideas:
Do you want to know what are the key elements of Scandinavian Architecture? What makes this architecture so unique and different from the rest? If you want to know all these fascinating facts, keep on reading.
Key Characteristics of Scandinavian Architecture
Like any other type of architectural style, Scandinavian Architecture has its own unique key features and characteristics. We've already told you about some of them; let's talk about the main key characteristics of the Scandinavian house design exterior in detail.
Clean Lines
At a first glance on any of the Scandinavian home exterior, you'll instantly spot some sharp lines in the architecture. These houses are constructed in such a way that they have clean lines at the top with an asymmetrical edge.
Use of Natural Materials
Natural materials play a big role in the Scandinavian house style. Whether it is traditional Scandinavian houses or modern ones, every home has elements like splash that are made from natural materials like wood and stones.
Large Windows
Large Windows are constructed to connect the inside and outside so that residents can enjoy their surroundings. Plus, these windows create the illusion that there's really no separation between inside and outside at all.
Uses of Black Paint
Black is one of the popular Scandinavian exterior house colors. That's why you'll see many Scandi spaces have exteriors that are painted in black or in dark colors.
Different Heights
Silhouette is quite important when it comes to modern Scandi homes. These homes feature roofs and windows of various sizes and heights.
7 Modern Scandinavian House Exterior Ideas
These breathtaking houses have a simplistic design yet are extremely livable. From luxurious villas to small cabins on mountains, we've compiled various types of houses that have incredible Scandinavian architecture & design elements. Let's take a look at them:
1. Casa de Hormigon by BAK Architects
Look at this gorgeous residence located in the middle of the forest in Mar Azul, Argentina. Walls have been mainly made with glass so that there will be ample natural lighting inside the home.
Constructed in only 75 square meters, this Scandinavian small house is partly divided into two parts: public or entertaining space and private space. From huge paneled windows to the natural wood siding, everything is Scandinavian themed, and it is gracefully and seamlessly blends into the surrounding trees.
2. Chalet du Bois Flotte by BOOM TOWN
This is a Scandinavian-Style L-shaped house known as Chalet du Bois Flotte or the Driftwood Chalet. Located in LA Malbaie, Canada, this dark-themed house with black walls and black Gable roofs perfectly contrast with the white background of snow landscape and blue skies.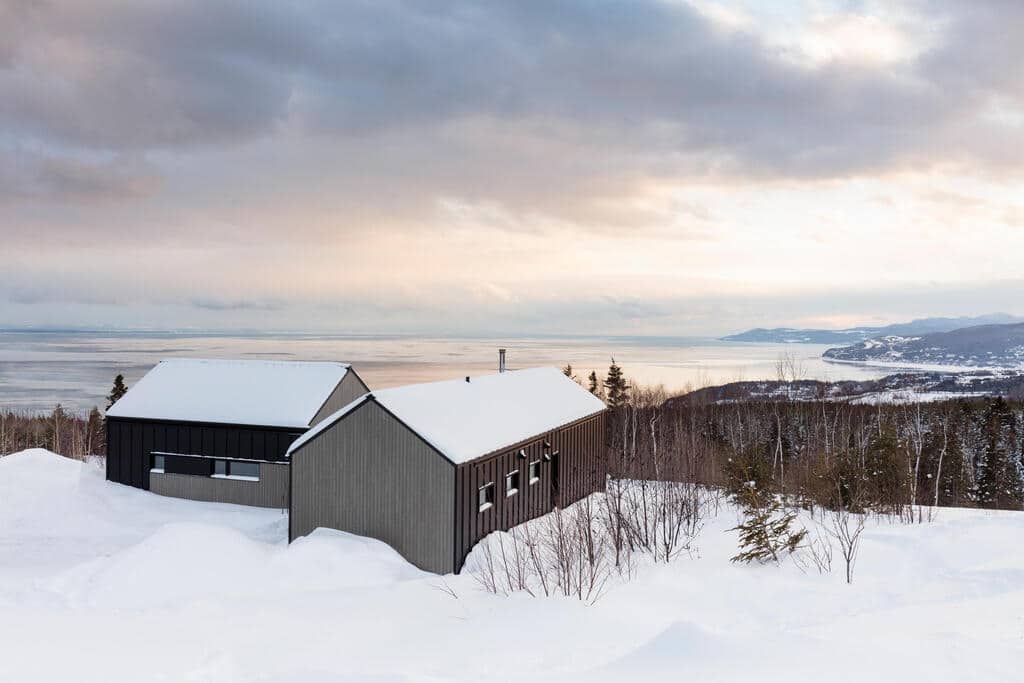 The massive glass windows allow the residents to appreciate the surrounding beauty. The simple lines of the Gable roofs and black walls, which are the main elements of Scandinavian architecture, look breathtaking against the wonderful frozen surroundings.
3. A Scandinavian Pool House
This stunning pool house is everything that anyone can dream of living. Designed by Lundberg Design, this residence is located in Calistoga, Mount St. Helena, the Palisades, and Napa Valley. The house features an extended cantilevered roof, deck, and pool out toward the Napa Valley.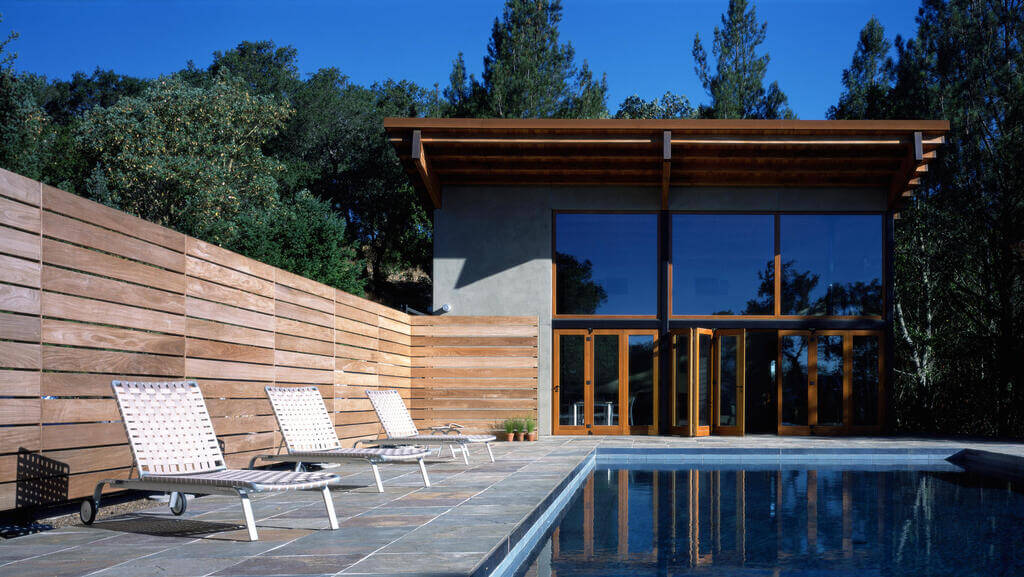 Mostly raw and natural materials have been used in construction, and these expansive windows are highlighting the pool as a focal point. From the simple wood-slatted fence, plaster walls to exposed wood laminated beams, and powder-coated steel frames, everything in here gives the authentic Scandi Vibes.
4. Scandinavian Style Luxurious Home
Have you ever dreamed of living in a hill house? This spectacular property is known as the Norwegian Project, and it was designed by MirrorR studio. Located on a cliff, this house is the true definition of luxuriousness.
It's a square-shaped home that is adorned by a wood frame that looks extraordinary. Like the other Scandi homes, this is also built with its environment in mind and fits into the mountain seamlessly.
5. Powder Snow by Luc Plante Architecture + Design
Another great example of Scandinavian Architecture is this lovely residence. Located in Bromont, QC, Canada, it features a proud slab of stone wall rising up with tall trees. Also, this specific earthen wall supports the rest of the modern house's flat roofing while magnifying the large glass walls. There is also a balcony on the side with a set of stairs leading to the snowy landscape.
This Scandinavian-style home with an earthy palette looks well contrasting with the white winter scenery surrounding the house. This place offers a warm welcome and coziness from wide glass walls.
6. Grand-Pic Chalet by APPAREIL Architecture
Black homes are very popular in Scandinavian countries, including Denmark, Norway, Sweden, Finland, and Iceland. This is because these countries are cold, so the dark color absorbs light and helps to insulate the home against the freezing weather conditions.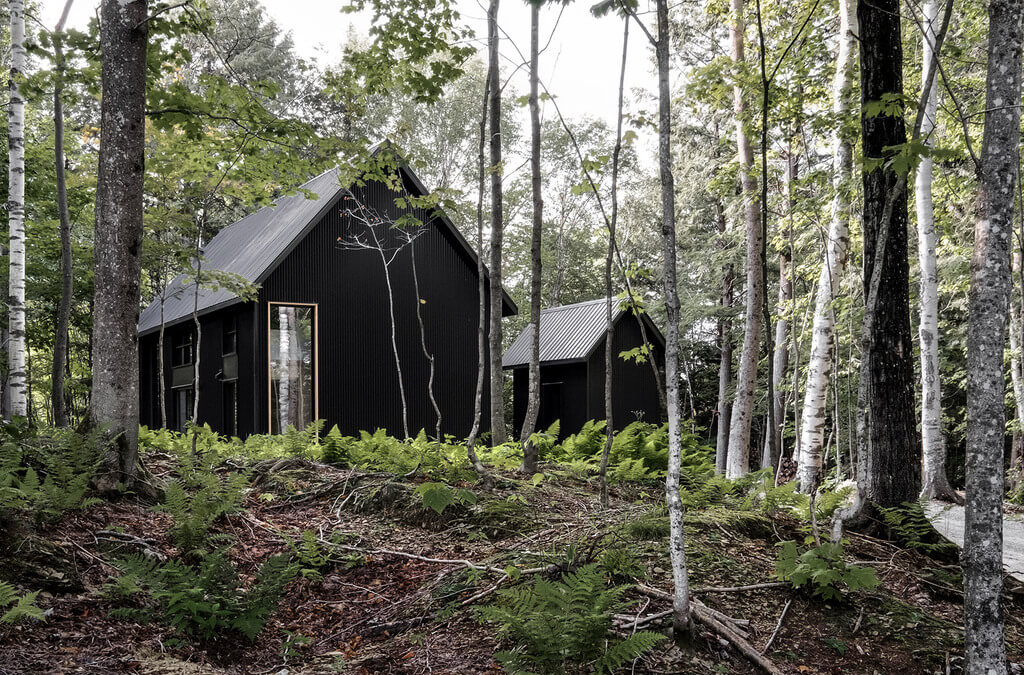 This Grand-Pic Chalet, located in Austin, Canada is designed by APPAREIL Architecture. Doesn't it look both practical and beautiful? The vertical lines on the facade and the roof introduce some texture and visual appeal to the house's overall appearance.
7. Casa Barone by Widjedal Racki Bergerhoff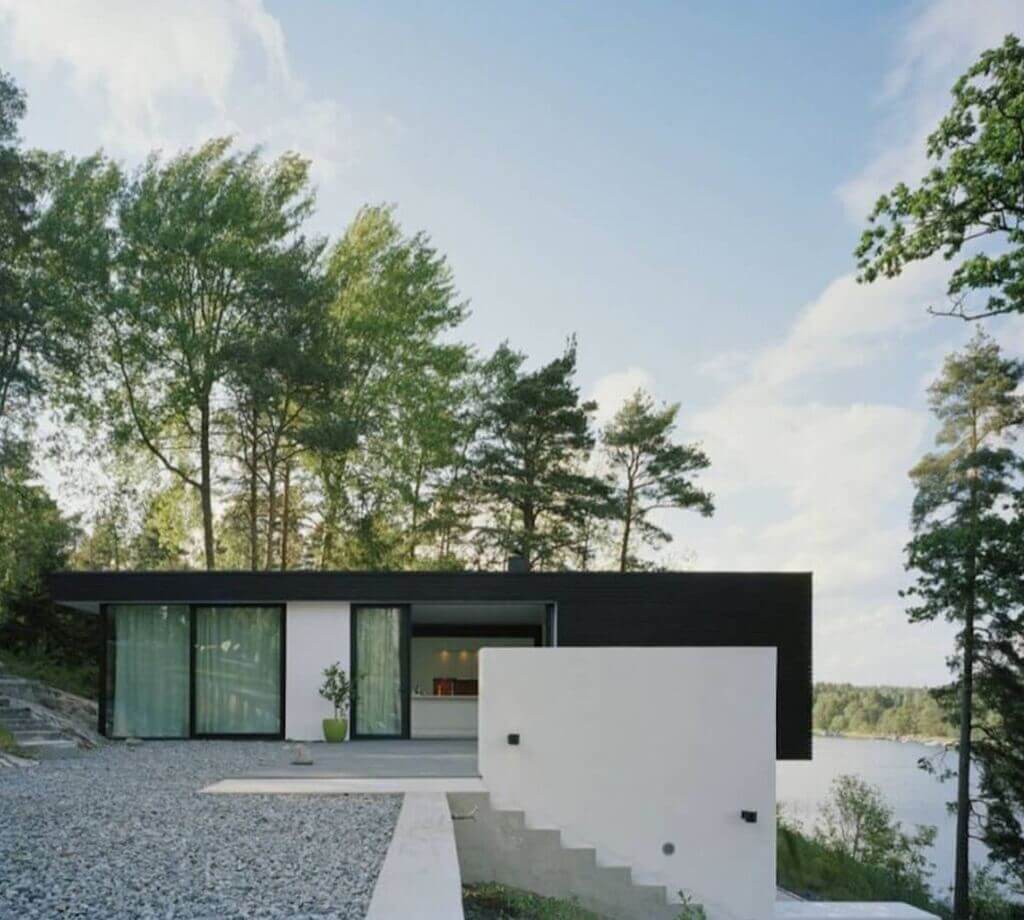 Another popular material that is widely used in Scandinavian Exterior Designs is Concrete. Look at the above house, Casa Barone, which is designed by Widjedal Racki Bergerhoff. Located in Ingaro, Sweden, this house is constructed the durable material concrete.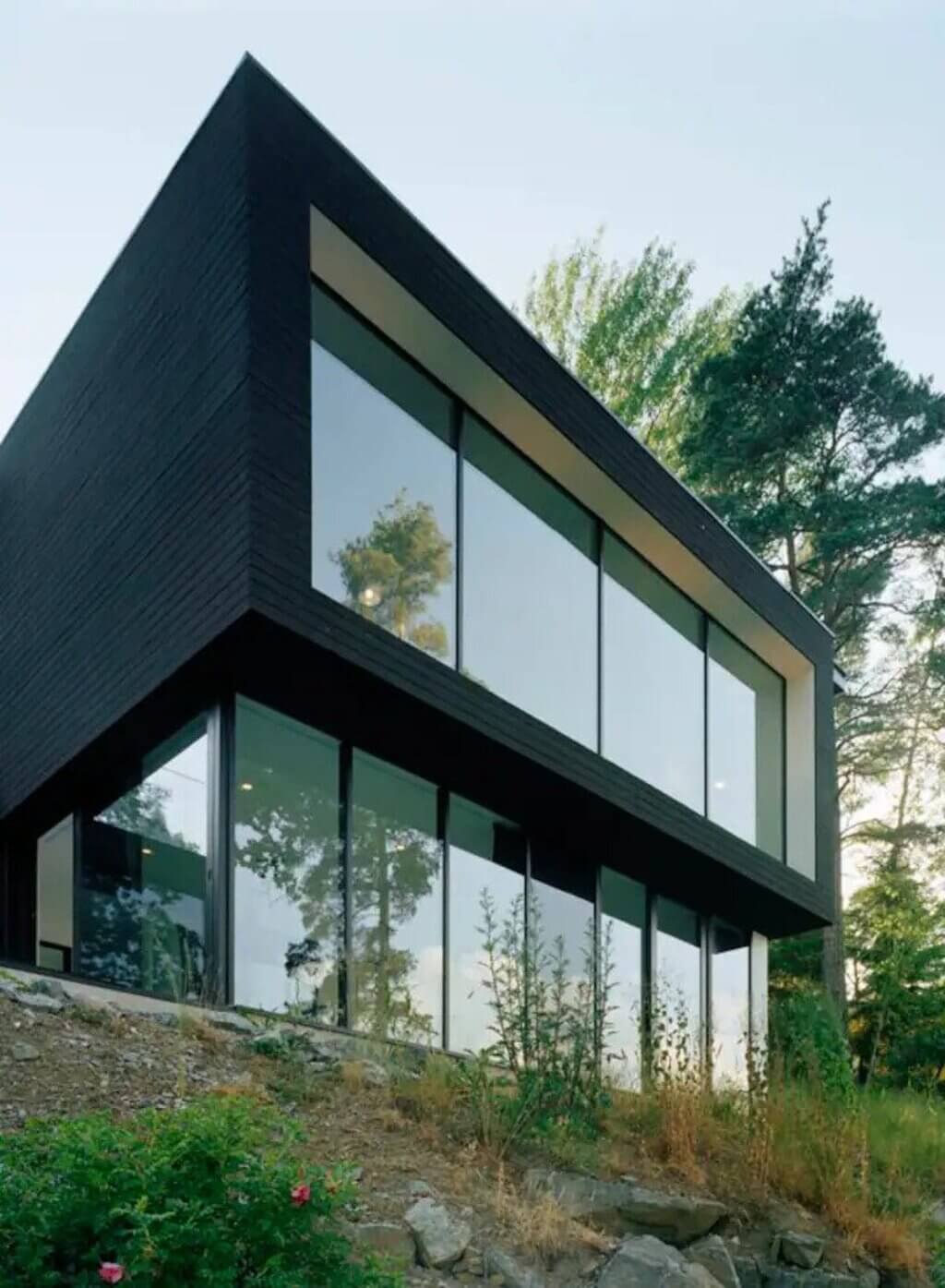 The Architects have specifically considered pairing the black-and-white contrasting colors. That's why the house with an artfully modern edge looks heavenly and beautiful with a water view. They have also added some oversized windows to let the outside in.
Want to know more about other architectural styles? Read our previous blog on Spectacular Spanish Architecture and Spanish Style Homes around the globe.
The Bottom Line
So, this is all about the Scandinavian home design exterior. In this architectural style, everything is designed and constructed in such a way that it shows a beautiful connection with nature and also encourages a simple lifestyle.
From large windows, natural materials to interiors and decors, each element is created and put together in a way that they don't take anything away from their gorgeous lands and surroundings.
I hope you liked this blog about Scandinavian Exterior Designs and ideas. Also, don't forget to share this blog with your family and friends.
If you want to know more about unique and unusual buildings and constructions in the United States, read our previous blogs on Central Park Tower, Rendezvous House in Teton Village, and Healdsburg House in California.