7 Easy Tricks to Clean Any Type of Floor
We know it's quite a demanding task when it comes to cleaning the floors. There is so much floor abuse, be it heavy foot traffic, spilled food, dust, germs, hair dandlers, and others. To keep them looking the best, the floors have to be cleaned regularly. 
The typical cleaning process combines dusting, vacuuming, and moping to retain the utmost shine and cleanliness. However, all floors are not made from the same materials. The process to deep clean a linoleum floor will be different from a vinyl floor.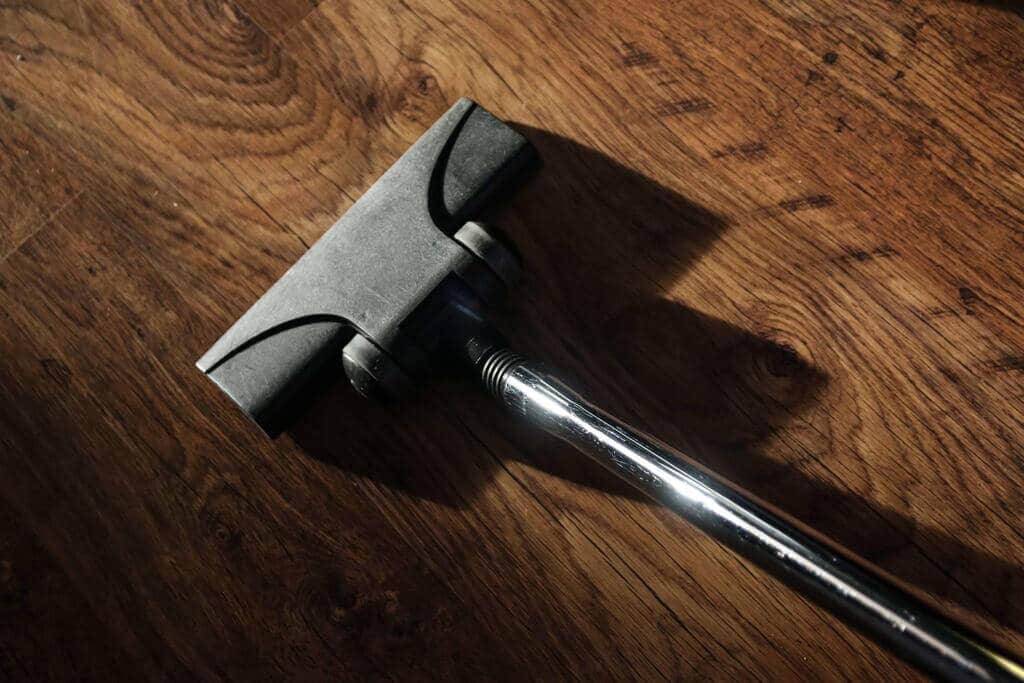 Source: bestvacuumworld.com
The tricks and tips for cleaning different floors are not the same. If you know how to deep clean a white marble floor it will reflect on the use of pH disinfectants instead of acidic cleansers. Once you learn the cleaning process, you can avoid the risk of damaging the surface. 
With each type of flooring having its special traits and features, the cleaning requirement will vary accordingly. You need to be a little cautious when executing the process. 
Our article aims to cover the easiest and safest tricks to clean any type of floor. 
Stone Flooring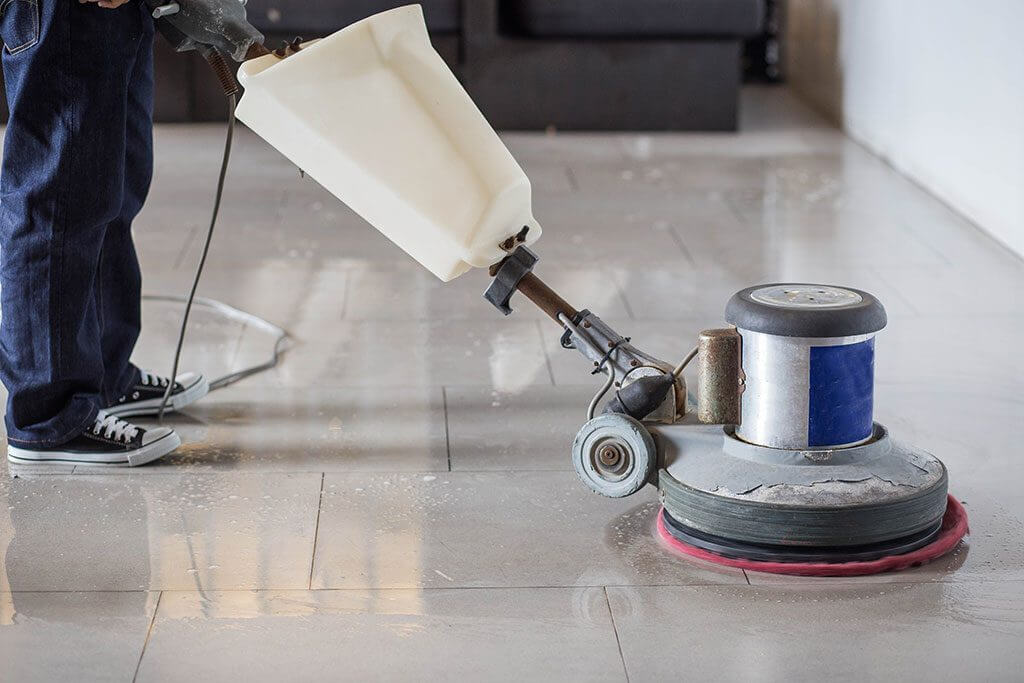 Source: integritydry.com
You must be loving the natural shine and elegance of the stone flooring in your house. However, keep the vinegar and acidic cleaners in your pantry as these are damaging to your floors. Similar results are expected if you think of using ammonia and bleach. 
Instead, mop clean the surface with pH-neutral cleaners that don't react with the minerals of your stone floorings. For those sealed stone tiles, simply use hot water with a microfiber mop. Steamers are ideal in case you are dealing with a substantial mess. 
Vinyl Flooring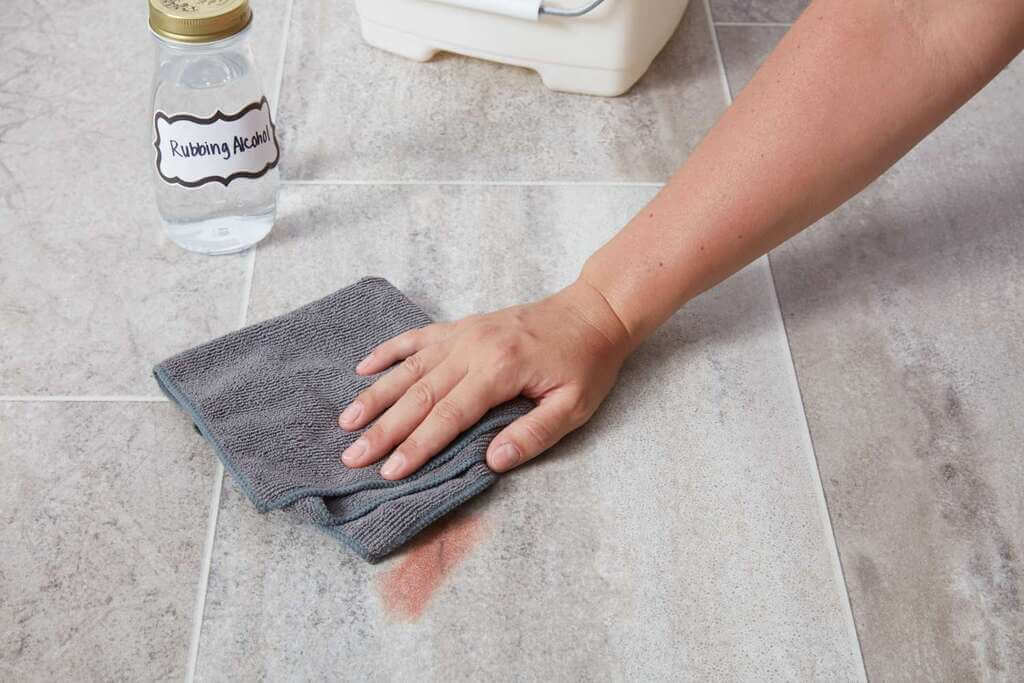 Source: thespruce.com
Vinyl floorings are mainly seen in areas like the kitchen and bathroom. The weekly cleaning of this type of floor requires ingredients such as ¼ cup of vinegar and a few drops of dish soap mixed with warm water poured in an ounce spray bottle. Drizzle the mixture on the floor and wipe clean the surface using a microfiber mop or cloth. 
You may need a power wash if your grouts are particularly dirty. Also, apply steam on the vinyl floor for deep clean action that removes stains and bacteria. 
Linoleum Floors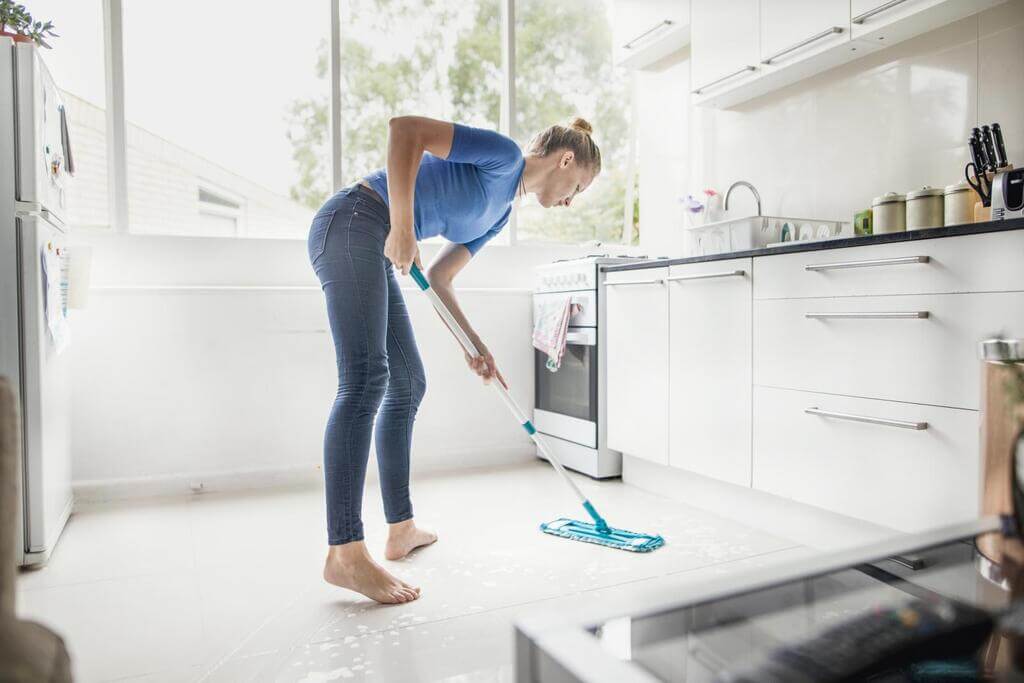 Source: jaditau.net
Unlike the robust vinyl floorings, the cleaning hack involves extra precaution as linoleum floors are quite delicate. It compromises the linoleum seeds, wood fiber, limestone, resin, and cork dust that are colored with mineral pigments. 
Treat this flooring similar to other types of floors like stone and cork. Take a spray bottle and pour a mix of water and a few drops of dish soap to spritz on sections of the floor. Wipe the surface with a microfiber cloth and then leave it for air dry. 
Laminate Floors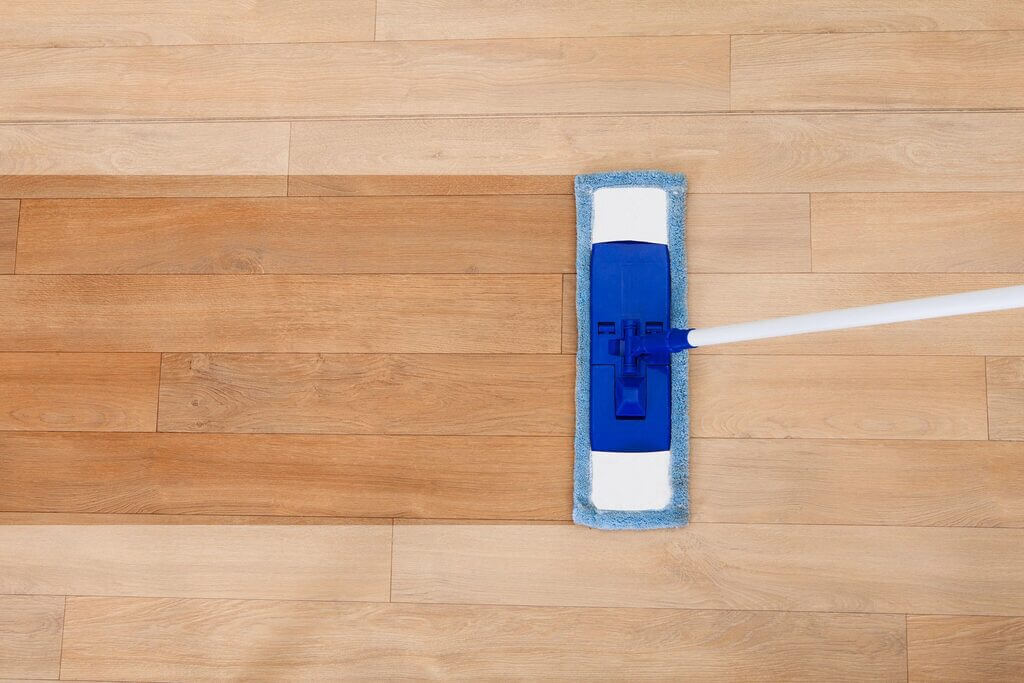 Source: rd.com
Your laminate floor can copy the look of hardwood or even the natural stone, but you need to be cautious when it comes to cleaning. The cleaning procedure is entirely different if you wish to retain its innate luster and polish. 
The laminate sheets are typically made from light-resistant and sun-resistant materials that maintain their new-like appearance for a long time. The fact being known, it is vital to keep water from getting below the planks as it can ruin the laminate. So, vacuum and mop dry the floors and use damp cloths only for spot treatment. 
Hardwood Floors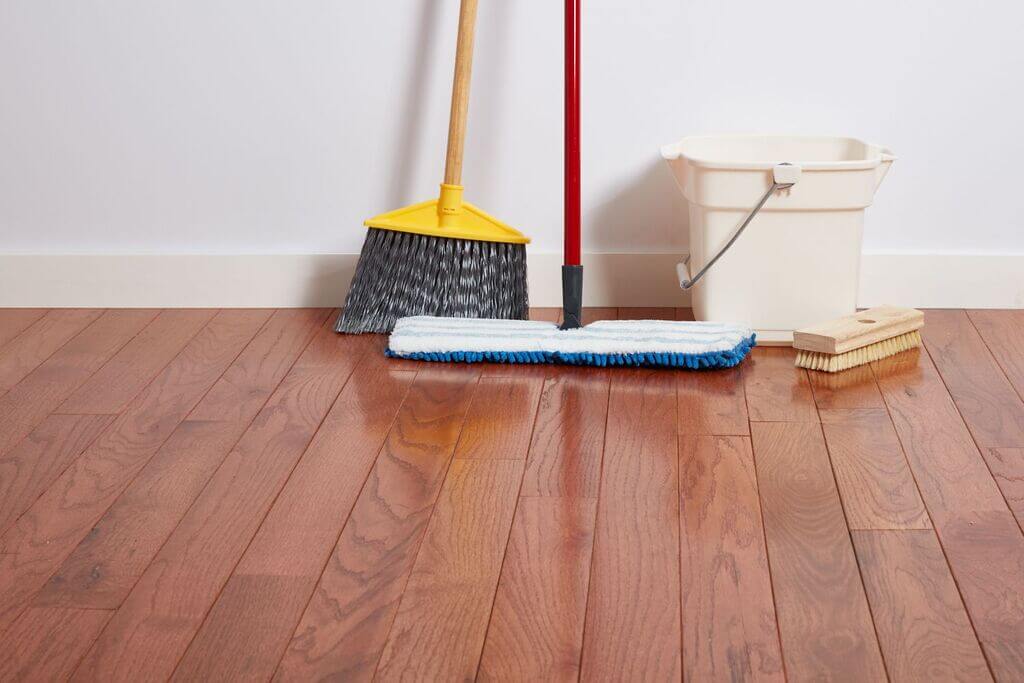 Source: thespruce.com
The hardwood looks quite elegant for adding warm rustic tones to the floor. It gets you the beautiful finishes either in wax or in polyurethane. The floors that are untreated or with wax finish are recommended cleaning like laminate floors. It involves dust mopping, sweeping, and vacuuming regularly. 
The sealed wood finishes having polyurethane, urethane, and polyacrylic coating have two cleaning procedures. First, fill a bucket with water and mix a few drops of pH-neutral cleanser to damp mop and clean the floors. Second, you can use white vinegar and dishwasher soap to mop clean the surface. Finally, the pat dries using a microfiber cloth. 
Tile Floors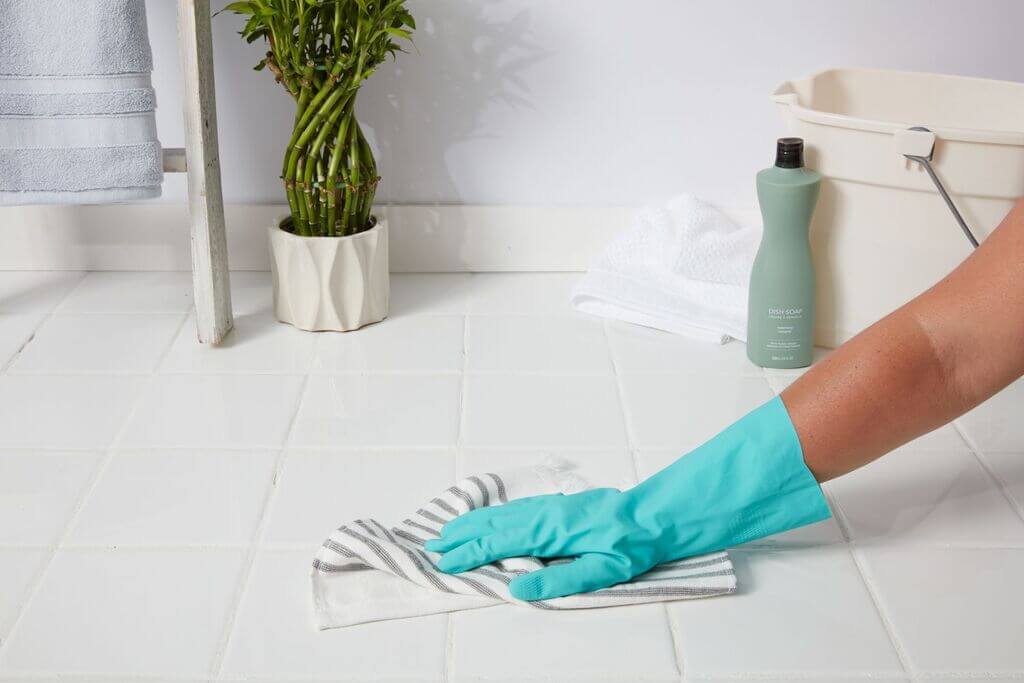 Source: thespruce.com
Floor tiles are fancier installations seen in many households especially in bathrooms and kitchens. Cleaning the surfaces involves putting ¼ cup of vinegar, dishwasher soap, and water in a spray bottle. 
Now, spatter on the floor and wipe using a microfiber cloth or mop. Occasional deep cleaning can involve using steam cleaners on the tiles and grouts. 
Also Read: 7 Hacks To Clean Any Floor Like A Pro That Will Make Your Life Easier
Carpeted Floors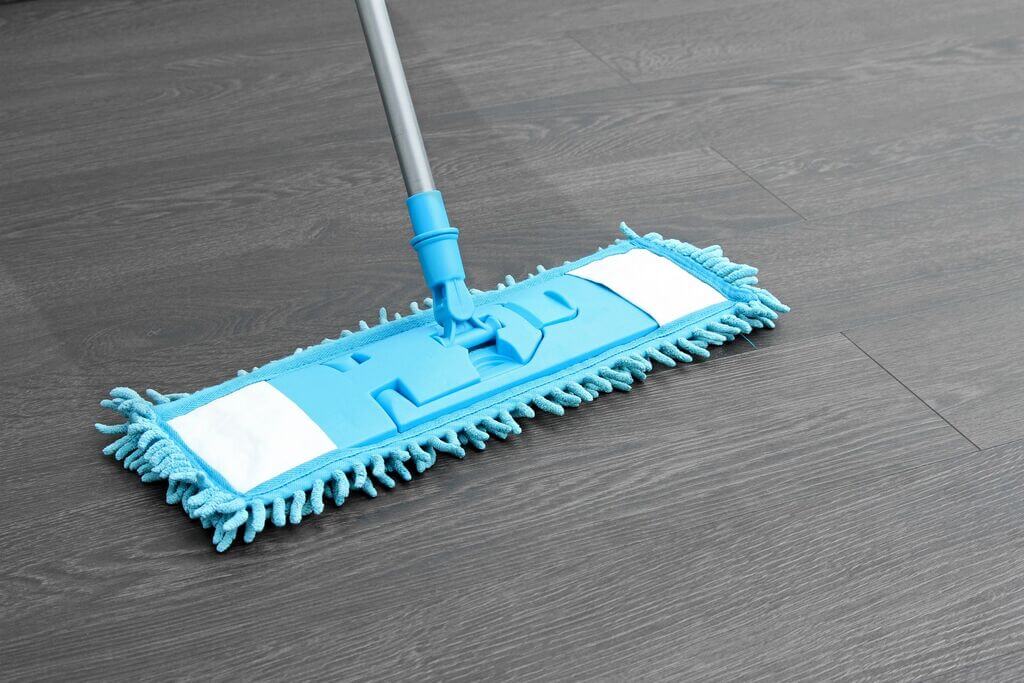 Source: hearstapps.com
The quickest hack to clean the carpeted floors is by using the carpet cleaner machine. A vacuum cleaner is equally effective in tackling the carpeted surface. With the help of vacuum accessories, you can even reach difficult areas. 
Use a turbo brush to collect the stubborn grime and pet dandlers if your carpet is thick. Moreover, look for the manufacturer's guidance for spot treatment of stains. 
Final Thoughts
The tricks and ideas shared through this post essentially deal with the cleaning process of any floor type. Following this cleaning guide comes in handy to swiftly and effortlessly clean the floors.