Yellow Room Interior Inspiration: 11+ Color Themes That Go With Yellow!!
||Yellow is The International Color of Happiness||
Radiance, sunshine, and golden glint – yellow is undoubtedly one of the brightest and happiest on the color spectrum. Don't you agree with this? This cheerful color represents hope, a new beginning. All across the globe, it is used to symbolize auspicious things in many cultures.
Tell me honestly, What comes to your mind when you hear the word "Yellow"?  Lemons, smiley faces, daffodils, old English mustard sauce, or rubber ducks… but believe me, home decors are so much fancier than you wouldn't have ever imagined.! It immediately brightens and livens up any space, that's why it makes sense to use it in your decor, home, and fashion choices.  
Some people also used this color on their front doors to ward off evil and negative forces. In scientific terms, it is a hue that brings freshness and rejuvenates even the dullest part of your interiors. But we know that yellow is such a strong & vibrant shade, so it needs to be used mindfully. 
Color wheel: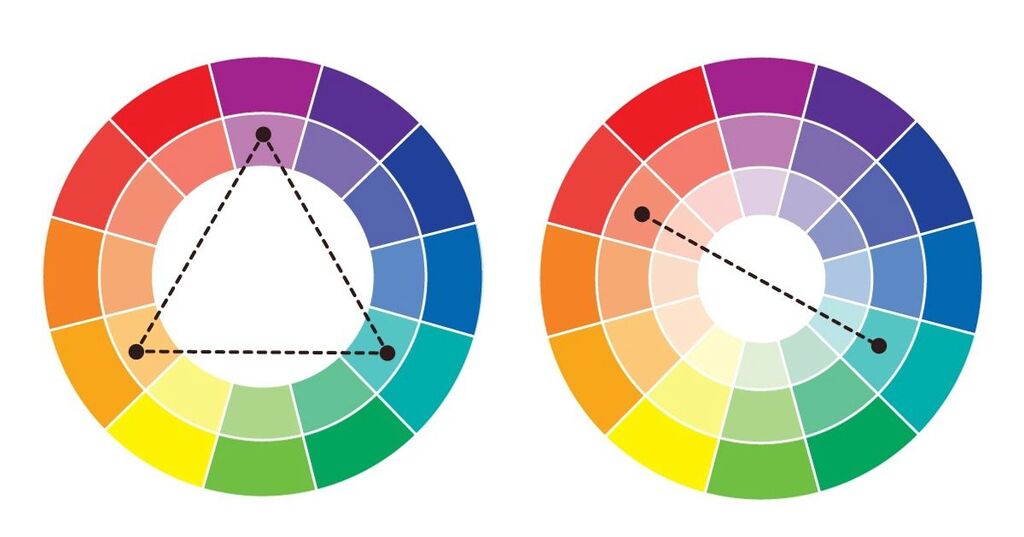 Source: cf.tsp.li
Yellow is a versatile and crowd-pleasing color that works well with a variety of shades and tones. So, you may be confused about how to use it in your home? What are the colors that go with yellow? Many people still prefer not to use yellow to decorate an entire room, and instead, they use it as an accent choice. 
COLORS THAT GO WITH YELLOW
Yellow:

Blue, lilac, light-cyan, violet, gray, black.

Lemon-yellow:

Cherry-red, brown, blue, gray.

Pale-yellow:

Fuchsia, gray, brown, shades of red, yellowish-brown, blue, purple.

Golden yellow:

Gray, brown, azure, red, black.
From a pale wash of yellow paint on the walls to the neon yellow on throw pillows or art, this sunny shade is a go-to accent color that can add a dose of energy that will instantly lift the mood of your kitchen, bathroom, bedroom, laundry room or any other space in the house. Today in this blog, we're going to tell you about those shades and colors that will always look good with any shade of yellow. 
13 Colors that Work Well With Yellow
From trendy neutrals like gray to those as bright as red, orange, and green, here is a color for everyone. So pick the one depending on your taste, style of the room, and its overall ambiance. Here is a list of thirteen colors and schemes that go with your favorite yellow. 
1. Golden Yellow + Seafoam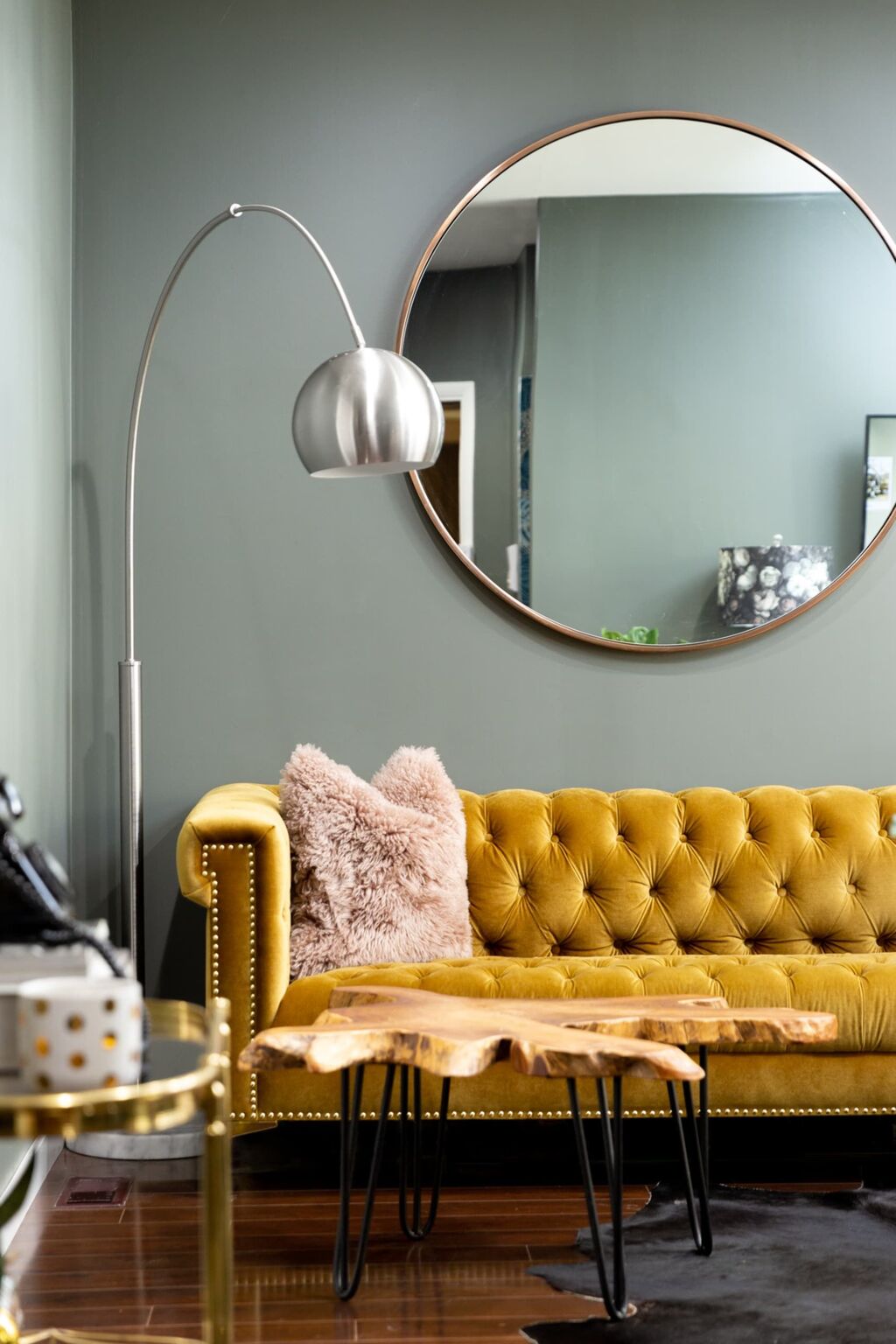 Source: pinimg.com
We always tend to think that the warm tones pair best with other warm tones and cool tones should only be matched with cool tones. But this is not always true. For example, this super chic living room breaks all the rules, and your eyes will probably not get over how amazing it looks!
So, forget all the rules and pair a warm gold couch with a cool-toned seafoam-painted wall; believe me, it'll look stunning. Also, use metals (like silver, brass, and gold) to tie the entire look together.
2. Yellow + Purple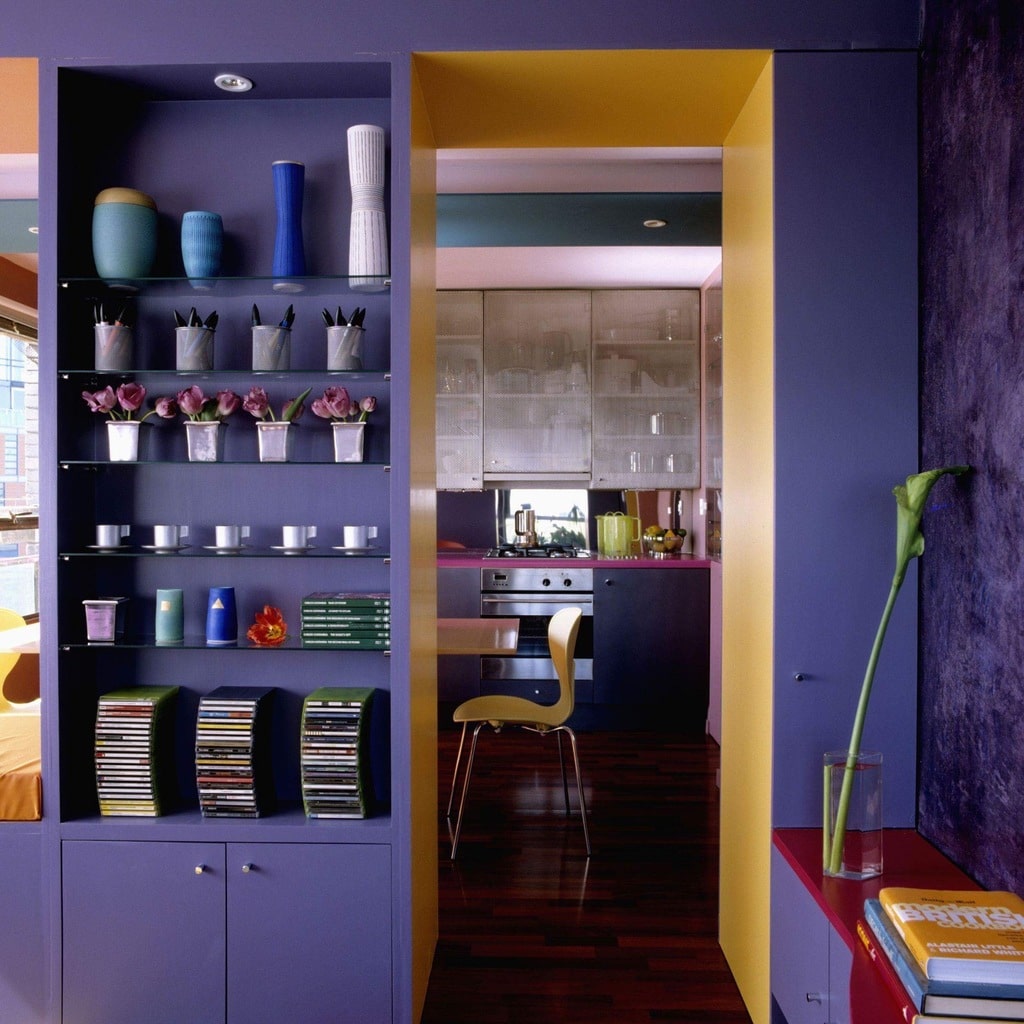 Source: revistawho.com
Look at this alluring 1960s kitchen. It got a new life after renovation. Now the strong purple walls have wide case openings that are painted in wildly contrasting taxi cab yellow. 
After looking at this eccentric kitchen makeover with candy-coated almond colors in paler shades, now you know that there are no rules when it comes to mixing colors.
3. Yellow + Light & Bright Colors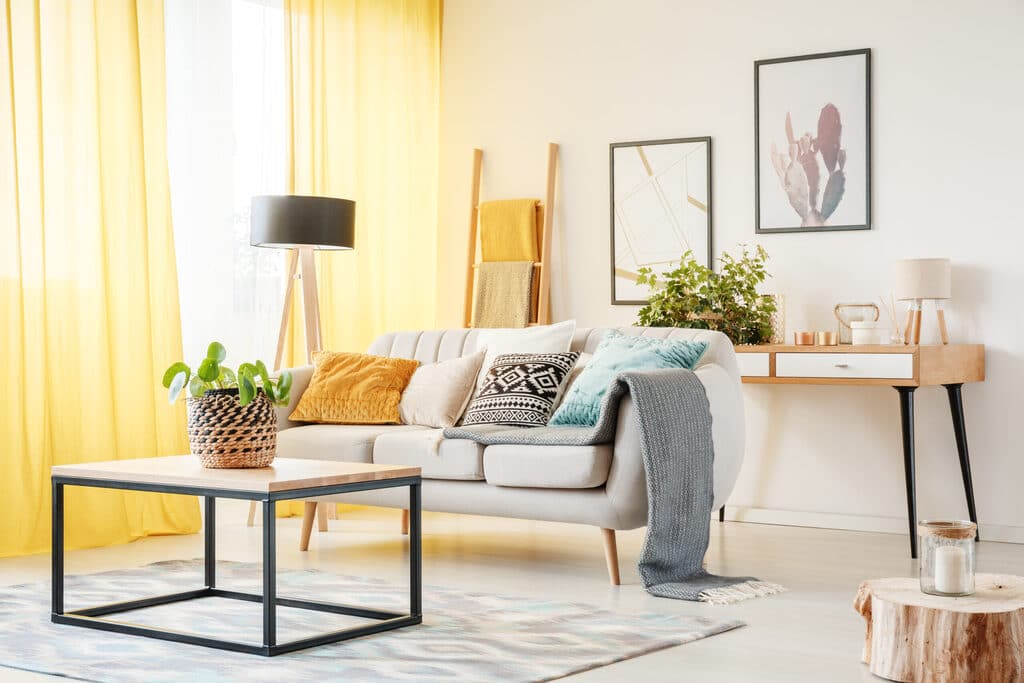 Source: heritagere.pl
Yes, light yellow will work perfectly with other lighter shades. Just like this living room has sheer yellow curtains to create privacy and also they're adding light to this small plain space.
4. Yellow + Royal Blue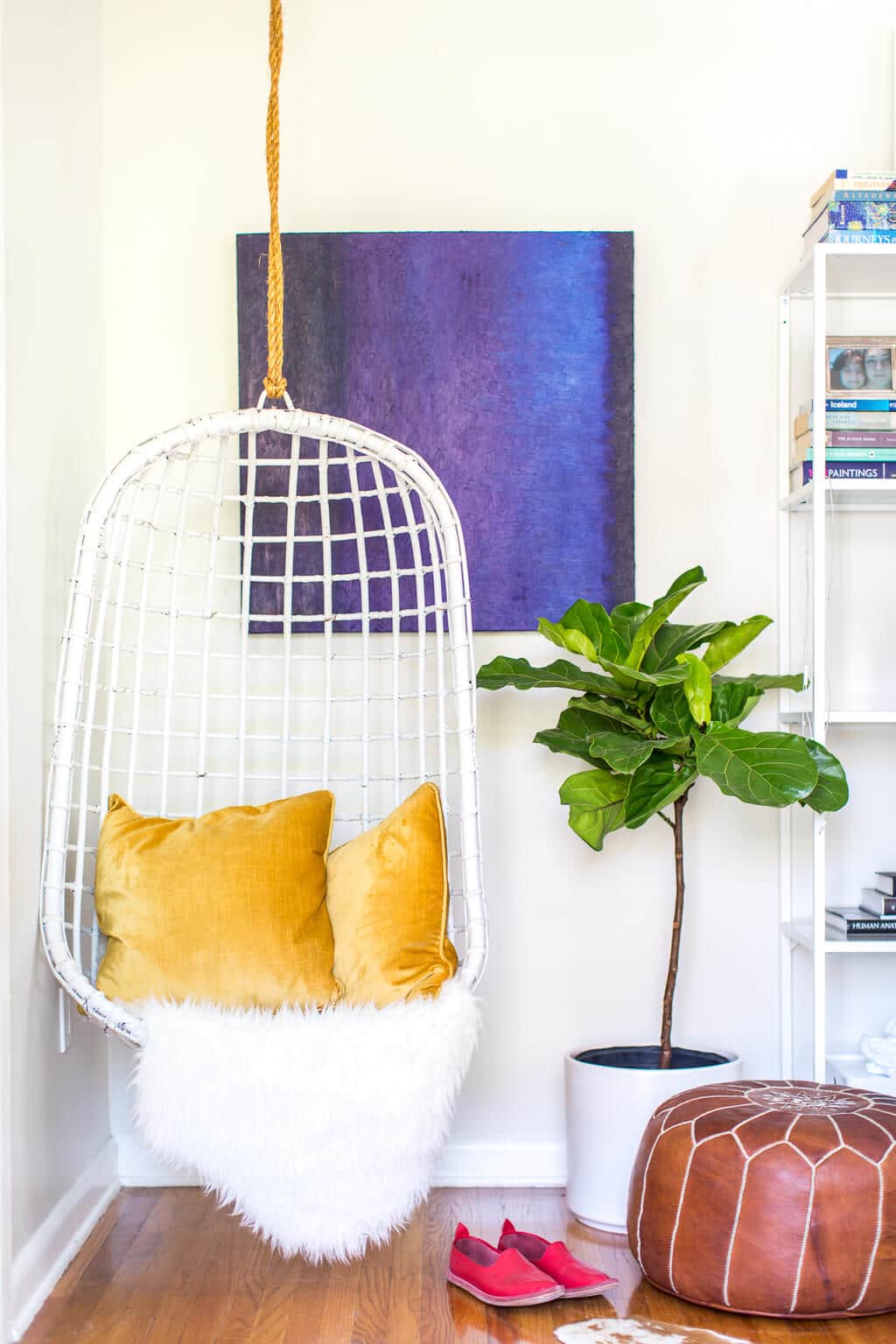 Source: googleapis.com
Are you not sure about how to use yellow as the main color? If yes, then use it as an accent color. Here the yellow is beautifully combined with royal blue.
5. Yellow + Brushed Black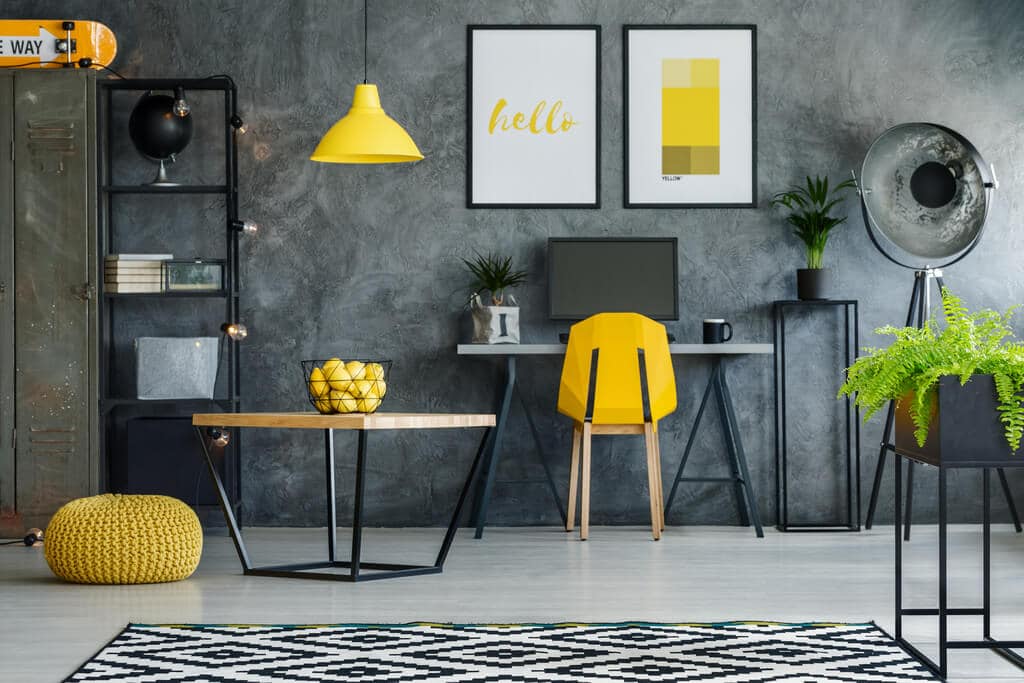 Source: wordpress.com
Have you ever thought that brushed black will look this much beautiful with yellow shade? This brushed wallpaper is the perfect choice as the backdrop, and some iconic yellow statements will add the uniqueness to space.  
6. Yellow + Orange & Reddish Hues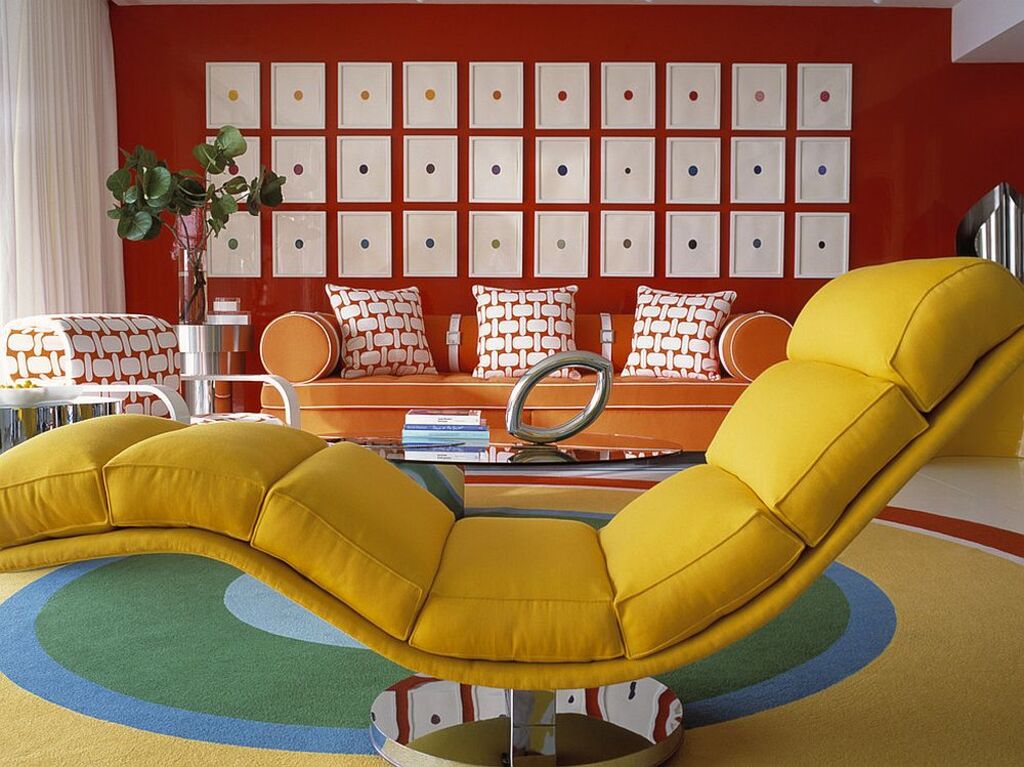 Source: decoist.com
To bring warmth, energy, and a sense of fiery passion to your interior design, blend orange and reddish hues with yellow. But the combination of these colors can be a little overwhelming if mixed in the wrong manner. 
You can try traditional, Mediterranean, Victorian, and eclectic, red, and yellow as these are the pairs that never disappoints. At the same time, the combination of Orange and yellow feel much more modern and classy in their visual appeal. 
7. Yellow + Wood Brown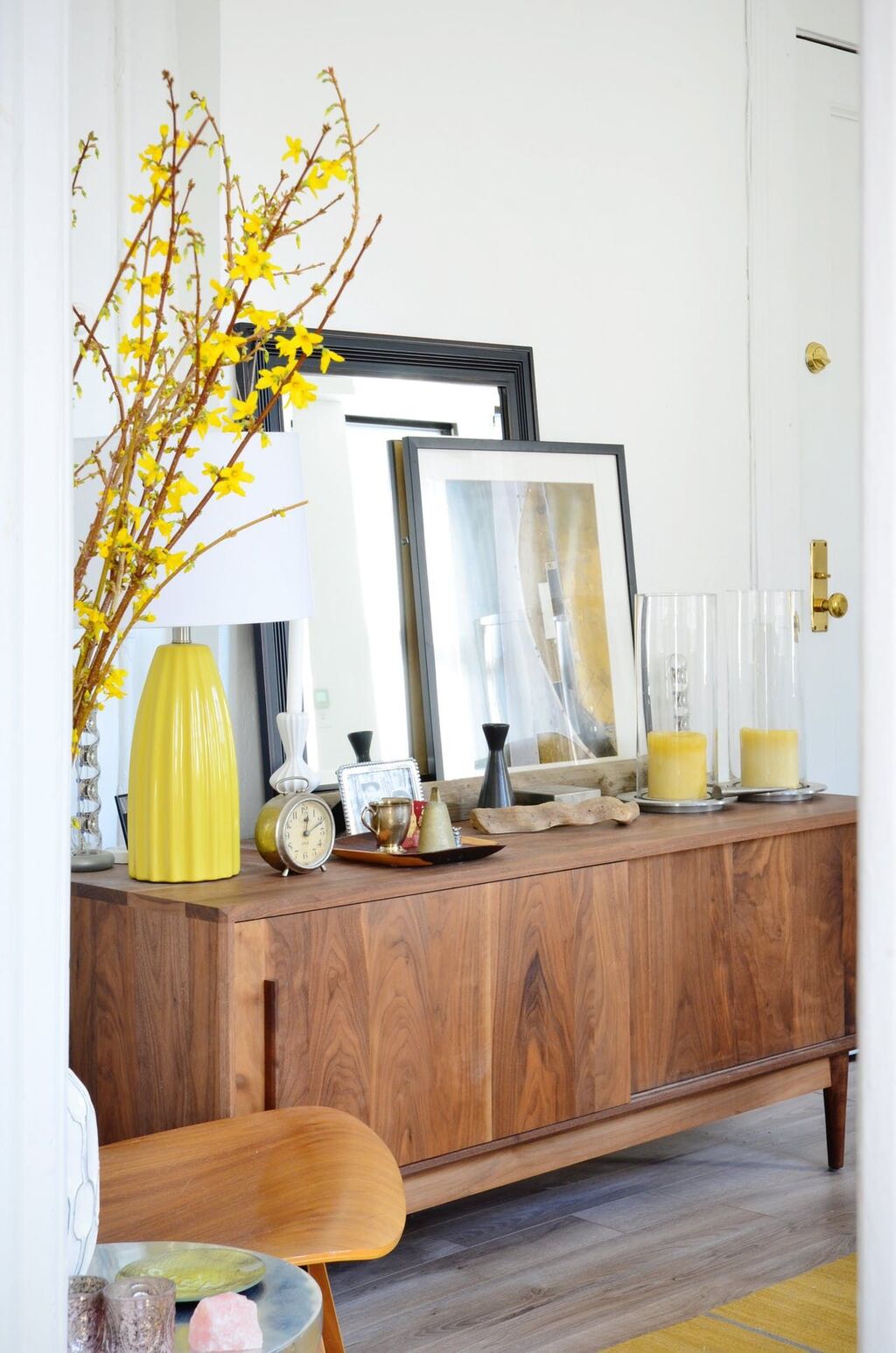 Source: pinimg.com
Another color that looks extremely good with bright yellow is the brown. Here in this house, the entryway is decorated with pop yellow with the warm wood of this mid-century modern console table. Here the designer keeps the color story consistent to create a cohesive feel in the whole space.
8. Gold Yellow + Baby Blue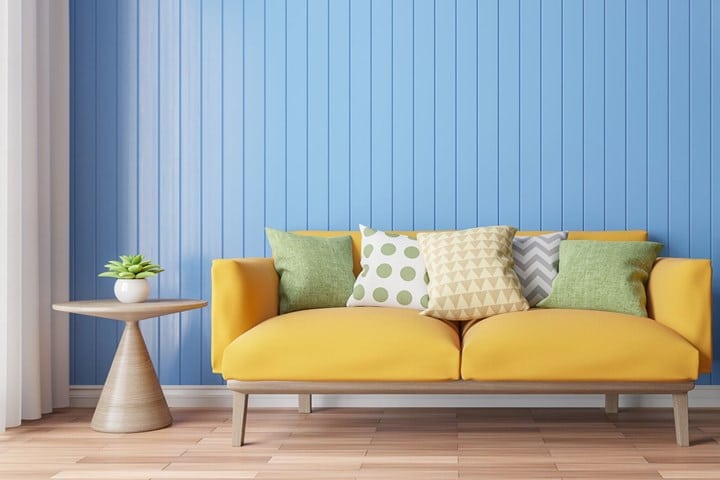 Source: bhg.com.au
If your home has an accent wall like this and you're confused about what goes well with it, look at the above image. Here the baby blue feature wall paired with a golden yellow couch, which shows the power of these two colors. 
9. Maize Yellow + Moss Green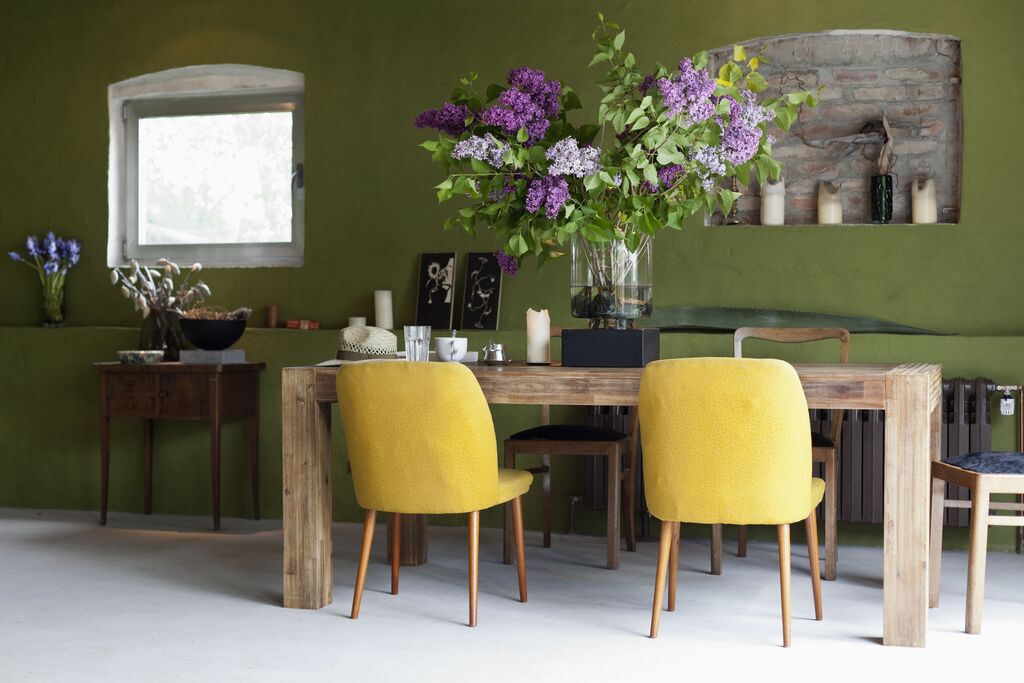 Source: pinimg.com
The combination of green with yellow is like sunshine and a grassy lawn. They both are analogous colors; that's why they go together so perfectly. Not only the living room and bedroom, but you can also uplift your dining area with these two gorgeous colors. 
Here in this dining space, The walls are in an assertive moss green tone that stands up well to a pair of bright yellow upholstered chairs and a rough raw wood table. Additionally, the mismatched additional dining chairs are adding balance to the overall feel. For a dramatic touch, a vase of purple flowers is placed as a bold centerpiece. You can easily switch out these for orange, pink, or white blooms.
Also Read: Interior Design Tricks to Brighten Up a Dark Room
10. Mustard Yellow + Sage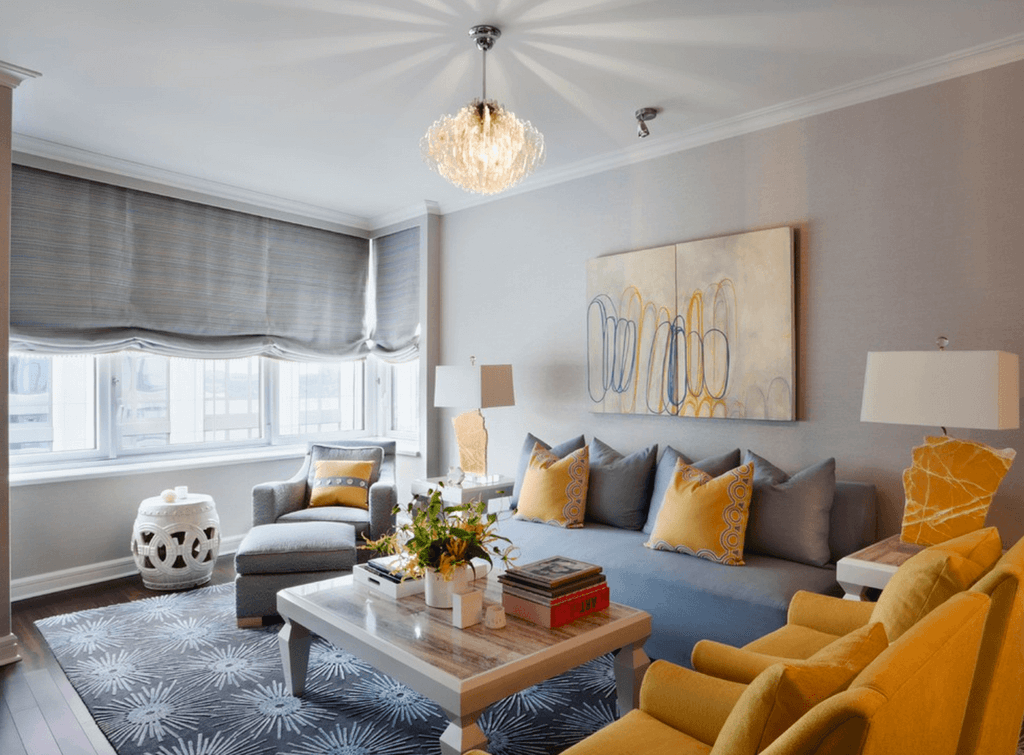 Source: thespruce.com
Whenever you plan to decorate a super sophisticated space, always look for rich colors that boast tons of depth. The sage green paint on the wall in this under-stair space makes the molding and built-in bookcases come alive. While on the other hand, the velvet fabric on the mustard chairs adds tons of warmth to this foyer.  
11. Bright Yellow + Hot Pink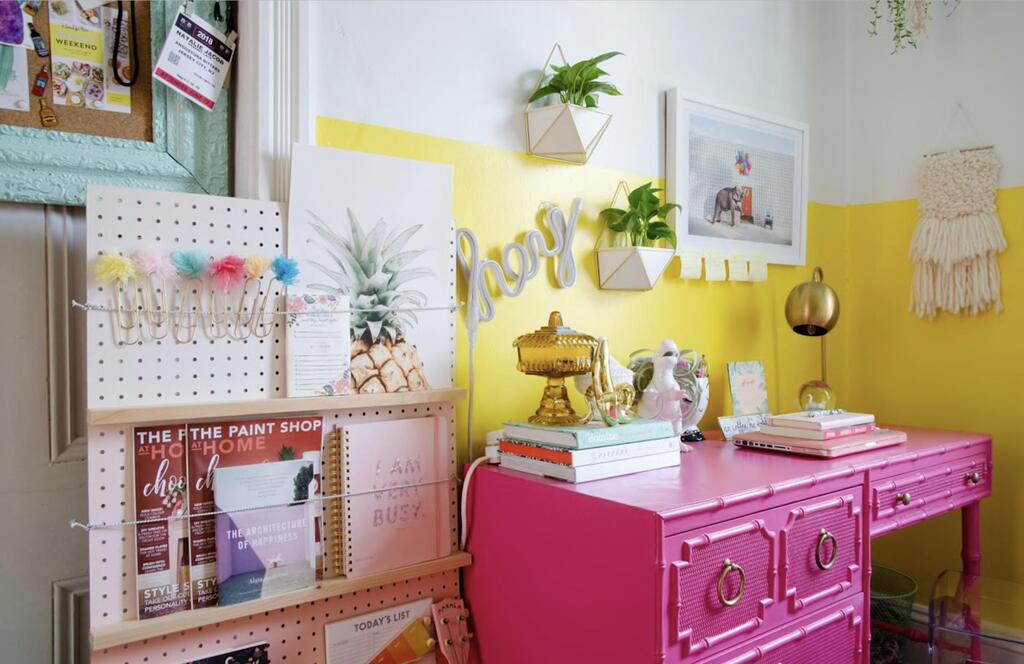 Source: jutarnji.hr
Another great combination is hot pink and yellow. You can use this combo in your kid's room to get a quirky appeal. 
12. Pale Yellow + Light Blue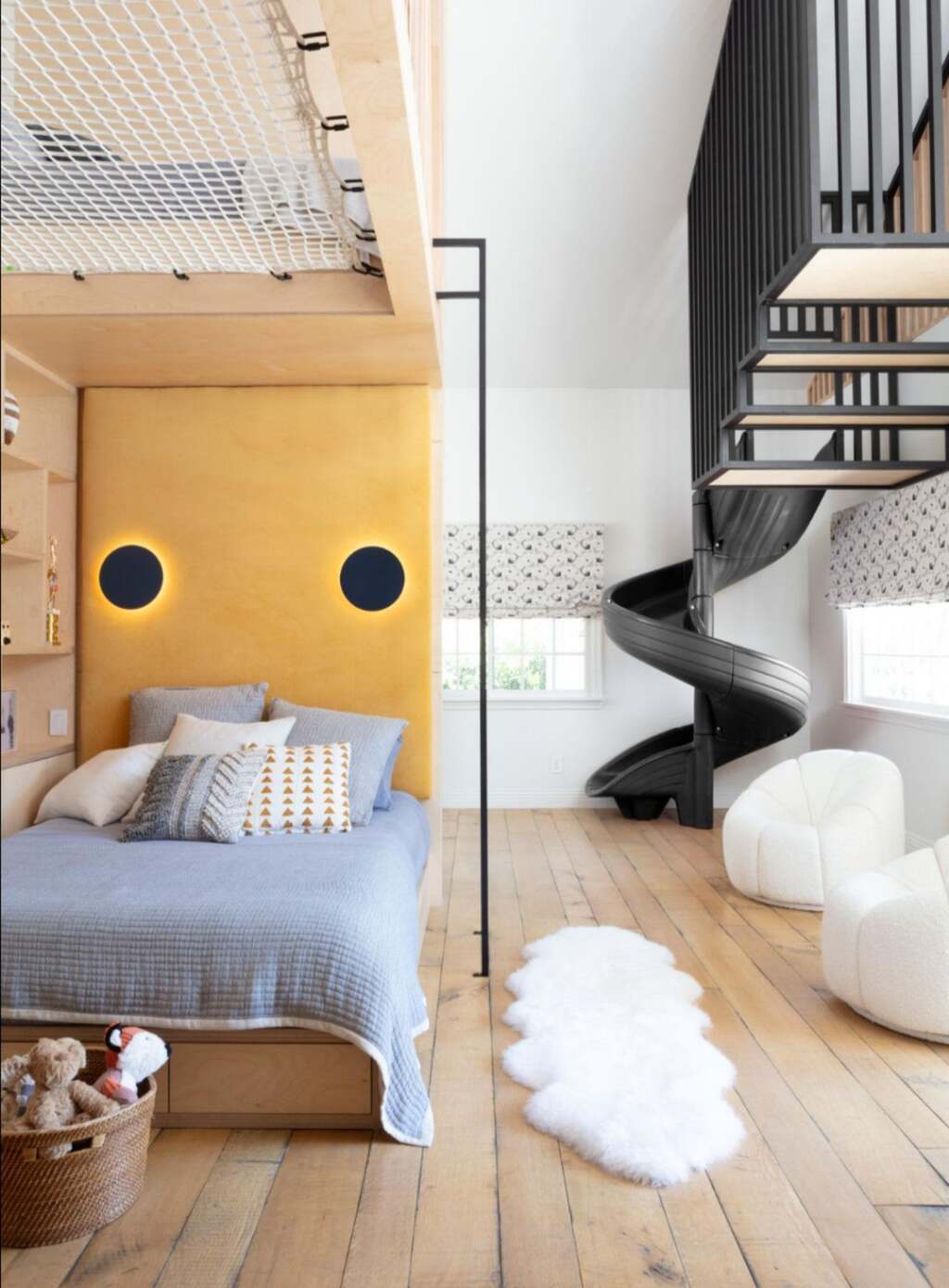 Source: redd.it
This is a stunning futuristic bedroom that features natural floors, bright white walls, and the addition of black accents that breaks up the monochromatic look. This pastel pairing of pale yellow and light blue makes sure that it is a grown-up kid's bedroom.  
13. Yellow + Yellow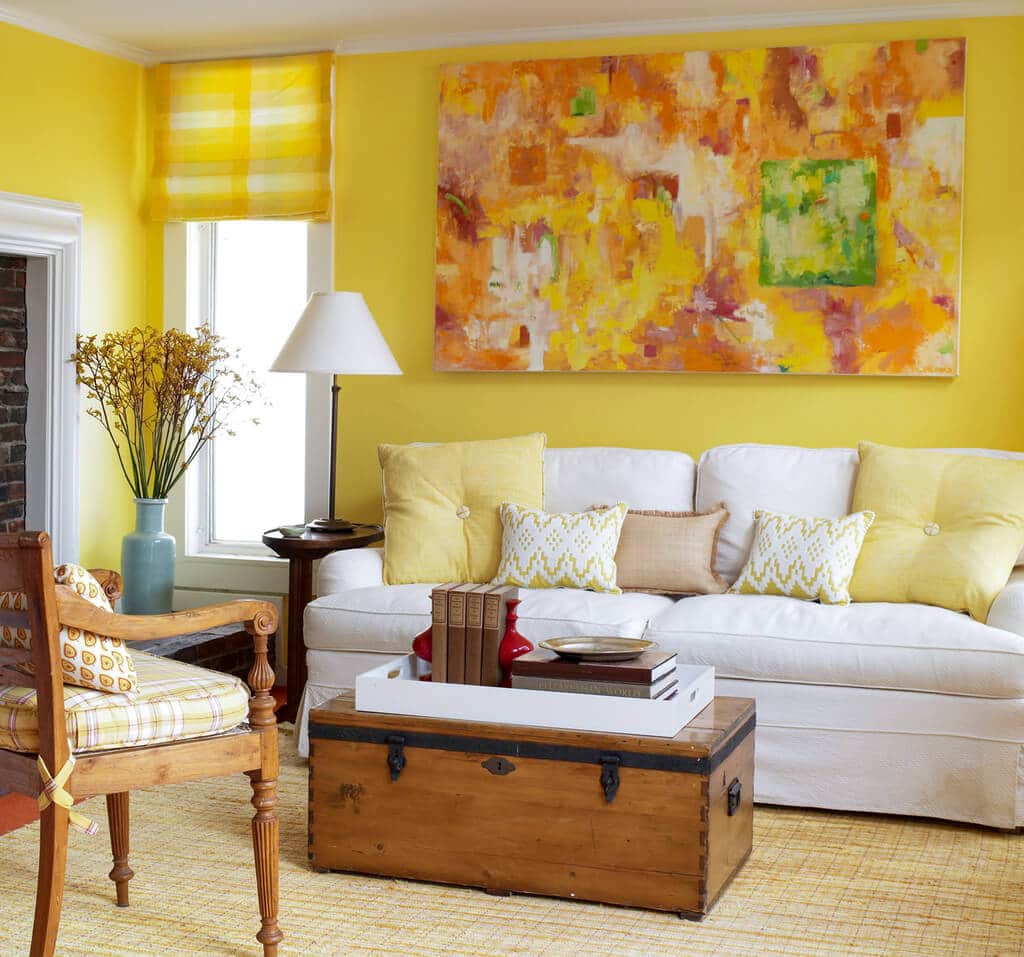 Source: meredithcorp.io
Many people think that yellow will never work on yellow. It is actually not true at all. Look at the above family room. Isn't it looking spectacular? Here the designer cleverly has used the various tones of yellow and decorates the space. 
I love the way how the statement art piece that is mounted on the yellow wall is beautifully drawing out the yellow tones in the painting. It really helps to brighten up the whole space. So whenever you feel like something is missing, try incorporating another funky element in the space.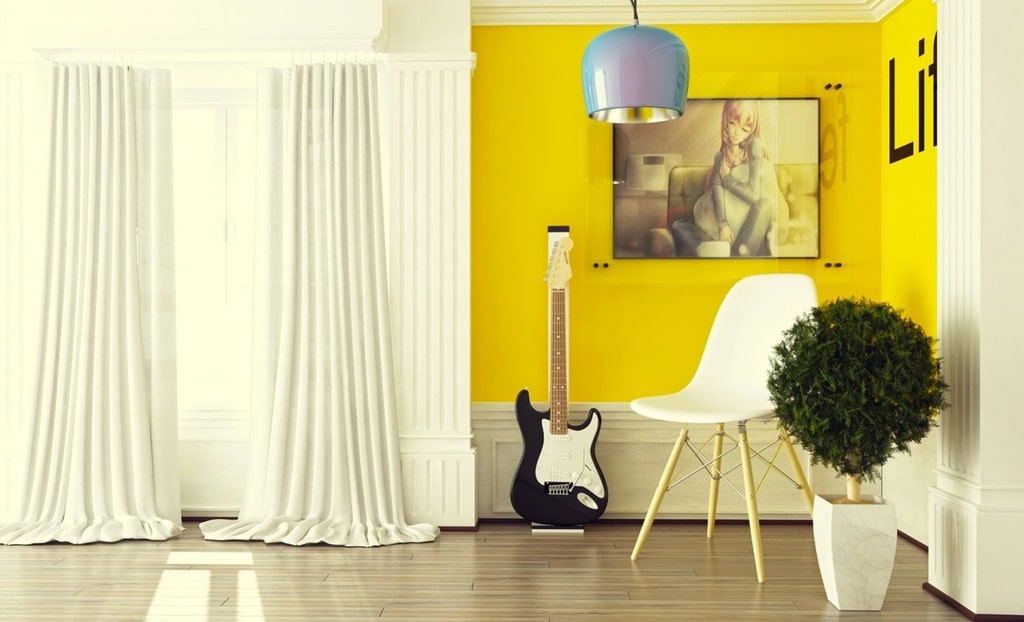 Source: home-designing.com
Final Words
Which color combination did you like the most? There are tons of options that you can try in arts, decor pieces, and various elements. Do experiment with multiple patterns and fabrics. Playing with numerous tones of the same color or shade will always maximize the power of your design. 
So decorate your room, bedroom, or dining space with these extraordinary color combos. For more house designing tips and tricks, keep coming to Architecturesideas. 
colors that go with yellow, what color goes with yellow, what colors go with yellow, what colours compliment yellow