When putting together your home office it's not just about finding the right desk or the perfect ergonomic chair. Other factors include heating and cooling, workstation positions, and window treatments. Having the best window treatment for your room could mean the difference between a great day of productivity and a lacking day leaving you feeling tired, frustrated, and uninspired.
The window treatments in your home office should be chosen with light, sound dampening abilities, maintenance, ease of use, and temperature regulation in mind. 30% of a home's heating and cooling energy can be lost through windows, so it's very important to try and keep what you need inside and what you don't want outside.
Thankfully there are many options for you to choose from that can offer you this. Here are five home office window treatment ideas that will inspire you and motivate you in your day-to-day work.
1. Shutters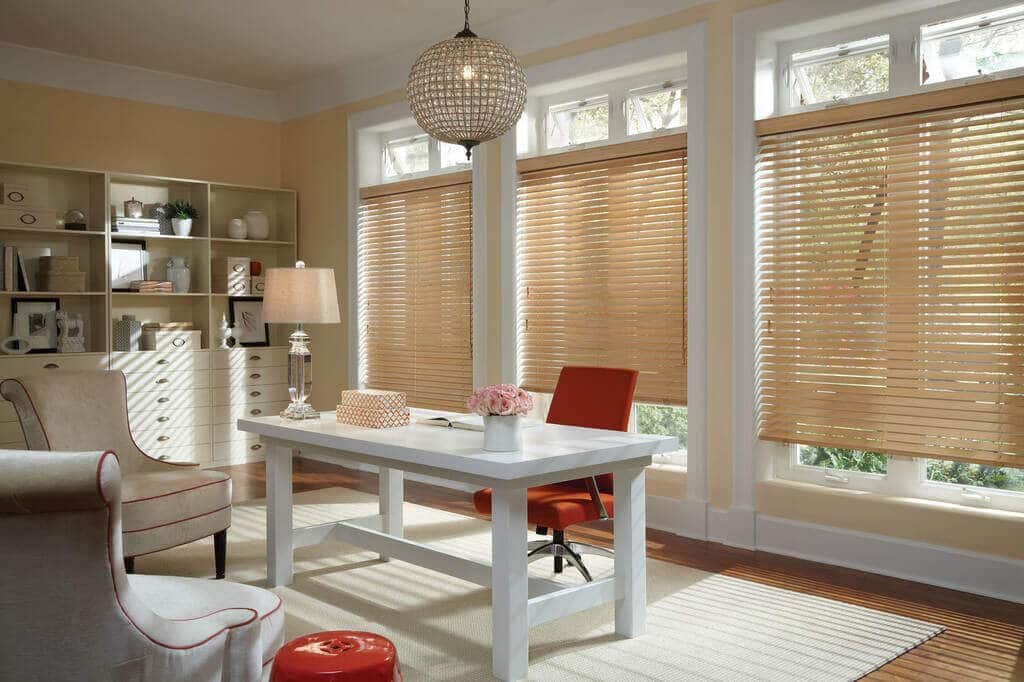 Depending on the color and style, shutters can offer either a modern, sleek look to your office or a rich, retro feel. Shutters can block out any unnecessary noise and light, or let it all in, and they go with almost any décor. They can last for decades too without needing to be replaced.
If you opt for Polywood shutters over wood, they'll also help regulate temperature by reducing the heat transfer. They offer 70% more insulation than wood shutters. There are more permanent options you can choose from as well, such as double-glazed windows. or you could invest in vinyl replacement windows. Vinyl windows offer you a low maintenance option that provides noise reduction and better home security. 
2. Blinds
Blinds have come a long way since those old, flimsy plastic things that would break and discolor over time. Nowadays you can choose from an array of different styles, such as:
You can even get motorized options, so you can open and close them with the press of a button.
Like plantation shutters, blinds let you control how much light you want to let in or keep out quite easily, but while they might seem like a good, budget-friendly option, they can actually be the opposite. They aren't as sturdy as most plantation shutters are, they need to be cleaned a lot and they do need to be replaced more often. So, while they offer a smaller cost upfront, that's not always true in the long term. 
3. Shades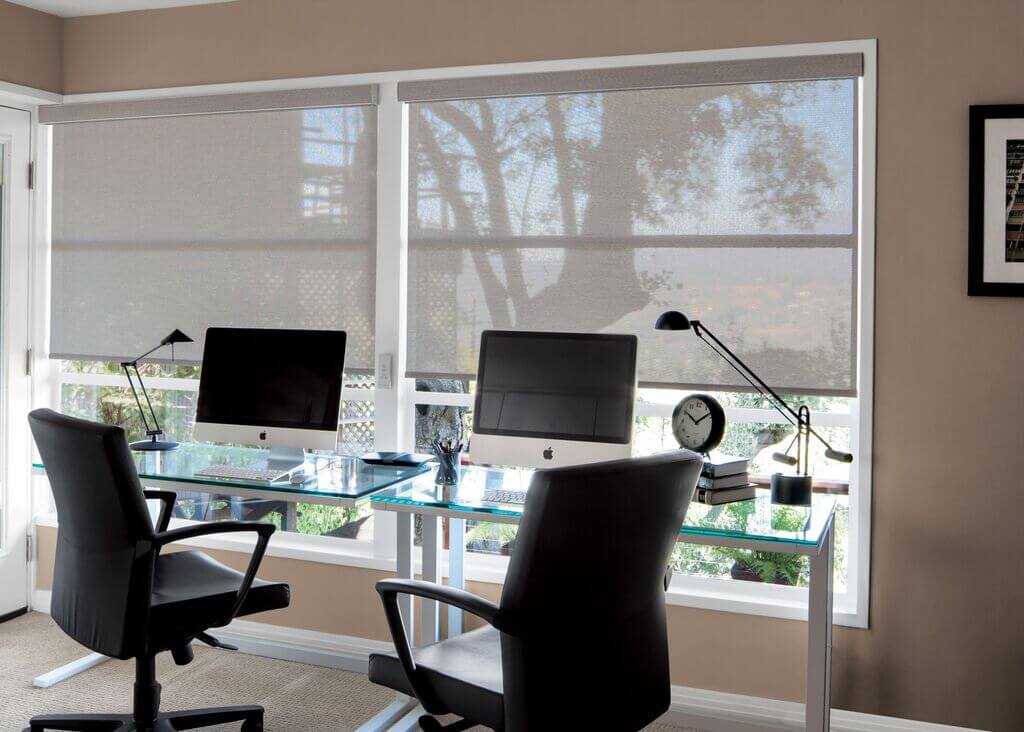 Shades are a great option to soften the light in your home office. They offer a traditional simple look and opaque options block out natural lighting.
You can go for a sheer option that lets in a lot of natural light, but does little to protect from glare or temperature; however, for someone who likes to work in natural light and wants to save some money on electricity, this could be a great choice.
Fabric shades do a great job at dampening noise too, especially in rooms with hard surfaces and wooden flooring. 
Cellular shades are great energy-saving window treatments as their honeycomb structure captures air in layered pockets, creating a wall of sorts. This stops heat from getting in or out.
4. Window Film
Another way to let in natural light, without inviting the whole world into your room, is window filming. Here you get privacy without sacrificing natural light.
Most window filming offers a beautiful matte, frosted finish, and there so many designs out there that you can choose from. With this option, you don't have to compromise on privacy or style. A decorative window film is sure to inspire you in your work too!
5. Curtains
Simple, but effective. Curtains come in all shapes and sizes and offer an array of coverage. From thick full drapes to wispy white sheets, there are plenty of options out there for your home office needs.
Curtains can be a little hard to maintain, as they gather dust and dirt quite easily. A trick to avoid this is to keep your curtains above ground level so they don't touch the floor and opt for a lighter color that you can see more clearly. This way dust won't build up over time without you noticing.
Conclusion
Finding the right window treatment for your home office may seem like a simple decision to make, but there are many factors that go into the choice.
Beyond cost and style, there are matters specific to an office that you will want to consider such as:
noise dampening qualities

versatility

management of natural light

temperature control.
The options addressed above offer some great solutions to any problem and demonstrate how style and practicality can work together. They'll help you create a space that you feel inspired to work in every day.