You have finally decided to revamp your house floor. Choosing the type of flooring to use can be a confusing experience. Is the floor durable, functional, and easy to maintain, and will it blend in with the overall home decor? These are some of the questions you will ask before settling for the type of floor to use. Probabilities are you have declined a house just because the floor does not meet the standards of your 'dream floor.' With this in mind, what makes the type of flooring you choose an important aspect of home ownership?
The floor is one of the largest surfaces in the house and it plays a massive role in interior design. Unlike wall colouring and furniture which require less effort and time to change, changing the floor type can be very expensive and time-consuming thus making it one of the most critical finishes in a home.
It is therefore important to think smart about your floor selection as well as the long term. What may seem a good decision today may not turn out very practical in the future. Some of the things you need to consider before settling for the type of flooring are your aesthetic values, geographical location, your lifestyle, durability of the floor, and type of room.
Some popular flooring options include wood, carpet, tiles, bamboo, vinyl, laminate, linoleum, and real stone flooring. In the process of you searching for the best flooring option you are teleported into the world of laminate and vinyl flooring. Both of them are durable, attractive, and easy to install. But when it comes to laminate vs. vinyl, which is the best option? Read on the features, pros, and cons of each before you settle on which one to use.
What is Laminate Flooring?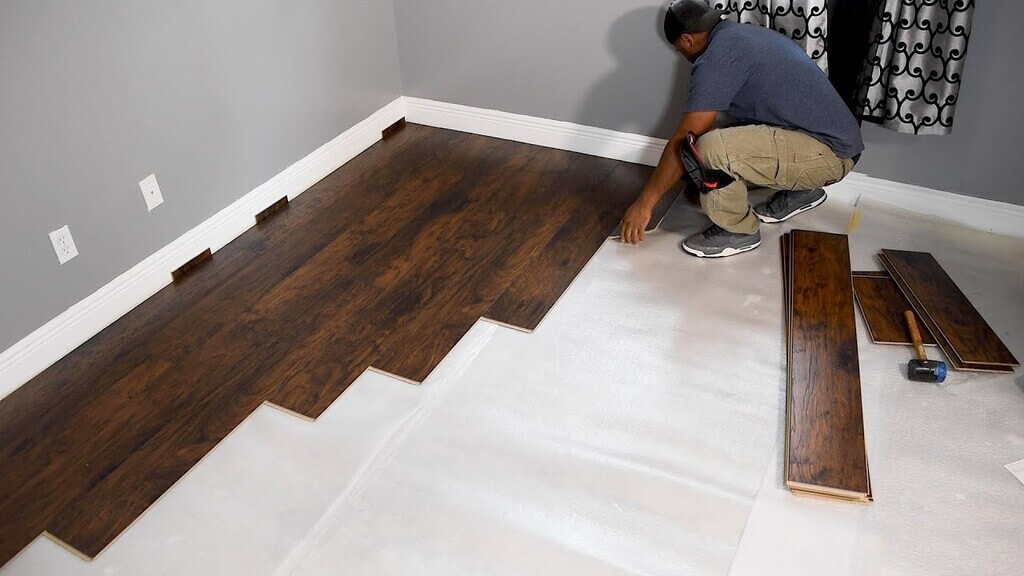 Figure 1: Layers of laminate flooring. Source-Choice Floors
Also known as floating wood tile in some countries. The flooring has been around for about 50 years. It consists of 4 layers: wear, design, inner core, and the back layer. The layers are fused using high heat and intense pressure.
The back layer protects the plank against dampness and provides a sense of balance to the floor, the core layer protects the plank from indentations and moisture, the design layer provides a high-resolution photograph of how the surface of the floor appears while the wear layer is made of aluminum oxide that is responsible for protecting the floor against waning, surface burns and colour wash.
What is Vinyl Flooring?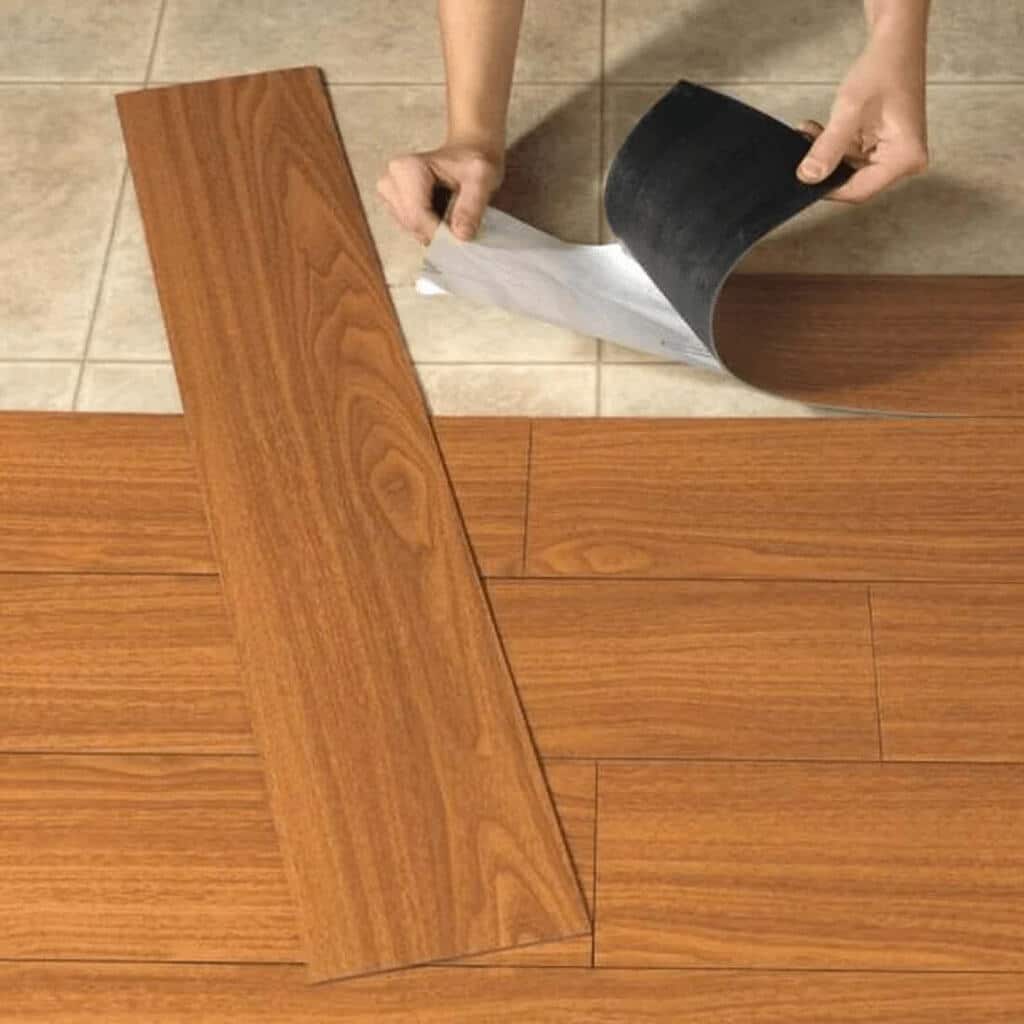 Figure 2: Layers of luxurious vinyl flooring. Source: DMV Home Design
It is a synthetic flooring option made from polyvinyl chloride plastic (PVC). It consists of four layers which are pressed together to form a durable and water-resistant flooring cover. The bottom layer is the backing layer which is made of cork or foam.
It serves as the underlayment for the vinyl flooring hence no need to install another material before laying down the vinyl flooring. Above it sits the waterproof layer responsible for absorbing moisture without swelling. The next layer is the design layer which is a printed image of your choosing.
The printing can be made to look like wood, stone, marble, or other high-end materials of your choice. The wear layer is the topmost layer which protects the floor from being harmed. Depending on the traffic the layer can be thick or thin. Notably, luxury vinyl flooring can have up to six or eight layers.
Key Differences: Comparing Laminate vs Vinyl Flooring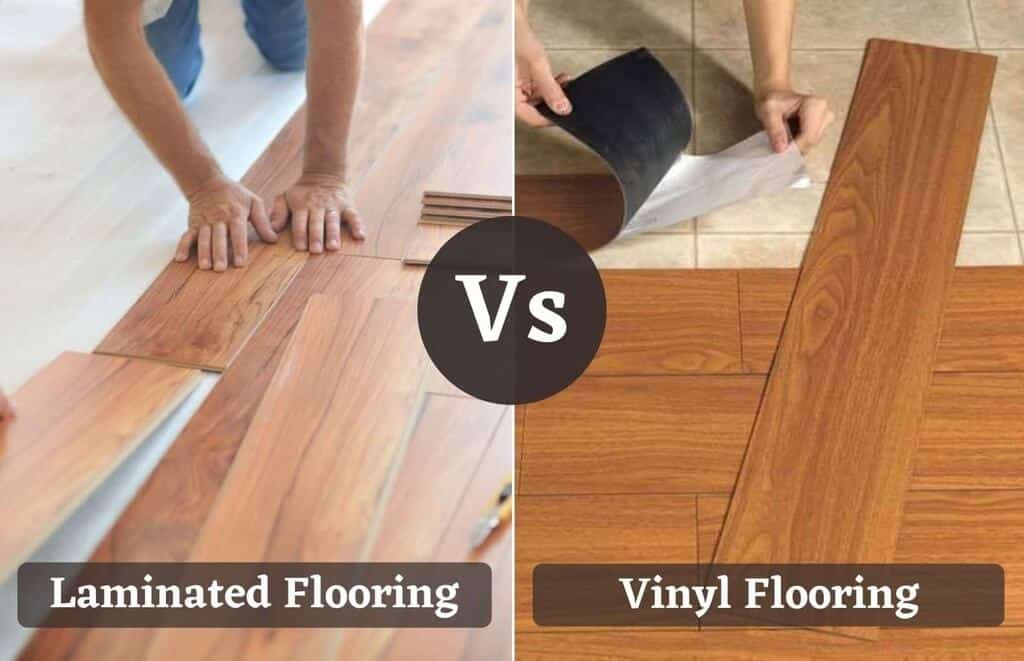 Spotting the difference between laminate and vinyl flooring can be a task. As a matter of fact from a distance and at first glance the two floors look similar.
Laminate Flooring
It is composed of four to five layers of materials. Laminate flooring is similar to luxury vinyl planks in its looks however the critical difference is that its core is made from wood by-products bonded with resins.
Vinyl Flooring
Vinyl flooring is 100 % synthetic, making it very appropriate for wet areas. It looks like a solid, homogenous material but it is actually layered. Vinyl flooring has a minimum of four layers with luxurious vinyl flooring having six to eight layers.
Which Floor is Best?
Appearance and Comfort:
Laminate Flooring
The laminate flooring allows deep, realistic three-dimensional embossing on its photographic layer to create the look of real stone or wood. Additionally, laminate flooring is available nearly in all colors, species, and a variety of natural wood and stone flooring.
Comfort wise, the laminate flooring has a thicker composition that includes wood content, which helps it to feel warmer and slightly softer.
Vinyl Flooring
Expensive and high-quality vinyl plank uses an image or photo layer under the hard, clear wear layer to give them a more realistic look. The image is usually of wood species or less commonly, stone. Unlike laminate flooring it is available in limited designs.
Maintenance and Care :
Laminate Flooring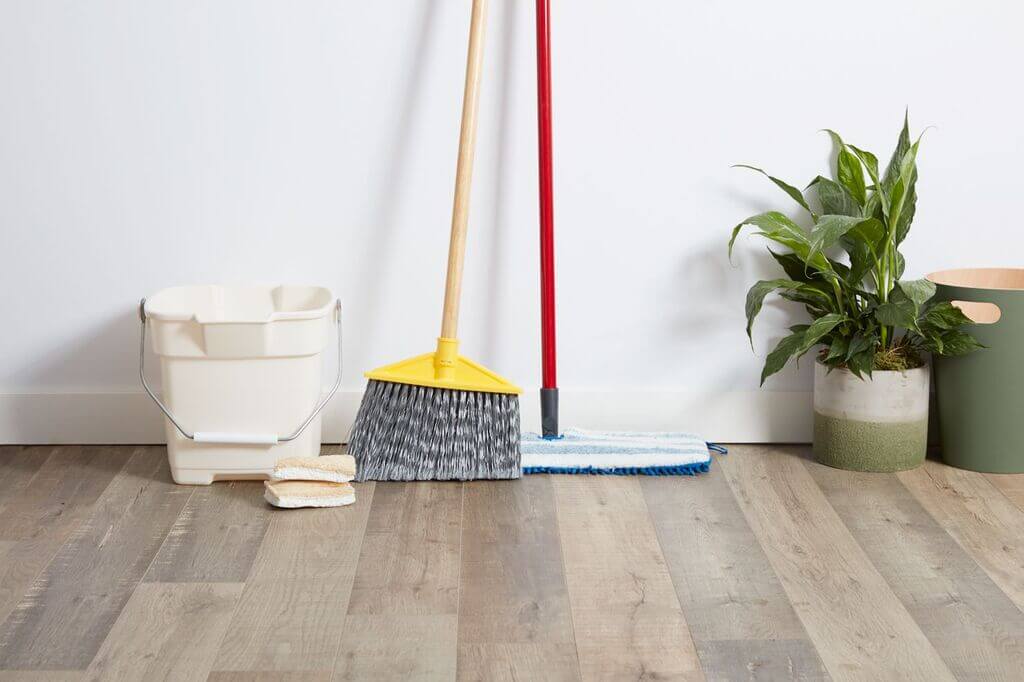 The laminate floor is durable and very easy to maintain. However, if it is exposed to water for a long time its layers may delaminate over time. Its wear layer is very delicate once it has been chipped or scratched it cannot be repaired. A tampered wear layer will also allow water to enter the lower layers.
When cleaning the laminate flooring it is best cleaned with dry methods. When wet cleaning the laminate flooring, the mop to be used should be a damp mop that feels almost dry to the touch.
Vinyl Flooring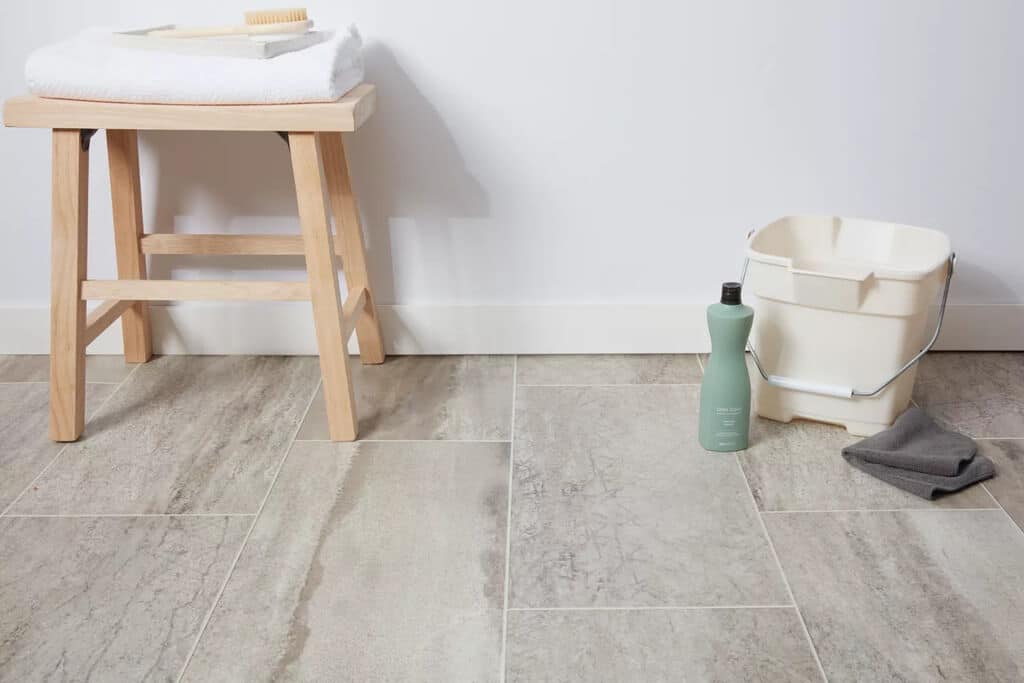 Vinyl flooring is a tough flooring material that can stand high traffic demands. In contrast, thin plank vinyl flooring is likely to stand better to water than more expensive vinyl flooring with several layers hence recommendable for wet areas.
Unlike laminate flooring, vinyl flooring can be wet-mopped and can be vigorously cleaned using safe cleaning products.
Lifespan:
Laminate Flooring
A well-maintained laminate flooring can last between 15 to 25 years whereas a poorly maintained one may last 5 to 10 years.
Vinyl Flooring
Thin vinyl flooring has a lifespan of fewer than 10 years whereas well-maintained thick, high-quality flooring can last up to 25 years.
Cost:
Laminate Flooring
The cost of a laminate floor ranges from about $ 1.00 per square foot for a 7-mm thick floor whereas for 12-mm thick planks is about $5.00 per square foot.
Vinyl Flooring
Just like laminate flooring, thin, glue-down vinyl flooring can cost as little as $1.00 per square foot whereas a thick luxurious vinyl plank cost can around $5.00 per square foot.
Installation: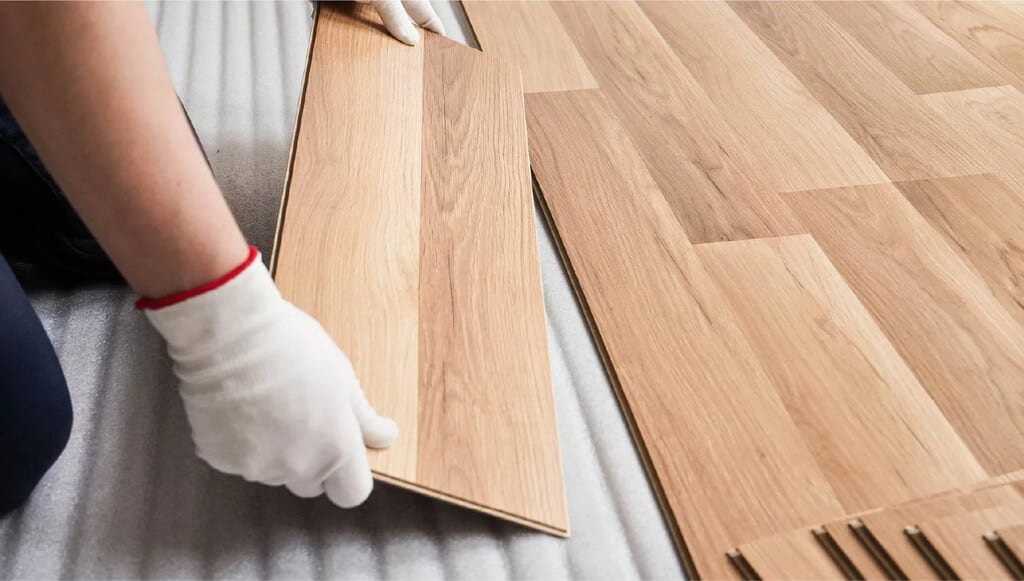 Laminate Flooring
Laminate floors are most times installed over existing floors thus referred to as floating floors. The click-and-lock installation method is used during the installation of these floors where the tongue of one plank is fixed into the groove of an adjacent plank at an angle. The cutting of the laminate plank is done using a circular, table or hand saw. It is a preferable choice when it comes to DIY projects.
Vinyl Flooring
They are also installed using the click–and–lock method. During installation, they can be glued on the subfloor or they can be loose-laid. Unlike the laminate floor, the vinyl sheets are hard for one to install by themselves and they can be complicated to cut since the material is heavy and large hence professional installation may be a necessity.
Water, Heat, and environment: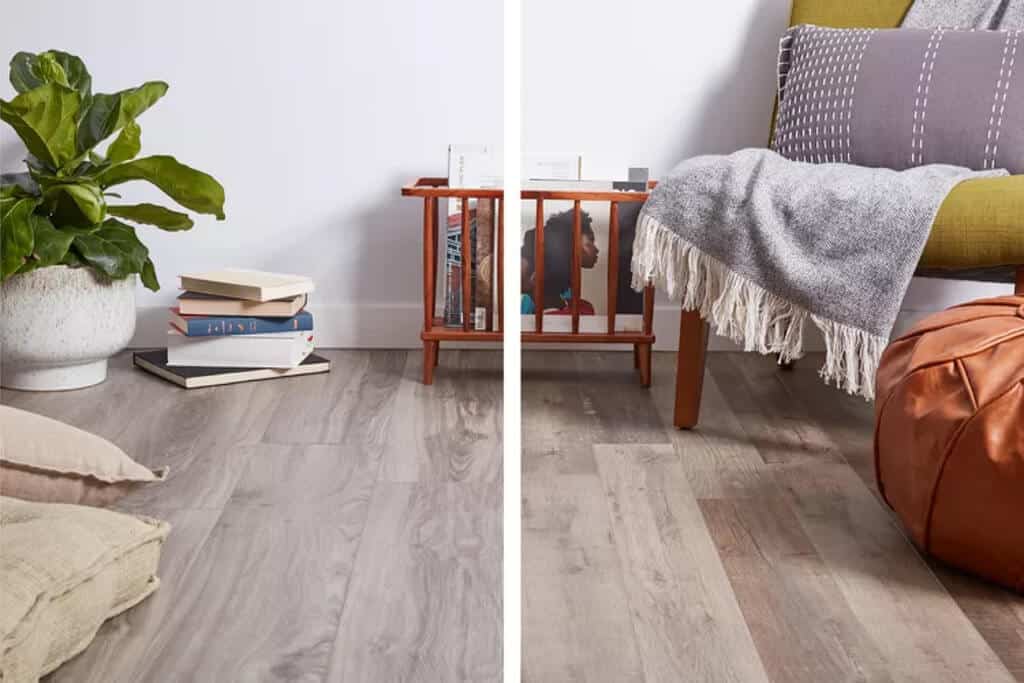 Laminate Flooring
Laminate flooring is not the best choice when it comes to a wet surface. Once its core sucks the water it will not return to its original dimension after drying. Also, when installed over concrete the laminate flooring will require a vapor barrier to prevent moisture from entering the floor.
Laminate flooring when exposed to heat is unlikely to be affected because of its high-density fiberboard core. However, when the top layer is exposed to extreme heat is likely to melt. The fiberboard core of the laminate flooring which has natural wood content makes it more environmentally friendly as compared to the vinyl flooring. Manufacturers are also increasingly offering laminate floorings that qualify for LEED MR4 (Recycled Content) status as a way of improving the floor's green stature.
Vinyl Flooring
Unlike laminate flooring, vinyl flooring is entirely waterproof. When soaked in water the vinyl flooring can be dried out and it will retain its original dimension and appearance. Nonetheless, the floor can be affected by heat especially if it is higher than 158 Fahrenheit.
Environmentally, vinyl is a synthetic material that can produce toxic chemicals when burnt. The material does not decompose in landfills and cannot be recycled. Over the years, vinyl flooring has improved its green stature with some manufacturers offering vinyl floors that achieve a LEED credit EQ4.3 for Low-Emitting material.
Resale Value:
Laminate Flooring
A well-maintained premium laminate flooring that is in a good condition and relatively new can lend an extra resale value to a home.
Vinyl Flooring
The resale value of vinyl flooring is dependable on the quality. A major brand of luxurious vinyl flooring will bring a decent resale value as compared to a low-quality one which the buyer may view as a project-in-waiting once they buy the house.
Convincingly, vinyl flooring will bring a lower resale value than laminate flooring.
Top Brands:
Laminate Flooring
Pergo

Quickstep

Mohawk

Shaw

Armstrong

Dream Home

AquaGuard
Vinyl Flooring
Metroflor

CoreTEC

Karndean

Cryntel

Mannington

Armstrong
Conclusion
In summary, it is difficult to give a specific answer to the question of "which is better?" This is because your choice is dependable on the home design, room functionality, and the benefits and costs of each. Vinyl flooring is a better choice when you need durable flooring for a wet area.
On the other hand, laminate is preferable if you want a more stylish appearance, a higher resale value, and a comfortable underfoot. Both Laminate and vinyl flooring are good choices when looking for a budget-friendly, easy-to-care, durable and attractive floor covering for your home. The two floors are also equally easy to install and cost about the same.