How to Light Up Your Landscape by Installing Landscape Lighting
For most of us, a little help from Mother Nature is needed to have some decent landscaping. From flowers to grass, trees, and more, there are many things you can do to make your yard look it's very best. A landscape company in Dubai can help you improve your landscape.
How do you light up your landscape? That question seems simple, but there are actually quite a few options. Do you choose floodlights or path lights? Incandescent bulbs or LED? Floodlights are typically used for illuminating large areas where you need to see everything in detail. 
Path lights, on the other hand, provide softer lighting and are usually used for smaller areas. This article highlights four tips that will help you get the most out of your landscape.
Light Up Your Landscape by Using Landscape Lighting:
The signs are all there: the sun is setting earlier, the leaves are changing color, and there's a chill in the air. It's time to light up your landscape for fall. Before you do, however, be sure to think about what kind of lighting will best fit your home and style. There are many options available for lighting up your property in different ways. But I like landscape lighting most. 
Landscape lights are a great way to add safety and ambiance to your outdoor living space. Here are some ways to use landscape lighting in your outdoor areas.
Moonlighting

: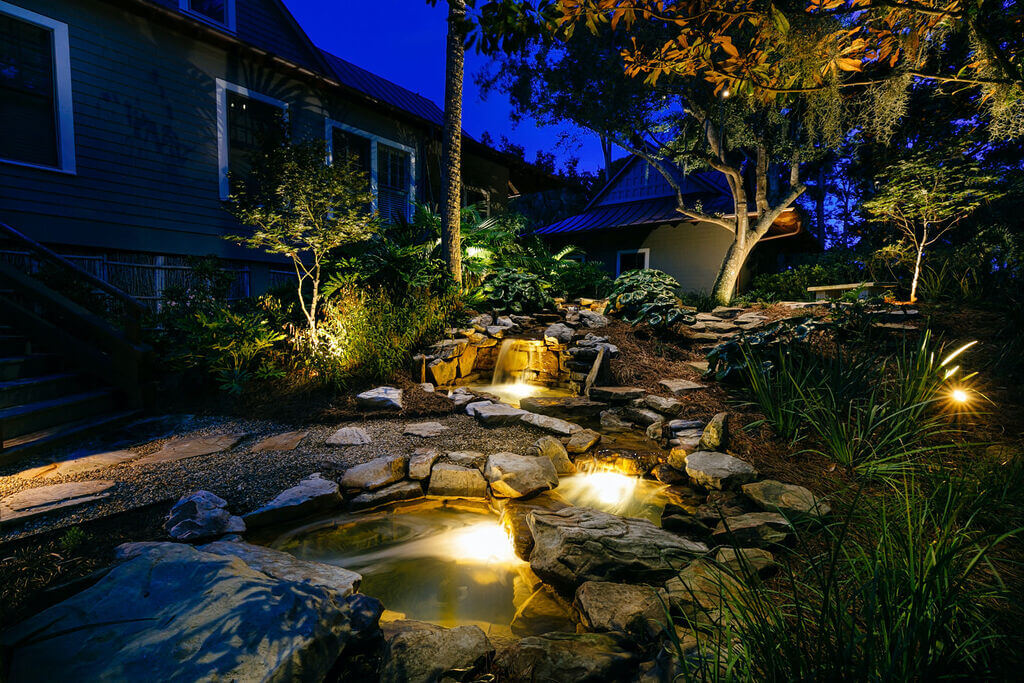 Source: wordpress.com
The moonlighting technique is very similar to down-lighting, although softer and less bright. Put a light inside a trellis or tree canopy to cast a glow on the ground. Place the downlight higher if you want to illuminate a lawn, and lower if you want to create an ambiance for a path or garden.
Offset Lighting

:
When installing multiple down-lights in a single area, rather than lighting the entire space evenly from one side, install some lights higher on the wall than others so that they are angled downward.
Wall-Washing:

 
Wall-washing creates a soothing and even glow that comes off the wall or facade it's pointed towards. For best results, place the lighting fixture a few feet away from the feature. This allows it to shine alongside the wall. It maintains an even and somewhat subtle ambient lighting for the nearby area. Wide-angle flood light with low wattage is recommended for this purpose.
Building Accents: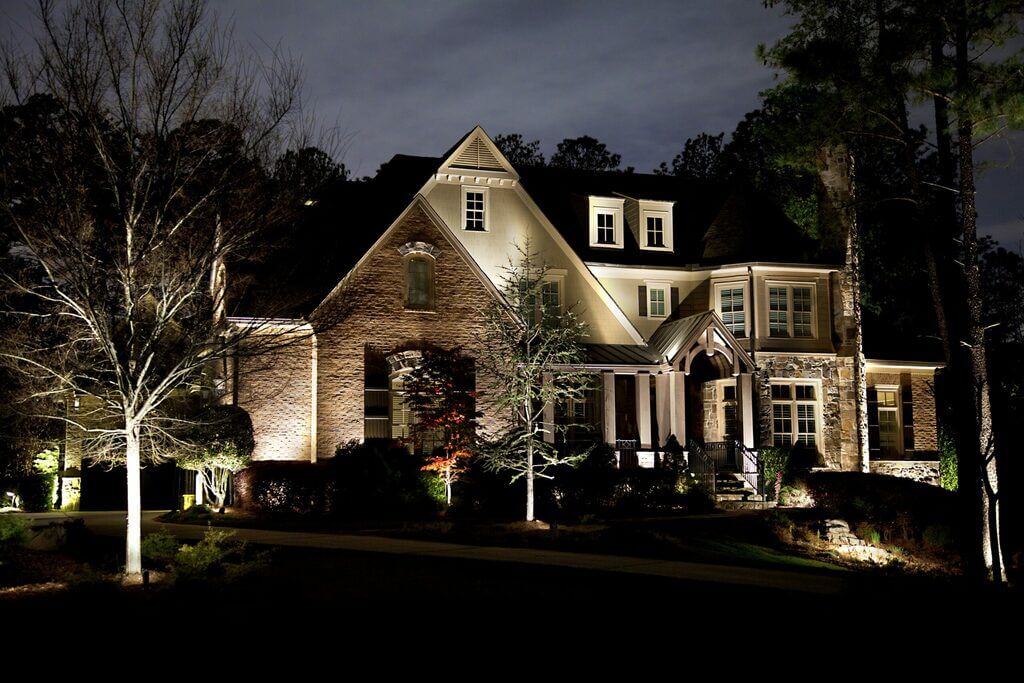 Source: trovimap.com
Using up-lighting, a contrast effect is created that draws attention to a building rather than the surrounding area. Compared to wall-washing, landscape spotlight fixtures accentuate a specific building but leave the surroundings in shadow.
Silhouetting:
By placing a spotlight behind the feature, aimed towards an adjacent wall, you can create an illuminated backyard. It looks especially striking at sunset.
Shadowing

:
A technique often paired with silhouetting, shadowing placed the fixture near the bottom of the tree, aimed at an adjacent wall. The goal here is to create a softer shadow, and often works best with a tree that has movement in its leaves. The effect of movement in the wind will be sure to add drama to your home's facade.
Also Read: 6 Practical Landscape Design Tips for a Functional Outdoor Living Space
Path-Lights: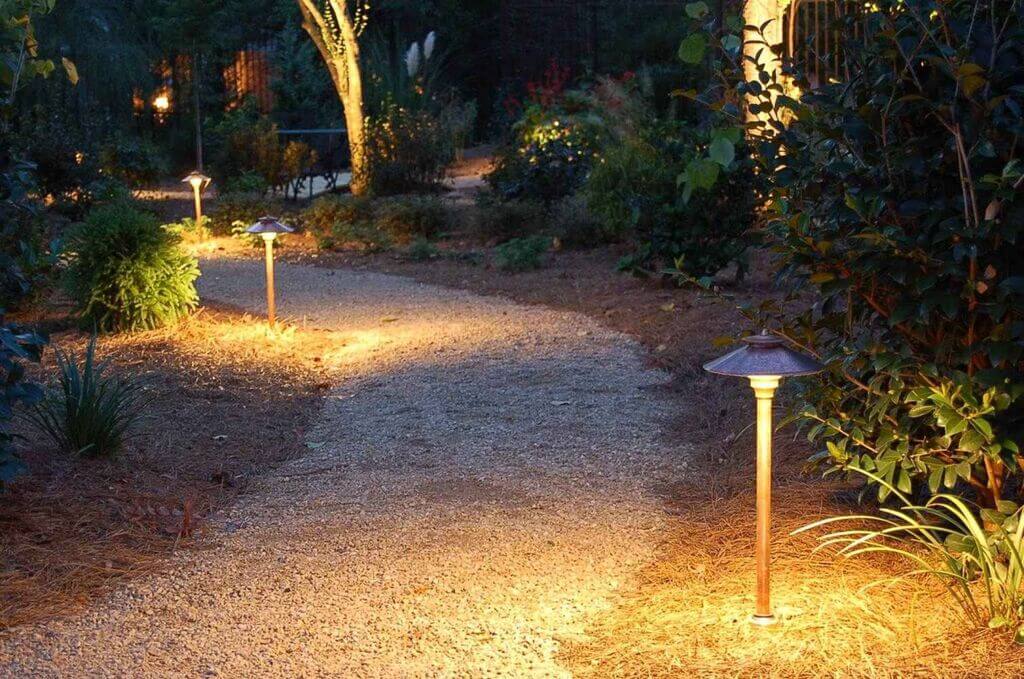 Source: pinimg.com
The low voltage landscape lighting can be used as path-lighting. Path-lighting is created by placing small lights along the borders of walkways, driveways, and patios. The style of these path lights must be considered carefully. Path-lights must be positioned properly to illuminate the walkways without being kicked or getting in the way of the lawnmower.
Highlighting:
It is a useful technique in outdoor lighting. Highlighting is created by placing a landscape spotlight at the base of an outdoor feature – like trees, for example.
Conclusion:
Lighting is one of the best ways to make your exterior space feel warm and welcoming. Not only will you enjoy your outdoor living space more, but it can also help to add value to your home.
Lighting up your landscape can turn your house into an eye-catching attraction. It also increases the value of your house.
There's no doubt about it; landscape lighting can add a stunning touch to any home. Whether you're looking for something subtle or want to illuminate your entire yard, well-designed lighting fixtures can take your outdoor space from drab to fab in mere seconds.