Stylish Interiors: Top 6 Living Room Trends for 2023
Times are difficult; the world is in crisis. Because of this crisis, more people crave comfort and safety; not just when it comes to food or healthcare, but within their homes that have become more than just a shelter over the last few years. Yes, we know that the year 2023 is drawing to a close. And so we decided to give you some living room trends that will still be fresh and relevant next year. 
So get ready because we're going to look at some of the freshest and creative, inspirational, and interesting ideas and insights on how to make your living room delightful for you!
Draw Nature In
You have probably seen nature rushing into everyone's homes, and everyone is suddenly planting parents, and rightly so! 
If you can't get out in nature every day, that doesn't mean you can't bring nature into your home. You can work with some large leafy plants and succulents, which are easy to work with and provide a feeling of peace and tranquility in your home. 
Comfort Is Everything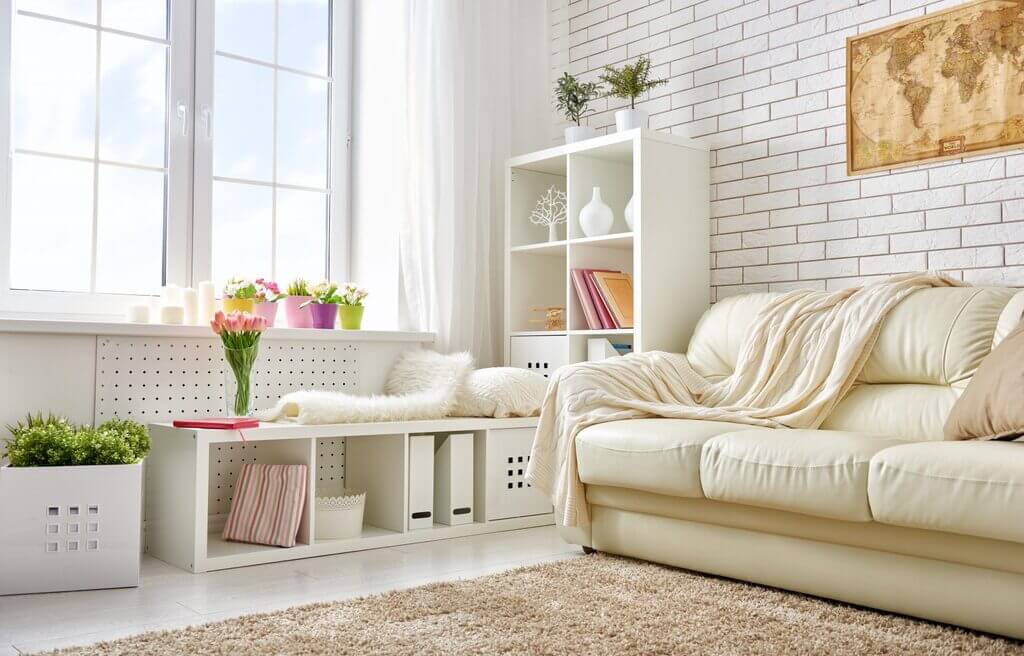 Source: homegiftgarden.co.uk
With the pandemic's stress, it's logical that anyone would appreciate some additional TLC. Even if you work from home, you're still busy in front of the computer. 
The living room is where everyone goes to Netflix and chills and relaxes after a long day at work. 
So, cloud sofas, plush or furry upholstery have been elevated to be the key pieces you should invest in, making your living room a more comfortable space.
Invest In Multipurpose Furniture
Suppose you don't have an office in your home. In that case, your living room will most likely be used as a home office or even a study room for your children, so your furniture will need to do double, triple, or even quadruple duty- it's the time for modern furniture to take over! 
Because more and more people want to make the most of their living space, multipurpose furniture is becoming increasingly popular.
Follow Natural Elements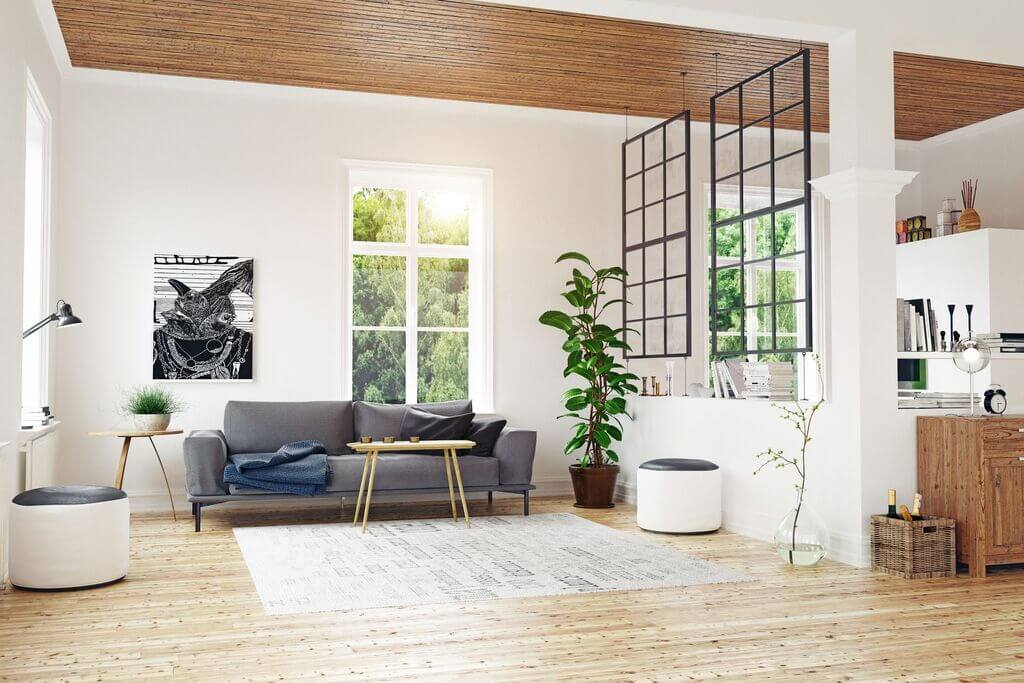 Source: hearstapps.com
Refresh your living room by incorporating a Japanese or Norwegian-inspired scheme. 
Lay down a natural fiber rug, such as a jute rug, and apply a fresh coat of paint in a neutral color (it doesn't have to be white) that adds personality—add textures in couches by using natural fibers with throws and cushion covers. 
You can also experiment with wicker or rattan furniture, and don't forget to add some greenery to your space.
Grounding Colors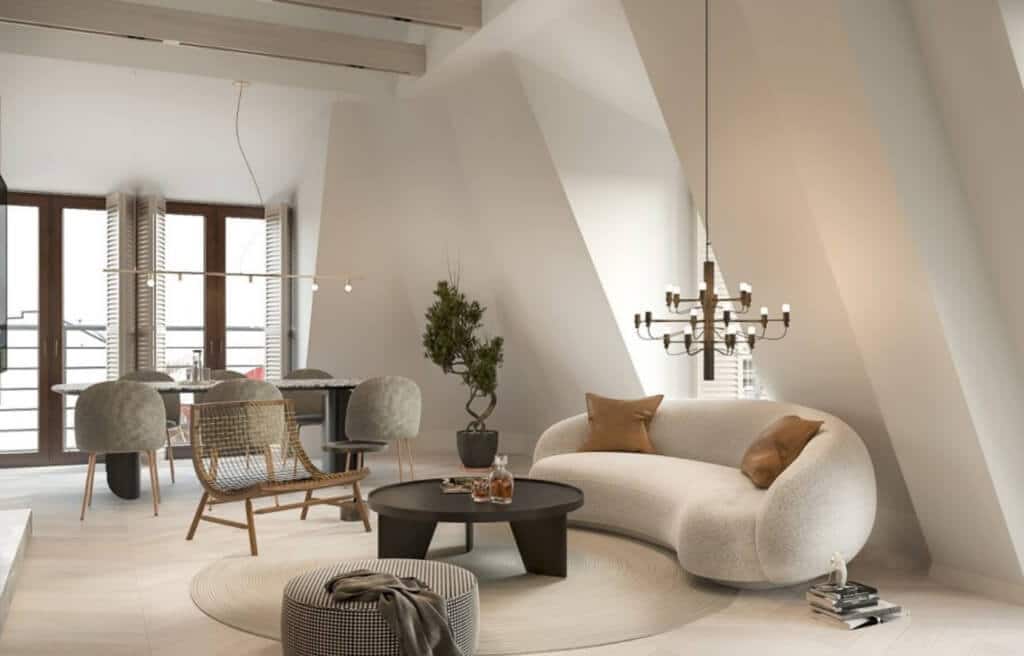 Source: essentialhome.eu
Natural tones and colors are a popular choice in interior design this season. Earthy tones and colors, such as terracotta and sand, are popular because it creates a natural effect while maintaining a grounding environment to disconnect with the world outside truly. 
Whether you're replacing old furniture or creating a fresh look, adding natural warm grounding colors to your home will be a common trend this year.
Create a Little Wanderlust
Since most of us cannot travel this year, the trending theme of wanderlust will keep our passion for real travel alive. Bring a bit of Earth's beauty into your home with authentic global pieces from around the globe, whether it's cushioned from India or art from Africa. 
We encourage you to look through thrift stores and see if they have any unique pieces you can embrace for your space!
Add Layers- Lots of Layers!
There is minimalism, but there is also maximalism, in which a heavily layered, styled coffee table or console table is more than desirable. 
Of course, this is not a trend that will last for a long time, but it is a great trend right now, and it makes for beautiful Instagram photos.
Layer your rugs to add depth to the space, and don't forget that they will also protect your room while remaining fashionable. 
You can layer books on top of each other on the floating shelves and place a lovely little candle on top – trust us, it looks amazing, and since fall is approaching, you can light a pumpkin candle and drink pumpkin spice coffee!
Also Read: Get Amazed With These Exclusive Wallpaper Designs For Living Room
Hang a Statement Art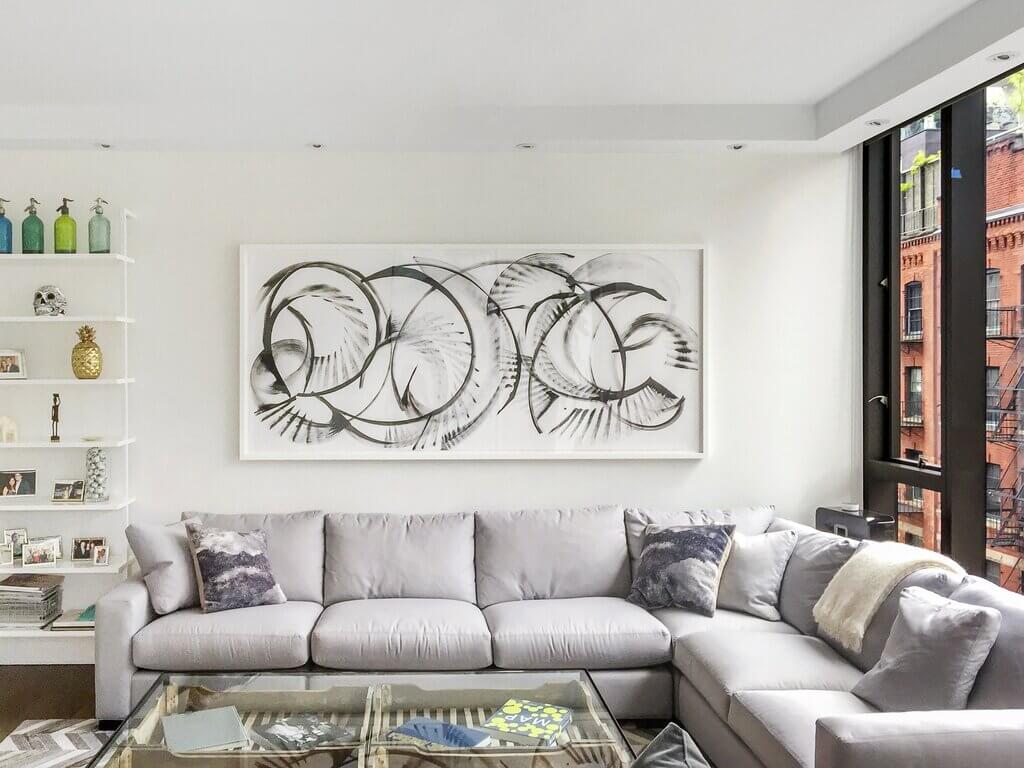 Source: shopify.com
You might have seen that the gallery wall normally has a layer of different paintings or pieces to make the wall stand out, but don't discredit the power of a magnificent statement of art.
You can go to any antique shop or even paint your art yourself to ensure that the art is not subtle but a statement piece. 
Plus, how fun it will be to have a little project of painting- you have your Saturday plans sorted! 
Summing Up
So now you know how to keep up with the latest trends in your living room in 2023, have fun redecorating! Follow the trend and trust your instincts and creativity to come up with something unique to you and your home.