25 Best Under Sink Organizer Ideas in 2023
You're not alone if your sink closets continue to be messy. With the help of our top choices for under sink organizers, you can control the mayhem that resides in your kitchen or bathroom.
Storage is essential for your kitchen and bathroom. Regardless of whether or not you like the design as a whole, if you begin to feel like you are running out of space, it might be time to reconsider your set-up.
The best ways to make the space under your sink bigger are on our list of inventive ideas, especially when it comes to displaying pots, cleaning supplies, hair accessories, and other objects. Scroll down to read about these under sink organizers!
Make Your Life Easier: Try These 25 Ideas for Your Under Sink Organizers!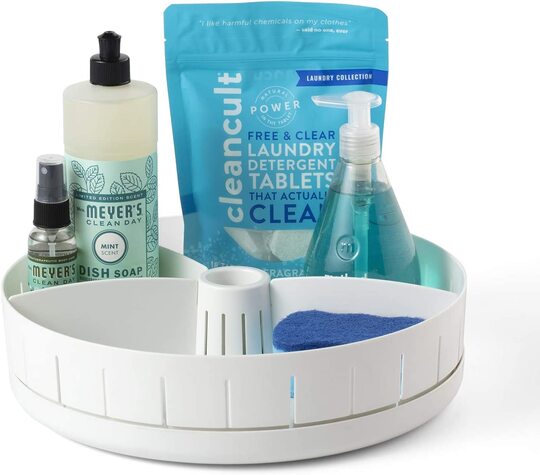 Price: $29.99
Take your cosmetics for a spin in this turntable under sink organizer. The round, white design is 12″ in diameter and has three adjustable dividers that you can move around to suit your storage requirements. 
For a quick and simple routine, keep your nighttime and morning skincare regimens in separate cabinets and fill your third one with your necessities for 10 minutes of makeup.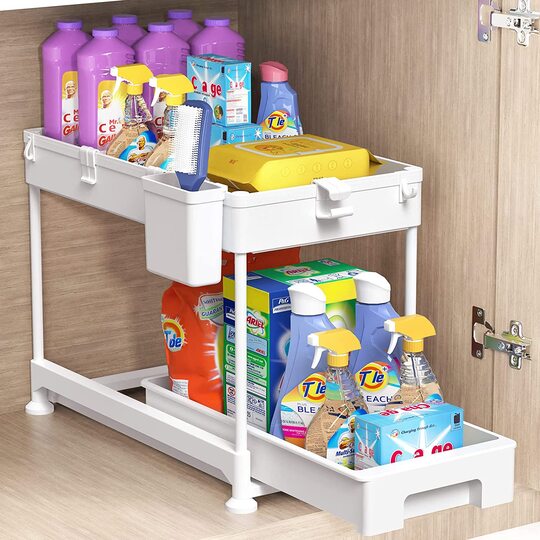 Price: $25
With two tiers plus a slide-out design, this top-rated under sink organizer on Amazon enables customers to retrieve objects in the rear. It is also offered in gray or black.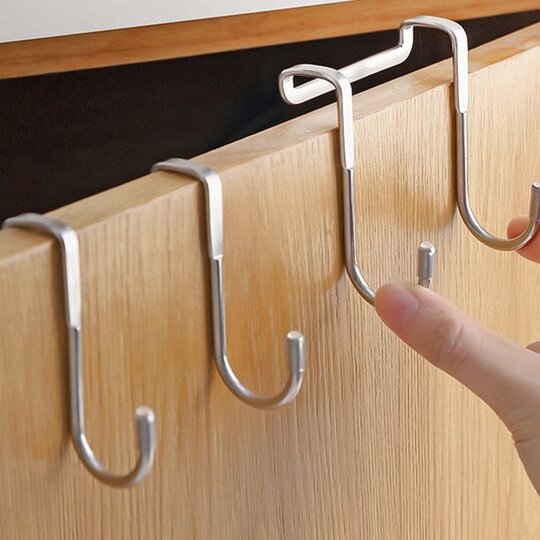 Price: $16.58
Use those extra shower hooks in another way. You can hang gloves, brushes, and other small cleaning supplies from the cabinet doors, particularly if you use a rod.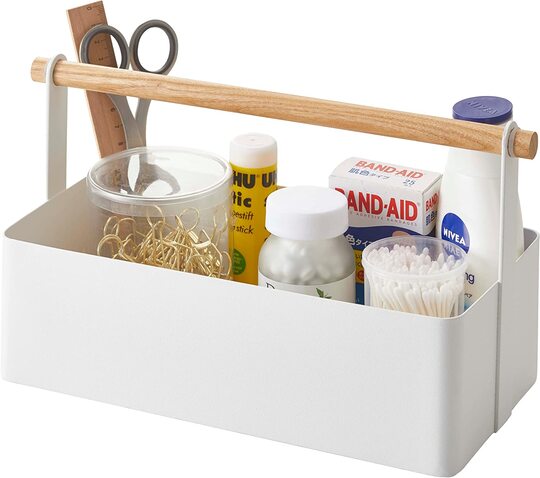 Price: $36
You can easily move any cosmetic goods stored in your under sink organizer with the Yamasaki caddy. The strong, powder-coated steel caddy with a sturdy ash-wood handle ensures that it can support the weight of your expanding collection of cosmetics. Choose from two sizes and two colors for the caddy to best suit your bathroom's needs and style.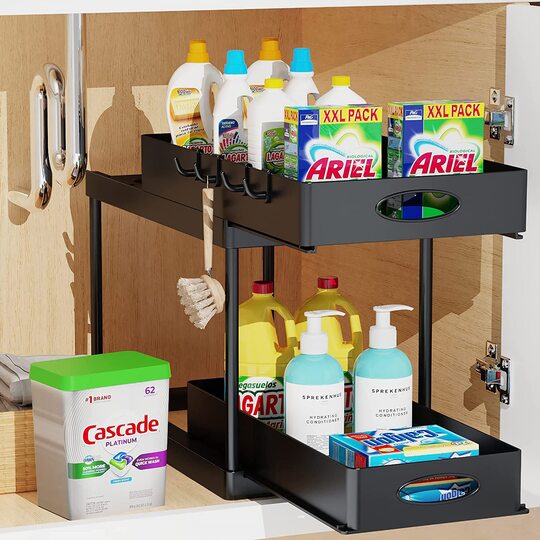 Price: $25
The use of under-bathroom sink storage, like this one with mounting hangers on its side for draping brushes for cleaning and other small items, is one method to make the most of the space under a sink.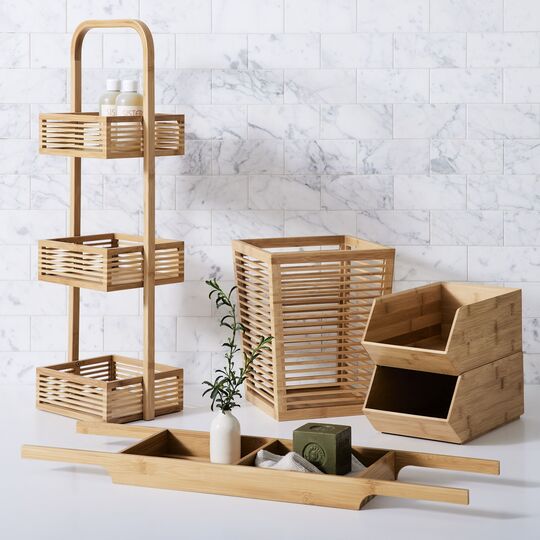 Price: $45 
With the Brockton Stacking Box Set from West Elm, you can transform your disorganized under sink storage into a display fit for a store. The two-piece set creates a spa-quality container for lotions, potions, and loofahs and slots neatly inside your vanity cabinet. Fill the bottom of the box with face cloths that resemble clouds, then fill the top with some taller items or equipment.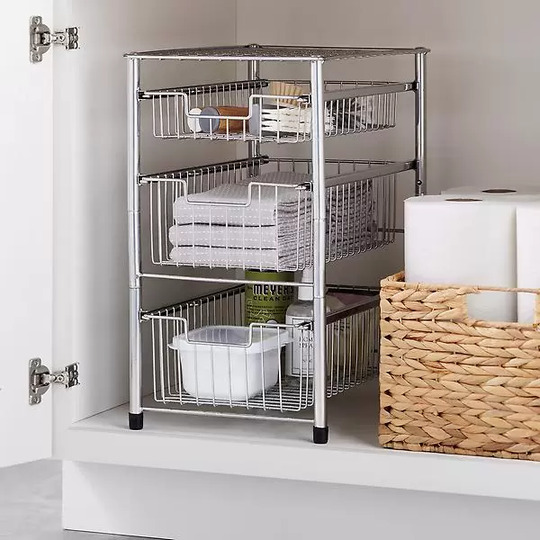 Price: $27.99-$35.99
Set up some vintage wire storage drawers in your washbasin cabinet. The Container Store's pull-out drawers are dependable additions to your organizing toolkit. 
This under sink organizer series features single and double freestanding drawer organizers that may be used separately or piled together to generate a lot of storage space. Grab a set to keep your dry body brushes, folded bath towels, and other essentials close at hand for your daily personal care routine.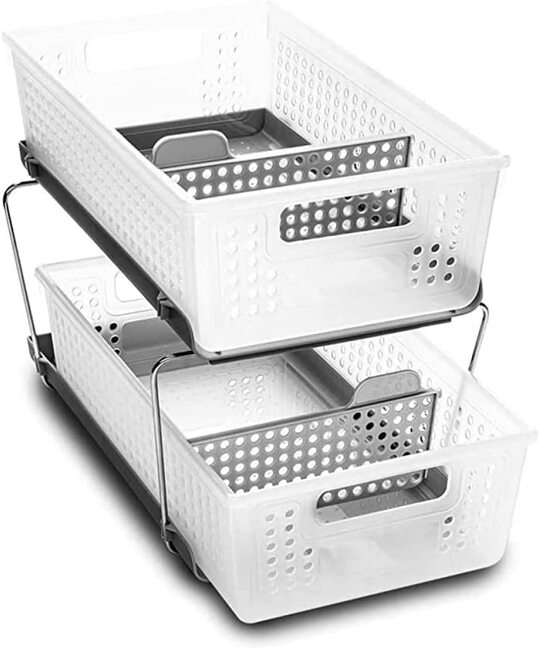 Price: $23
Drawers with movable divisions, like the two-tier under sink organizer from Madesmart that features movable dividers to customize the area to your storage needs, are another characteristic to look out for in under-sink organizers.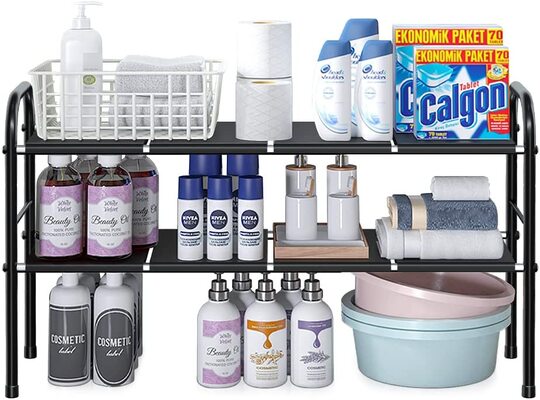 Price: $22
Open shelving units are another clever approach to increasing storage by utilizing the vertical space beneath a sink, in addition to drawers as an alternative to under-sink organization.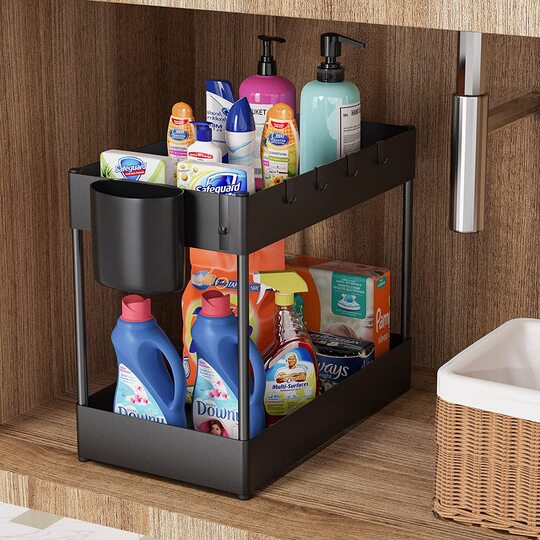 Price: $25.99
Utilize this two-tiered shelf system to keep everything organized and in its proper place. It's ideal for keeping accessible toiletries in its enormous capacity. Additionally, there is a cup as well as six side hooks for holding loofahs, razors, and other items. You can also see the toilet sink combo ideas.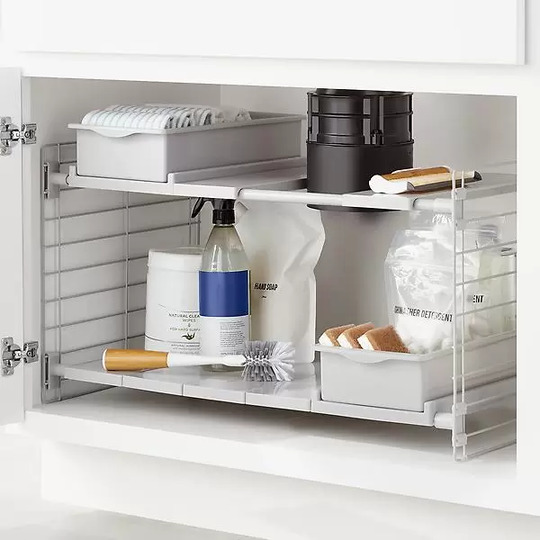 Price: $43.99
Increase the figurative storage capacity of your kitchen. With two pull-out trashcans and up to six shelves, this extendable under-sink organizer from The Container Store maximizes storage while fitting around sink pipes. 
You can adjust the number of shelves to fit your storage demands or to make room for large plumbing or waste disposals. Bonus: This effective organizer may be put together without the need for any tools.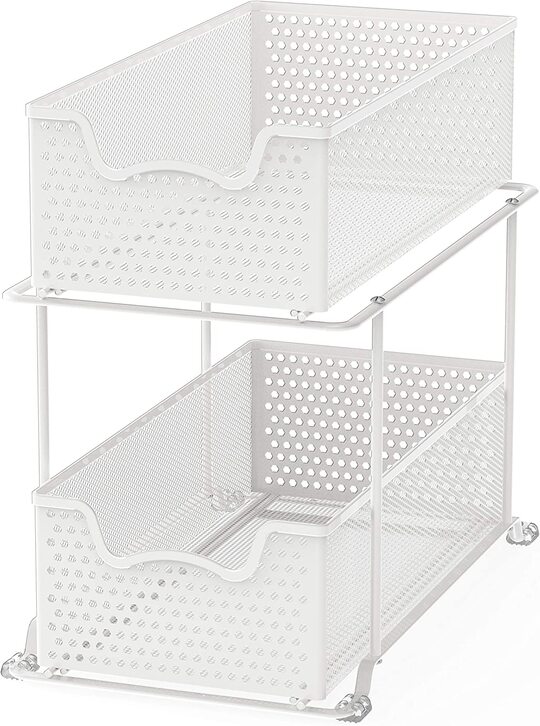 Price: $24.87
It is simple to take anything out of closets for viewing thanks to a sliding, two-tiered shelf. Keep the lighter products you use frequently at the top of the under sink organizer and the heavier stuff you don't necessarily need every day towards the bottom.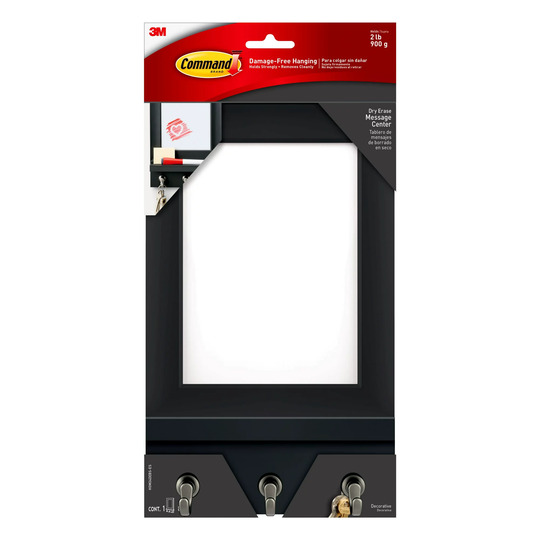 Price: $16.66
Keep track of everything you need in the bathroom and kitchen with the help of a little message board placed underneath the sink. Write it down on the board if you feel yourself running low on the bottles or supplies you usually keep beneath the sink, as a reminder to stop by the store.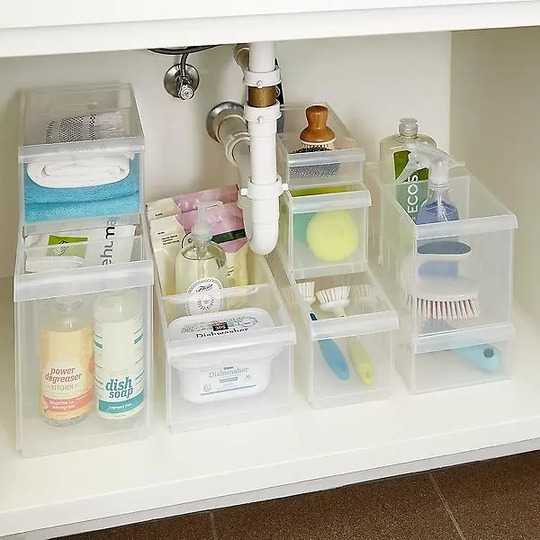 Price: $102.90
You can organize your cabinet once and for all with the help of this complete under-sink storage set, which comes with all the containers you need. The clear stackable storage bins from The Container Store come in one of each size as part of the starter kit.
Fill these under sink organizers with your most frequently used kitchen supplies, such as trash bags, dish soap, sponges, and all-purpose spray, and line the sink cabinet using the set.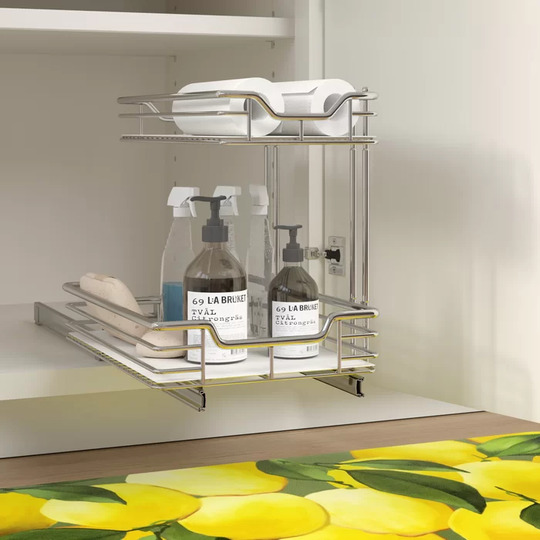 Price: $71.99
Another wise purchase for long-term under-sink storage in your kitchen is this double-decker sliding drawer organizer. With the option of a right- or left-facing orientation, the metal layout clamps on the interior of your washbasin. 
While the large shelf provides storage for any kind of spray, soap dish brushes, and other items, the top tier offers space for stacking folded dishtowels as well as paper towel rolls.
Price: $24
Paper goods along with the materials will be safeguarded against water damage while being stored in a completely protected organizer, such as these stackable transparent plastic drawers.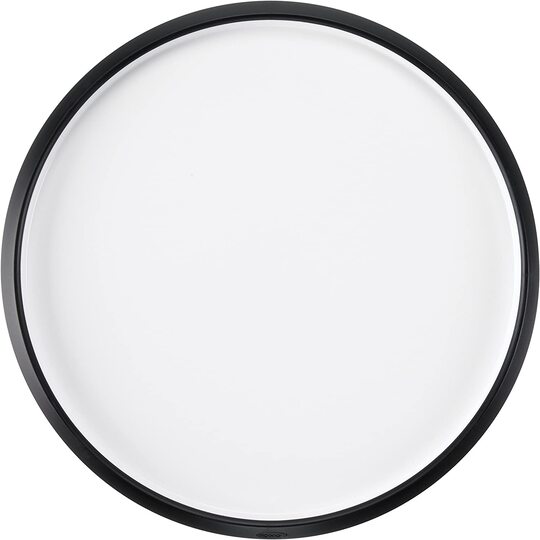 Price: $20
The 16-inch diameter of this extra-large lazy Susan under sink organizer is perfect for what Nonnahs Driskill, the founder of Get Organized Already!, refers to as "that dark hole" at the rear of cupboards. Making the most of difficult-to-access storage areas, turntables make it simpler to grab what you need when you need it.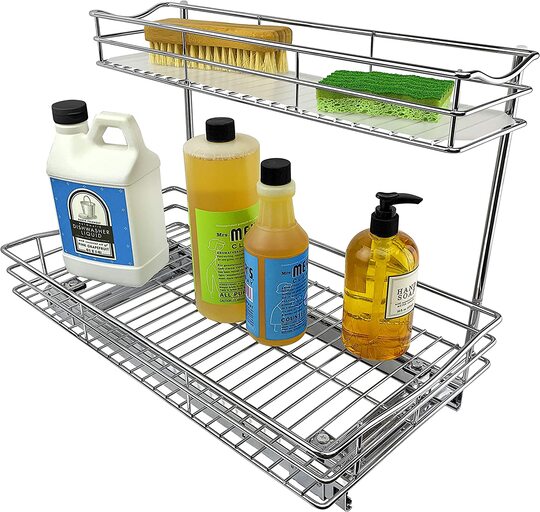 Price: $74.99
For both home products and kitchen cleaning supplies, Wayfair's Lynk Professional slide-out under kitchen sink organizer offers unrivaled storage. The best-rated, reservable design is simple to mount on either the right or left cabinets, depending on how well it fits your space. And for added durability, every slide-out drawer is made of industrial-grade steel.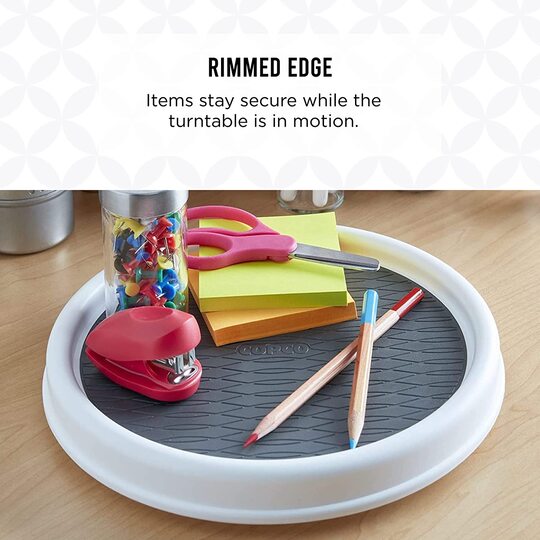 Price: $10
Lazy Susans under sink organizer are obvious among experts and are available in a variety of sizes to accommodate a variety of settings. To maximize storage and make it simple to access the product you require when you need it, she prefers to store cleaning supplies under the sink on a turntable.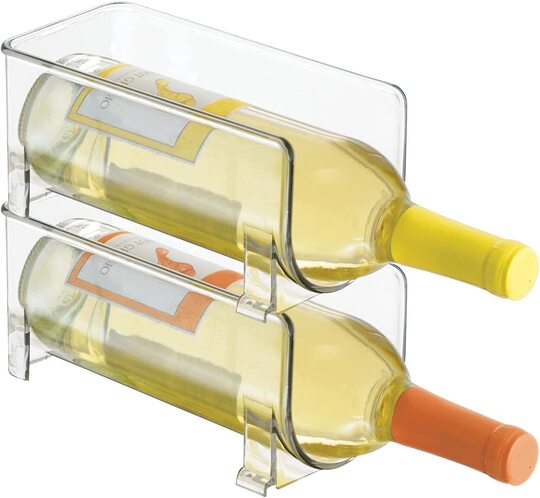 Price: $18.49
Who would have guessed that refrigerator wine bins might be used for things other than wine and in locations other than the refrigerator? Use them for garbage bag rolls, and be sure to choose the appropriate size.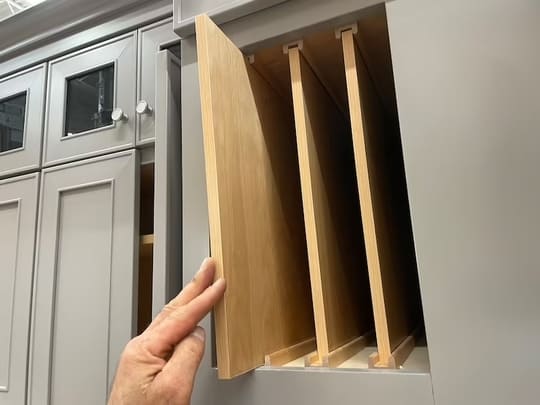 Price: $41.39
The vertical shelves you place inside your bathroom under sink organization will fit perfectly with such trays and racks. You aren't going to be concerned about scraping some out to get the desired tray.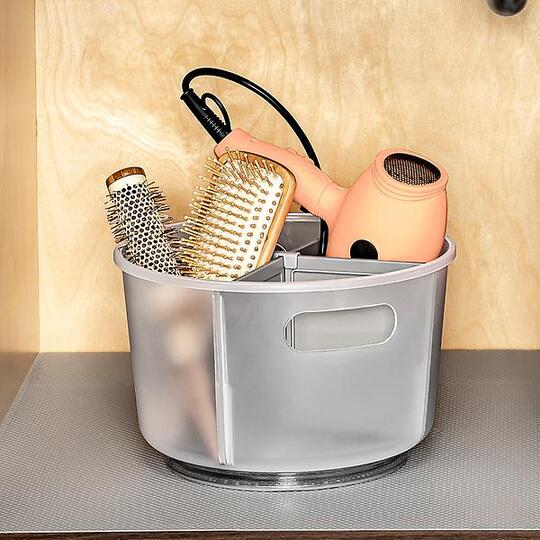 Price: $30
This innovative divided under sink organizer bin creates the ideal location for keeping personal grooming equipment like brushes and hot stylers near at hand but out of sight by combining the features of a lazy Susan with traditional storage.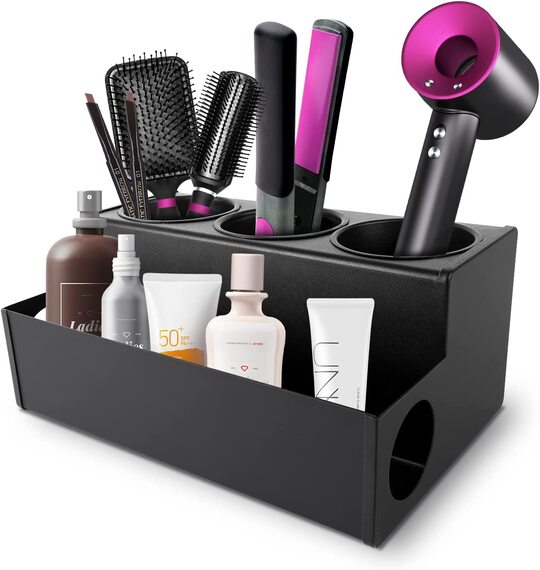 Price: $40
Driskill claims that keeping all of one's cleaning materials under the sink is yet another mistake people make while using a small bathroom. She recommends, instead, having a bottle of all-purpose cleaner on hand and removing other cleaning supplies from the bathroom to make space beneath the sink for often-used things like hair dryers.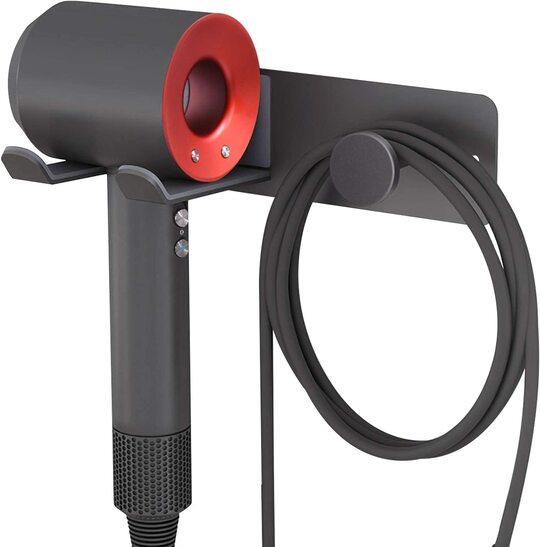 Price: $23
Another method to utilize the under sink organizer space is to put products where they are out of the way but still easy to get to when you need them. These holders for hair dryers can be installed on the wall or a door.
Also Read: Bathroom Trends 2023: Top 7 Modern Design Ideas for Your Space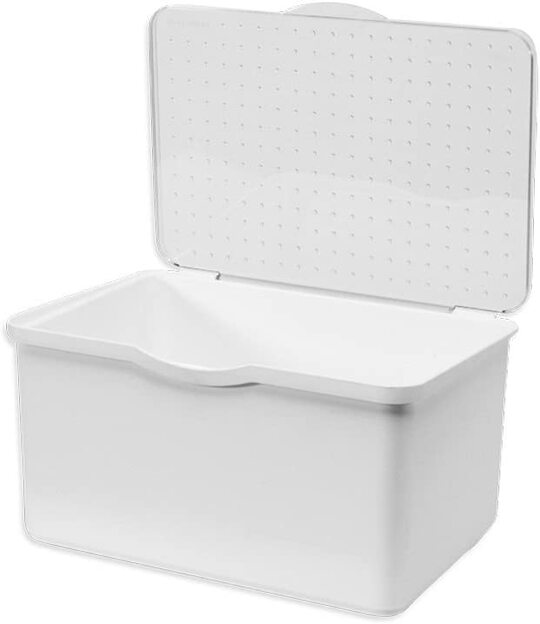 Price: $14
Sometimes the answer to organizing a difficult place is a very simple storage container. This stackable storage under sink organizer includes soft-grip handles that make gripping and carrying simple. It is meant to nest when empty. Each bin contains a spot where a dry-erase marker can be used to label the contents.
It's Time to Buy an Under Sink Organizer for Yourself!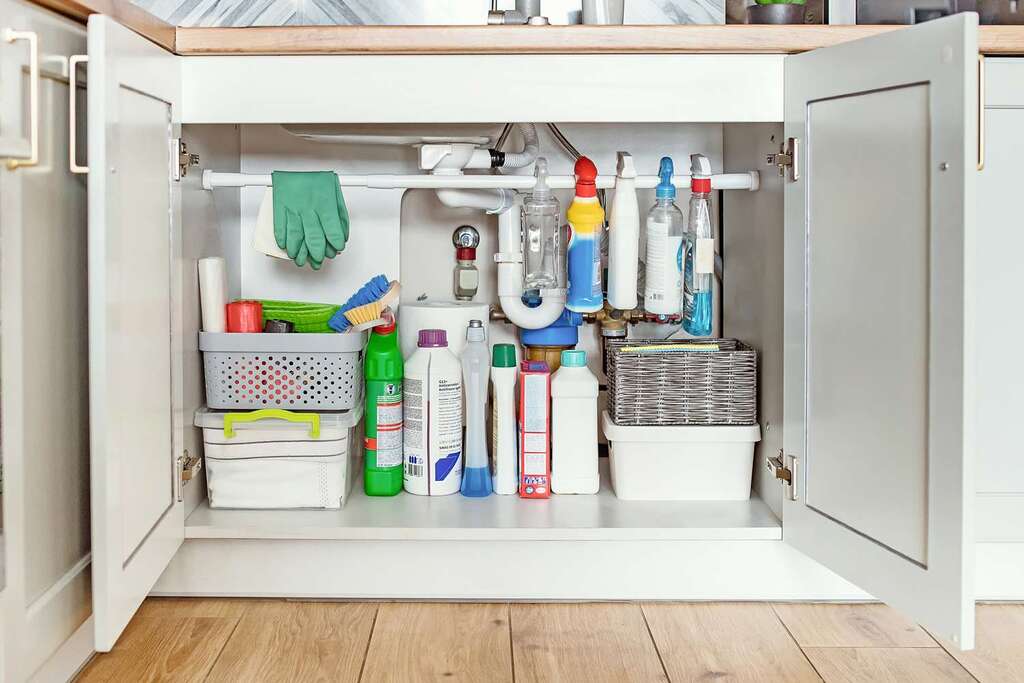 Source: thespruce.com
The area under the sink in the bathroom is ideal for storage, but due to the awkward layout of the area, it all too frequently becomes a disorganized jumble of grooming and cleaning supplies.
With the help of organizing professionals, we've compiled this list of the top 25 under sink storage ideas and organization solutions for all needs, from cleaning supplies to styling equipment. Hope this article has helped you in some way or the other.
Subscribe to our page for more such informative pieces.    
FAQs: Under Sink Organizer
1. What Do We Call the Under Sink Organizer?
False drawer fronts are replaced with a tilt-out tray underneath the sink. A little storage space situated between the bathroom vanity frame and the washbasin bowl is known as a "tilt-out tray."
2. Is Storing Things in Under Sink Organizer Fine?
Trash bags or extra plastic shopping bags are wonderful places to store items that won't be harmed if they get wet under the sink. Use plastic, glass, or an under sink organizer for storage if there is anything you don't want to be exposed to moisture.
3. What Should You Store in the Bathroom Under Sink Organizer?
Keep supplies like contact lenses, contact solution, facial moisturizers, face wash, toothpaste, toothbrushes, and mouthwash. You can also keep extra supplies in the under sink organizer if there's space, and keep these as near the sink as you can. 
4. Can Drawers Be Placed Under the Sink?
Under sink organizer are an excellent solution to maximizing space in a limited space because they provide simpler access to objects. Drawers in this space might provide additional space for storing necessities because they are made to fit around large piping.
5. What Can You Put in Under Sink Organizer?
You can put many things in your under sink organizer, like: 
Chemicals and kitchen cleaners 

Soaps and detergents for dishes.

Dishwashing gloves and extra sponges.

Small fire extinguisher.
More from The Architecturesideas
To know more about Home improvement ideas, Cleaning and decoration tips visit ArchitecturesIdeas
For daily updates, follow us on our Instagram page @architectures_idea.