Best Ways To Turn Living Room Into A Farmhouse Living Space
167 views
The living room is that space of any house that people try to keep decorated because most guests like to hang out in the living space. There are so many ways to beautify the living room and there are many living room interior types as well and Farmhouse Living Room is one of a type.
Farmhouse living rooms are different from those modern living spaces and there are certain ways to achieve that. They look so sober and beautiful that one would love such an interior in the ling space. This would also make the house look luxurious which is a great thing for sure. 
If you are someone who loves the sober interior with a touch of vintage or industrial then you would probably love farmhouse living space. There are so many ways to achieve farmhouse living space and you would not even have to spend a huge amount of money to get that. 
Some change of materials needs to be done if you want a farmhouse-inspired living space in your home. If you are wondering about some of the best Farmhouse Living Room Ideas then here are some of them listed below that you can check out and try at the same time:
Open Farmhouse Inspired Living Room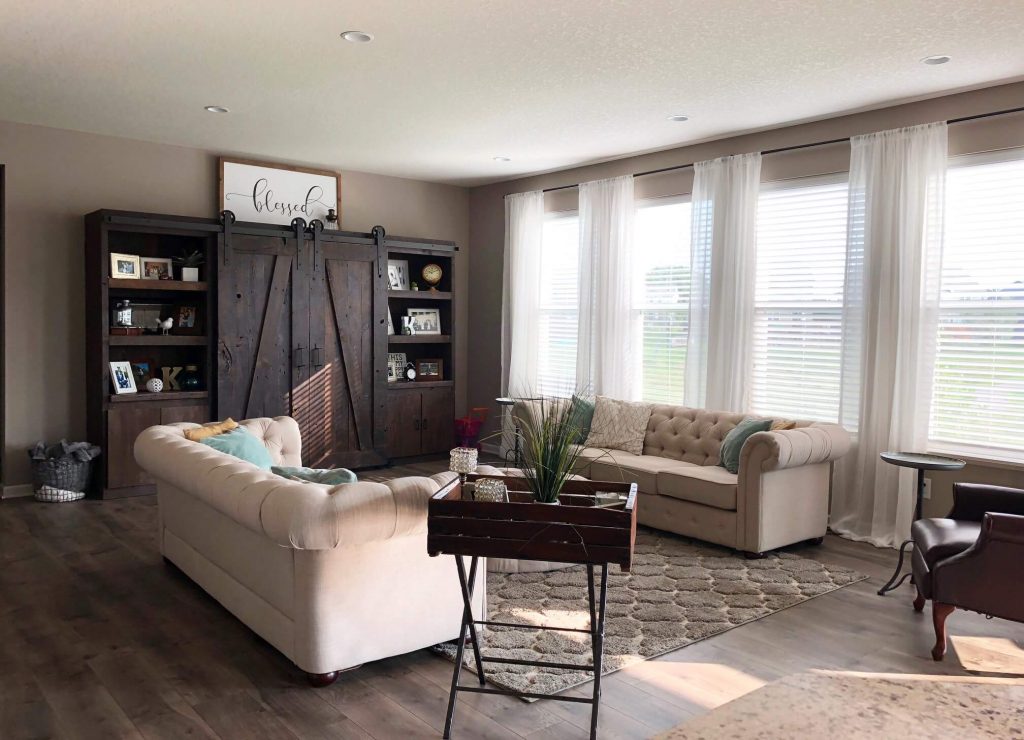 Source: wp.com
If you are about to get your home constructed then you can just keep one huge hall instead of a room on the ground floor as open living spaces are famous in farmhouses. Here you would have open spaces so there would not be any walls as such and your living room would be exposed to your dining space. You can also keep your kitchen in this way if you want to flaunt your kitchen in front of your guests or any as such visitors. 
Here you would simply have to choose a space in the hall and set some sofa sets and other living room essentials to give it a living room like the look. You can keep different furniture in your dining space to make it look different from your living room and you can also keep certain décor items on the table. This is perfect if your home is compact so you would not have to make separate spaces instead of a huge hall would do all the required things for you.
Wood Rooftop Living Room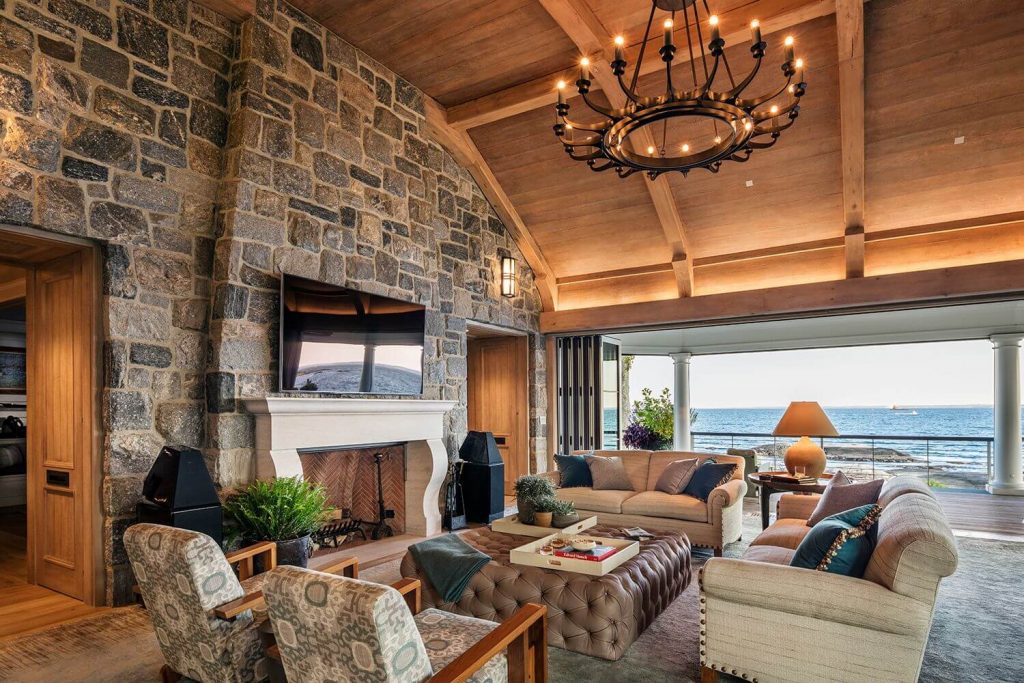 Source: hearstapps.com
Such living room décor is possible only if you stay in a single-floor living room or if your room is on the top floor of your house because here the rooftop does all the magic. Here you can have exposed wooden rooftop as this would give a very farmhouse kind of look to your beautiful living room. 
Such kind of rooftops is very sleek and classy and at the same time, this would give your house a very beautiful vintage touch. Here you have to keep your rooftop exposed of you can also get it colored as both would look stunning and such rooftops are great for snow-falls and rain. Here are some Types of Hardwood Floors for your home.
The Addition of Fireplace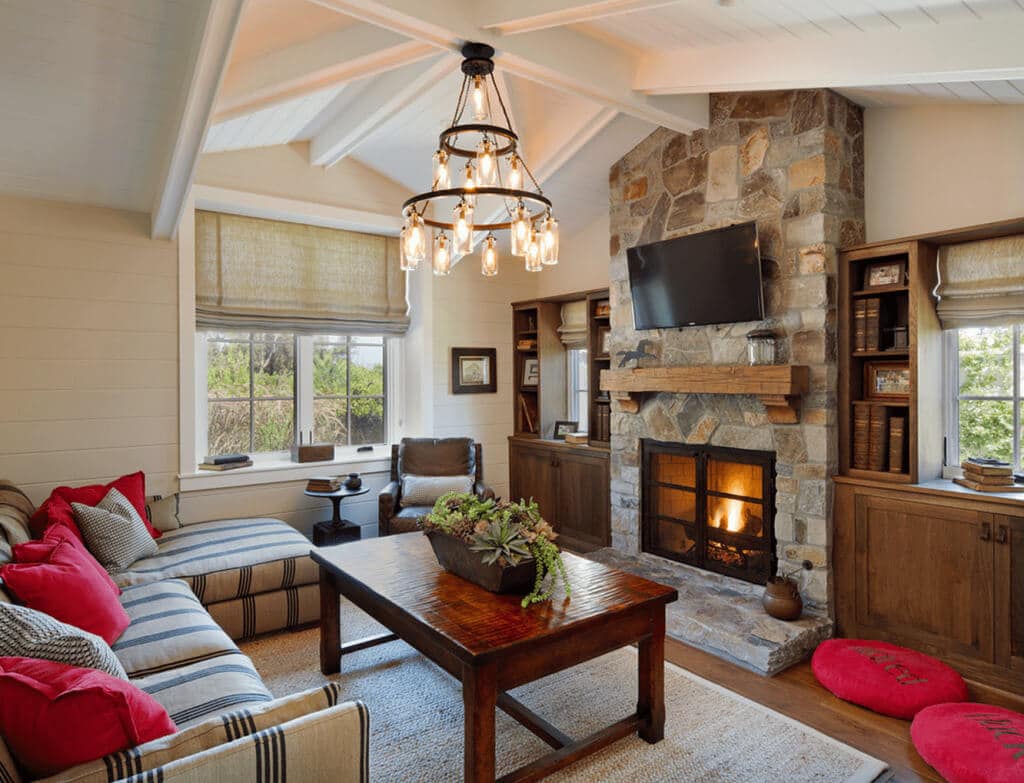 Source: thespruce.com
The concept of farmhouses is not new, so the living rooms that would be inspired by farmhouse would not be modern at all. Back then room heaters were hard to find so people used to create a fireplace in their living rooms to keep the room cozy and warm. 
If you want your living room to have a farmhouse like a look then you can also get a fireplace installed in your living area. A fireplace is a great dehumidifier as well so if you live in a humid area then you can often use the fireplace to keep your home dry. There are so many different styles and designs of fireplaces so you can always choose the one you love.
Monochrome Farmhouse Living Area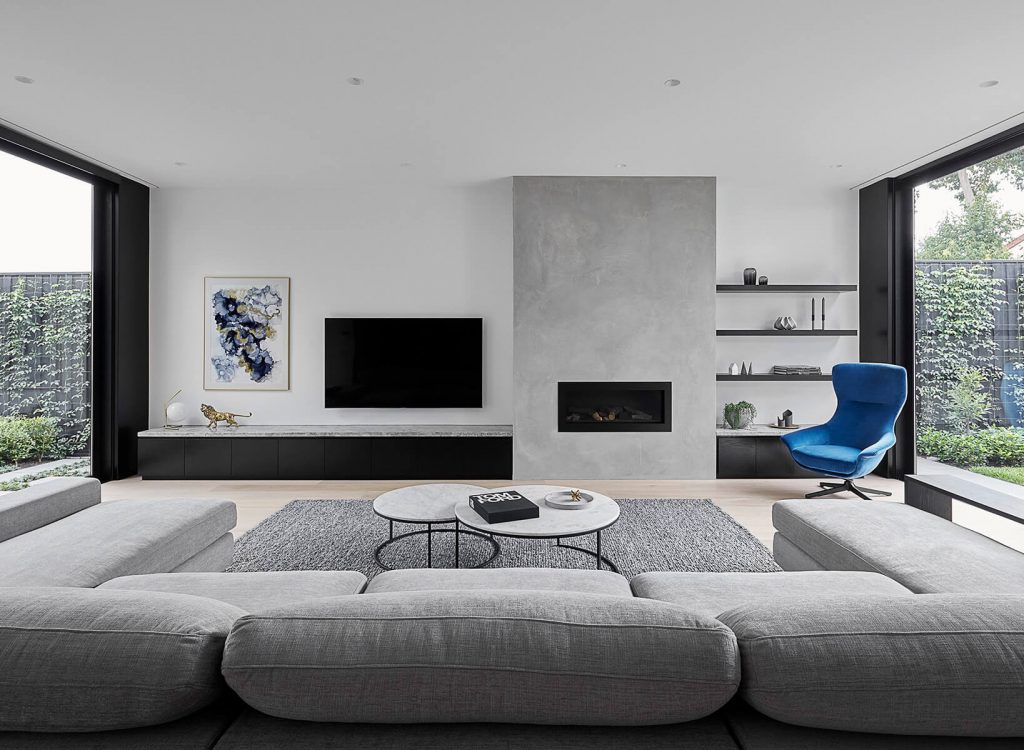 Source: fastly.net
Monochrome living rooms look the best and if you are someone who loves sober colors and elegance finished then this kind of living space would be loved by you. This is one such style that looks both modern and industrial at the same time so this is perfect for those who keep on switching the living room interiors. Here you can get all while surrounded by some wooden interiors and you can keep the room in one single color only.
Exposed Walls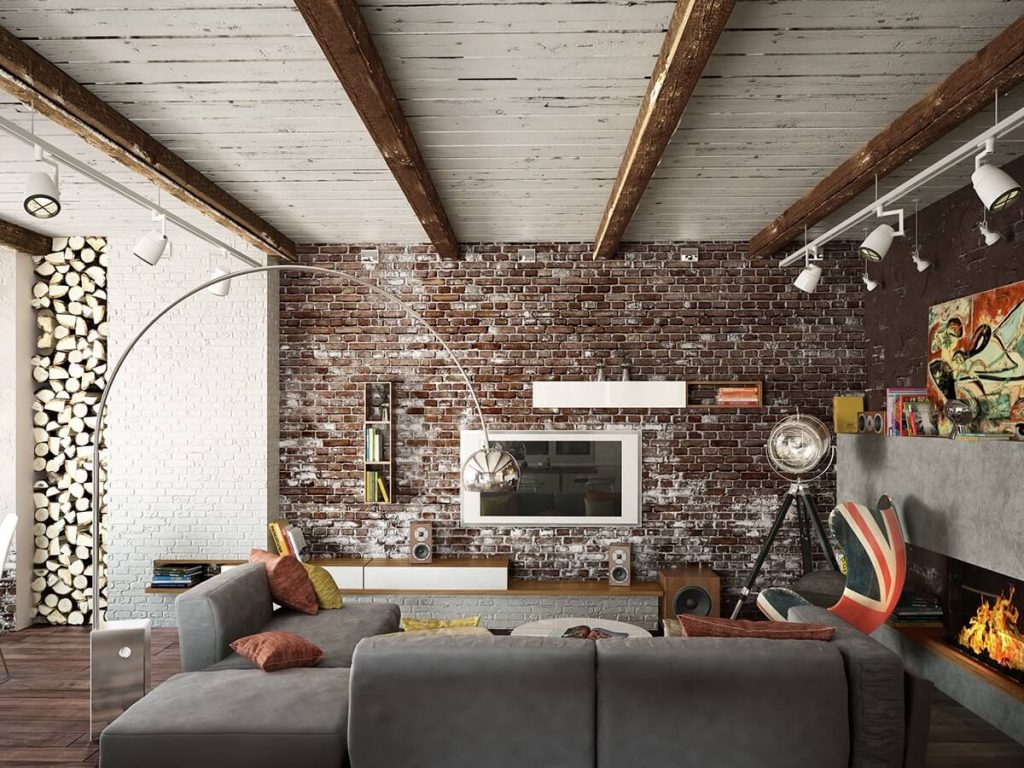 Source: home-designing.com
If you want to create an old school in your living room then this interior is best for your home. Here you can keep the walls of your living room exposed and this would give your home a very old as well as a dramatic look. You can keep one such wall and keep all the paintings or pictures hung on that wall and that wall would prove to be the highlight of your living room. This wall would add beauty in your living room and people would notice this amazing addition in your living room for sure.
These were some of the best Farmhouse Living Room Ideas that you can check out and for more such ideas you can browse through Architecturesideas.