10 Home Decor Ideas on a Budget
Your home decor plays a crucial role in physical and emotional wellbeing. A well-decorated space creates an inviting environment where one can feel comfortable, productive, and be the best version of themselves. Our homes are a clear reflection of who we are, which is why it is important to work on making your space aesthetically pleasing and inviting for yourself and visitors. However, home decor can be expensive, which is why it might come last on everyone's list. Here are ten budget-friendly home decor ideas to help make your living space homey and uplifting without spending a large chunk of money.
Create a Design Board
Your home decor should reflect your personal style, and creating a design board is the most convenient way of deciding the theme, color palette, and style that fits your personality. Look for various interior design styles online and pick the one that screams you, or take online quizzes to find out your interior decorating style.
For example, you conclude that your home decor style is shabby chic, a combination of soft hues and vintage furnishings. Now you can start browsing for shabby chic home decor items and calculate the expenses.
Set a Budget
After estimating the expenses, you can set a budget for yourself and save money to buy the decor items and raw materials for DIY projects. Engaging in online trading is a substantial option to multiply your funds for a home makeover.
Note that trading can be risky, and using a portfolio tracker can help you minimize the risk; as it will help you determine which investments are growing and which are losing money. Additionally, downloading a budget app will also help you keep track of your earnings and spending, so you have full control over your expenses.
Switch Out Throw Pillows, Rugs, and Curtains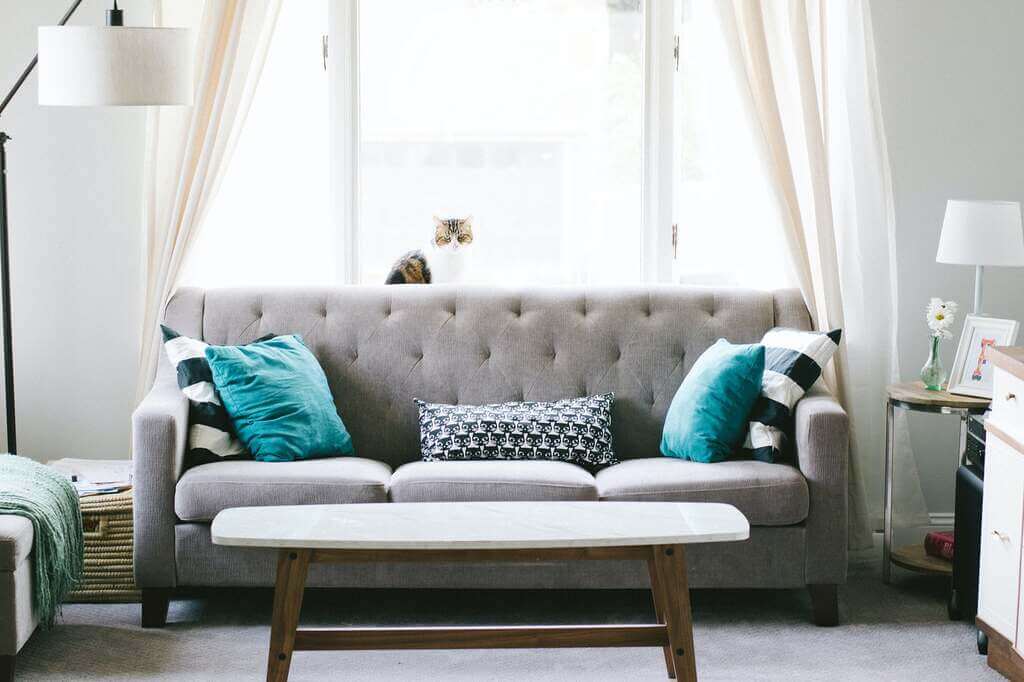 Source: popsci.com
Replacing your throw pillows, rugs, and curtains will completely transform the look of your home. Making your own throw pillows and curtains is a cost-friendly way to decorate your home. Rugs can be expensive, and a great alternative to buying new ones is to hit up the thrift store and test your luck. Choose your favorite-colored throw pillows and rugs to add a pop of color and brighten a room.
You can also switch out your pillows, rugs, and curtains to match the seasons. For example, replace your comfy fur pillows with lighter textures like cotton for your spring home decor. Make sure to change the filters of your air conditioner too, to avoid recirculating dust and bacteria onto your fabrics and furniture. 
Don't Leave Your Walls Empty
Hanging eye-catching art on the walls is another easy and economical home decor tip to spruce up the look of your living space. From family photos to DIY art, framing works of art can make a place feel like a home. Creating your own artwork is a terrific approach to get inexpensive artwork.
If you're feeling creative, look for canvases, paint, and other art materials in your local craft store and splash some paint on a canvas to create abstract art.
Also Read: Tips to Hire a Reliable Home Decor Contractor to Remodel Your House
Add Accents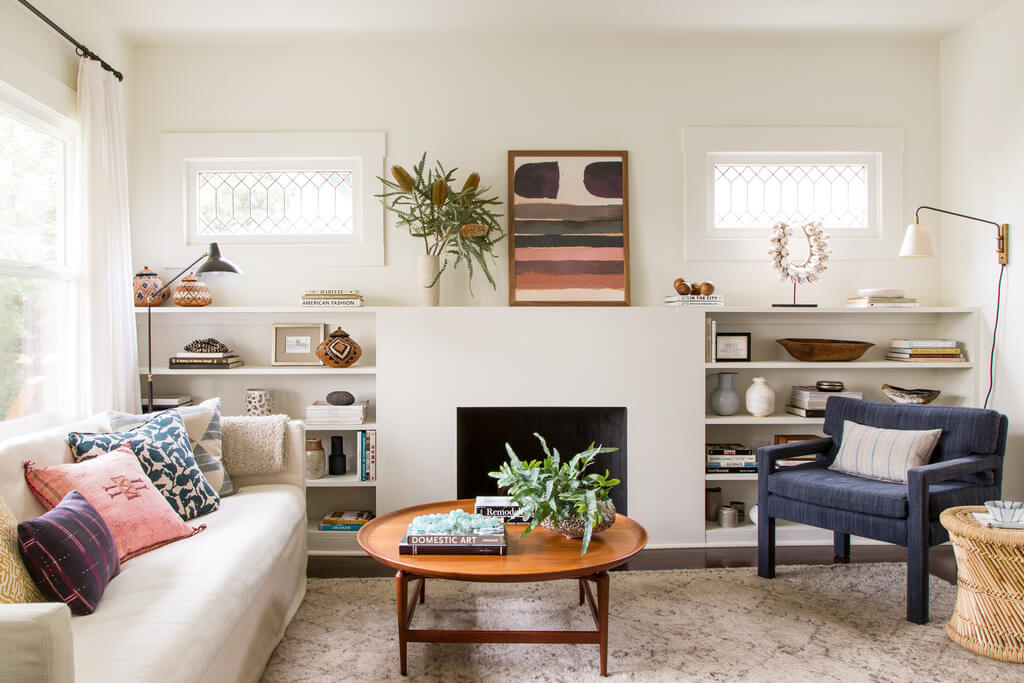 Source: meredithcorp.io
Magazines are a fantastic source of home design inspiration and ideas for how to embellish a place. To buy inexpensive decor items, head to your local thrift store and look for coffee table books, resin coasters, planters, mirrors, vases, etc. Additionally, search how to make DIY accent pieces with resin and air dry clay to create expensive-looking decor on a budget.
Create DIY Shelves
To make any piece such as shelves or kitchen cabinets look personalized and store-bought, make sure it fits precisely in your home. The most appropriate method to get this appearance is to have them extend from floor to ceiling.
A wall-mounted bookshelf always appears more expensive than one that stands alone. With the right tools and a little research, you can complete this project in one or two weekends.
Use Bookshelves to Showcase Art Pieces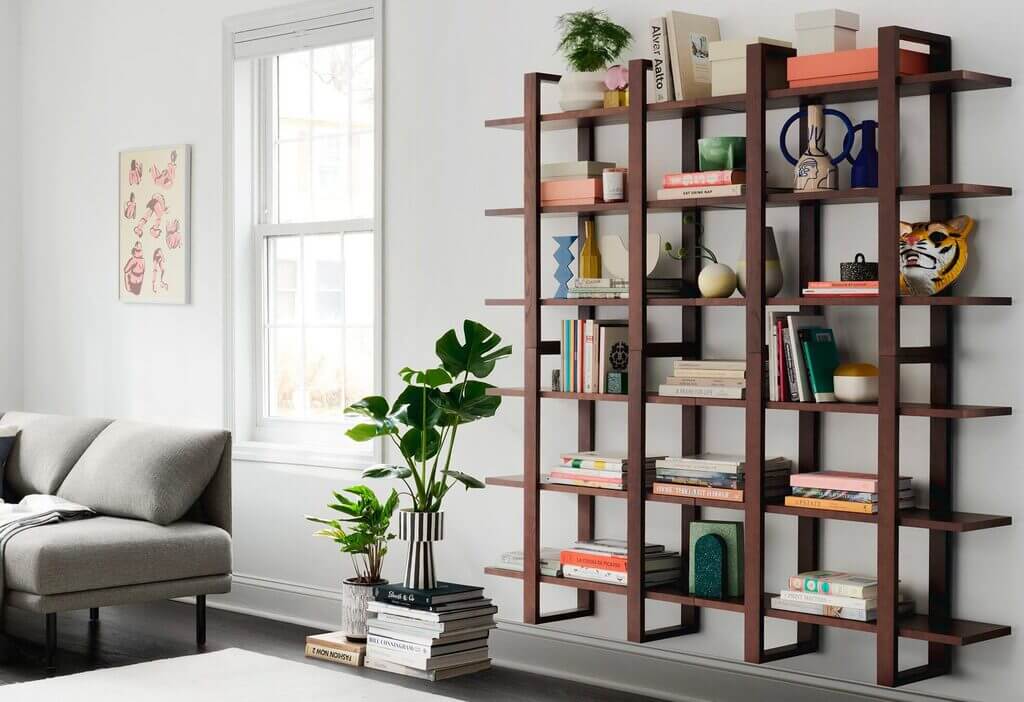 Source: graphcms.com
Bookshelves don't have to resemble a stuffy library. By adding books, framed images, and unique bookends, you can create an aesthetically pleasing bookshelf. Vintage shelves are ideal for some interior design ideas since they have adequate space for books and souvenirs. Thrift stores are a great place to find woodwork materials for a fraction of their actual price.
Splurge on Statement Decor Items
Chandeliers, unique rugs, dining room tables, and statement sofas can all elevate a home's impression of luxury. Determine whether it makes sense to spend money on a few important pieces that you see and use frequently.
If you decide to go forward with it, pick colors and fabrics that are easy to clean and won't stain or ruin easily. This chandelier will bring a touch of elegance to any living room or dining room design.
Keep Your Home Clean
No amount of decor and interior designing matters if a home is cluttered and untidy. There is beauty in simplicity, so refrain from stuffing your shelves and tables with heaps of decor items.
Leave a generous quantity of white space on your walls and surfaces, as less is often more when it comes to looking posh. Clear the clutter by filing paperwork out of sight, finding a space for everything, and donating any outdated decor/furniture.
Also Read: Decorate Your First Home Wonderfully- 7 Things That You Should Know About Decoration
Look for Natural Stone Surfaces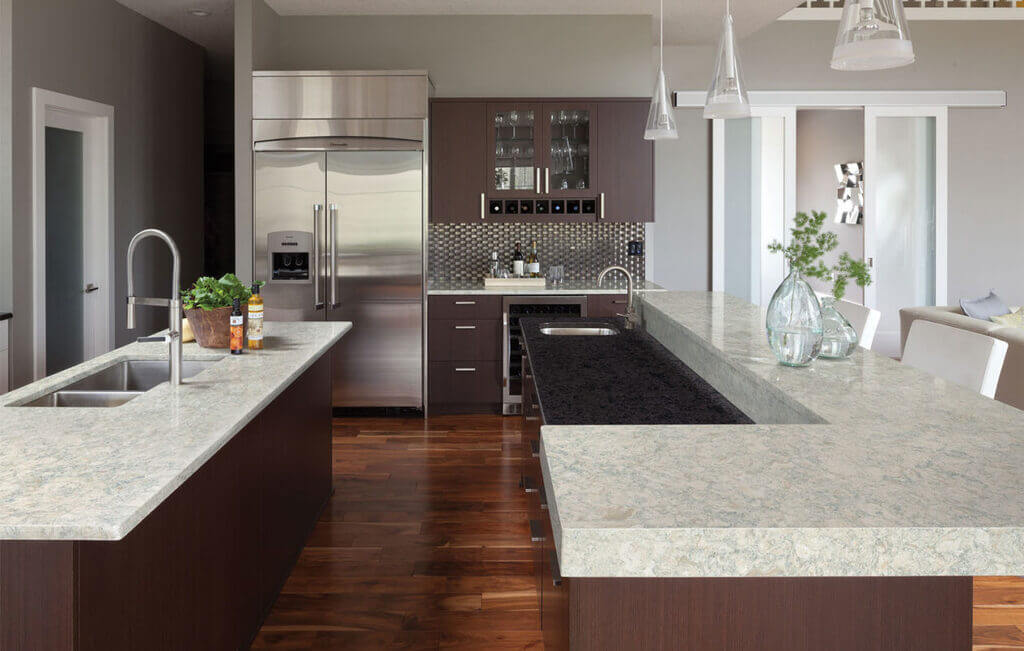 Source: carmelimports.com
Natural limestone and granite countertops appear to be far more luxurious than acrylic counters. However, they can be costly. To look for deals on natural stone countertops, head to your local stone yard, where you may sometimes find an outstanding value on a natural stone top.
Adding natural stone marble tops to your kitchen and bathrooms will make your home look more luxe.
Takeaway
Lastly, if you want to transform your home without spending a dime, then getting rid of clutter is a great place to start. Assemble your bookshelves and use paintings, boxes, and memories to create a unique and personalized look.
Keep your surfaces clean, and add a piece of art and some flowers on display. Use the following budget-friendly home decor tips to design a home for yourself that makes you feel happy and relaxed.