While scrolling down on Instagram, you might have seen some really interesting Macrame arts such as macrame plant hangers, macrame wall hangings, macrame curtains, and more. Some of you might have also pinned these cute bohemian art pieces on your Pinterest. After all, these designs are so eye-catching and beautiful. Each Macrame piece has some kind of charming vintage appeal to it, which gives our home an incomparable touch of cozy, neutral texture.
Back in the days, macrame was connected to the hip and happening kind of style from the '60s and '70s, but now this trend shifted toward boho and eclectic decors. Thanks to the innovative artisans, crafters, and designers that continue to turn a fresh eye towards this knotted and woven art. They transformed it and made its neutral palette and heavily textured patterns look even better. Great!
So today, we have brought some creative and fun DIY macrame wall hanging ideas so that you can decorate your home for the upcoming festive season.
15+ Cute and Creative Macrame Wall Hanging Ideas
From white and cream macrame string, cording, or roping, you can actually make so many awesome stuff like coasters, wall hangings, jar holders, and so much more. So check every DIY listed below:
1. Dip Dyed Huge Wall Hanging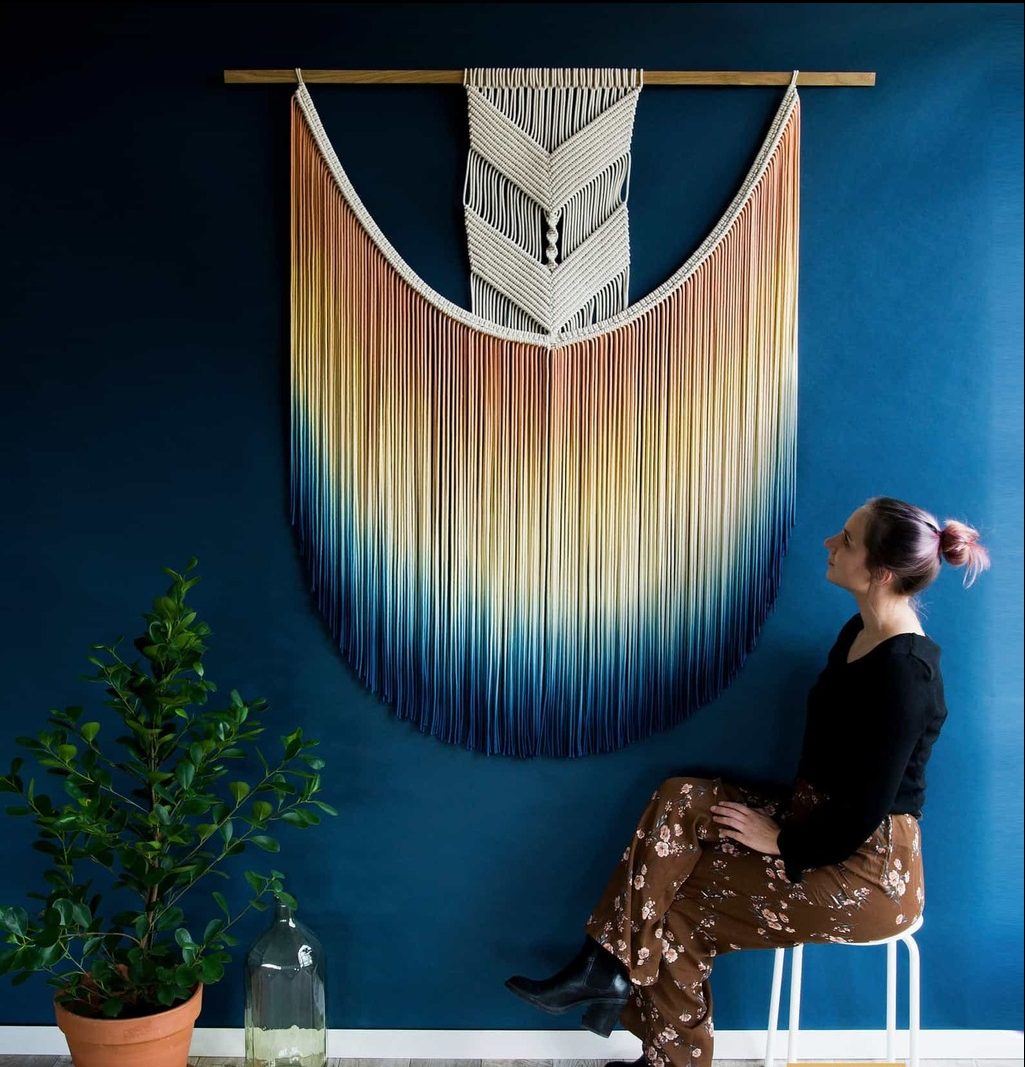 As soon as I saw this, I just fell in love with this gorgeous large wall macrame hanging. Aren't these colors lively and rich? This dip-dyed large wall macrame hanging will surely bring a new depth to any wall of your home. From the foyer to the bedroom, this versatile piece will fit in any place with ease.
2. Adorable Twisted Plant Hangers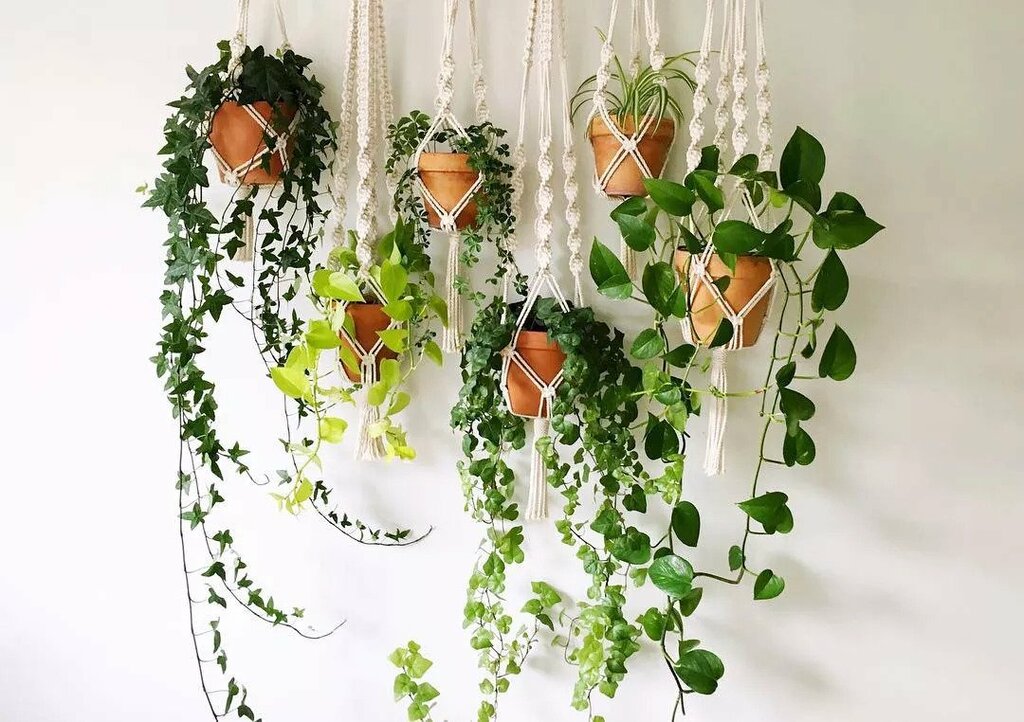 When it comes to macrame, this is the most common DIY that anyone thinks of. So if you still didn't have a plant holder like this, it's time to make one. You can create as many according to space and hang your plants in them. The twisted and textured pattern will surely look delightful and classy.
3. Glowy Mason Jar Holders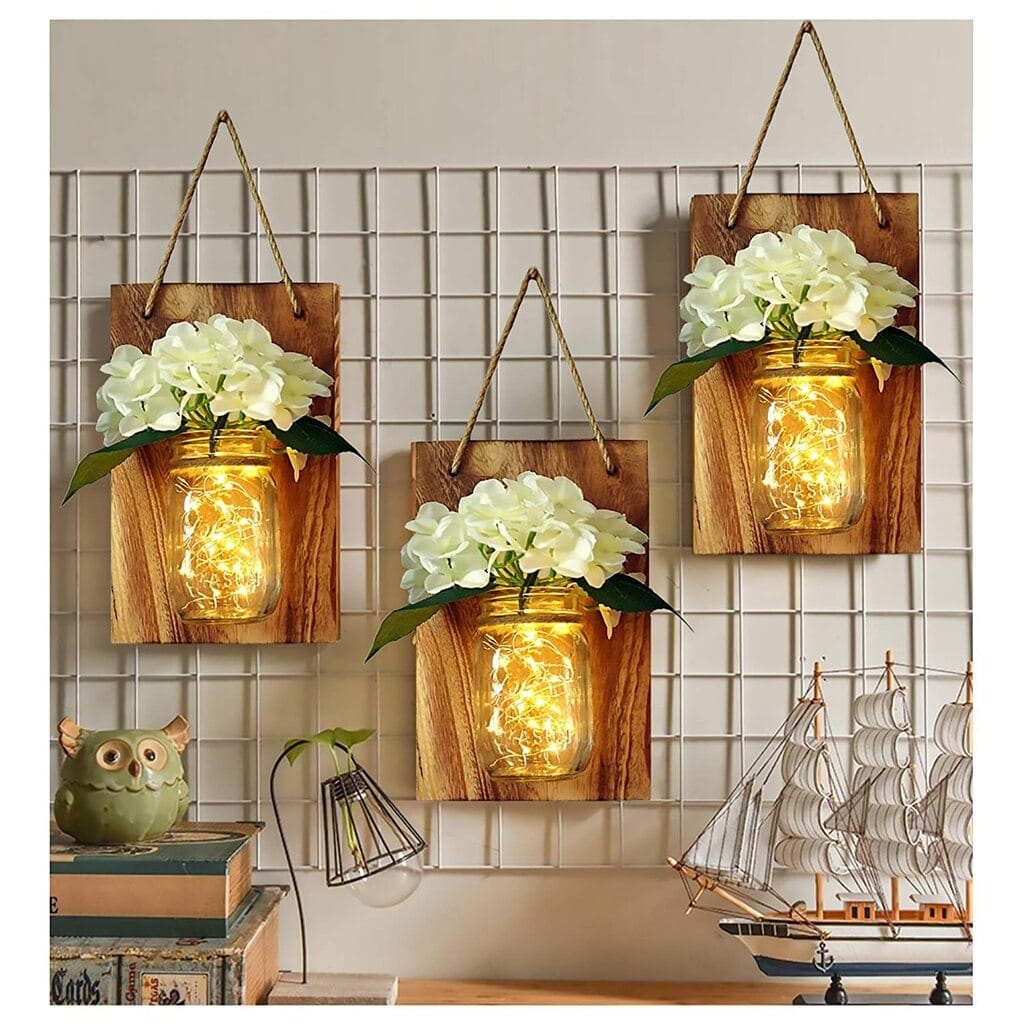 Quite similar to the plant holder but a little bit easier, these mason jar holders will create a mesmerizing ambiance in your outdoors. You can effortlessly create them and can hang them in trees. They'll look really awesome at night!
4. Dreamy Art Piece
Yes, they kind of look like a dream catcher. These cute macrame artworks are large and contemporary versions of dreamcatchers. To create this, all you need is some hoops and macrame.
Lightly woven macrame around the loops in your desired pattern, and voila, your contemporary dream catcher is ready to grab some attention from your guests. Also, don't forget to keep your woven works pristine and free of dust to retain their soft and delicate appearance.
5. Macrame Mirror Mandala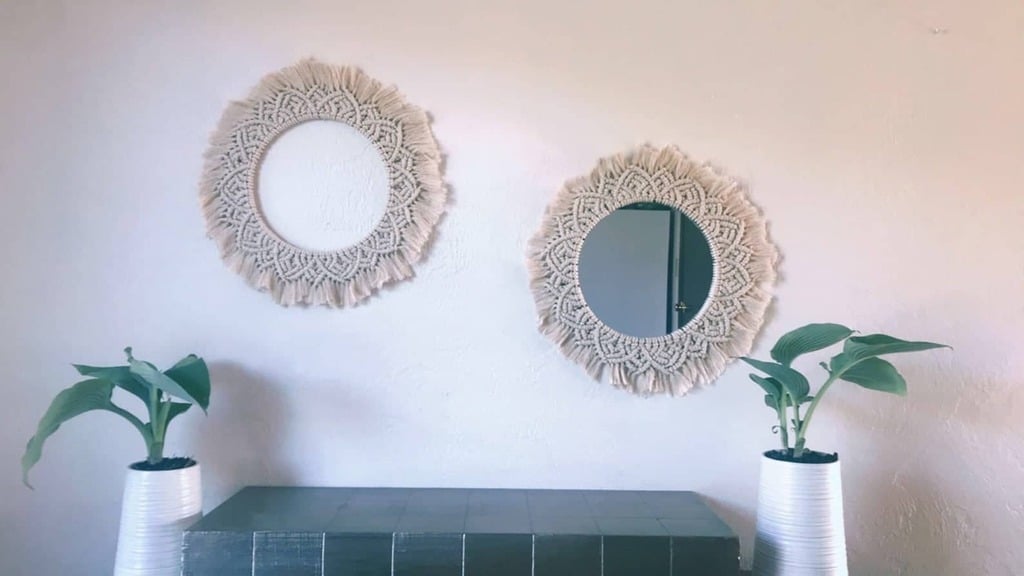 Another circular art piece that you can DIY from macrame is these beautiful mirrors. A couple of these artworks provide the same boho flair but with a dash of contemporary flavor to your room. We all know that mirrors are a great way to create an illusion of extra space and light as well.
6. Headboard from Macrame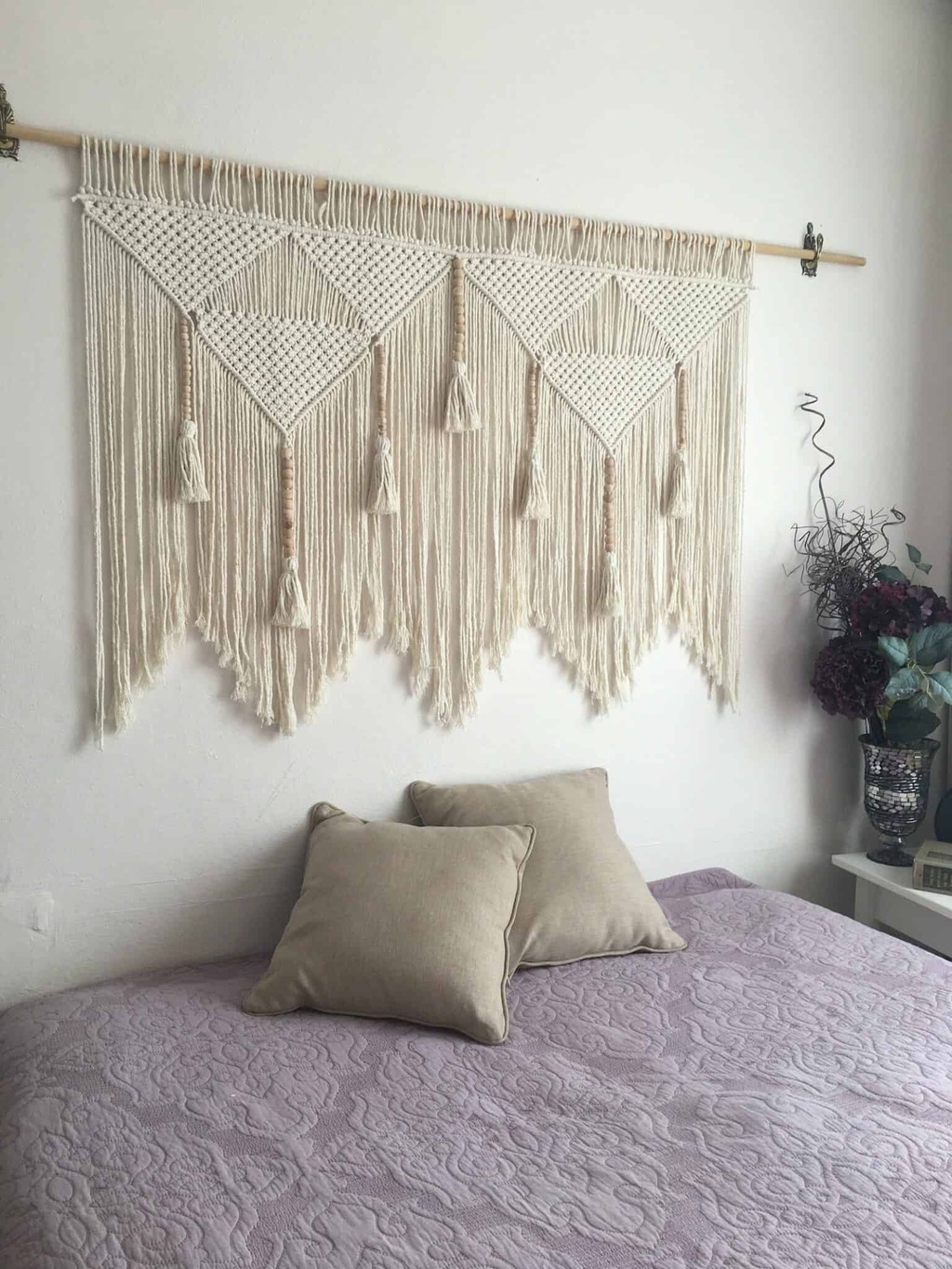 We're pretty sure that after looking at this cute macrame DIY, you'll fall in love with it. Yes, this is a vast macrame wall hanging, but you can use it as a headboard. It'll look lovely! You can also add some pop of colors by dip dying the ends just like the first one.
7. Flowing DIY Macrame Wall Hangings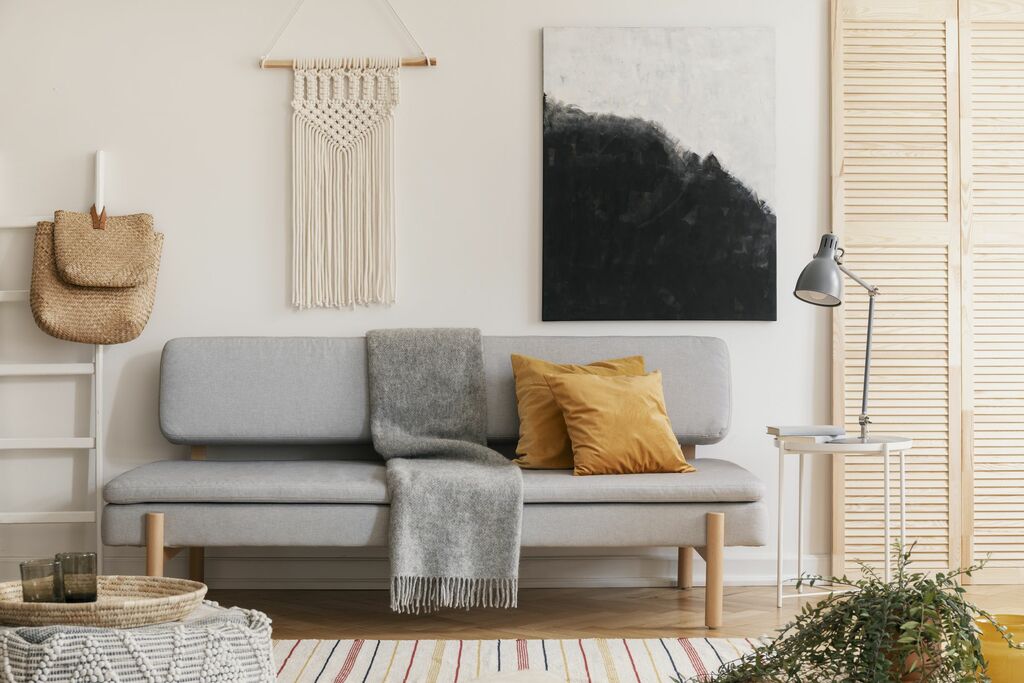 When it comes to macrame, your DIY will never complete without creating at least one wall hanging. There is a dizzying array of wall hangings that you can make from macrame.
8. DIY Macrame Lamp Cord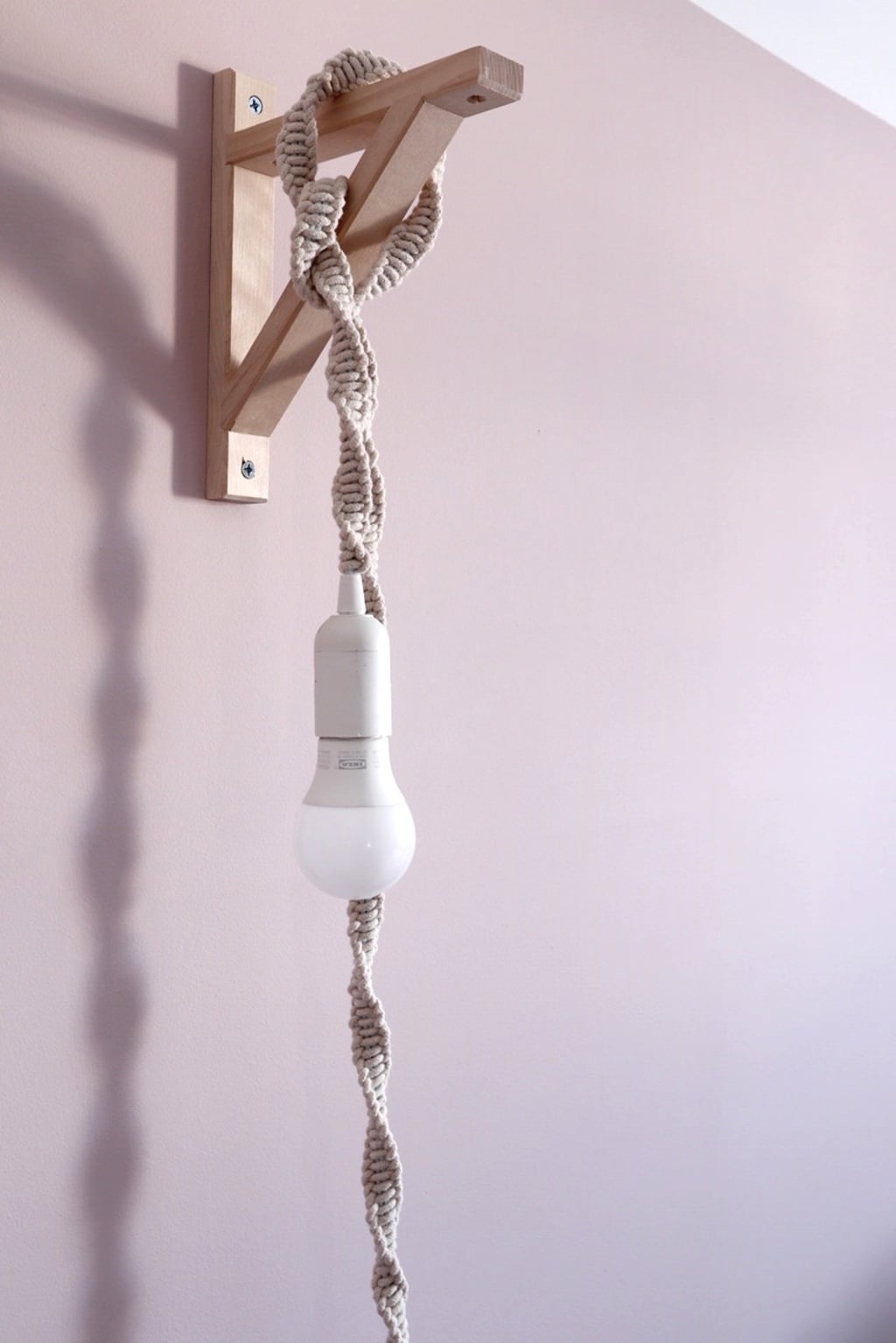 Another really fun and unique DIY is this lamp that is entirely made from macrame. Just keep making a rope-like design, and at last, just put a bulb holder, and your lamp cord is ready. You can put this in your reading corner.
9. Woven Macrame Hammocks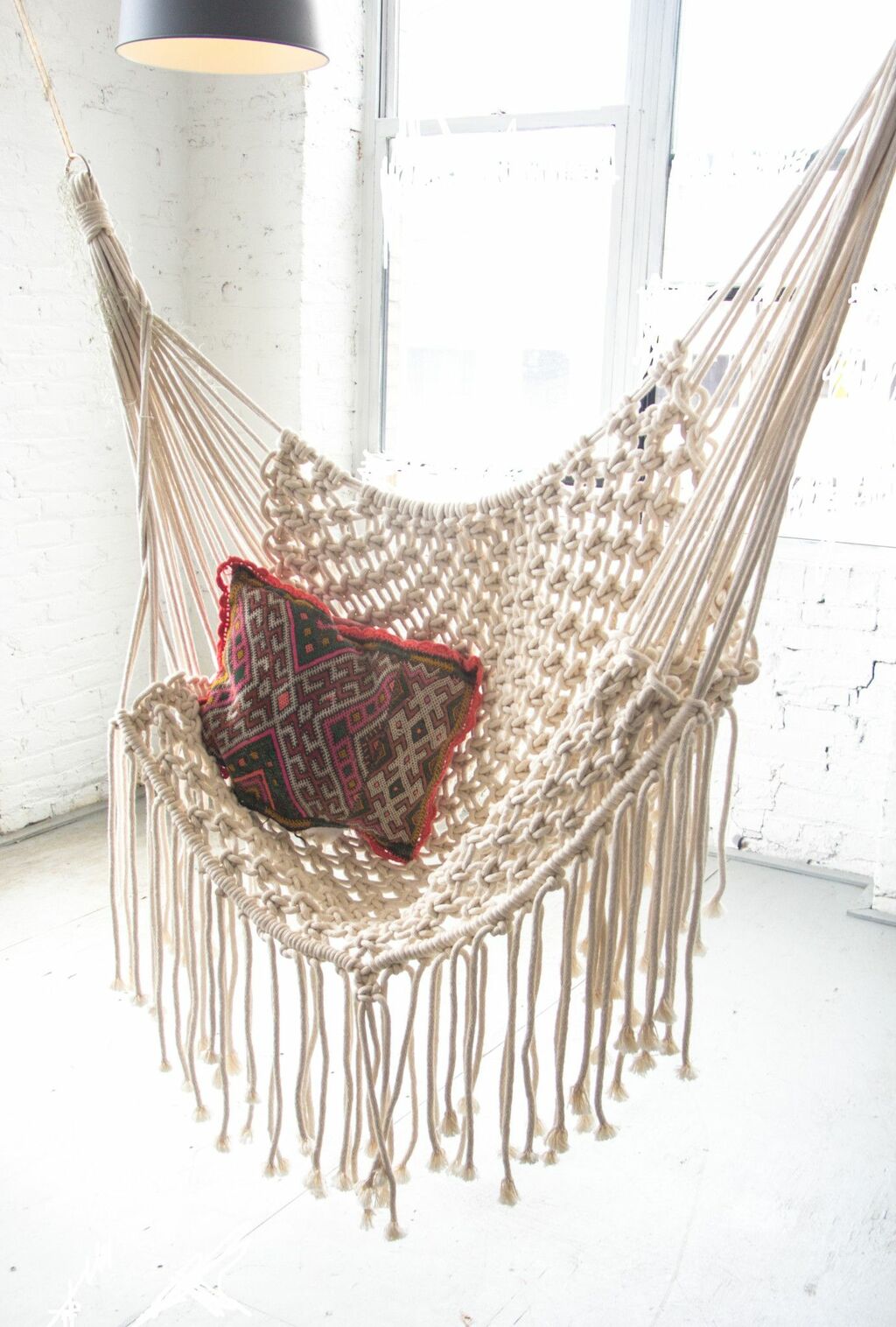 This DIY is for my those readers who are pro in weaving macrame. Traditionally, macrame hammock is used outdoors, but there is no rule that you can't use it indoors. It will bring a feeling of relaxation to your place.
Just hang this in your reading nook on a three-season porch where you can take in the outdoor scenery.
10. DIY Azurite Pattern Art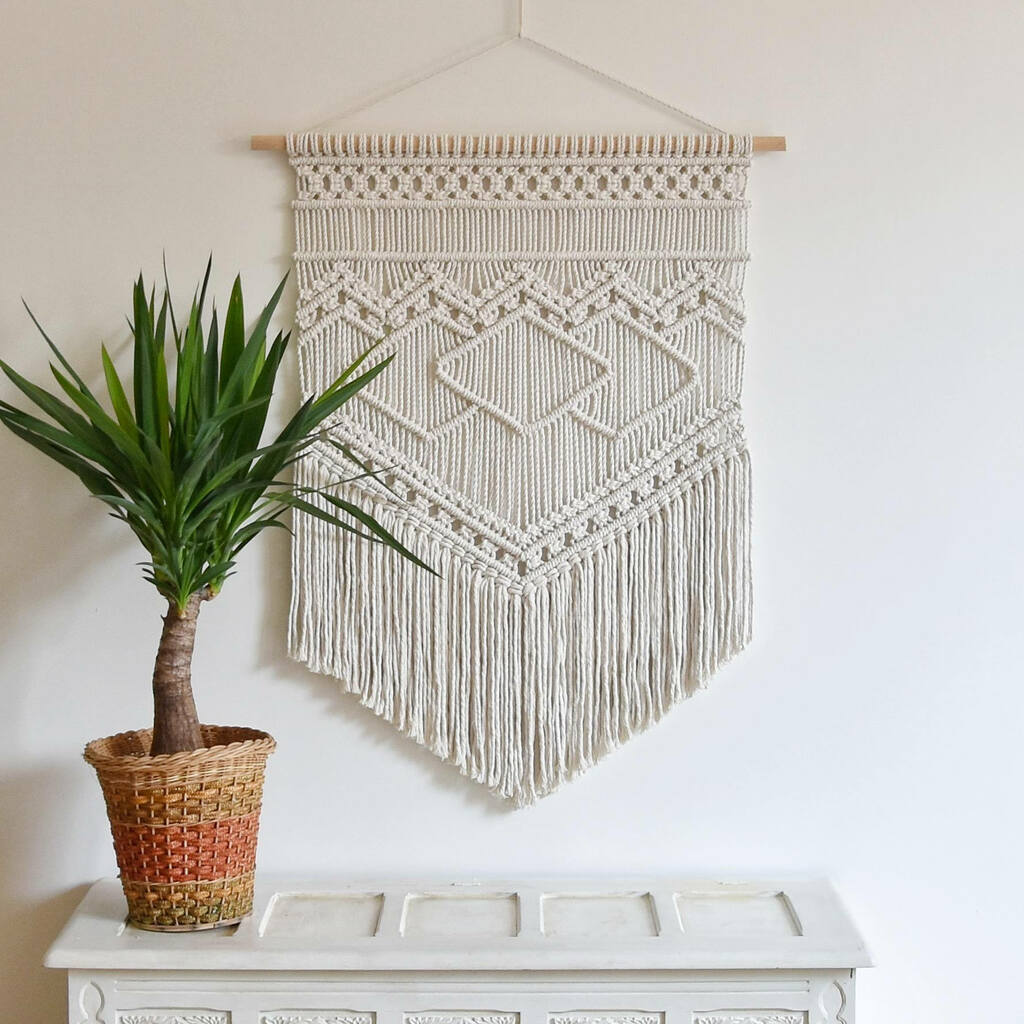 These types of patterns are pretty commonly seen in handmade macrame artworks. These patterns look extremely good, even without colors. You just have to make all the details carefully, and your Azurite Pattern macrame art will be ready in no time!
11. Decorative Macrame Garlands
Do you have a boring looking hat rack? If so, then spice it up with some cool macrame garlands. It will bring a touch of hipness and happiness to your home! You can even place them above your bed or on a door. Even they look cool on a fireplace mantel, floating shelf, or window sills.
Read our previous blog on stunning hat rack ideas and get inspired and make one for yourself. 
12. Easy Breezy Macrame Door Curtains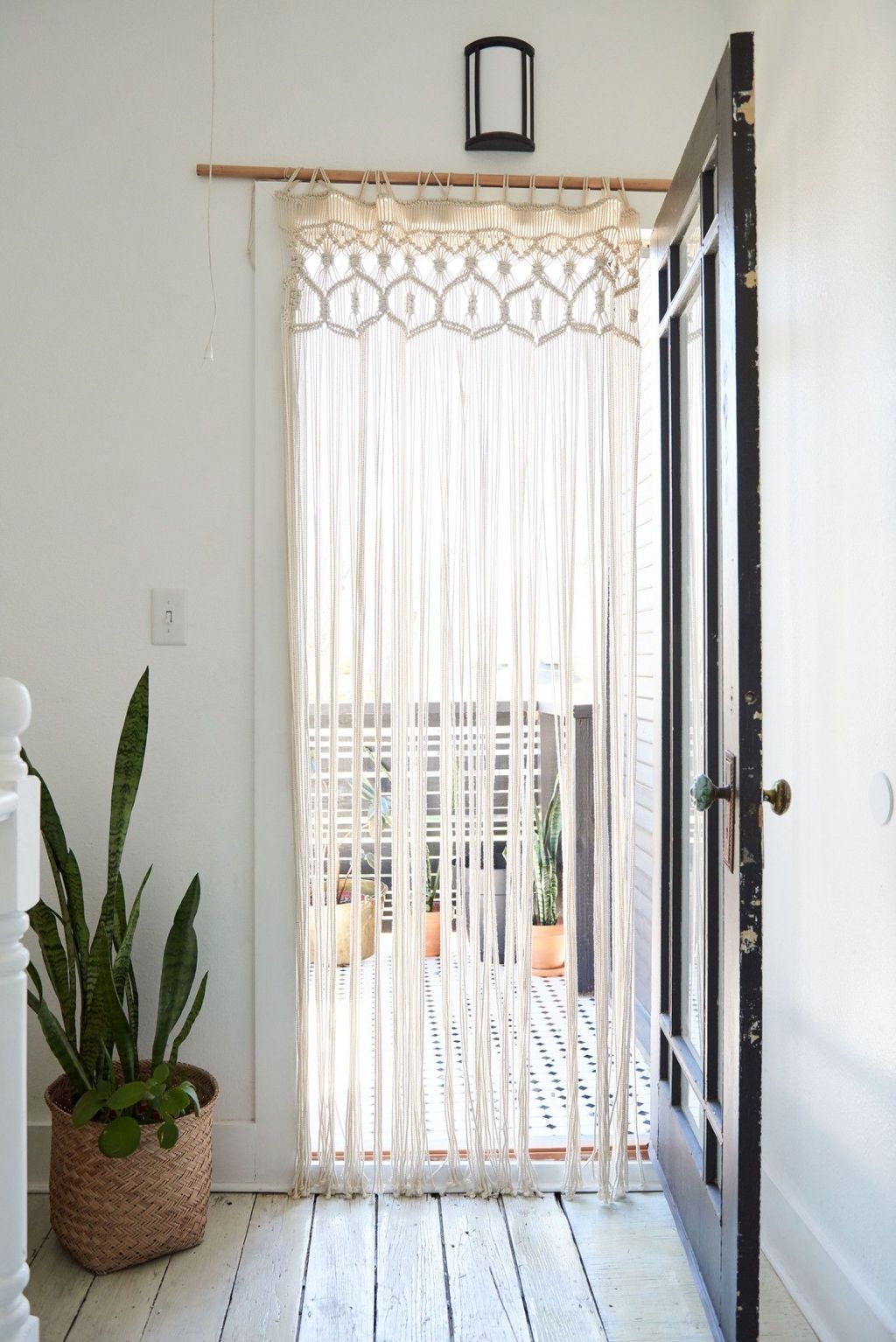 From Instagram to Pinterest, these flowy curtains are everywhere. These flowing macrame coverings will instantly add a dash of dreaminess to any doorway or window. You can even use them on your closet door because this makes access quieter, quick, and simple!
13. Flowy DIY Macrame Panels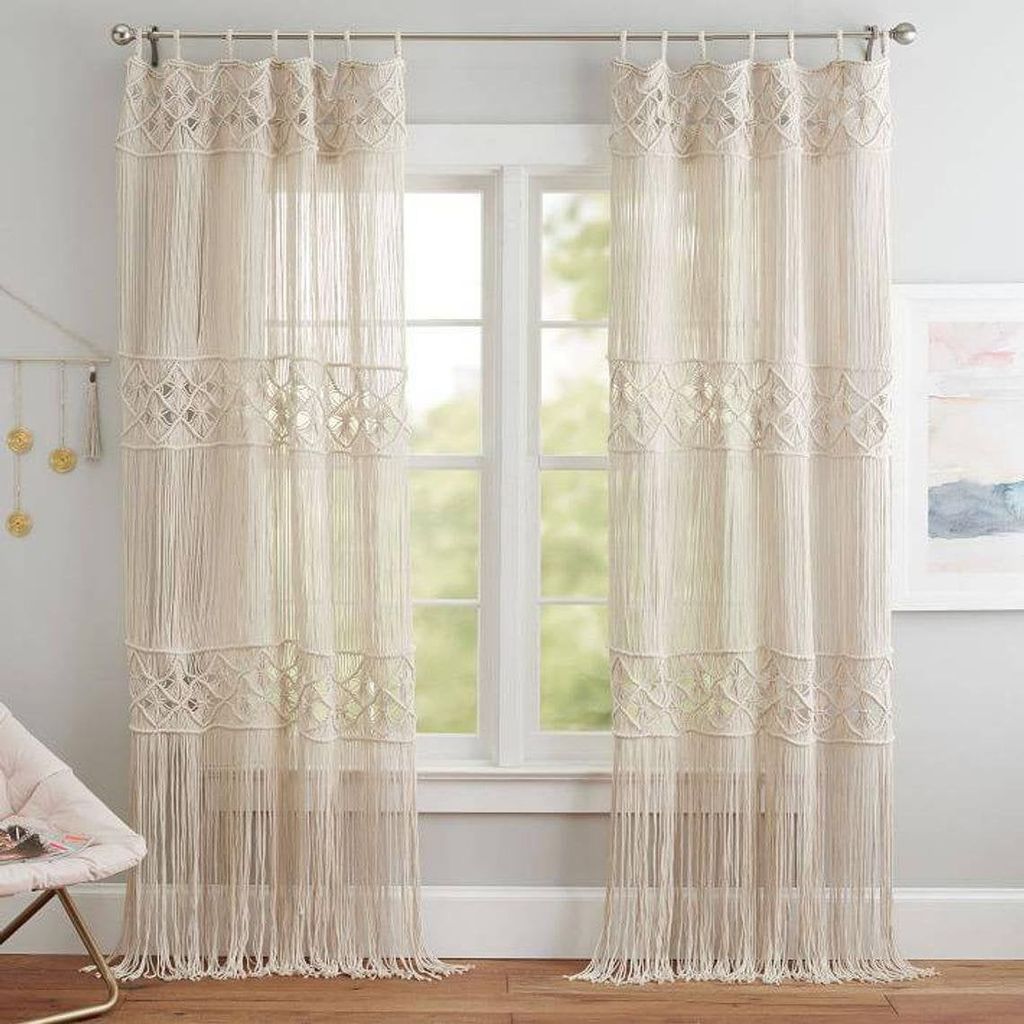 Just like the macrame door curtains, these are the window panels. Aren't they making the whole space more cozy and welcoming?
14. DIY Rotating Macrame Chair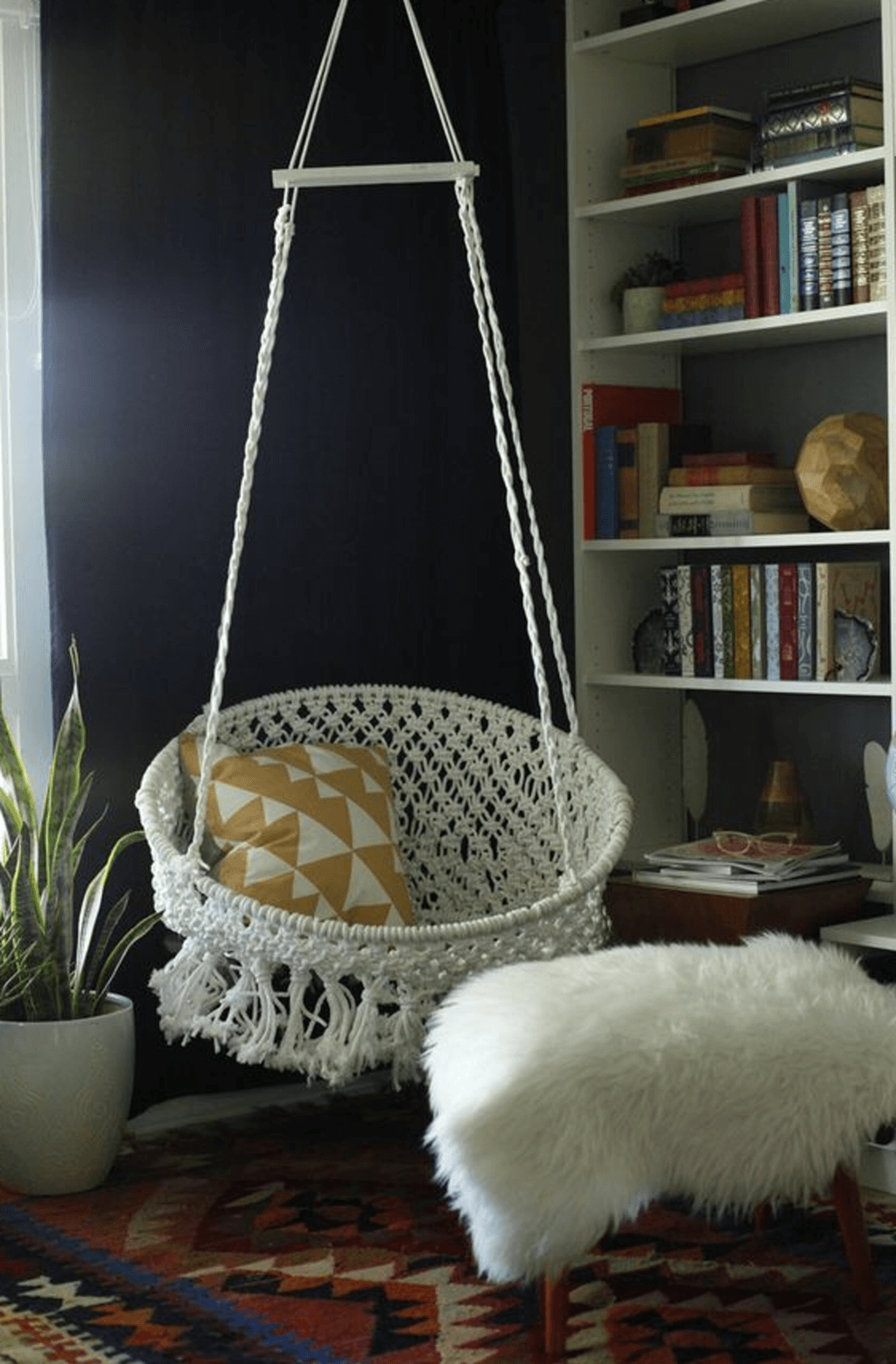 This festive season, don't leave any corner of your house undecorated. Put a bookshelf in a corner and fill it with your favorite books. Hang a macrame chair and some fluffy throw pillows, and this boring corner will transform into a lovely reading nook.
15. Magical Hanging Chandeliers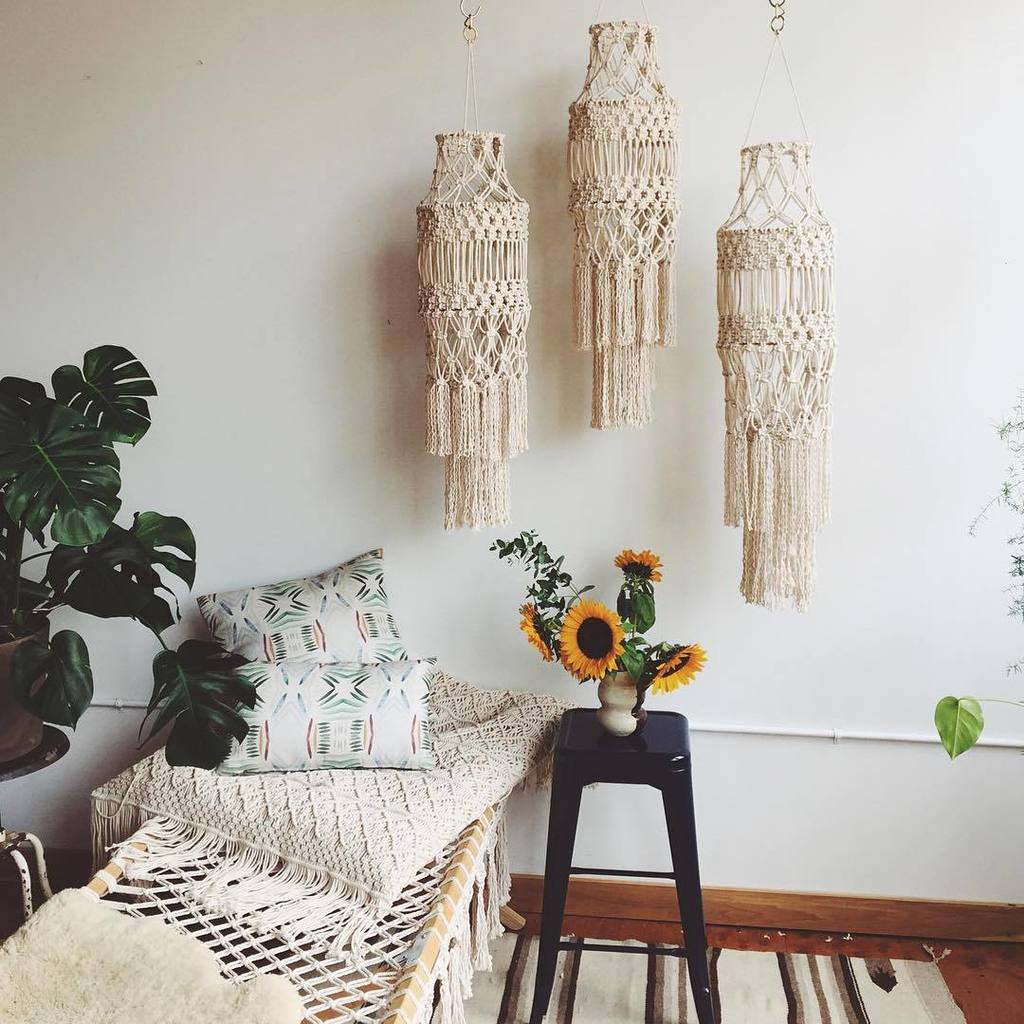 Cast a magical and mystical glow throughout your home with these really pretty macrame covered chandeliers. You can also include some artisanal woven pendants made from bamboo and rattan. They both look great together.
16. DIY Macrame Bathroom Basket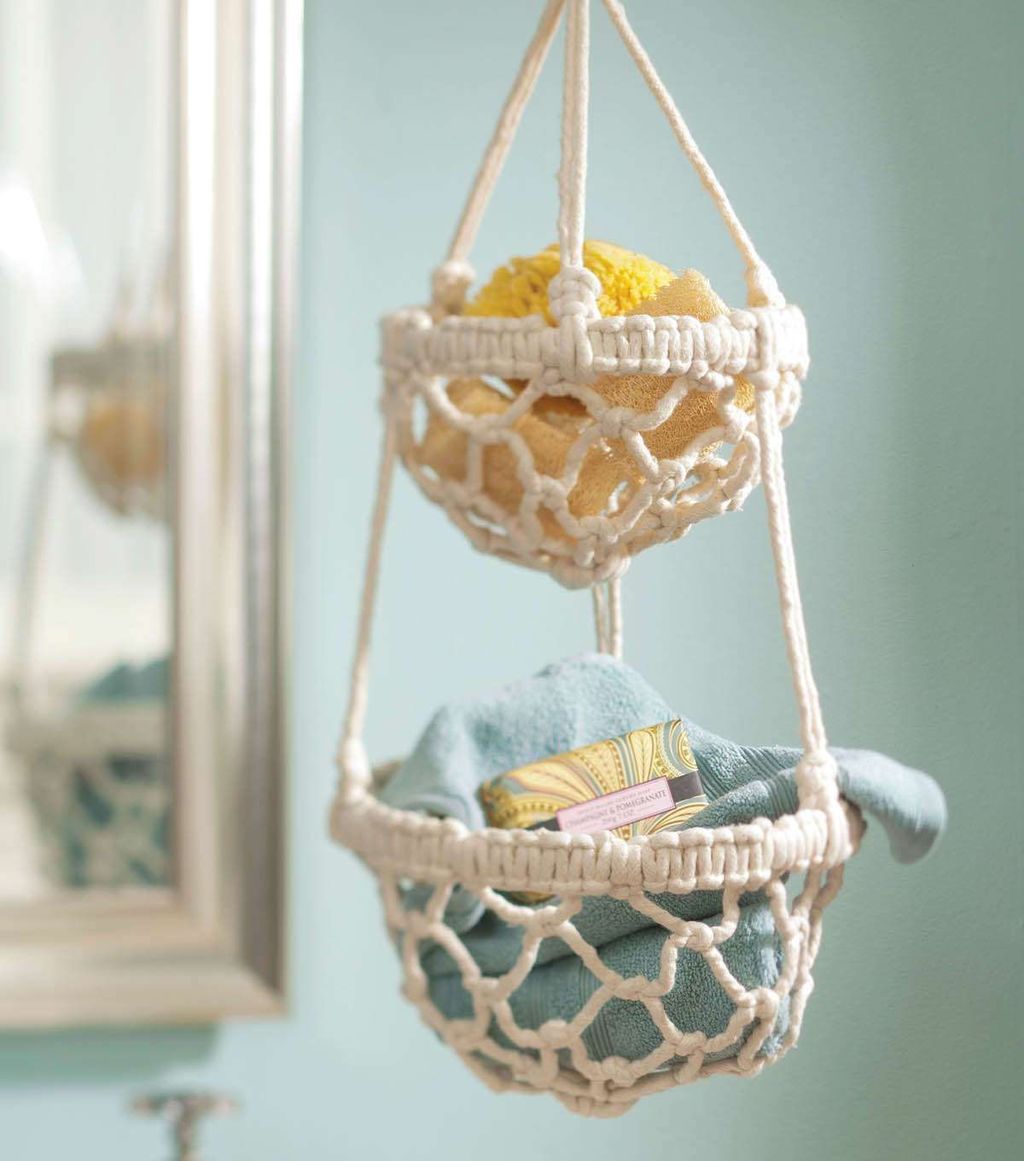 Macrame arts doesn't limit to the living rooms and bedrooms; you can use them anywhere. Yes, even in bathrooms. Look how cute these small baskets are being used for storing bathroom essentials.
17. DIY Floral Triangle Macrame Hanging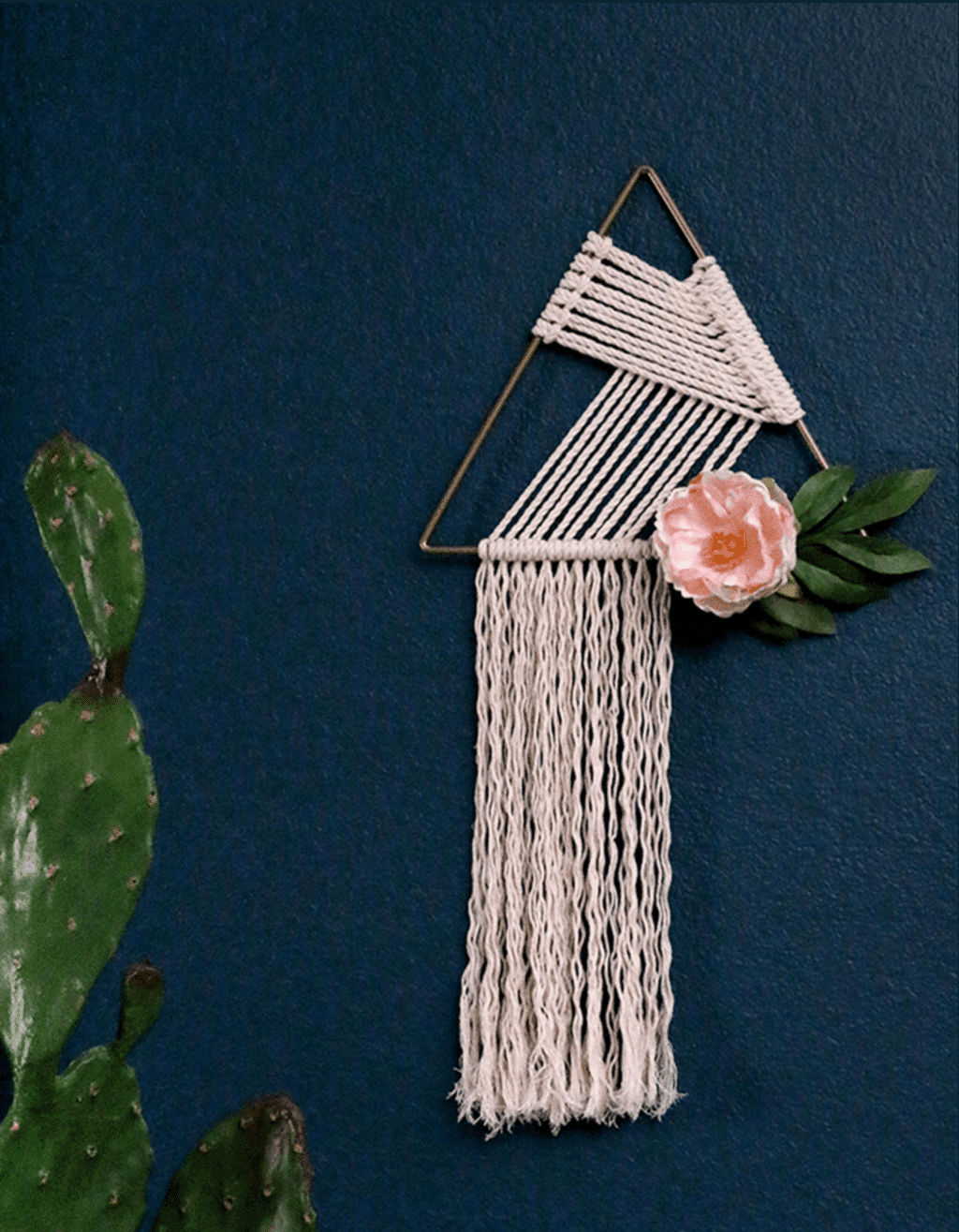 The last macrame Diy on our list is this floral wall hanging. This flower embellishments on this triangular piece give you all the character. Yes, many people stick with the circular wall hangings, but this uniquely shaped triangle holder will surely grab some attention. Wouldn't this be pretty in a baby nursery?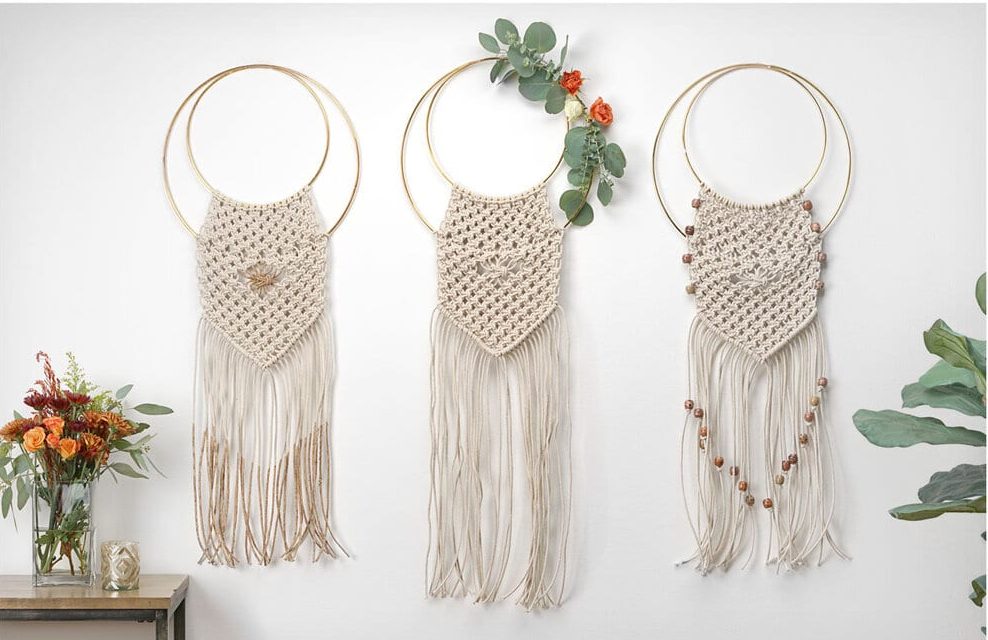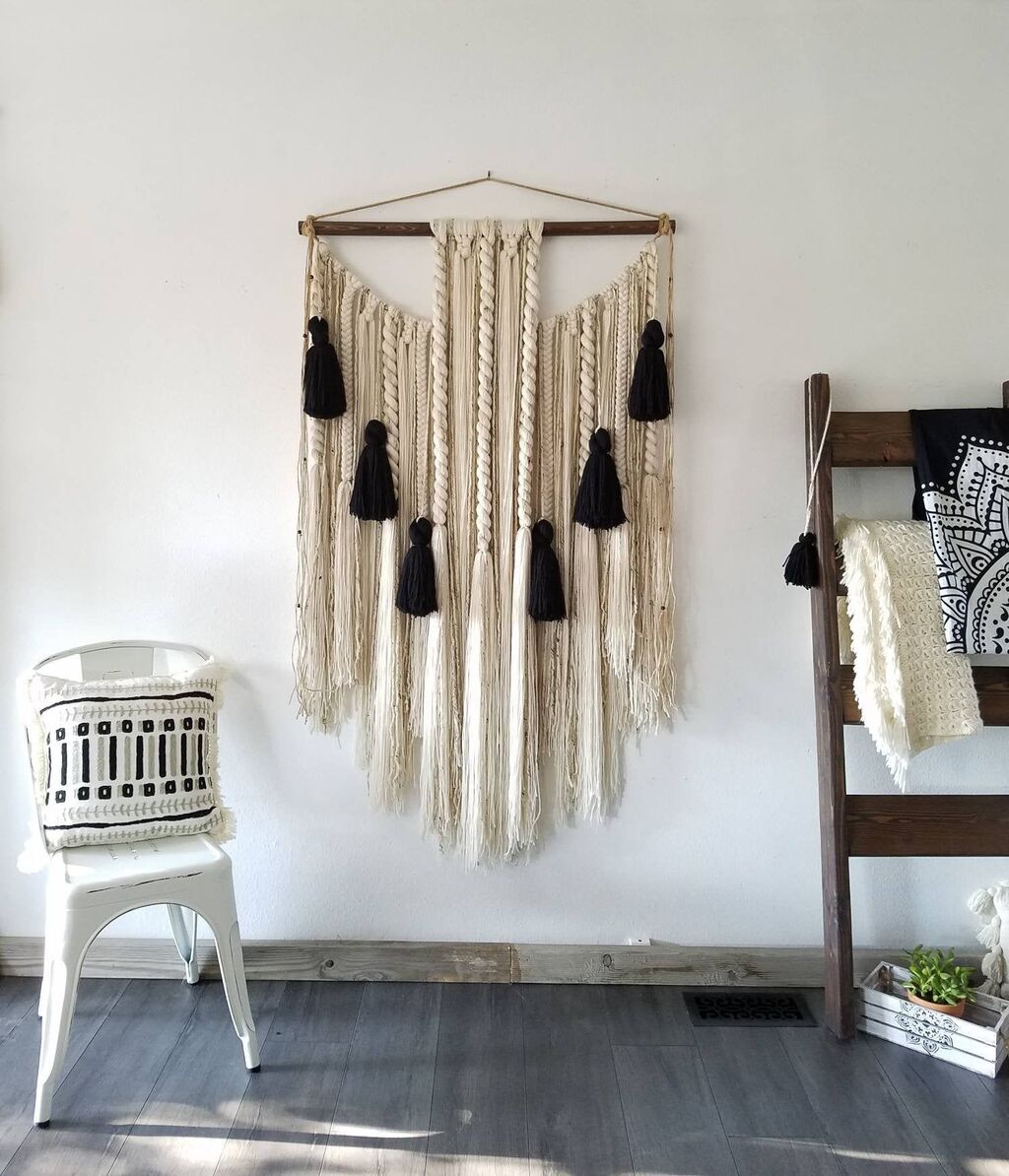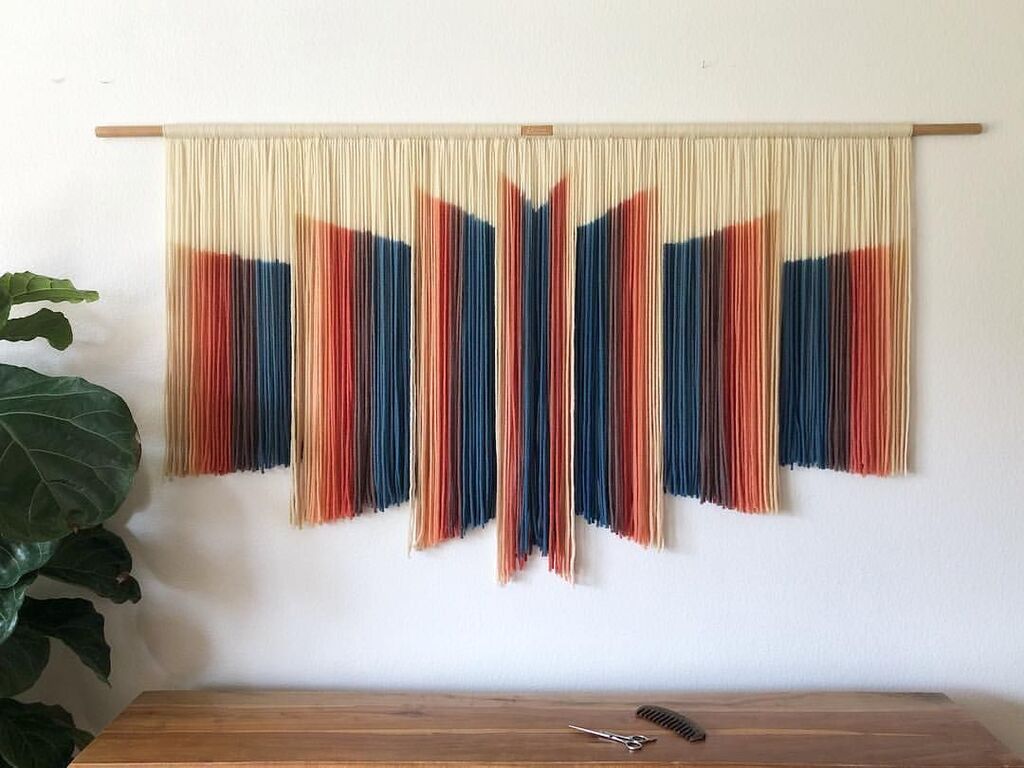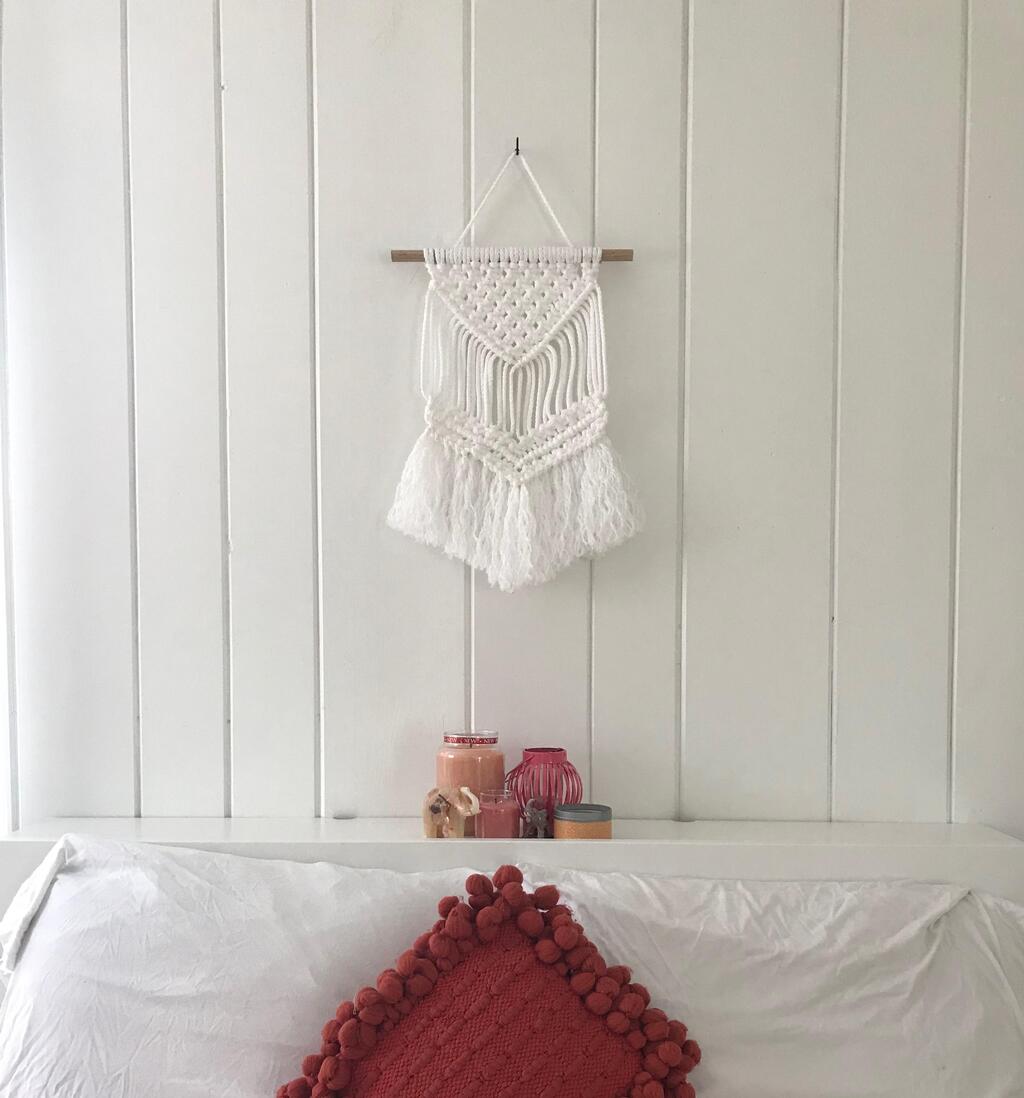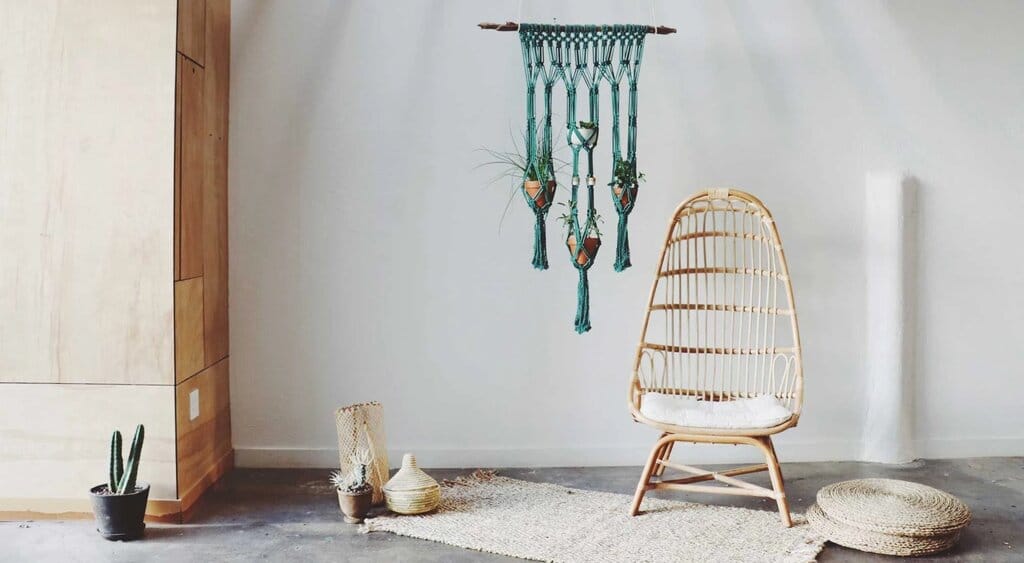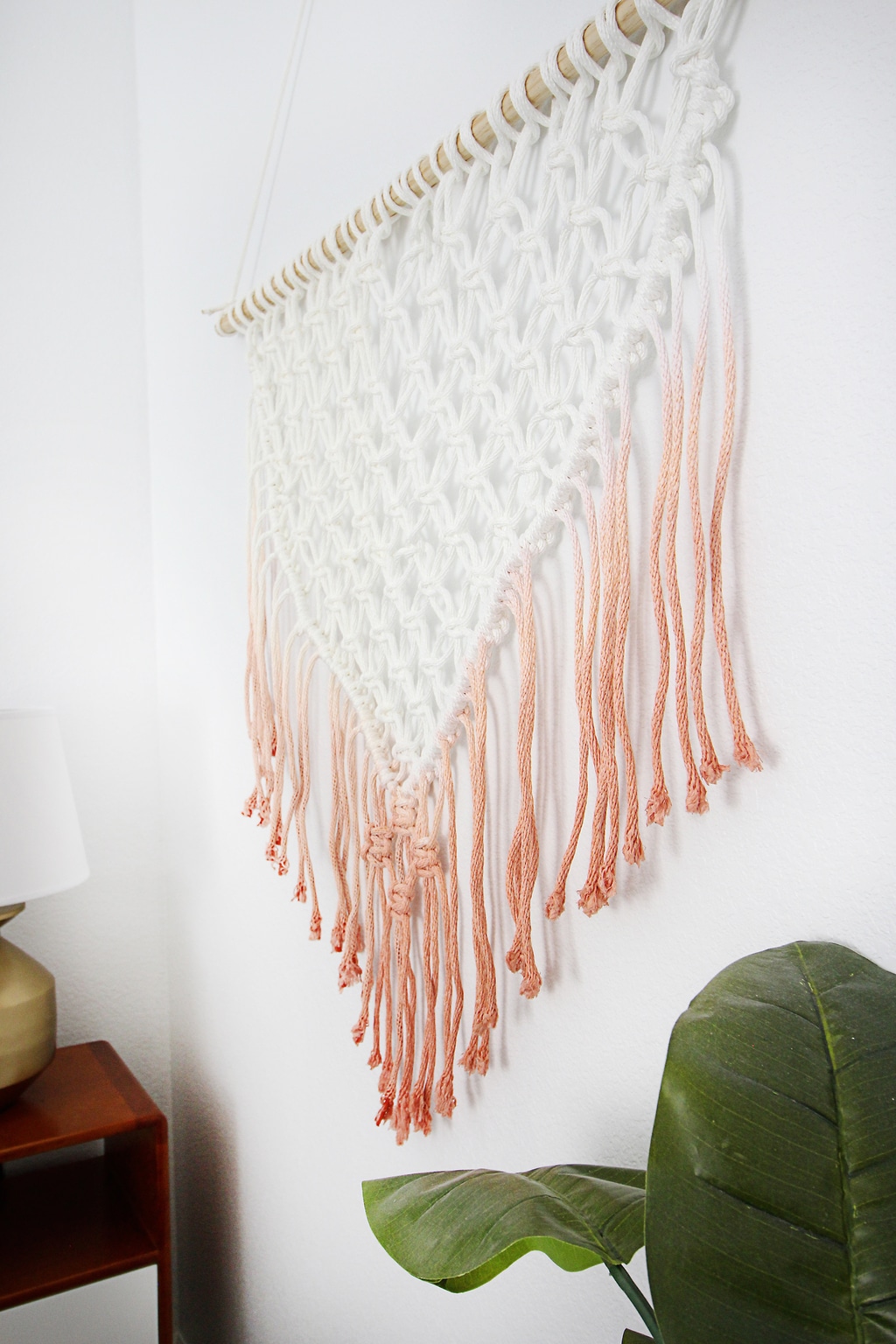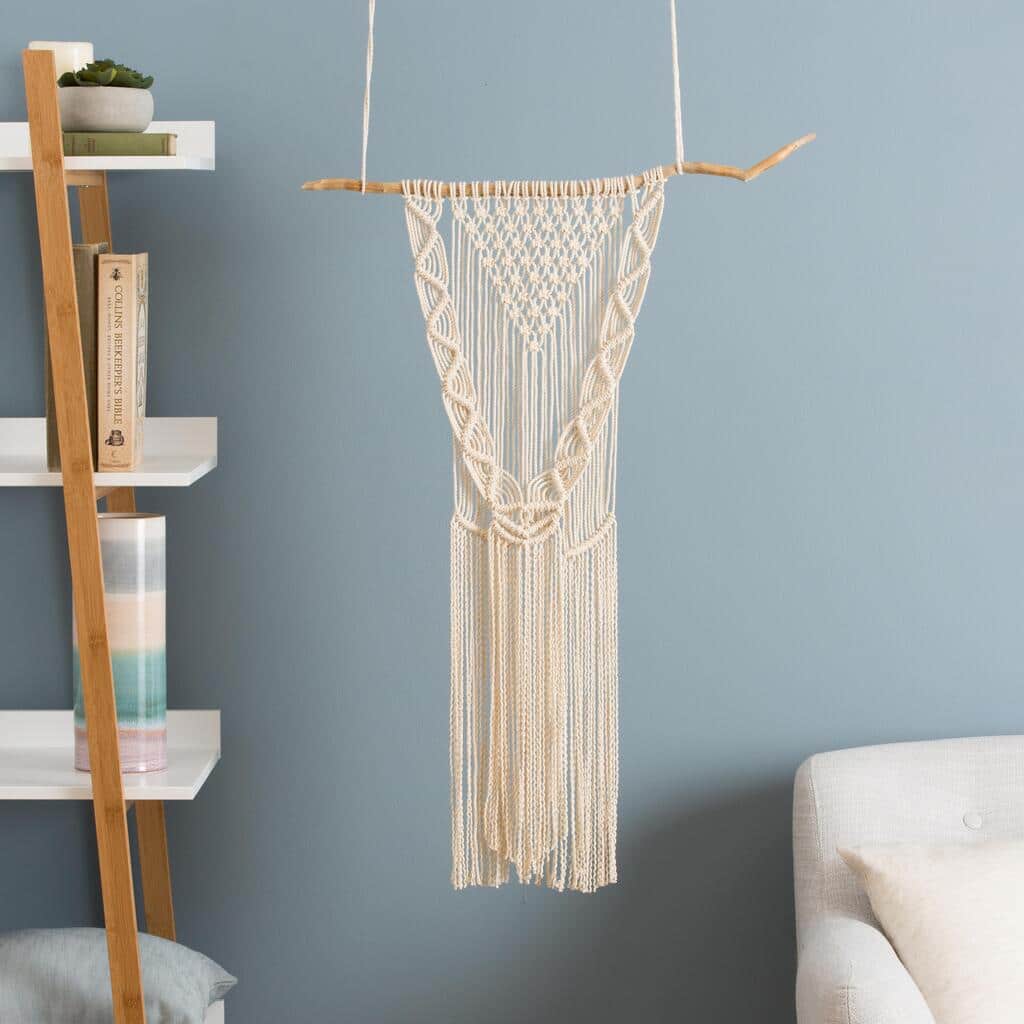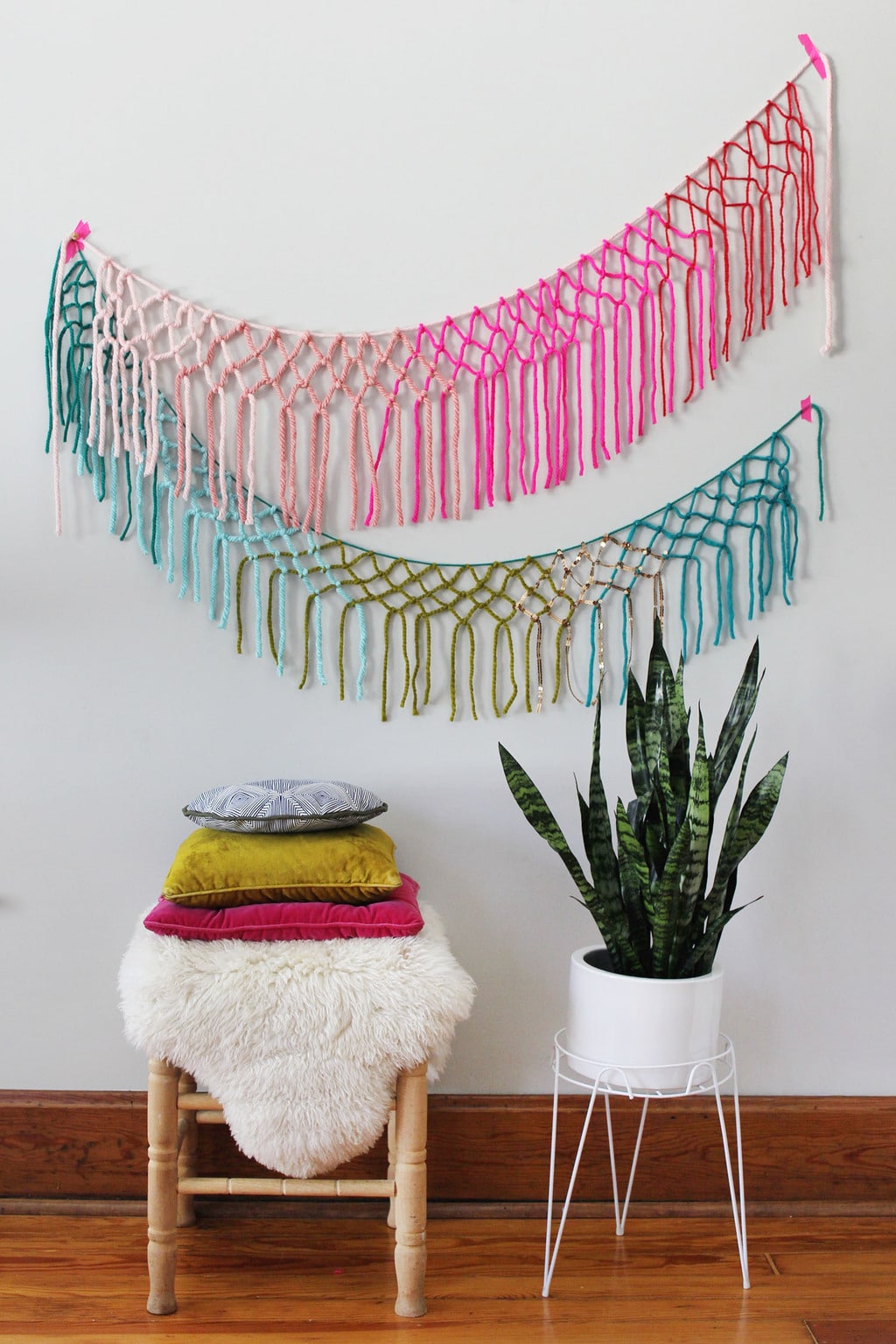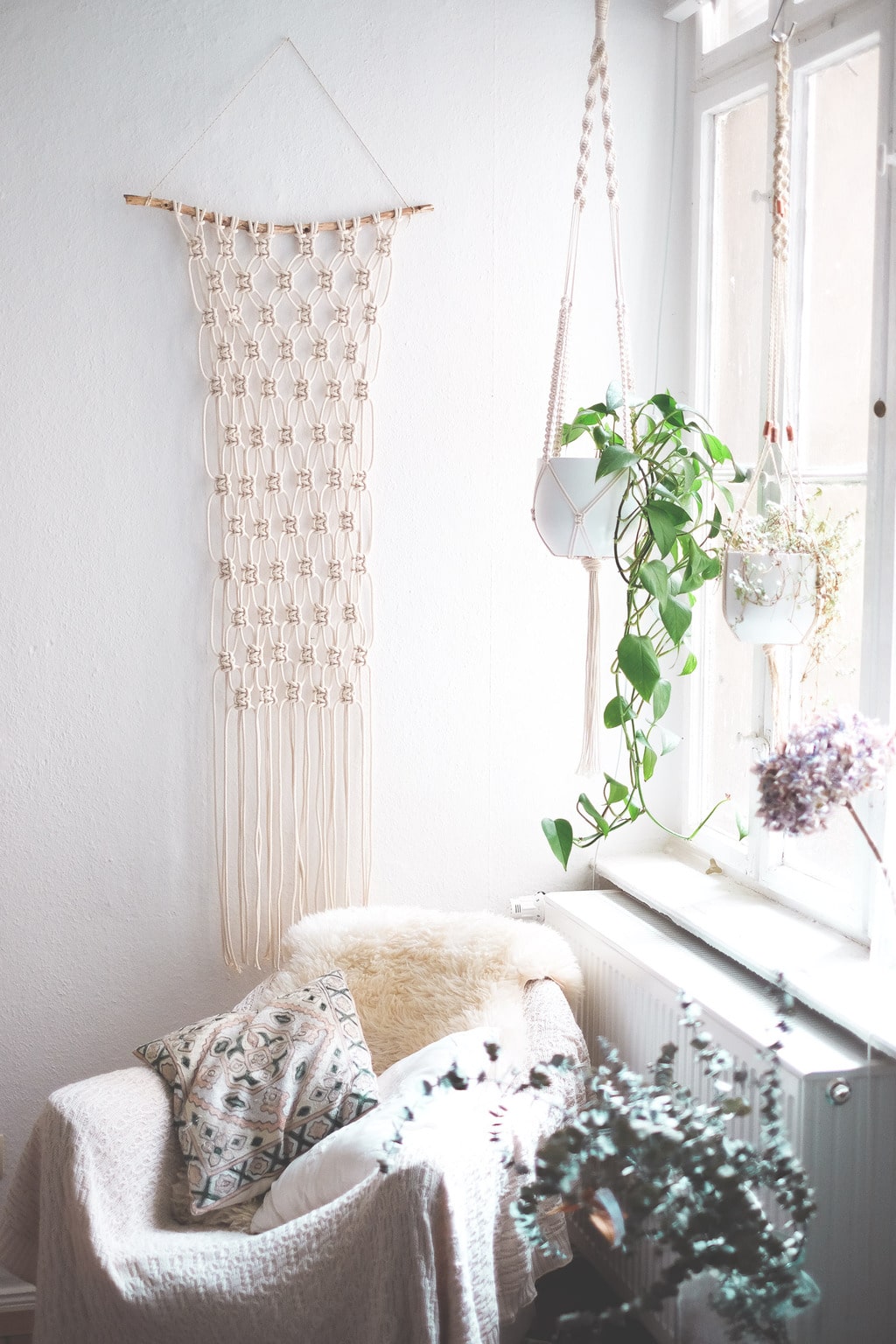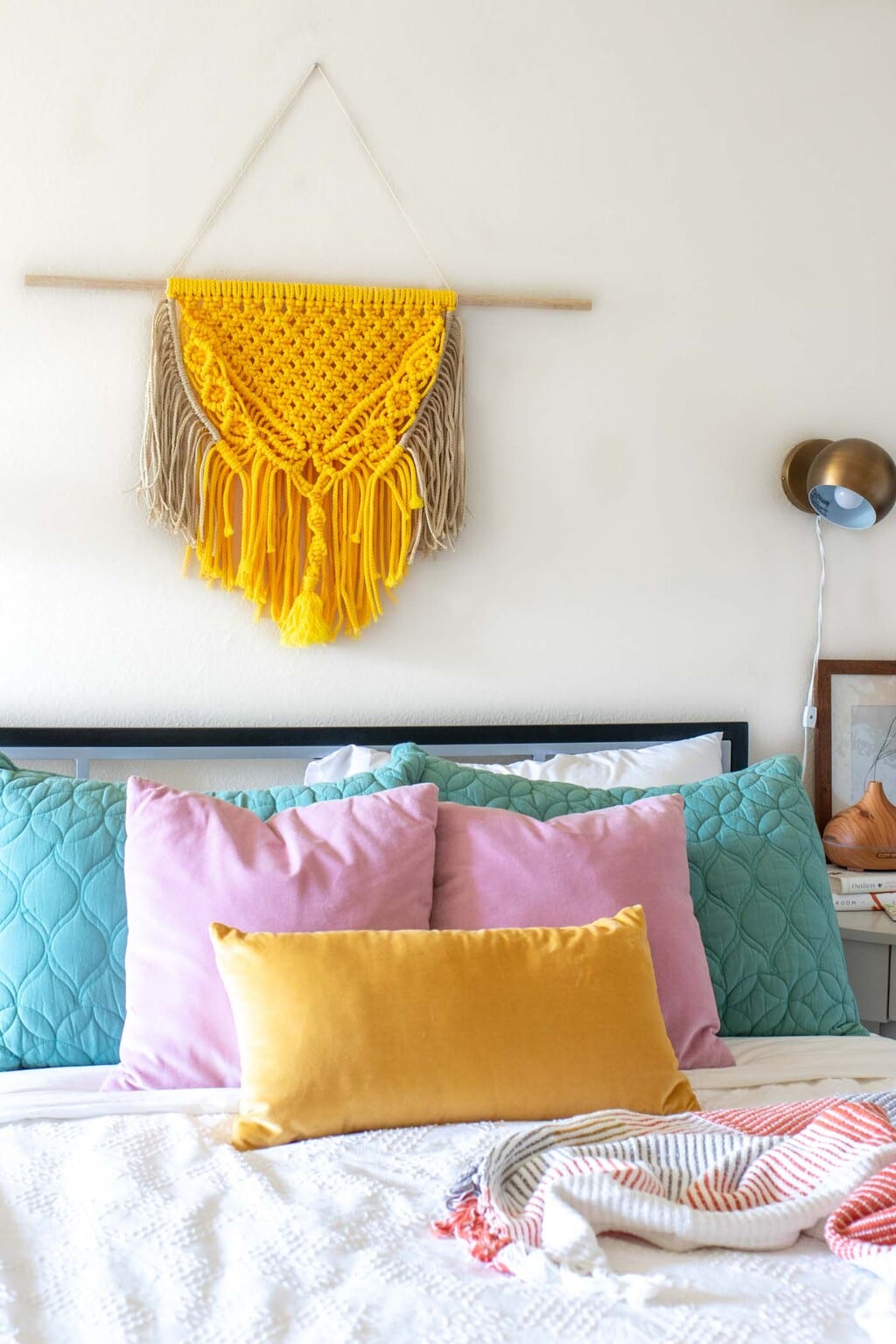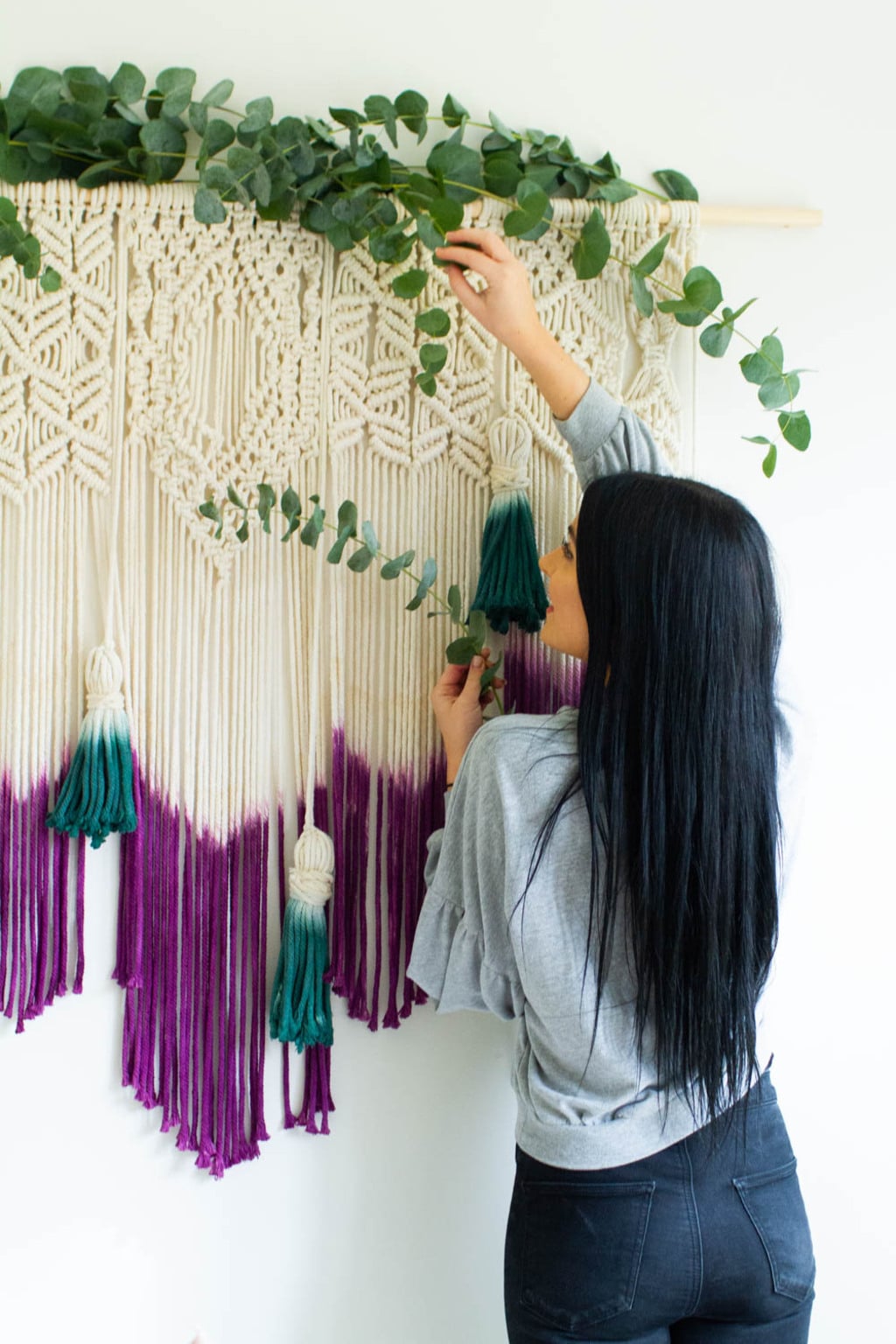 All in One! 
Confused between all these charismatic and eye-pleasing macrame wall hanging ideas? It happens!! From decorative macrame cord lamps, chairs to the macrame door curtains, each DIY I personally selected for both beginners and the experts.
These 17 macrame wall hangings will elevate the trendiness of your space within minutes of installation. This list has covered all types of macrame arts; some are smaller, some are larger, some are filled with natural layers, and others carry colorful tones with ease. There's a design or style woven for everyone within this list.
The best thing about these simple projects is that they can be made in many different shapes, and there's always a way to make them unique. I hope these ideas will inspire you enough to create a macrame art for your place.