6 Tips for Transporting Construction Equipment
Transporting your construction equipment can be quite a hassle. This is especially true if you're not sure how to deal with critical considerations such as safety and pertinent regulations on top of logistical concerns. This is why it's essential for commercial and industrial construction business owners to be aware of the intricacies of transporting construction equipment and finding a transportation partner they can work with to get the job done. 
This article will give you several tips on how to transport construction equipment without a hitch.
1. Choose a Reliable Transportation Company 
Source: netdna-ssl.com
Finding the right company for the job is a top priority. It will take responsibility for the safety of your equipment while it's being transported from one place to another. When choosing a company, consider the following points:
Expertise

. Avoid hiring a transportation company that's new in the business. The fees may be considerably lower, but you're taking a big risk with your construction equipment costing thousands of dollars. That said, go for the experts in the field. 

Good Track Record.

You should do a background search on prospective transportation partners before hiring one. Check out customer reviews to see if former clients were satisfied with their services. 

Licensing And Insurance

. Consider only those companies that can show proof of federal and state licensing as well as insurance coverage. 
Note, however, that the transportation company's primary task is, well, to transport, not prepare your heavy equipment for loading onto the trailer. To prepare your heavy equipment before transport, some attachments and accessories may be detached not only for safety reasons but also to avoid wide-load designation. For this, you might need a reliable mobile crane hire Sydney to help you out. 
2. Check the Owner's Manual 
All construction equipment comes with an owner's manual which provides instructions on how these should be transported.
Manufacturers know which piece of equipment is more sensitive or if there are moving parts that should be immobilized before transportation to prevent damage. Knowing this information is key to ensuring your heavy equipment will arrive at the destination safe and sound.  
If you don't have the manual anymore, you can look for instructions on the manufacturer's website. Even if the transportation company that you hired has considerable experience doing its job, it might not know the specifics of transporting a particular model or a piece of machinery.
3. Choose the Right Trailer for the Job
If you do not have the means to hire a transportation company, then you may have to take care of some additional logistical concerns such as deciding on the trailer that meets your requirements. 
For instance, if you have huge or excessively heavy construction equipment, you may want to consider getting a specialized trailer to transport it. 
A normal flatbed trailer won't be enough to transport large and heavy equipment, so it's probably best if you get a double-drop trailer. This is a type of flatbed trailer with different levels which allow it to carry any type of equipment.
4. Plan the Route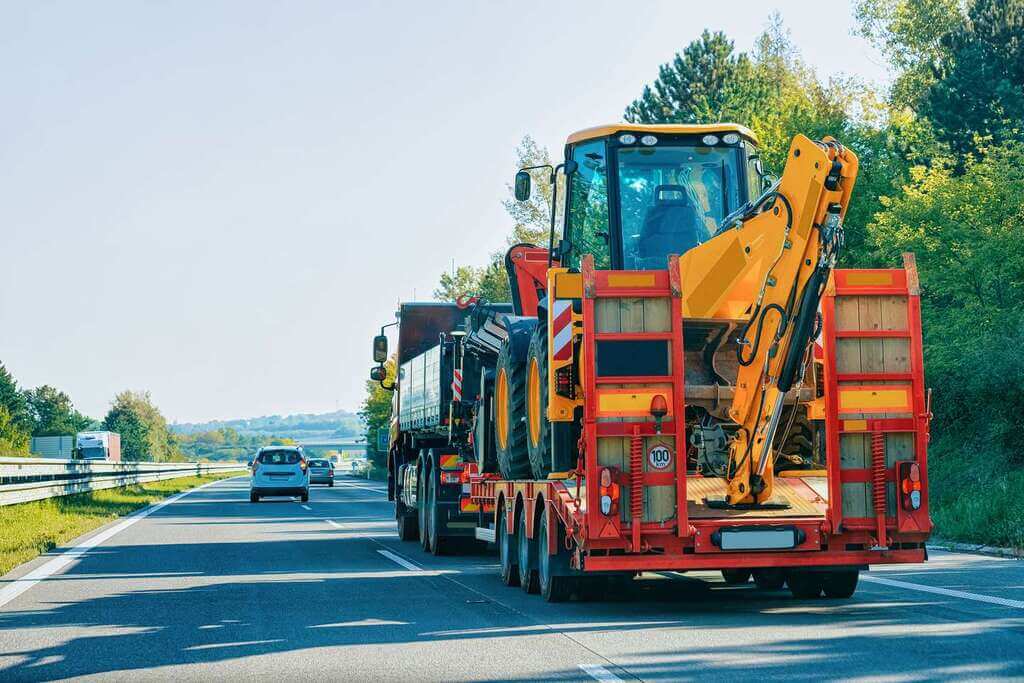 Source: tn.com.ar
Now that you're confident with the trailer you're going to use, the next thing to do is to plan the route to minimize transportation time as much as possible. But if you're hiring a transportation company, you need not worry about planning the route. 
When planning the route, try to avoid busy roads that tend to get heavy traffic or roads that are under construction. You should also check the weather and traffic conditions to identify any potential problem that could cause delays.
5. Be Aware of Any Legal Restrictions
Some states and regions have specific rules and regulations as to how much weight you're allowed to transport at a time. You'll need to be aware of these legal restrictions so you don't get a traffic citation or traffic ticket along the route. 
You should contact your local authorities for help if you have questions about possible legal restrictions that are enforced in a certain state. 
Also Read: The Safety Equipment You Need for Construction at Heights
6. Ensure Proper Communication at All Times
If you opted to hire a transportation company, you need to specify that you want to stay in touch with them while your equipment is being transported. Ask the driver to check in with you every now and then. Get updates especially concerning any problems that may have cropped up after departure. 
Once the construction equipment has reached its destination, you need to verify if the equipment arrived in good condition. If the load was damaged in any way, ask the receiver to take photos to be sent to you so you can discuss it with the transportation company. 
To Sum It Up 
Transporting construction equipment doesn't have to be extremely complicated. With the help of these tips, you can conveniently transport your heavy machinery from one place to another. Just make sure that no important detail is overlooked, so your equipment can reach its destination safely, on time, and within budget.