Everything You Need to Know About Ethanol Fireplace
Imagine drinking a cup of coffee near an Ethanol Fireplace; wouldn't that be amazing? Only a fireplace can bring this kind of warm and homey vibes to your home! Regardless of the season, you can always find this spot inviting and cozy. A fireplace has many benefits, from making your house comfortable to creating an uplifting ambiance.
Gone were the days when people used traditional wood-burning fireplaces. Today you'll find modern alternatives to the old-fashioned fireplaces. So what's so special about these so-called modern fireplaces? 
A modern fireplace comes with a new advanced technology that provides a high level of convenience and usability. These types of fireplaces are more energy-efficient and eco-friendly. Plus, they're super easy to maintain and take care of and come at an affordable price range. 
There are many modern fireplaces are available such as:
Gas Fireplaces

Electric Fireplaces

Gel Fireplaces

Ethanol Fireplaces
Have you heard about Ethanol Fireplaces? 
You may have seen these types of fireplaces in movies, restaurants, and hotels, but have you ever used them in your home? If not, keep reading this blog!
Today in this post, we'll tell you everything about Ethanol fireplaces. We've covered all the important details, o Let's begin. 
What Is an Ethanol Fireplace?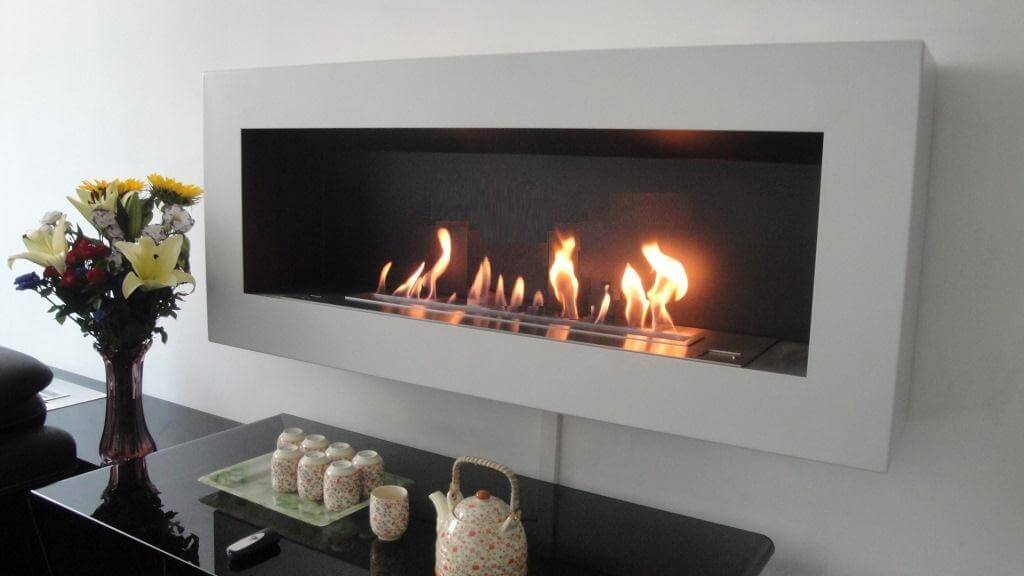 Source: weebly.com
An ethanol fireplace is also known as a bio fireplace or bio-ethanol fireplace, or an alcohol fireplace is a type of fireplace or furnace that uses clean-burning ethanol as its fuel source.
This type of ventless fireplace requires alcohol-based fuel and does not require any type of chimney. The best part is that it gives off a real flame, not imitation. So you'll get the real flames without any smoke, smell, gases, sparks, or soot, which are generally produced in wood burning. As there is no need for a vent or flue, you can literally install this fireplace anywhere in your home! 
What Is Ethanol or Bio-Ethanol?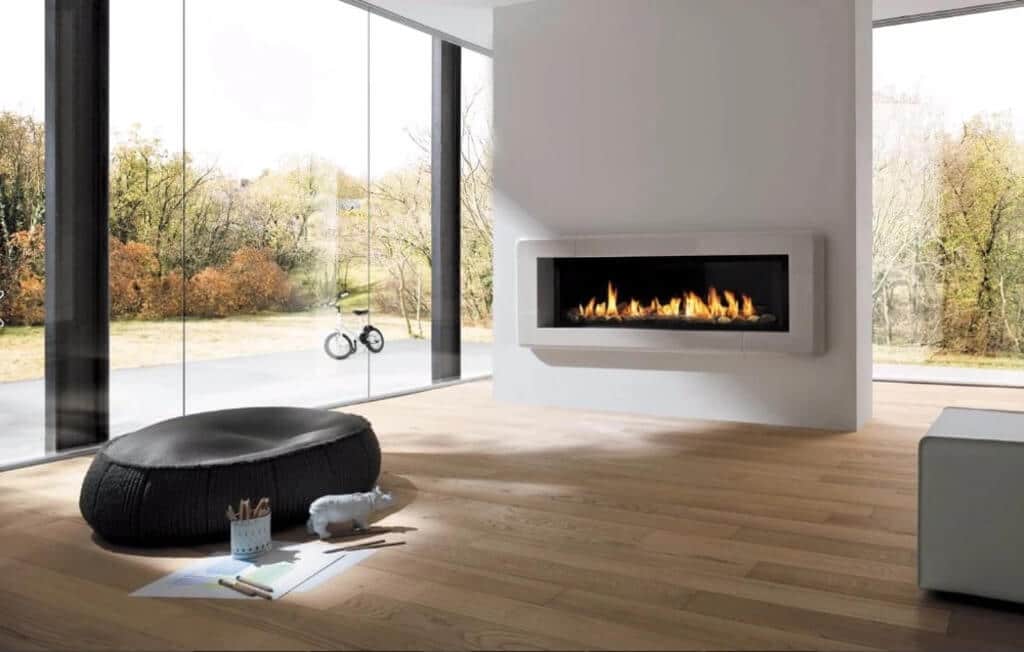 Source: alicdn.com
Bioethanol, also called bio-fuel, is a sustainable and highly efficient fuel. 
So, where does this fuel come from? 
To produce this green fuel, several different types of plants and industrialized crops, such as corn or sugar cane, or soybeans, are fermented. Compared to other fuels like gasoline and fossil fuels, Bioethanol is a renewable and biodegradable fuel.
Biofuel is denatured alcohol, but that doesn't mean you can drink this! Various additives are mixed to produce this green fuel. That's why it is toxic; however, it is an excellent fuel for fireplaces. Not only does it give a clean, smokeless form of heat, but it is pretty affordable and plentiful. 
Also Read: 20+ Trending Fireplace Tile Ideas to Spruce Up Your Home
Top Benefits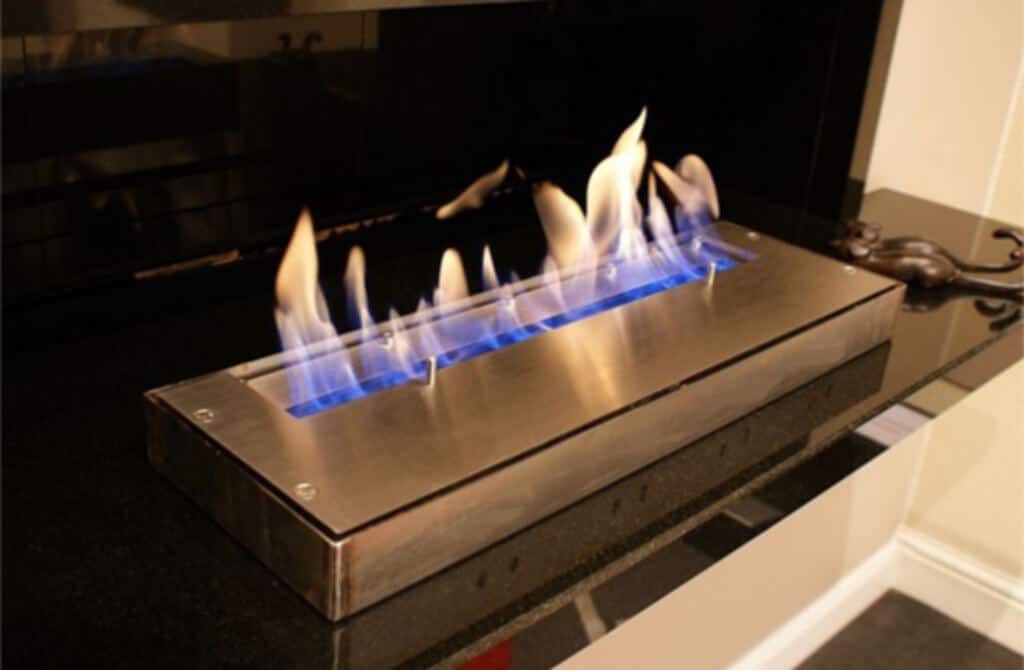 Source: fireplace.com
Now let's move on to the advantages of using these fireplaces as compared to traditional fireplaces: 
One major benefit of switching to modern fireplaces is that these bioethanol fires are more nature-friendly than a traditional home fireplace that uses traditional fossil fuels.  

This fuel is a green fuel which means it is renewable and biodegradable.

No power or fuel sources from gas and electricity are required because these fires are completely run on biofuels. 

You can save a lot of money on fuel and electricity bills if you use bioethanol fires. 

This fuel is completely produced by plants; still, it gives real flames without releasing any kind of harmful chemicals into the air. 

The maintenance and cleaning of ethanol fires are easy. 

Traditional fireplaces need gas, wood, or other solid fuels, which is not the case with these fireplaces, so there is no requirement for the chimney or outside flue.

They are portable, making them appropriate for both houses and apartments. You can easily install them in any part of your residence. 

These fireplaces provide a mess-free but give you the real flame ambiance.

They are available in a wide range of styles and designs. From modern to sleek contemporary fires, you can select the one that goes perfectly with your home interiors.  
The Bottom Line
So this is all about the ethanol fireplaces. These fireplaces run on sustainable fuel, which is friendly to both the environment and your pocket. Ethanol fires are portable, so you can use them both indoors and outdoors. 
As there is no smoke, ash, or harmful odors, it is perfect for people who are suffering from allergies or other health conditions. Apart from this, minimal cleaning and low maintenance make these fireplaces a great addition to your house!