Types of Garden Sheds You Can Choose for Your Outdoor Space
A garden shed can be an extension of your storage space at home. Most homes today do not come with attics or basements. Yet, there are so many knick-knacks that we have to stow away.
There are tools used in gardens and around the house for various odd jobs as well, and a garden shed is a great way to keep them without cluttering your home. Companies like SteelChief will make you a shed according to the available space in your garden or in keeping with the kind of look you want for your backyard.
Here are some ideas for various types of garden sheds.
Cabin-style Garden Shed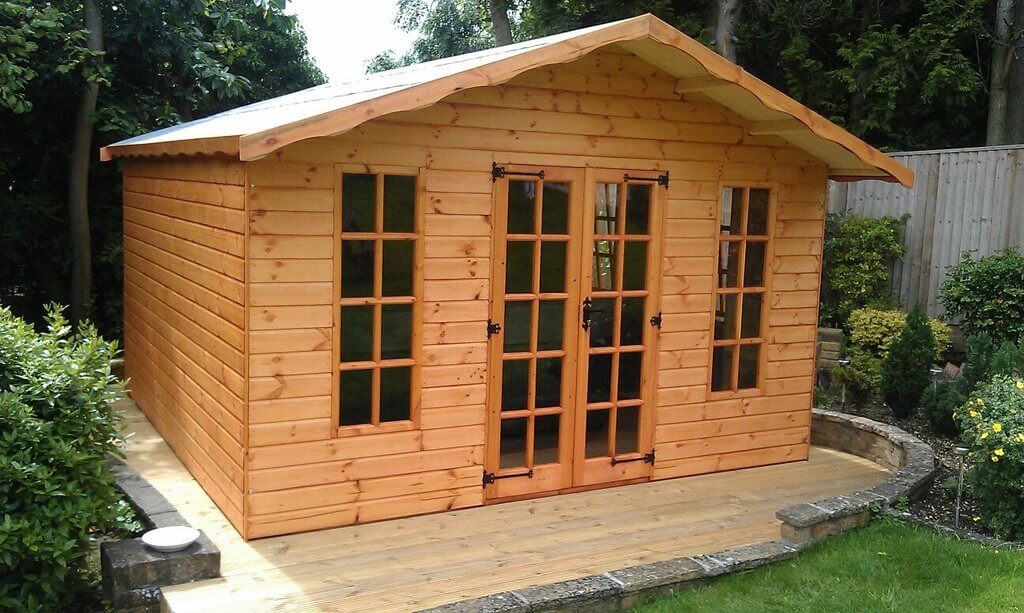 Source: newlinesheds.co.uk
A cabin-style shed is a classic choice. It is a look most family homes prefer, especially if the main house has a vintage look to it. A cabin styled shed is also quite spacious, so you could use it not just to stow away your tools and equipment but you turn it into a work area as well if you want to. You can make it out of metal or wood, or a combination of both for both style and substance.
Storage Shed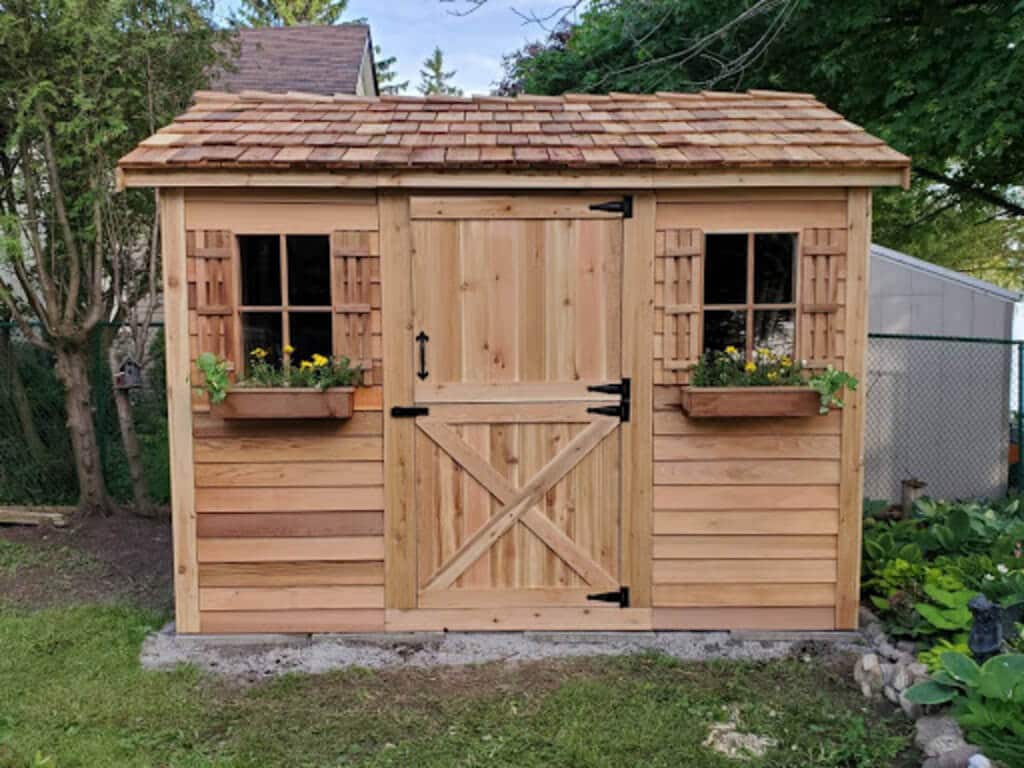 Source: googleusercontent.com
You can opt for this type of shed entirely for practical purposes. If you want a shed to take care of the essentials and you want it to be rigid and sturdy, without carrying much if it looks pretty or not, then this is the shed for you. Storage sheds come with strong walls, a sound locking system, and lots of internal storage like shelves, hooks, and built-in cabinets. If you have too many tools, equipment, or garage stuff to store away, this would be the ideal choice.
Small Tool Shed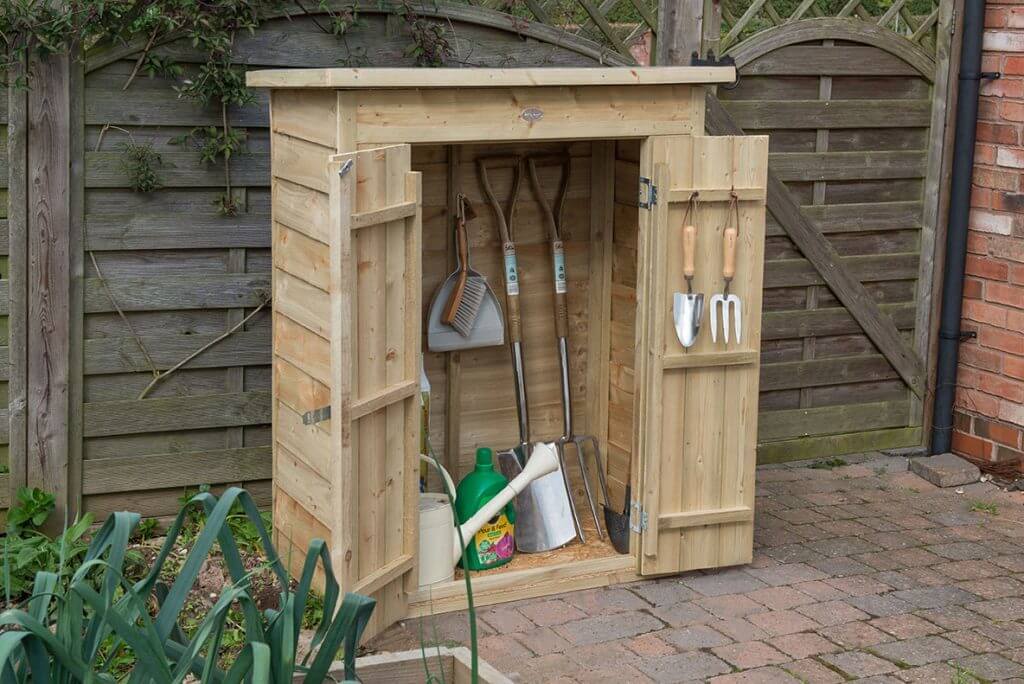 Source: forestgarden.co.uk
This type of shed is meant for small homes with a small backyard. The tool shed might not be large enough for you to sit and work inside, but it is still spacious enough to store away all your goods. Moreover, tool sheds are usually squat and sturdy, so you do not have to worry about your equipment's safety.
Barn-style Shed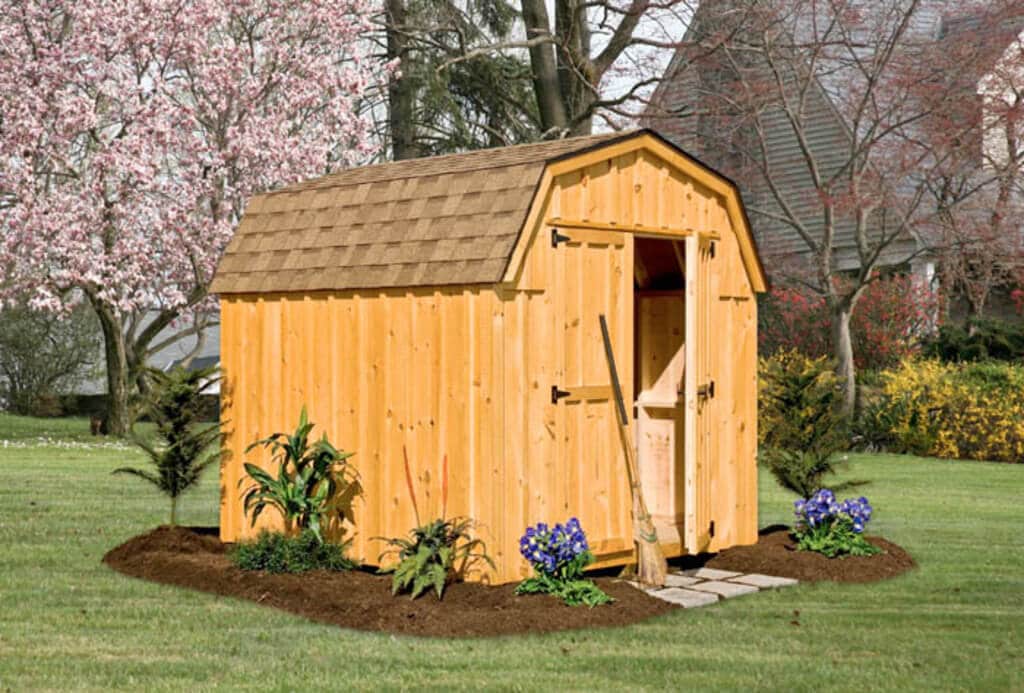 Source: capitolsheds.com
If you live in the suburbs or have a country home, this barn-style shed will blend well with its surroundings. You can lend a rustic look to your backyard with this style of shed. Have it painted in pretty colors, or design it in a country chic way. These sheds could double up as a play area for the kids if they plan to have a garden party, or you could use them for DIY projects at home. If you are genuinely into this design, you can have it painted as a red barn in an authentic rustic style.
Romantic Farmhouse Shed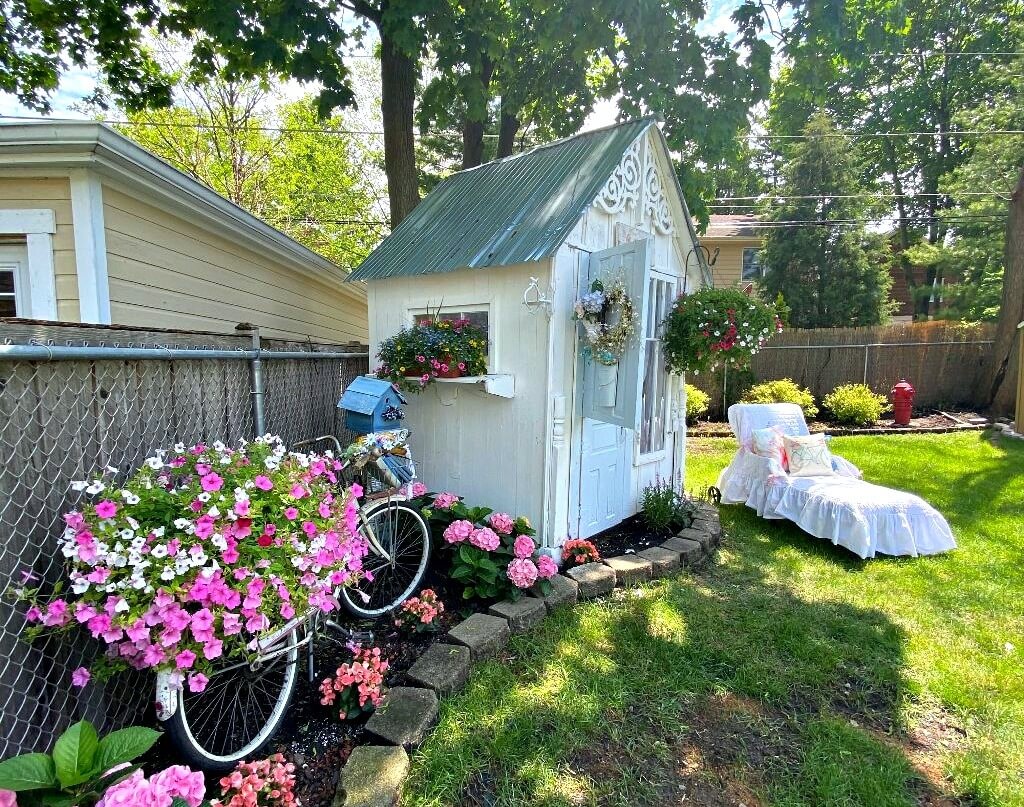 Source: blogspot.com
If you want a charming look to your garden shed, with a dash of romance, then this kind of shed will meet your needs. The look of the shed can depend on how quaint and romantic you want it to be. From bright colors to cozy nooks, these sheds can double up as a spot when you are in the mood for a date but want to go out. Besides, you can fit it up with shelves, drawers, and cabinets to store all your essentials in it, as any other garden shed. This kind of shed also blends well with the surroundings if you have lots of greenery in your backyard or around the property.
Backyard Studio Shed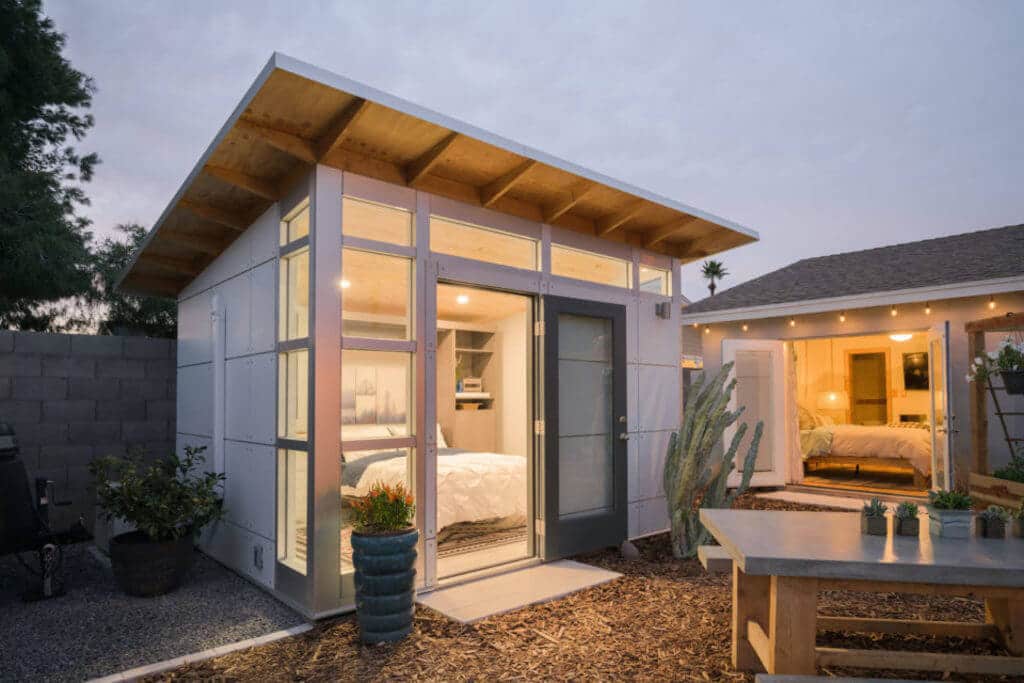 Source: 5280.com
If you are an artist and want your workspace and a separate area to store all your equipment and tools related to your craft, this is the shed for you. You can customize the studio shed in any way you want, creating personalized spaces to store your tools. The studio shed keeps distractions away while you concentrate on your work, at the same time, without having to pay for premises elsewhere and without leaving the comfort and safety of your home.
Chic Greenhouse Shed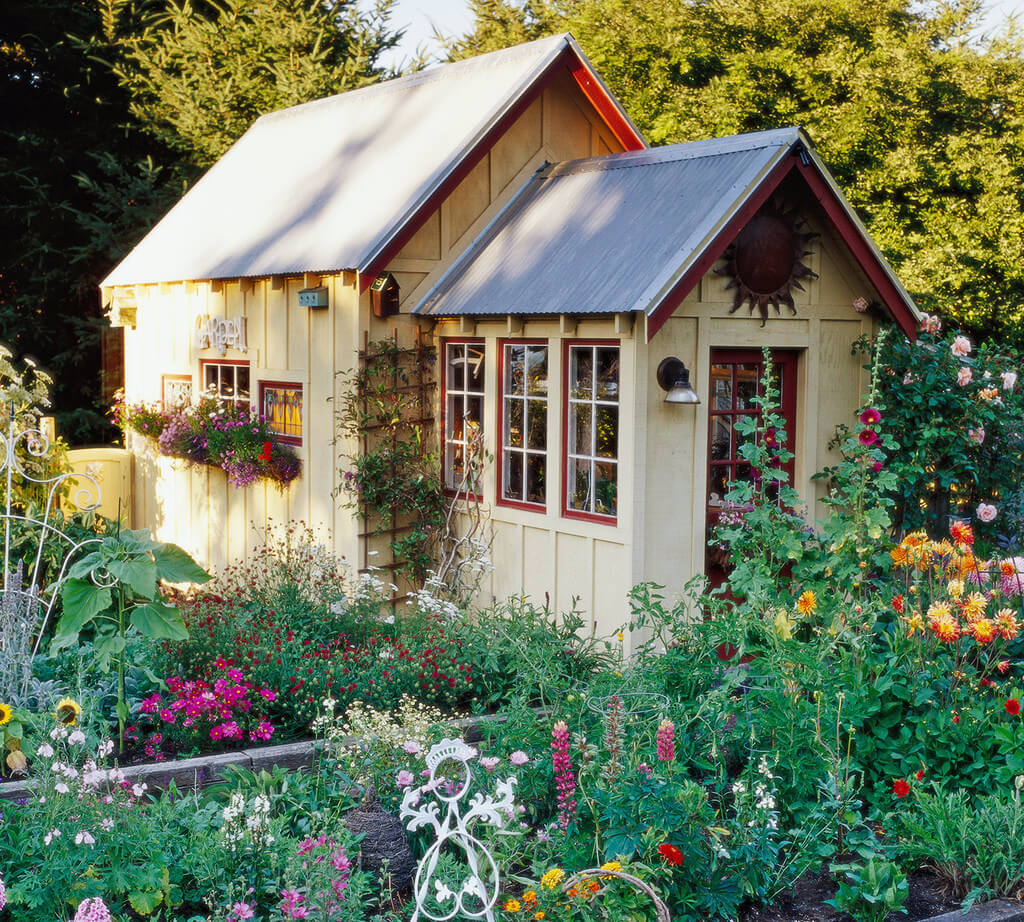 Source: meredithcorp.io
This kind of shed is ideal for those passionate about gardening and have quite a few tools related to it. You can store all your tools here and also plan a little nursery in the corner. You can grow plants here that need to grow in the shelter, away from harsh sunlight, and you can also store away fertilizers and seeds nearby, ready to use just when you need them. This kind of shed can be made in an eco-friendly way and enhances your home's look and appeal. You can also use the roof of this shed for some additional planting.
Deck Shed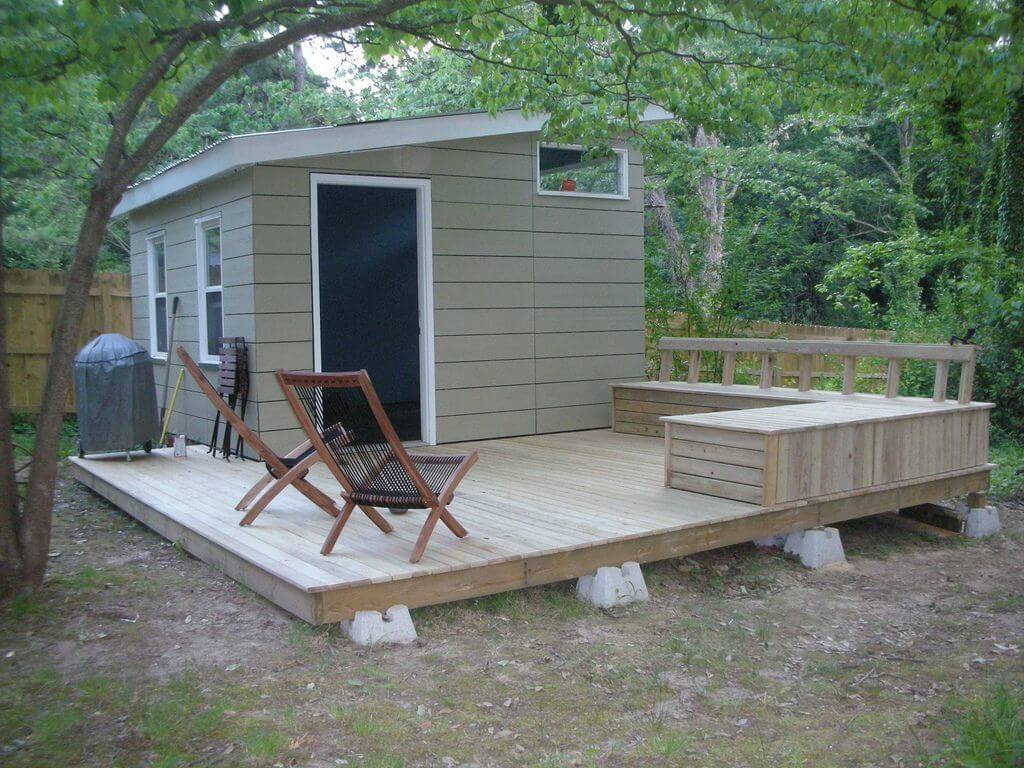 Source: pinimg.com
This kind of shed can be made to suit any of your functions, but it comes with a deck in front. And this makes all the difference. The deck in the front can provide you with a cozy nook to hang out and relax while you enjoy a few drinks with your friends, and you do not want to disturb the people inside your main house.
You can sit around on cane chairs and enjoy the outdoor views and when it's time to go, store it away neatly inside the shed, along with the rest of your tools. You can also go a step forward and use it as a bar shed, which would help keep away liquor from your main house if you have children inside. No matter what type of garden shed you choose, it should be easy to maintain and secure enough to keep all your things safe.
The aesthetic beauty of the shed will lend character to your garden or backyard. It will be a good investment if you frequently take care of odd jobs around the home, if you practice gardening, or you need some space for all your biking or camping gear. You can design it as a whimsical toy land or double it up as an extra workspace. You are sure to find many different uses for it once you have it made. Companies like SteelChief will design and build garden sheds for you according to your specifications so that you have ample storage space at your disposal.